Vaping Digest July 19th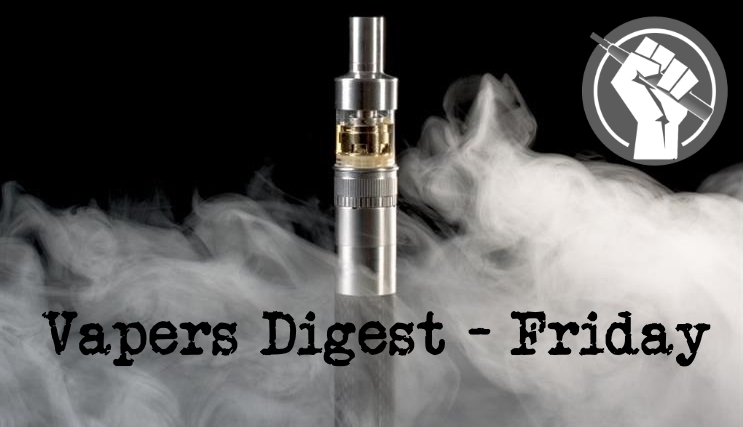 Friday's News at a glance:
Vape shops open in UK hospitals, but US clings to prohibitionism – The great American youth vaping epidemic. Really? – As Young Adult Smoking Evaporates – Electronic Cigarette Use and Myocardial Infarction – Misinformation on Vaping Leads to 200k Fewer Quitters Per Year – Time has come to legalise liquid nicotine – Bogus E-cigarette Panic Literally Killing People – FDA Cites Vapes as a Smoking Cessation Tool – SF's vaping ballot initiative will fight youth vaping – Are These the Last Vape Shops in San Francisco? – IQOS boosts PMI's quarterly profit, revenue – Nicotine Science and Policy Daily Digest
But US clings to prohibitionism – Fergus Mason
The UK continues to lead the world in tobacco harm reduction, as two government-owned NHS hospitals open vape shops in collaboration with a major vendor. Patients at the hospitals will now be able to buy safer nicotine products and use them in on-site vaping areas. Unfortunately the USA is showing no such common sense, with a court case driven by extremists forcing the FDA to shorten the deadline for vape companies to spend millions of dollars on paperwork. Vape bans and misguided fightbacks against the mythical "teen vaping epidemic" also show no signs of easing up.
Clive Bates, The Counterfactual
Update 19 July 2019: Note that Scott Gottlieb, who features in this post, left the FDA on 5 April 2019 and joined the board of Pfizer on 27 June 2019: Ex-FDA boss joins Pfizer 83 days after leaving US drug regulator, Financial Times.

I have been following FDA Commissioner Scott Gottlieb on Twitter and was alarmed at the threat he issued to vapers and the vaping industry in response to recent trends in US adolescent vaping.

I disagree with the FDA's analysis of what is happening with adolescent vaping and also what should be done about it. So I need to put some flesh on the tweet above and examine some of FDA's claims in more depth. Please dip to these talking points… it's a long blog but I hope at least some of it will be illuminating.
---

---
"Teen Vaping Epidemic" Appears Overblown – Brad Rodu
Federal officials have portrayed teen vaping as a pending disaster, creating a new generation of nicotine addicts heading for lifetimes of smoking and disease, culminating in early deaths.  The scenario is primarily based on adistorted and exaggerated interpretation of data in the National Youth Tobacco Survey.

One way to judge the validity of these teen vaping claims is to look at what's happening among young adults 18-24 years old.  If the government claims are accurate, we should see the disaster starting to unfold in this group.
The Daily Advocate
"I'm an emotional old lady, and I'm going to admit over the last couple of weeks, I have shed a lot of tears. From the never ending assault on this amazing industry, to the harsh reality of the 10 month verdict, to the next day being the 5 year anniversary of the smoking related heart attack that almost killed my 29 year old son, to today, I'm a roller coaster river of happy, sad, worried, elated tears. And when I get down, it seems that something reaches out and bitch slaps me a good one, reminding me to never give up up.
---
---
Among Adults in the US Population Assessment of Tobacco and Health
Chelsea Boyd – R Street
A hallmark of science is reproducibility: if an experiment is conducted twice using the same methods, the result should be the same. In most epidemiologic research, reproducibility usually extends the confirmation using multiple data sources. Of course, it does not matter how many times a result is reproduced if the methodology used to derive the result is faulty.

In October 2018, Stanton Glantz and his team published a study that showed an association between myocardial infarction (MI), or heart attacks, and e-cigarette use. The paper received significant attention, much of which questioned the methodology and the authors' interpretation of the results. In fact, the first R Street Responds piece was a critical commentary of the work.
Michelle Minton
Is this a story from The Onion? It's a question we often ask ourselves these days when we encounter stories online that seem too ridiculous to be true. Sadly, Cheantay Jensen's recent article about why she returned to smoking is not satire. In all earnestness, Jensen describes how e-cigarettes helped her quit smoking, how the switch improved her life, and how fear drove her back to traditional cigarettes—a product that kills half its users. It isn't satire, but it should be a cautionary tale for anti-tobacco advocates. It is their lying that has led adults like Jensen to mistakenly believe e-cigarettes are no better for their health than smoking. And it's because of their lies that millions of people will continue to smoke and die.
Leads to 200k Fewer Quitters Per Year – Lee Johnson
It isn't news that people vastly overstate the risks of vaping. Pretty much every study on the topic has shown that shocking numbers of people – in the US, the UK and elsewhere – believe vaping is as dangerous as or even worse than cigarette smoking when it comes to your health. And, despite evidence continually mounting that vaping is much safer than smoking, public perceptions of the risks are still moving in the wrong direction.
---

---
Highlights urgent need for liquid nicotine regulation – ATHRA
The Victorian Coroner released a heartbreaking report yesterday into the death of an 18-month-old child who died after ingesting a highly concentrated form of nicotine liquid.

The Coroner found that the death was not a case of negligence, but a "momentary lapse of vigilance" by the mother who had taken up vaping nicotine to quit smoking.

This case highlights the clear and present danger of Australia's ban on the sale of nicotine liquid which forces vapers to import unregulated nicotine in dangerously high concentrations.
Fiona Patten
Reason Leader and Member for Northern Metropolitan, Fiona Patten, has responded to comments by Victorian Coroner Phillip Byrne, who yesterday handed down his report on the tragic death last year of an 18-month-old boy who died after consuming liquid nicotine.

"My heart goes out to the family, especially the mother," Ms Patten said.

"This incident only goes to further reinforce that liquid nicotine used for vaping should be legalised and regulated in Australia."

Filter Mag
On July 11, a Maryland district court judge ruled in a lawsuit launched by anti-vaping organizations, who demanded that the Food and Drug Administration be required to set a stringent four-month deadline for pre-market review of vaping products.

In an argument rarely made by the FDA⁠—which is pivotal to US tobacco control, and is known for its fearmongering campaigns against youth vaping—the agency warned that the groups' demand could jeopardize people's efforts to quit combustible cigarettes. The FDA's own deadline was set for August 2020. While Judge Paul W. Grimm decided to shorten it, he agreed with the FDA that four months was not long enough—moving it instead to June 2020.
Will fight youth vaping without banning adult use
Last month, San Francisco's Board of Supervisors passed a ban on all e-cigarette products sold within the city. The move earned them global attention — and a strong response. A campaign, called the Coalition for Reasonable Vaping Regulation and backed by e-cigarette company Juul, recently announced it's collected enough signatures for a November ballot measure that will overturn the ban and enact new sales regulations.

As often happens on politically charged issues, some opponents to the ballot measure have engaged in negative hyperbole and even misinformation in an attempt to strengthen their arguments.
At first, Christopher Chin liked the name "Gone With The Smoke" because it wasn't too on-the-nose. All the other vape shops were using some variation of "X, Y, Z Vapor"—Tasty Vapor, Happy Vapor, Alpha Vapor, the Vapor Cave. You wouldn't forget a store that sells e-cigarettes with a name like Gone With The Smoke, Chin figured. And so far, customers haven't. "It's like Cheers," Chin tells me: When regulars come in, he knows their smoking habits, marital status, and what's up at work.
Philip Morris International beat second-quarter earnings and revenue estimates and hiked its full-year forecast Thursday as its new tobacco products gained momentum, sending shares of the company up nearly 10%.

PMI sells Marlboro cigarettes and other brands around the globe. The tobacco giant is trying to pivot away from cigarettes and toward new products, namely iQOS, which heats tobacco instead of burning it. The product drove the company's performance in the quarter.
On a cigarette health warning
An Albanian man living in France says he was shocked to discover the stump of his amputated leg being used as an anti-smoking warning on cigarette packets.

The photo was used on the packets of several cigarette brands sold throughout France and Luxembourg, without the man's knowledge or permission.
---
A look back at how things have moved on or otherwise….
New Nicotine Alliance
World Cup fever may have gripped the nation this week, but the wheels of government keep turning regardless and – on the day of England's semi-final – the NNA was once again in Westminster fighting the nicotine consumer cause.

The All-Party Parliamentary Group (APPG) on e-cigarettes met on Wednesday morning to discuss the topic of vaping regulation post Brexit and our Chair Sarah Jakes was invited to participate.

The meeting was chaired by Mark Pawsey MP, with Labour MP Kevin Barron and Conservative MP Adam Afriyie also in attendance. More parliamentarians would normally have been expected but what with the World Cup and Prime Minister's Questions competing for attention on the day, the meeting wasn't high on an MP's packed agenda. However, the minutes will be available to MPs and their researchers who didn't attend so it was important that we presented the NNA's position on behalf of consumers.
Diane Caruana, Vaping Post
Last week saw the publication of the Scottish Tobacco Control Plan (TCP) led by Scotland's Minister for Public Health and Sport, Aileen Campbell, and while it contains a number of positive references, the New Nicotine Alliance (NNA) is of the opinion that it is lacking in its approach to harm reduction.

Last month, the Scottish Government published a new tobacco control action plan which will formally ban smoking around hospital buildings, jails, school grounds and also in designated residential buildings or spaces.
, Competitive Enterprise Institute
Food and Drug Administration (FDA) Commissioner Scott Gotlieb, a medical doctor and cancer survivor, has had a long-term interest in tackling tobacco-related diseases. But unfortunately he's on a path that will, perversely, be a disaster for the very people he wants to help.

Specifically, he has his agency considering a proposal to ban all flavored tobacco, including flavors for less harmful e-cigarette devices (read CEI's public comment on the issue here). While predictably sold as a means of protecting children from becoming attracted to these products, such a ban will do more harm than good for smoking cessation efforts.
Brent Stafford, Regulator Watch
As RegWatch first reported, a minimum of 250,000 bot submitted fake form-letters that are anti-flavors and anti-vaping in nature overwhelmed servers at Regulations.gov putting the entire public consultation process at risk. FDA could decide to throw out all submissions, including legitimate testimonials, provided by tens of thousands of vapers.

The vaping industry is fighting back. The Vapor Technology Association, a leading industry trade group, is running a coordinated public comment campaign to help vapers make an impactful "declaration" to the FDA on why flavors are essential to vaping.

In this extended edition of RegWatch, hear from VTA's executive director Tony Abboud and learn what the strategy is going forward, to save flavors.
---
Visit Nicotine Science & Policy for more News from around the World

---