Vapers Digest July 18th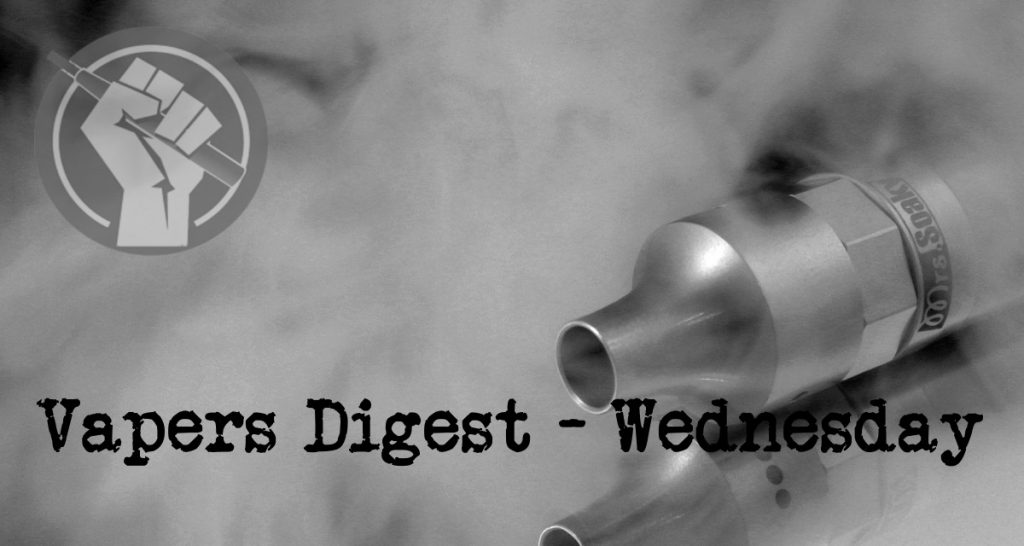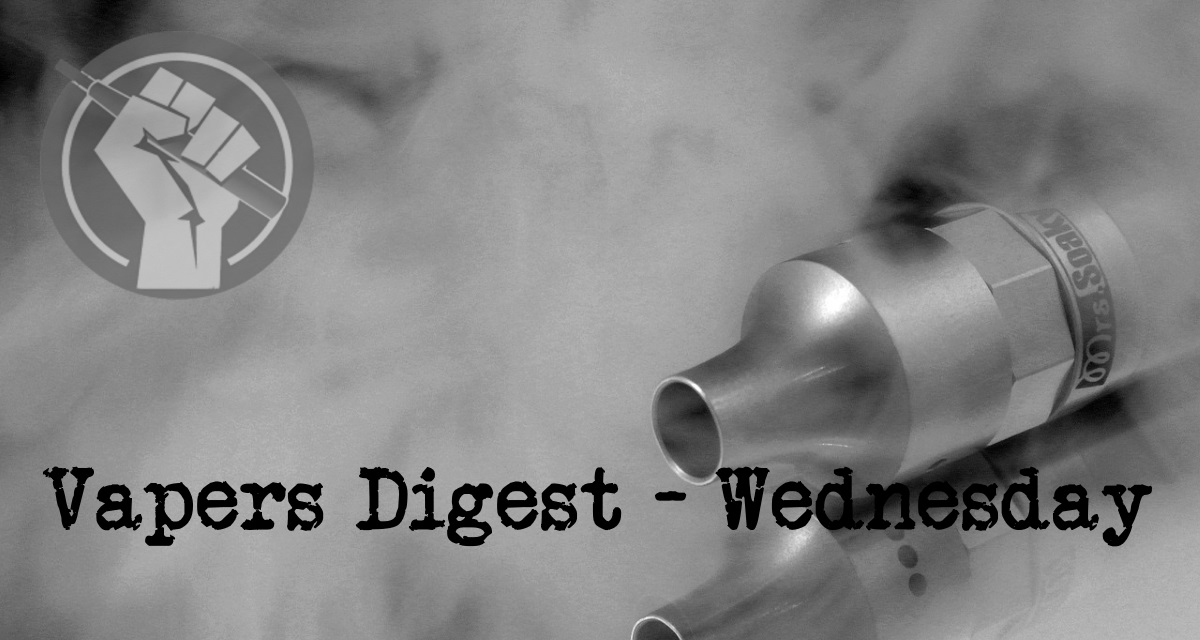 Wednesday's News at a glance:
NNA discusses the post-Brexit environment with MPs ~ NNA's Reaction to Scotland's Tobacco Control Plan ~ For Sake of Public Health, FDA Should Not Ban E-cigarette Flavors ~ FDA Should Listen to People Not Bots ~ What growth path can we expect for heat-not-burn ~ MHRA Responds to Squonking ~ Fast-growing e-cigarette maker Juul to launch in UK ~ UK Vapers Can Finally Get a JUUL ~ Padjajaran Researcher Talks about the Misperception of Vaping ~ ECigIntelligence Sets the Record Straight About Vaping When Travelling ~ Pull-back on smoking law raises concern
New Nicotine Alliance
World Cup fever may have gripped the nation this week, but the wheels of government keep turning regardless and – on the day of England's semi-final – the NNA was once again in Westminster fighting the nicotine consumer cause.

The All-Party Parliamentary Group (APPG) on e-cigarettes met on Wednesday morning to discuss the topic of vaping regulation post Brexit and our Chair Sarah Jakes was invited to participate.

The meeting was chaired by Mark Pawsey MP, with Labour MP Kevin Barron and Conservative MP Adam Afriyie also in attendance. More parliamentarians would normally have been expected but what with the World Cup and Prime Minister's Questions competing for attention on the day, the meeting wasn't high on an MP's packed agenda. However, the minutes will be available to MPs and their researchers who didn't attend so it was important that we presented the NNA's position on behalf of consumers.
Diane Caruana, Vaping Post
Last week saw the publication of the Scottish Tobacco Control Plan (TCP) led by Scotland's Minister for Public Health and Sport, Aileen Campbell, and while it contains a number of positive references, the New Nicotine Alliance (NNA) is of the opinion that it is lacking in its approach to harm reduction.

Last month, the Scottish Government published a new tobacco control action plan which will formally ban smoking around hospital buildings, jails, school grounds and also in designated residential buildings or spaces.
, Competitive Enterprise Institute
Food and Drug Administration (FDA) Commissioner Scott Gotlieb, a medical doctor and cancer survivor, has had a long-term interest in tackling tobacco-related diseases. But unfortunately he's on a path that will, perversely, be a disaster for the very people he wants to help.

Specifically, he has his agency considering a proposal to ban all flavored tobacco, including flavors for less harmful e-cigarette devices (read CEI's public comment on the issue here). While predictably sold as a means of protecting children from becoming attracted to these products, such a ban will do more harm than good for smoking cessation efforts.
Brent Stafford, Regulator Watch
As RegWatch first reported, a minimum of 250,000 bot submitted fake form-letters that are anti-flavors and anti-vaping in nature overwhelmed servers at Regulations.gov putting the entire public consultation process at risk. FDA could decide to throw out all submissions, including legitimate testimonials, provided by tens of thousands of vapers.

The vaping industry is fighting back. The Vapor Technology Association, a leading industry trade group, is running a coordinated public comment campaign to help vapers make an impactful "declaration" to the FDA on why flavors are essential to vaping.

In this extended edition of RegWatch, hear from VTA's executive director Tony Abboud and learn what the strategy is going forward, to save flavors.
---

---
Carl V Phillips, Heat Not Burn
The explosive growth of heat-not-burn products in Japan and Korea, which has taken a huge chunk out of the market for traditional cigarettes, has everyone wondering where else we might see that happen. No one knows the answer for sure, of course, but there are a few patterns that seem fairly safe to predict.

Modeling work I did about the uptake of e-cigarettes a few years ago (example) suggests that the uptake of a low-risk tobacco product will have two distinct periods of rapid growth. The first is caused by pent-up demand.
---
If you want to defeat smoking, key is to promote or at least allow market to provide rapid, consumer driven innovation. But for government and tobacco control, we'd be much further along.

— B Fojtik (@PositiveEnerG) July 17, 2018
---
Mawsley, Planet Of The Vapes
The Medicines and Healthcare products Regulatory Agency (MHRA) in an exclusive interview with Planet Of The Vapes has clarified the position of squonk devices. The upshot, as can be seen below, is that Squonking IS under threat and that the squonk bottle is considered to be an illegally sized atomiser tank.

A spokesperson for the MHRA told Planet Of The Vapes: "The statement in the July newsletter is a response to industry and enforcement requests for clarification regarding a small number of products that had caused confusion in the retail market and promote a consistent interpretation of the legislation.
---

---

Jim McDonald, Vaping 360
The most popular and controversial American vaping brand is now taking aim at the second-largest vape market in the world. The JUUL went on sale this week in the U.K. — but the product will be significantly different than the device that's making U.S. tobacco companies shake in their boots.

The JUUL starter kit in the U.K. retails for £29.99, which translates to about $10 less than its American counterpart, which costs $49.99. The kits features four JUUL pods, and the flavors look similar to the U.S. versions (the names are slightly different). But the biggest difference is the nicotine content.
Staff, Tempo
Vape or E-cigarettes are widely considered to be an alternative way to reduce the effects of traditional cigarette addiction. Despite this, many still suspect that the effects of vaping are as dangerous as smoking a traditional tobacco cigarette.

Responding to this issue, Padjajaran University researcher Satriya Wibawa Suhardjo conducted a research on the effects of vaping that was presented in the Global Forum on Nicotinedi Warsawa in Poland on June 14-June 16.
---

---
Diane Caruana, Vaping Post
A series of recent UK media headlines warning vapers that they are likely to be arrested if they vape abroad, have sparked some panic amongst e-cigarette users. In response to this, a press release by ECigIntelligence, the renowned independent data analysis resource for the tobacco-alternatives industry, aims to reassure vapers that it is mostly safe to use e-cigarettes outside the UK.

"Britain's three million e-cigarette users can safely vape while holidaying abroad this summer, despite alarmist reports that suggest they could end up in prison, a leading research organisation in the field has confirmed," pointed out the press release.
Tom Morrison, Chatham Daily News
Chatham-Kent will only miss out on a few changes to its smoking laws now that the new provincial government has paused the new Smoke Free Ontario Act, but there is still cause for concern, an official with the Chatham-Kent Public Health Unit has said.

Although the Chatham-Kent Board of Health was not set to meet again until September, a special meeting was called Monday to hear how the municipality will be affected following the Progressive Conservative government's decision earlier this month.

Carina Caryn, program manager of chronic disease and injury prevention, said Chatham-Kent already had a "comprehensive bylaw" which covered many of the rules set to be implemented in the new act.
---
A look back at how things have moved on or otherwise….
Carrie Wade, Daily Caller
Every so often, a burst of technology can change society's trajectory in major ways. Airplanes have shrunk world travel to less than 24 hours. Cellphones have freed us from landlines. We are now faced with a disruption that could dramatically change the way we use nicotine and improve the country's health, except many lawmakers won't let us.

Without the deadly tar and other products of combustion found in tobacco cigarettes, e-cigarettes are growing in popularity as a way to transition off combustible cigarettes. While e-cigarettes are not totally safe or healthful, they are far less harmful than cigarettes. Public Health England estimates that electronic cigarettes are no less than 95 percent safer than combustible cigarettes and both Public Health England and the Office of the Surgeon General report that e-cigarettes have a similar risk profile to other nicotine replacements, such as the patch and nicotine gum.
Junican, Bolton Smokers Club
The State is grabbing more and more CONTROL over us. If The State can pass a law saying that you cannot smoke on a beach, in the open air with a sea breeze blowing, then The State has deviated from its purpose.

We should not be afraid of comparing Tobacco CONTROL with Nazi Germany or Communist Russia. The operative word is CONTROL.

Why were publicans threatened with massive fines and possible withdrawal of their licences if they did not FORCE smokers to comply with the ban? I shall tell you: it was because they, and even their associations, did not know their Personal Rights. They should have fought like hell to refute the idea that they were criminally responsible for what other people do on/in their premises. In other words, if someone pulls out a knife and skewers another person, the publican could be held responsible because he did not have every punter searched.
---
Visit Nicotine Science & Policy for more News from around the World

---