Vapers Digest July 16th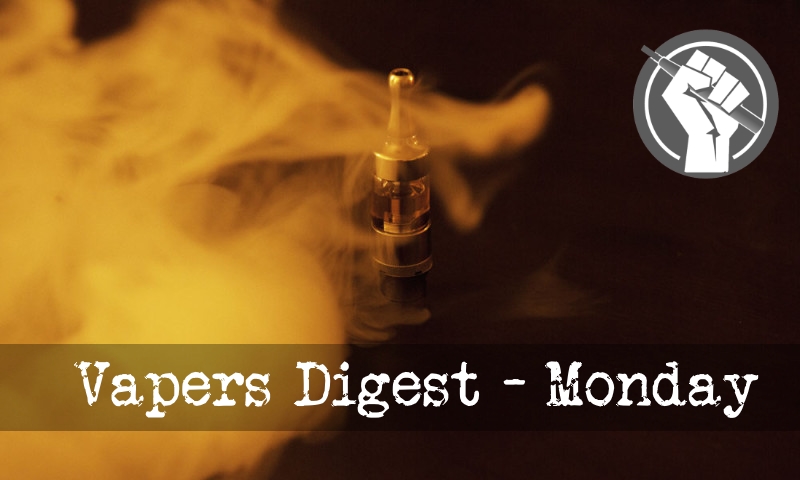 Monday's News at a glance:
EU tax consultation 2018 resources page – Threat to squonking in UK, but some good news in Australia – Redefining smoking relapse – Attorney General – Vapers' association urges Government not to ban e-cigarettes – Asian consumers push for right to use smoking alternatives – Juul Madness – Juul's Lobbying – Learning Tool or Road To Addiction? – Why Tobacco Stocks Have Lost Around 20% – Comparison of Tobacco and Electronic Cigarette Reward Value – Vaping In The News July 14th – Nicotine Science and Policy Daily Digest
New Nicotine Alliance
The European Commission is holding a public consultation into the taxation of tobacco and vaping products, ending on 3rd September. The Collective of EU Vaper Associations, is issuing an urgent call to action to ask you, the consumer, to respond to the consultation. Vaping has helped more than 7.5 million Europeans stop smoking and a further 9 million to cut down. If vaping is expensive smokers will not switch and vapers will go back to smoking.
But some good news in Australia – Fergus Mason
In a clear example of regulatory overreach Britain's e-cig regulator has told vendors that squonkers – mods with a refill system for a dripping atomiser – don't comply with EU law. Meanwhile the media have been playing up vaping's role in a near-disaster on a Chinese airliner, and experts are speculating that the UK could be locked into the EU's anti-vaping laws even after it leaves the bloc next year. Not all the news is bad, though; harm reduction advocates have forced an Australian health agency to concede that nicotine can be legally owned in Queensland.
---

---
Mawsley, Planet of the Vapes
Many smokers attempt to quit the habit each year, although the spectre of relapsing looms large in numerous incidences. Researchers at the University of East Anglia discovered a tale of pleasure, guilt and shame that accompanies returning to tobacco, and indicates that cigarette and cigar users lose a sense of identity when they can no longer refer to themselves as "smokers".
Caitlin Notley spoke about the need for sound research back in 2016. In particular, she touched on the nonsense about flavours and kids vaping being spread at the time: "They're not really supported by research evidence and it's important that we have [it] there rather than pay too much heed to possible scare stories."
Mawsley, Planet of the Vapes
Iowa Attorney General Thomas Miller has written to the Food and Drug Administration (FDA), demanding a more reasoned and evidence-driven approach to tobacco regulation and the treatment of vape products. The harm reduction advocate has included a number of experts as co-signatories to his letter.
Miller has been banging the harm-reduction drum for a while now. He spoke about the benefits of vaping in 2016, in a speech described by Clive Bates as: "Quite simply the best speech I have ever heard on tobacco and nicotine policy, science and ethics. From Tom Miller one of the architects or the United States Master Settlement Agreement and Chair of the Truth Initiative. A model of decency, humility and rigorous scientific reflection, in my opinion."
---
… and perhaps most of all we shifted the debate on #ecigs + tobacco harm reduction over the past few years in ways we all hoped but couldn't predict. With our studies, our advocacy partners, policy makers & vapers. A thank you to @UKCTAS from Martin Dockrell to us all. #UKCTAS pic.twitter.com/fyBxjmeZFi

— Linda Bauld (@LindaBauld) July 16, 2018
I think it's fair to say that vaping technology has, at minimum, demonstrated that there is a great (perhaps universal) appetite for cigarette-alternatives amongst people who smoke. This is a subtle but important point, for a number of reasons.

— Oliver Kershaw (@ojkershaw) July 16, 2018
---
Not to ban e-cigarettes
The Association of Vapers India (AVI) has opposed the State government's proposal to ban e-cigarettes.

Instead, the association, which represents e-cigarette users across the country, has called for a legislation to regulate the domain of alternatives to smoking including e-cigarettes.

Samrat Chowdhery, Director of AVI, said they were planning to meet the Health Secretary and submit 120 research papers on the use of electronic cigarettes.
To use smoking alternatives
Joe Lo, 37, has been using an electronic cigarette alternative known as IQOS instead of traditional cigarettes for a year. It heats tobacco but only gives off some smoke-like vapor. The insurance salesman in Hong Kong, who smoked for 14 years, no longer worries about his four-year-old son rebuffing his hugs saying "No, Daddy, you're so smelly!"

But there is one problem: He depends on a friend who travels frequently on business to Japan to get tobacco sticks for his IQOS, because they are not available in Hong Kong.
---

---
John Tierney
Tobacco-company stocks have plunged this year—along with cigarette sales—because of a wonderful trend: the percentage of people smoking has fallen to a historic low. For the first time, the smoking rate in America has dropped below 15 percent for adults and 8 percent for high school students. But instead of celebrating this trend, public-health activists are working hard to reverse it.
Could Send Its Public Image Up in Smoke
Juul, the vaping sensation that dominates 70 percent of the US e-cigarette market, has tried to cultivate the image of decent corporate citizen that wants to play by the rules. The company is known for its legions of obsessive young users who have embraced Juul's discrete, flash-drive-shaped e-cigarettes and pleasing nicotine pods in flavors like fruit medley and mango. When parents and school administrators, public health advocates, and regulators raised concerns, Juul insisted it only wants to help adult smokers stop smoking.
Steve Dohmen, AVCA
I recall my misspent youthful days when at 11 years old I started experimenting with smoking out of rebellion and escapism and wondered to myself that if vaping was available back then, would I have switched to the lesser harmful option of using a vapouriser? and would it have played an integral role in minimising any risk factors I had succumbed to?

I'm no addiction specialist or research expert, the thirty years spent by being dependent upon cigarettes along with trying every cessation device ever invented which ended in all quit attempts proving hopelessly futile…

Jeremy Bowman
It's just past the halfway point of the year and tobacco stocks are broadly down. As of July 12, the world's three biggest tobacco companies have each given up about 20% this year: According to data from S&P Global Market Intelligence, Altria (NYSE:MO), the U.S. seller of Marlboro, is down 18%; Philip Morris (NYSE:PM), the international distributor of Marlboro and other brands, has fallen 21%; and British American Tobacco (NYSE:BTI), which sells brands including Dunhill and Pall Mall, is down 22%.
Reward Value Measured During a Cue-Reactivity Task: An Extension of the Choice-Behavior-Under-Cued-Conditions (CBUCC) Procedure
Up to 24% of electronic cigarette (e-cigarette) users are concurrent users of both tobacco and e-cigarettes (dual users). Dual users provide an opportunity to assess key motivational processes supporting e-cigarette use, such as the reward value of e-cigarettes. This study used the Choice-Behavior-Under-Cued-Conditions (CBUCC) procedure to examine cue-specific reactions to tobacco and e-cigarettes with a primary focus on evaluating the relative reward value of both forms of cigarettes.
Kevin Crowley, Vaping Links
Using the tobacco settlement ~ Who Spammed the FDA ~ FDA Must Ignore Anti-Flavor Astroturfing ~ Submit your comments to the FDA ~ Comments to FDA on Tobacco Product Standard for Nicotine Level ~ Simon Chapman Says ~ Iowa Attorney General ~ Tobacco Free Kids: Scream Test ~ FDA: You Can Run Models, But You Can't Hide Facts ~ VapeMeStoopid
---
A look back at how things have moved on or otherwise….
Clive Bates, The Counterfactual
There have been two very encouraging initiatives in the United States in the last month, both captured in the form of letters to recently-appointed FDA Commissioner Scott Gottlieb.

Some of the most experienced US tobacco control experts are showing support for tobacco harm reduction and calling for a rethink of the approach to regulating low-risk nicotine products, such as vaping technologies.
Small regular donations from our Supporters could fund our work
New Nicotine Alliance
NNA UK is now the go to organisation for tobacco harm reduction in the UK . With your support we are fighting back against excessive and crippling regulations and raising awareness about the use of harm reduced products – e-cigarettes in particular. We are campaigning hard against the TPD and we will also soon launch a campaign to educate and inform about vaping in public and work spaces. A tremendous amount of work is going into the battle to get the ban on snus sales overturned and the case is now with the European Court of Justice. A win for snus would be a win for vaping.
---
Visit Nicotine Science & Policy for more News from around the World

---