Vapers Digest 14th July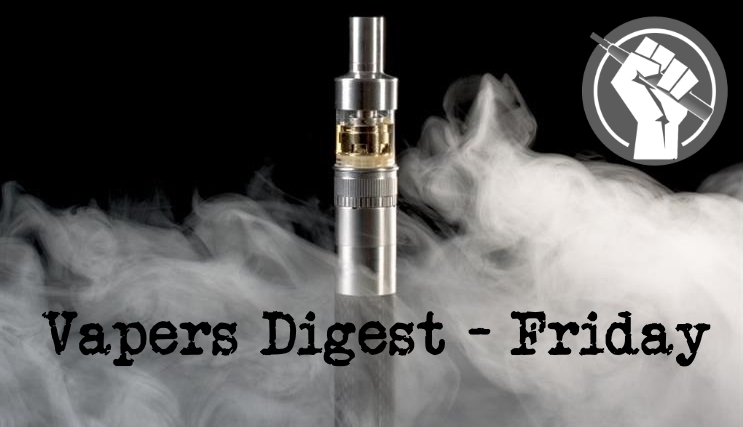 Friday's News at a glance:
American experts call for risk-based reform of FDA regulation of tobacco and nicotine – Just £2 a month – Anti-vaping reports further discredited – AMA submission to e-cigarette inquiry is an evidence-free zone – Tobacco use objectives can be met – Furore over tobacco harm-reduction efforts – E-cigarettes. A threat or an opportunity? – Knowledge and Attitude of Teenagers – E-Cigs May Be Gateway Away from Smoking – Nicotine Science and Policy Daily Digest
Clive Bates, The Counterfactual
There have been two very encouraging initiatives in the United States in the last month, both captured in the form of letters to recently-appointed FDA Commissioner Scott Gottlieb.

Some of the most experienced US tobacco control experts are showing support for tobacco harm reduction and calling for a rethink of the approach to regulating low-risk nicotine products, such as vaping technologies.
Small regular donations from our Supporters could fund our work
New Nicotine Alliance
NNA UK is now the go to organisation for tobacco harm reduction in the UK . With your support we are fighting back against excessive and crippling regulations and raising awareness about the use of harm reduced products – e-cigarettes in particular. We are campaigning hard against the TPD and we will also soon launch a campaign to educate and inform about vaping in public and work spaces. A tremendous amount of work is going into the battle to get the ban on snus sales overturned and the case is now with the European Court of Justice. A win for snus would be a win for vaping.
---

---
Dr Colin Mendelsohn
Opponents of vaping often base their views on two major international reports, one by the World Health Organisation and one by the US Surgeon-General. Both have been widely criticised. A new publication this week has further questioned the validity of the Surgeon General's report.
---
---
Is an evidence-free zone
Dr Colin Mendelsohn
As an AMA member, I am embarrassed by the AMA submission to the federal government's e-cigarette inquiry. It contains factual errors, misleading information, important omissions, unscientific arguments and cherry-picks evidence.

I am not the only one. A well-known US Public Health academic, Professor Michael Siegel has written a scathing critique.
---

---
The Times and Democrat
A new report concludes the United States is failing to meet its goals in reducing tobacco use.

Action on Smoking and Health bills itself as America's oldest anti-tobacco organization. Founded in 1967, it is dedicated to a world with zero tobacco deaths. Its new report is titled, "Tobacco in America: Leaving the Vulnerable Behind."
Chukwuma Muanya
In Nigeria, most cities including Lagos have outlawed smoking backed with legislation but poor enforcement has been the pitfall. People still smoke in public places in all the nook and crannies in the country exposing the non-smoker and tender ones to secondhand smoke, which has also been associated with cancer of the lung and other ill-health effects.
---
---
---
Towards Electronic Cigarettes in Karachi
We conducted a cross-sectional study in January 2017 using convenience sampling and interviewed 441 young individuals, aged 13 to 19 years, to determine their knowledge, attitudes, and practices regarding e-cigarettes. The participants were questioned about their knowledge and its source
Dr. Joel L. Nitzkin
Banning flavored e-cigarettes has been proposed in San Francisco and elsewhere as a way to make these smokeless and nicotine vapor products less attractive to children and teens. While that may seem a sensible and self-evident conclusion, scientific evidence strongly suggests that such bans would likely do more harm than good.
---
A look back at how things have moved on or otherwise….
Where None Exists (again) – Paul Barnes
You will of course remember a ridiculous "study" from last year (covered neatly by Clive Bates here) that spread far and wide about alcohol being related to e-cig use. That one of course came from up north – Liverpool to be exact, and who do we know in Liverpool that doesn't like e-cigarettes?
Mawsley – Planet of the Vapes
The European Commission (EC) has presented a report, to the European Parliament and Council, on (what they deem) the potential risks to public health associated with the use of refillable electronic cigarettes.

Article 20 of Tobacco Products Directive required the EC to submit this report, demanding it looked at the potential risks to public health. At the time of the adoption of the TPD, there were concerns about the risks of refillable devices that allow users to come into direct contact with eliquids.
Paul Barnes
I've been mulling this over in my head ever since the first vaping bans were imposed by businesses such as Weatherspoons. I kept thinking to myself why? Was it down to simply banning something that "looks like smoking" – after all there is a comprehensive policy in place across the UK in that smoking is not allowed/prohibited/banned in work places, public places…
---
Visit Nicotine Science & Policy for more News from around the World

---