Vapers Digest 17th July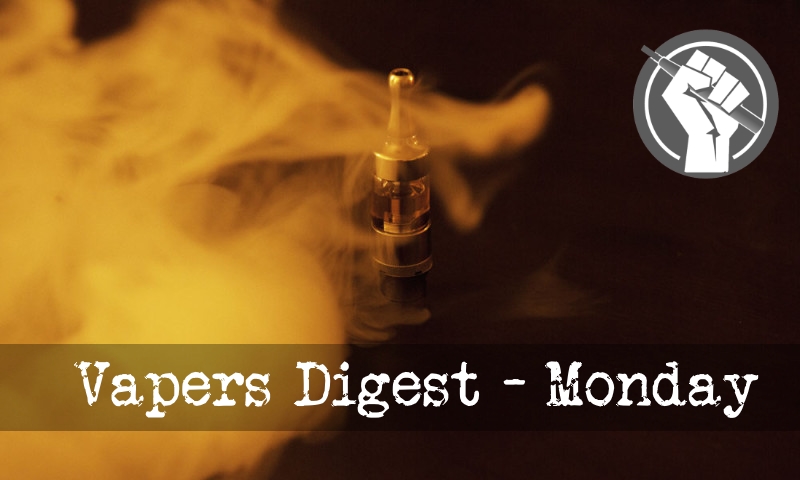 Monday's News at a glance:
More bad news in USA and Australia, but reality show gets e-cig delivery – Cowardice In The Face Of Bravery – What Happens if You Have No Argument – Evidence, Did You Say? – Wrigley sues e-liquid maker – Why can't we agree on e-cigarettes? – Strange Bedfellows – Who Hates Indoor Vaping – WHO hit on e-cigarettes info – A year with the PAX Labs Juul vaporizer – Vaping In The News – Nicotine in the News – 17 July – Nicotine Science and Policy Daily Digest
But reality show gets e-cig delivery
Fergus Mason, Vaping Post
A third US state has brought in an over-21s rule for the purchase of vapor products – Oregon voted through the same restrictive policy as Hawaii and California last week, and it's likely to be enforced within days. Meanwhile the Australian doctors' union is stubbornly clinging on to its extreme anti-vaping position despite belated signs of movement from the government. On a lighter note, a British reality TV show famous for its sexual tension has started handing out e-cigs to participants after dozens of viewers complained – about smoking.
Dick Puddlecote
I have consistently said on these pages – since around 2010 – that e-cigs have the potential to show up the cant and oleaginous hypocrisy of the tobacco control industry. There have been numerous examples of this over the years but a spectacular episode this week in Australia has left all others in the shade.

As Snowdon has remarked, so exasperated are Australia's tobacco control extremists at the relentless advance of vaping, that they have now taken to slandering ordinary vapers and implying they are – every single of them – nothing but shills for the tobacco industry.
Paul Barnes, Facts Do Matter
As Dick Puddlecote has often pointed out on his blog – e-cigs have the potential to show up the plethora of lies, half-truths and utter hypocrisy of the troughers found in the tobacco control industry. There have been a few examples of this over the years, but there appears a new desperation setting in as a blatant, and rudimentary episode appeared from the land of down under.

As others have remarked, Australian tobacco control have swung so far, and missed so often that they have now taken to openly slandering ordinary members of the public; implying – each of them – they are nothing but a front for the tobacco industry.
---

---
Dick Puddlecote
For curiosity, here's a Guardian article from 2015:

Deborah Arnott, chief executive of charity Action on Smoking and Health, said there was no evidence to support claims that depriving prisoners of tobacco could lead to riots.

Oh really?

Inmates are rioting over a new smoking ban in prisons

Inmates are staging riots over a new Government ban on smoking in prisons, which is seeing tobacco steadily phased out.
Wrigley sues e-liquid maker
Jim McDonald, Vaping 360
A Chicago-area vape company is being sued by Wrigley for infringement of the gum manufacturer's trademarks. Specifically, Chi-Town Vapers sells two flavors of e-liquid using branding that are associated with Wrigley's Juicy Fruit and Doublemint gums.

The New York post reports that Wrigley asked the company to stop selling its Doublemint-branded e-liquid in July 2014, and Chi-Town did, but then in November 2015, Chi-Town began selling the Doublemint flavor again, this time changing the name to "Dbl Mint."
---
---
Announces strong support for e-cigarettes
Dr Colin Mendelsohn
The Royal Australian and New Zealand College of Psychiatrists (RANZCP), the nation's peak body for psychiatrists, has come out in strong support of e-cigarettes for tobacco harm reduction.

In its submission to the federal parliamentary inquiry, the RANZCP stated that e-cigarettes 'will provide a safer way to deliver nicotine to those who are unable to stop smoking, thereby minimising the harms associated with smoking tobacco'.
Dr Colin Mendelsohn
Dr Joe Kosterich
There is an old adage that politics makes strange bedfellows. The E-cigarette debate in Australia has given a new twist to this with the Tobacco industry and Tobacco control effectively on the same side when it comes to people continuing to smoke.

Sound bizarre? Well it is. Unquestionably neither side would agree with my summation but many outside observers do. So how has it come to this?
Encourages FDA to Reconsider E-Cigarette Regs
Brian Fojtik, Huffington Post
Iowa's Attorney General Tom Miller is no friend of big tobacco. The 9-term Democrat was one of the Attorneys General that led the charge suing big tobacco companies that ultimately culminated in the Tobacco Master Settlement Agreement (MSA) where cigarette manufacturers were forced to pay the states billions of dollars.
---

---
A key weapon in the fight against smoking
Shernovia Reddy
"Simply put, tobacco harm reduction is defined as anything that decreases the risks from using combustible tobacco, for example through vaping," said Dr Delon Human, co-founder of the Africa Harm Reduction Alliance (AHRA) and President of Health Diplomats, a specialised health, nutrition and prevention consulting group operating worldwide.
Mawsley, Planet of the Vapes
An article, up for peer-review in the World Health Organisation's (WHO) Bulletin journal, makes the claim that all indoor vaping should be banned. The writers of a paper on banning indoor vaping have chosen their words carefully, but shamefully dredge up previously debunked objections once again to support their stance.
WHO is seeking to ban indoor use of electronic cigarettes (e-cigarettes or "vapes") based on rehashed flawed information. Health Secretary Paulyn Ubial said the Department of Health was open to adopting the WHO's recommendation.

"Local anti-tobacco groups should realize that the WHO is not infallible and repeating wrong information on e-cigarettes will not make it correct," said Tom Pinlac, president of The Vapers Philippines.
Jordan Crook
Nicotine vaporizer companies have a bit of a conundrum. While, legally, they can't market themselves as smoking cessation devices, most vapers are current or former cigarette smokers. In fact, the CDC says that fewer than 4 percent people who had never tried traditional cigarettes have ever tried using a vaporizer.
Kevin Crowley, Vaping Links
I am a Vaper ~ ♫ I'm just a shill… ♫ ~ That word ~ Brian Fojtic ~ Coffee ~ Colin Mendelsohn ~ Deeming Regulations ~ THR4Life
Harry Shapiro
This week some further reflections on the links between drug and tobacco harm reduction.

There are many interventions from a public health or health and safety perspective that could be called harm reduction – seat belts, crash helmets, speed limits, safer drinking levels, smoking bans. But as Ethan Nadelmann was at pains to point out at the GFN conference, harm reduction is not just another name for public health or health and safety. It sits at the intersection between public health on the one hand – and human rights and civil liberties on the other.
---
A look back at how things have moved on or otherwise….
Dick Puddlecote
On Tuesday I attended the Freedom Dinner and witnessed a superbly entertaining speech by Rod Liddle, I'll be writing about that soon but for now I really must describe a very encouraging event that took place at the Royal Society of Medicine yesterday afternoon…
To allow vaping to thrive and achieve its full potential – IBVTA
As you and your new cabinet work to withdraw the UK from the European Union, and as you develop new trade deals, opportunities, and policies for the United Kingdom over the coming years, we hope that you will bear in mind the role that the independent vape industry can play, not just in helping smokers switch to a significantly less harmful alternative, but also in providing jobs, economic growth, and export opportunities….
 Juhani Orelma
Lately, I've been watching some very interesting lectures on the underlying factors that lead to and exasperate behaviours to such a degree, that they get defined as diseases or disorders under the umbrella of addiction.
Two basic premises came up that were suggested to lie at the core of pathological addictive behaviour:
---
Visit Nicotine Science & Policy for more News from around the World

---