Vapers Digest July 13th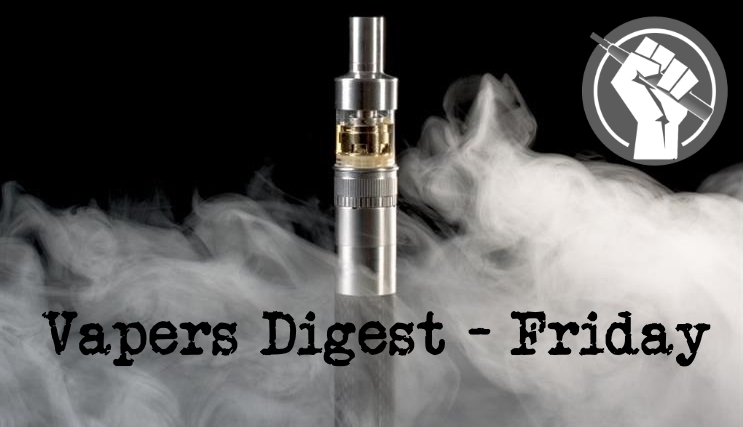 Friday's News at a glance:
EU Wants To Tax Vaping, Don't Let Them – No Smoker Left Behind – You Can't Hide Facts About Smokeless Tobacco – Does Vaping Help You Quit Smoking? Yes, But… – DJ Becomes Hot Stuff – Brexit and Vaping – Do E-Cigs Increase Cardiovascular As Much As Cigarettes? – Differential Effects of E-Cigarette – Juul to sell lower-nicotine pods – The great vaping debate – Nicotine may be part of solution – Is Nicotine Really That Unhealthy? – Health group calls for total ban on e-cigarettes – 'Vaping' pilot caused Air China plane to plunge 6,500m – Nicotine Science and Policy Daily Digest
Dick Puddlecote
Via new vaping media source Vapetrotter (which you should bookmark, by the way), it won't surprise you to learn that a vast impenetrable bureaucracy which lives solely on the basis of tens of thousands of employees earning their living by doing nothing but regulating, wants to regulate e-cigs further than the absolute shit-shower they did with the TPD.

The EU seems to have decided it wants to tax e-cigarettes. They don't have any moral or scientifc basis for doing so, but hey, salaries have to be paid and vaping is killing the treasuries of many an EU country.
George Gay – Tobacco Reporter
Working on  a shoestring, the New Nicotine Alliance U.K is encouraging smokers to switch to less risky products – while desperately trying to prevent others from botching the opportunity .
---

---
But You Can't Hide Facts About Smokeless Tobacco
Brad Rodu, Tobacco Truth
In a recent New England Journal of Medicine article, FDA researchers went to great lengths to conceal the fact that smokeless tobacco (ST) use has an entirely negligible impact on life expectancy.

The article, "Potential Public Health Effects of Reducing Nicotine Levels in Cigarettes in the United States," (here) by Benjamin Apelberg and colleagues, was the centerpiece of FDA Commissioner Scott Gottlieb's March 15 announcement of a radical nicotine reduction rule for cigarettes.
Carl V. Phillips, Daily Vaper
This week's headlines contain the all-too-familiar claim that a new study shows that vaping does not aid in smoking cessation, or even hinders it. Once again, this interpretation of the study results is wrong, and once again it is for most of the same reasons similar past claims were wrong. The error is not complicated, but it is easy for tobacco controllers to use it to manufacture anti-vaping results: Not every smoker who vapes is trying to switch, and smokers who have been vaping a while have already demonstrated they are not likely to switch.
---
---
Mawsley, Planet of the Vapes
Yet again, someone fails to follow simple directions and blames vaping rather than the battery and their own stupidity. Jason Curmi was admitted to hospital for burn treatment after he carried a loose lithium-ion cell in his pocket; the anti-vape media coverage fuelled an outburst by an ignorant clinician.
Jason Curmi, otherwise known as DJ Moley, told the media: "An ecig burnt my knob." Even without this coverage, vapers will instantly know that a knob was involved in the incident. Happy to help drink and drug addicts with advice, he appears to have ignored the safety instructions aimed at him.
Mawsley, Planet of the Vapes
In 2016, many believed that leaving the European Union would allow the United Kingdom to relax some of the more draconian aspects of the Tobacco Products Directive. It was argued that a 'Leave' vote would return 30-100ml bottles and scrap the idiotic 2ml limit on tank size. According to Clive Bates, the government's recent white paper rules out such moves.
"Many in the Westminster bubble have lost touch with the feelings of smokers including those using e-cigarettes to quit," said the 100K Campaign in 2016.
---

---
A recent study published in the SAGE journal, Vascular Medicine, has once again correlated vaping to arterial stiffness and elevated vital signs. Conducted by Franzen et al., the study results were obtained by monitoring participant's vitals during and after they had smoked a cigarette, or vaped a nicotine containing or non-nicotine containing e-cigarette.
On Microvascular Endothelial Function, Arterial Stiffness and Oxidative Stress:
Propylene glycol and glycerol are electronic cigarettes vehicles allowing liquid vaporization and nicotine transport. The respective effects of these different constituents on the cardiovascular system are unknown. We assessed the differential effects of vehicles (propylene glycol and glycerol) and nicotine on microcirculatory function, arterial stiffness, hemodynamic parameters and oxidative stress. Twenty-five tobacco smokers were exposed to vaping with and without nicotine, and sham vaping, in a randomized, single blind, 3-period crossover design study.
Helps customers stop smoking – James Dwan
AN e-cigarette shop in Clacton has become the first in the district to offer a service to help people stop smoking. Vaporever, in West Avenue, has signed Provide's smoking cessation contract and will work with Tendring Council and Essex County Council to support smokers looking to quit.

Those who want to quit will be given one-to-one support and e-cigarette intervention.
A co-pilot smoking an e-cigarette on an Air China flight caused the plane to start a rapid emergency descent, investigators have said.

They say he tried to hide the fact that he was smoking but accidentally shut off the air-conditioning, causing oxygen levels to fall.

The crew on Tuesday's flight from Hong Kong to the city of Dalian released oxygen masks and brought the plane more than 6,500m (21,000ft) lower.

Angelica LaVito
Juul Labs is addressing one of the most common criticisms levied against the e-cigarette company: the amount of nicotine in its vaping liquids.

The leading e-cig maker will soon introduce lower nicotine options for some of its flavor pods. A tiered approach to nicotine levels is thought to help people who are trying to quit smoking because they can gradually wean themselves off nicotine, the substance that makes cigarettes addictive.
Stewart Lawrence
It sounds so well-intentioned: Preventing "harm" to consumers by erring on the side of scientific "doubt." But the practical effect of the so-called "precautionary" principle is often just the opposite: denying consumers ready access to demonstrably beneficial goods and services.

A good example is the rapidly expanding "vaping" industry. Billed as a safer and cleaner alternative to tobacco, vaping features an odorless and colorless liquid heated with a battery-powered unit to produce an aerosol mist that the "vaper" inhales and exhales in a pattern that resembles cigarette smoking.
Rainier Allan Ronda – The Philippine Star
With the technology disruption brought by the development of electronic nicotine delivery systems (ENDS) or e-cigarettes, nicotine has ceased to be the problem but has become part of the solution to the persistent global smoking scourge, a vaping advocate claims.

"Nicotine is not the problem. It is a very big part of the solution," said Andy Morrison, a former smoker and trustee for the New Nicotine Alliance (NNA), during the 5th Global Forum on Nicotine (GFN) held in Warsaw, Poland last June 14-16.
Anna Medaris Miller
AUBREY MARCUS IS A health guru as worshipped as they come. The founder and CEO of Onnit, an Inc. 500 lifestyle company that sells supplements, health foods, fitness gear and apparel and more, has written best-selling personal development books and has more than 243,000 Instagram followers and 10 million podcast listeners eager for his diet, fitness and other advice on what he calls "total human optimization." He'd rather skip breakfast than eat a carb or sugar at the meal, and has a physique Men's Health magazine deemed worthy of its cover.
While vaping may be fine in your home country, there are parts of the globe where owning an e-cigarette can land you in serious trouble. Ever since the World Health Organisation published a study which claimed that e-cigarettes may not help smokers kick the habit, several countries have clamped down on their use.
Analou De Vera
"We call on President Duterte to impose a ban on selling, distribution and use of e-cigarettes, vapes, and all products necessary and incidental to the use thereof, just as he had done in Davao City," said Mary Ann Fernandez-Mendoza, president of HealthJustice group.

"The purpose is to protect the lives and health of the people, especially the youth, who would otherwise fall prey to these deadly commodities," added Mendoza.
---
A look back at how things have moved on or otherwise….
Christopher Snowdon, Velvet Glove Iron Fist
New Zealand is in the process of repealing its ban on e-cigarettes. In the past year, Finland, Hungary, Sweden, Belgium and Denmark have all legalised the sale of vaping devices and fluids. Every EU country now allows the sale of these products.

Once New Zealand has legalised e-cigarettes, Australia will be the only developed, western nation to have maintained its prohibition. The tide has turned and Australia looks increasingly like a backwater.
And the new McCarthyism – Terry Barnes
One of the more emotive arguments thrown up against e-cigarettes and vaping is that multinational tobacco companies, including Philip Morris International, Imperial Tobacco and British American Tobacco, are eyeing the vaping market as a source of future profit.

That was highlighted on Thursday by a Fairfax Media yarn that revealed Philip Morris emailed its consumer contacts, suggesting they make personal submissions to a House of Representatives committee inquiry into the use and marketing of electronic cigarettes and personal vaporisers in Australia.
---
Visit Nicotine Science & Policy for more News from around the World

---