Vapers Digest July 11th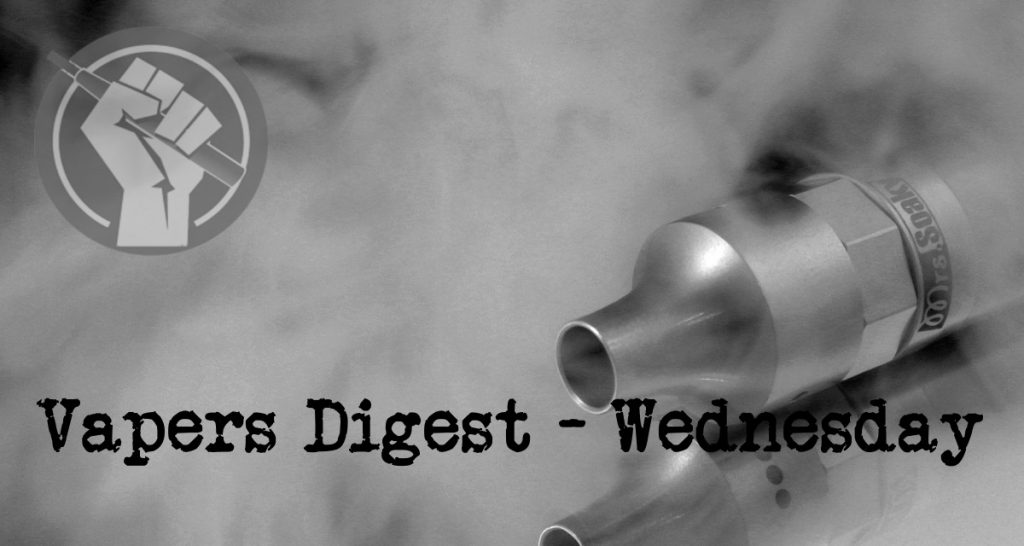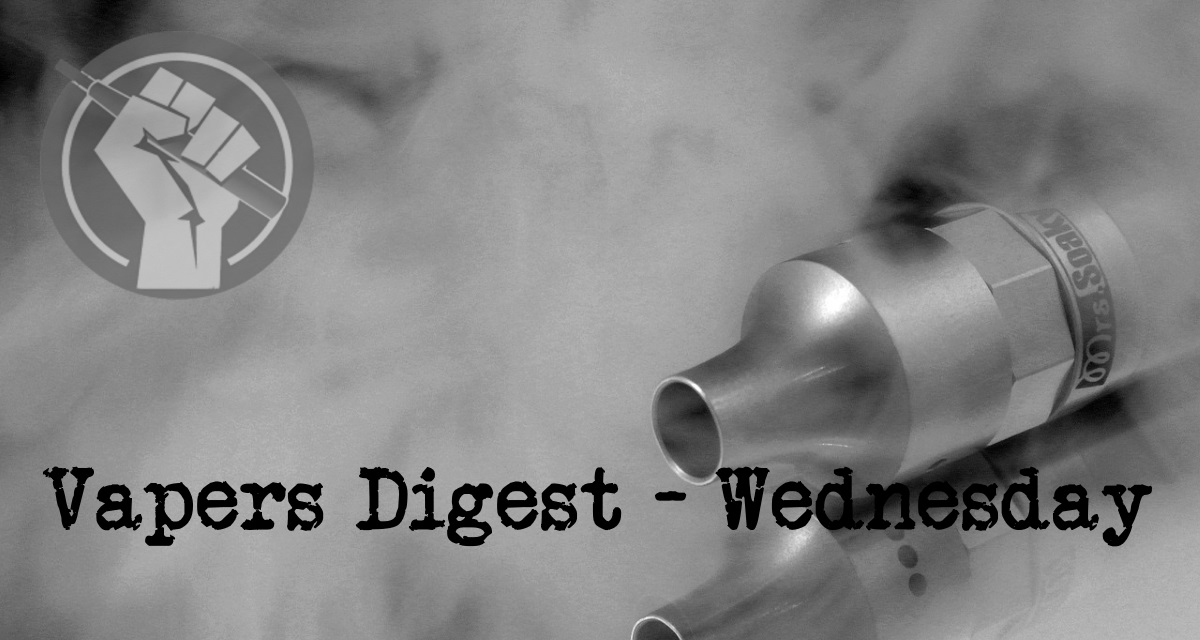 Wednesday's News at a glance:
An outsider's experience of vaping in London ~ Countries With The Strictest E-Cig Regulations ~ Harry's blog 63: Time to deliver on tobacco harm reduction ~ 'It's just a no-brainer': The case for legalising e-cigarettes ~ Call to legalise, tax e-cigarette liquids ~ Who Spammed the FDA With 250,000 Fake Comments? ~ FDA Must Ignore Anti-Flavor Astroturfing ~ New Bylaw Supports Smoke-Free And Vape-Free Spaces for All ~ Rendez-vous With Paddy Costall ~ Get Rid Of Flavors ~ No Smoker Left Behind ~ Time to revisit Calgary's misguided vaping restrictions ~ Vape shop owners want permit for stores after Milwaukee ecig ban
Dr Roberto Sussman, New Nicotine Alliance
I have just returned to my home in Mexico City after a 12-day academic visit to Queen Mary College (University of London). Even in my locality thousands of miles away, and elsewhere globally, the positive effects of health policies in the UK endorsing e-cigarettes as a substitute for smoking are widely known.

However, I would like to share how I perceived the vaping experience in London, as a foreign visitor and strictly from a vaper's perspective.
, Vaping Post
UK news website Echo is reminding vapers that e-cigarettes are not as endorsed around the world as they are in the UK. Caution must be exercised before travelling with the devices, as in some countries unknowing tourists could even face jail time if caught in possession of vaping products.
Harry Shapiro, Nicotine Science and Policy
As the first global state of tobacco harm reduction report is now in the tender care of the copy editors, time to cast an eye once again on the wacky world of THR.

Taking time out from the intellectual tour de force that is a Dan Brown novel, (Me? Jealous?), I turned my attention to Time to Deliver the recent WHO status report on how member states are doing to tackle noncommunicable diseases (NCD) in pursuit of the UN Sustainable Development Agenda goal of reducing NCD by a third by 2030. In shock news, the world is nowhere near achieving that and received a sharp slap on the wrist from the WHO – 'must do better' said the headmistress' report. One way of doing better says the WHO is to engage with the private sector, although of course as the report is at pains to point out, this specifically excludes the tobacco industry.
---

---
Luke Grant, 4BCAU
The perennial debate about whether to legalise e-cigarettes is unfolding all over again.A recent report on the topic suggests the push for e-cigarettes is coming from tobacco companies, who are eager to lure another demographic into their sales market. On this reasoning, vaping is presented as being a "gateway" activity. It supposedly leads or prompts consumers towards conventional smoking products.

But Dr Attila Danko says this is not the case.

"If it was true that e-cigarettes were a massive gateway to children becoming addicted, I wouldn't be on the side of legalising it," says Danko.
, The Queensland Times
AN ADVOCACY group has labelled the Queensland Health crackdown on vaping, including massive fines, as "ludicrous".

Brian Marlow from Legalise Vaping said the ban on vaping liquid containing nicotine was harmful and would likely push people towards trying to circumvent the rules, rather than follow them.

"The fines are ludicrous," Mr Marlow said.

"We should legalise it so people can access the products safely and the government can regulate and tax it."

Vaping is the practice inhaling and exhaling vapour created by an electronic cigarette, filled with flavoured liquid. Not all liquids contain nicotine.
---
Jim McDonald, Vaping 360
The federal government web system accepting online comments on the FDA's proposed flavor regulations for e-liquid has been compromised by the submission of more than a quarter-million spam comments.

According to reporting from Brent Stafford at Regulator Watch, the FDA Division of Dockets Management (DDM) has admitted that its servers have been overwhelmed by the comments, most of which were uploaded by bots during one weekend in June. The comments all appear to advocate against allowing vape flavors.
Carl V. Phillips, The Daily Vaper
As previously reported, the FDA current is accepting comments on their plans to possibly ban flavors in e-liquid and other tobacco products, and the docket has been overwhelmed with an unprecedented number of comments. Most of these are pro-ban and anti-vape spam. RegulatorWatch.com recently reported in its RegWatch video series that the bulk of these comments, about 250,000, were not even one-click form-letters generated by astroturfing campaigns, but rather were pure fakes, uploaded by bots which were eventually blocked. RegWatch's Brent Stafford (who has written for The Daily Vaper) called this a "disruption campaign" and credibly speculated that this was an effort to force the FDA to ignore the entire comments process, or give them an excuse to do so if they want.
---
---
PTBO Canada
Peterborough Public Health has partnered with Peterborough Police, the City of Peterborough and Peterborough Musicfest to remind people that both the Smoke-Free Ontario Act and the Peterborough Smoking Bylaw prohibit smoking and vaping in area parks, playgrounds, beaches and sports fields, and at street festivals like Peterborough Pulse.

"Smoking rates continue to decline, but many people believe that smoking outdoors is harmless when in fact there is no safe level of exposure to second-hand smoke," says Dr. Rosana Salvaterra, Medical Officer of Health. "Actively enforcing the bylaw will both protect people from toxic second-hand smoke and support a reduction in smoking rates."
---

---
Philippe Boucher, Blogs Of Bainbridge
July 6, 2018  Rendez-vous #14 with Paddy Costall. Paddy is one of the co-founders of the Global Forum on Nicotine. Thank you Paddy for accepting our rendez-vous. May I ask you to introduce yourself?
And You Get Rid Of Smoking Cessation Among Cigarette Users
News Staff, Science 2.0
There has been recent concern about the impact of vaping flavors on young people but the numbers are fuzzy. The US FDA has rightly cracked down on companies flagrantly violating copyright in packaging but cartoon characters don't lead young people to vaping. Instead, former smokers note, young people who experiment with it but don't already smoke often just want to seem cool, and there is nothing cool about bubble gum flavor.

Instead, they argue, flavors are primarily for existing smokers who want to quit. They get the nicotine, they get some of the habitual mechanism of smoking, but not the carcinogens in smoke or the flavor of cigarettes. They get the chance to quit while reducing harm until they do.
---

---
George Gay, Tobacco Reporter
Working on a shoestring, the New Nicotine Alliance is encouraging smokers to switch to less risky products – while desperately trying to prevent others from botching the opportunity.

I know it's not the done thing to mix editorial and commercial activities, but I want to start this piece with an appeal for money – though not on my own behalf for once. If you have some cash to spare, perhaps you'd like to donate it to charity – to the New Nicotine Alliance (NNA) U.K.
Rob Breakenridge, Calgary Herald
Between agonizing over the tough choices looming in the next budget (while somehow also finding money to splurge on the Olympics) and implementing a restrictive new cannabis bylaw, Calgary's city council has been rather pre-occupied these days.

However, that shouldn't distract from other matters or even preclude council from revisiting past decisions. Granted, it usually takes a change in government to get the perspective and political will necessary for realizing that a wrong decision had previously been made. And, of course, Calgary's political status quo is locked in until 2021.
Tom Durian, TMJ4 Milwaukee
A ban on e-cigarettes or vaping machines in restaurants, bars, and other businesses goes into effect Tuesday at midnight in Milwaukee.
The ban was passed unanimously by the common council in June, then signed by Mayor Tom Barrett. The authors of the ordinance site health concerns for the new ban.
The ban extends e-cigs to the same places as the state's smoking ban. It would also mean that customers can't vape inside stores that cell the e-cigs and the liquids that go inside them.
---
Visit Nicotine Science & Policy for more News from around the World

---