Vapers Digest July 9th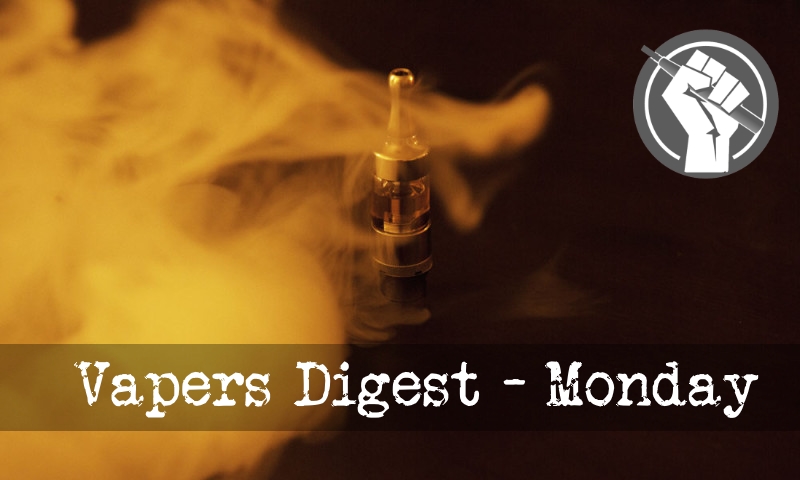 Monday's News at a glance:
MHRA Banning Squonking? – Britain's Vaping Revolution – Tobacco control bungles push smoking rate up – The Evidence is Growing – China Tariffs Will Hit Vape Industry – Ignorance continues to cost millions of lives – Turning a deaf ear to harm reduction?  – It is legal to import nicotine into Queensland – Industry slams 'moralistic' new tobacco billVaping In The News
Mawsely, Planet of the Vapes
The Medicines and Healthcare products Regulatory Agency (MHRA) has sent an email to vendors informing them that the sale of Squonking devices is not legal under the current registration scheme. It highlights an issue with squonk bottles over 2ml or increasing the atomiser capacity to over 2ml.

The New Nicotine Alliance's Sarah Jakes said: "Squonkers were always a grey area. I imagine MHRA have had them reported to them so they've had to make a decision, as opposed to the law changing. If I were a squonk manufacturer I'd be looking to sell without the bottle and perhaps they'll get away with selling it separately."
More from POTV:
Matt Ridley
Britain is the world leader in vaping. More people use ecigarettes in the UK than in any other European country. It's more officially encouraged than in the United States and more socially acceptable than in Australia, where it's still banned. There is a thriving sector here of vape manufacturers, retailers, exporters, even researchers; there are 1,700 independent vape shops on Britain's streets. It's an entrepreneurial phenomenon and a billion-pound industry.
---

---
Push smoking rate up – Fergus Mason
There was bad news from the UK last week, as the Office of National Statistics revealed that the country's smoking rate has risen for the first time in six years. While the rise isn't significant yet, it raises serious questions about the influence of tobacco control activists in making policy.

The latest data on UK smoking prevalence show a worrying reversal in the long-term downward trend. Since vaping became mainstream in around 2012 to 2013, Britain's smoking rate has been falling steeply. From 20.4% in 2012, by 2016 it was down to 16.1%.
Leslie Henderson
Combustible tobacco usage is falling but remains a massive hindrance on public health. Tobacco is one of the world's biggest killers and causes various health implications for its users.

Industry experts and regulators are working together to demonstrate that high quality e-cigarettes and e-liquids offer the potential to substantially reduce exposure to cigarette HPHCs in smokers who use such products as alternatives to cigarettes. The reduced risk associated with e-cigarettes makes them likely aides for stopping smoking. The improved health impacts could mean the future is cigarette free with e-cigarettes leading the way.
---
---
Turning a deaf ear to harm reduction? – Joseph Magero
Is it not baffling that our counterparts in tobacco control are so opposed to the idea of harm reduction yet the F.C.T.C treaty has clearly included harm reduction in the fight against tobacco? The Framework Convention on Tobacco Control treaty (F.C.T.C) article 1 defines Tobacco Control as:

"(d) "tobacco control" means a range of supply, demand and HARM REDUCTION strategies that aim to improve the health of a population by eliminating or reducing their consumption of tobacco products and exposure to tobacco smoke;"

With human lives at stake I think it's only right that we dialogue and engage one another…
Jim McDonald, Vaping360
Vapers are about to face price increases on Chinese products if President Trump gets his way. But there's time to register opposition if you want to.

As part of Trump's trade war with China — which began today — administration officials have included Chinese-made vapor products in the list of imported goods that will soon be subject to a 25 percent tariff. The actions being threatened will affect the cost of hundreds of other products too, including auto parts and tech components.
---

---
Into Queensland – ATHRA
Queensland Health has misled the public for several years by insisting that state laws (HDPR 1996) override Commonwealth legislation, making it illegal under any circumstances to import or possess nicotine.

Qld Health, 21 June 2017
'the HDPR takes precedence over Commonwealth legislation in relation to liquid nicotine in ENDS in Queensland …. As such the TGA's Personal Importation Scheme for therapeutic goods and the Special Access Scheme for unapproved therapeutic goods do not apply'.

After repeated challenges by ATHRA, Queensland Health has now admitted that importation of nicotine to stop smoking is legal under the TGA Personal Importation Scheme (see below). Vapers need a prescription from their doctor to qualify.
Vaping activists say the latest tobacco bill is ignorant and not based on scientific evidence. The vaping industry says it wants to be seen as a partner in South Africa's health agenda because it is less harmful than smoking.
The Africa Harm Reduction Alliance (AHRA) says its intention is to give simple messaging to individuals who want to stop smoking.

It is astonishing to think that, more than 64 years since the first hard evidence of a link between smoking and tobacco was published, public health bodies around the world are still struggling to convince people to stop smoking.

The 1954 Mortality in Relation to Smoking: The British Doctors Study was a landmark paper.

Produced by English physicians Sir Richard Doll and Sir Richard Peto, it revealed incontrovertible statistical evidence highlighting the correlation between smoking and serious illnesses – cancer in particular.
Kevin Crowley, Vaping Links
Can e-Cigarettes and Pharmaceutical Aids Increase Smoking Cessation? ~ Update on Deeming Rule Appeal ~ Vaping And Harm Reduction ~ 'Real‐world' compensatory behaviour ~ We're not idiots ~ The Grey Miserable World of 'Public Health' ~ Plain Packaging & the TPD ~ Montana Proposal Punishes Lower Income Smokers ~ CASAA Tobacco 21 policy statement ~ Truth Initiative manipulates tobacco numbers ~ Are Vapes Tobacco Products? ~ How to lie, cheat, manipulate and mislead ~ Five Years
---
A look back at how things have moved on or otherwise….
Fergus Mason, Vaping Post
Vaping advocates, particularly in the UK, were left outraged last week after repeated claims about Britain's falling smoking rate made no mention of vapour products – or, indeed, any mention of harm reduction at all. Groups like ASH and Cancer Research gave all the credit to controversial measures they have advocated for, and ignored science-based methods.
New Nicotine Alliance
NNA is planning a campaign around vaping in premises, to give guidance and factual information to both consumers and those who are responsible for deciding on vaping policy in shared spaces. We'd like to include a few case studies on places which allow vaping, eg offices, coffee shops. Please email us at info@nnalliance.org if you can help. We won't publish your name or details about your business.
Dick Puddlecote
Christ! I have so much to write but so little time to do so. My calendar for the next week looks packed so there may be very little on these pages for a while, but here's something I can thoroughly recommend.

While in Warsaw at GFN last month, the keynote speaker was Ethan Nadelmann, founder and executive director of the Drug Policy Alliance. He has worked for a very long time in the field of harm reduction in relation to illicit drugs so his expertise is very much transferable to the tobacco and nicotine debate.
---
Visit Nicotine Science & Policy for more News from around the World

---