Vapers Digest 7th July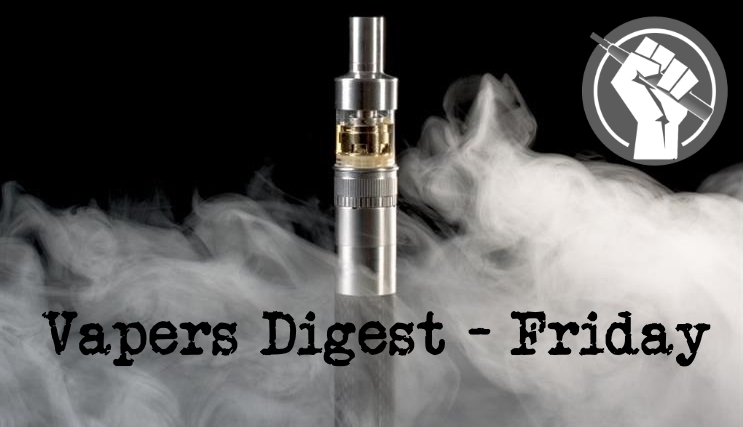 Friday's News at a glance:
Outrage as vaping's role in harm reduction ignored – Update from NNA – Prohibitionists Always Lose – Vaping Reducing Violence – San Francisco's nannies are at it again – Ecig Advertising Research – To vape or not to vape? Yes – It's a safer alternative – Drivers of poor medical care – Nicotine Science and Policy Daily Digest
Fergus Mason, Vaping Post
Vaping advocates, particularly in the UK, were left outraged last week after repeated claims about Britain's falling smoking rate made no mention of vapour products – or, indeed, any mention of harm reduction at all. Groups like ASH and Cancer Research gave all the credit to controversial measures they have advocated for, and ignored science-based methods.
New Nicotine Alliance
NNA is planning a campaign around vaping in premises, to give guidance and factual information to both consumers and those who are responsible for deciding on vaping policy in shared spaces. We'd like to include a few case studies on places which allow vaping, eg offices, coffee shops. Please email us at info@nnalliance.org if you can help. We won't publish your name or details about your business.
---

---
Dick Puddlecote
Christ! I have so much to write but so little time to do so. My calendar for the next week looks packed so there may be very little on these pages for a while, but here's something I can thoroughly recommend.

While in Warsaw at GFN last month, the keynote speaker was Ethan Nadelmann, founder and executive director of the Drug Policy Alliance. He has worked for a very long time in the field of harm reduction in relation to illicit drugs so his expertise is very much transferable to the tobacco and nicotine debate.
---
---
Mawsley, Planet of the Vapes
A paper published in Lancet Psychiatry claims that banning smoking and only encouraging traditional nicotine replacement therapies has led to a decrease in patients committing physical violence. It also highlights a distinctly odd approach to vaping being taken by the South London and Maudsley (SLaM) National Health Service Foundation Trust.
San Francisco's nannies are at it again
Not content to impose a heavy tax burden on cigarette smokers and to outlaw sales to anyone under 21, on June 20th, the San Francisco Board of Supervisors finalized the ban on all sales of flavored tobacco, flavored vaping liquids and menthol cigarettes in the city.

Prohibition never makes for good public policy, even if well-meant, because buyers and sellers are not chess pieces that politicians can move around the board at will.
---

---
Mawsley, Planet of the Vapes
A cross-European team led by Dr Filippos Filippidis, from the School of Public Health at Imperial College London, looked at traditional cigarette and electronic cigarette advertising. They expressed concern that ads are still being seen across Europe, but especially ones for vaping products.
Yes – It's a safer alternative – Duncan Hunter
Anyone who smokes cigarettes knows how difficult it can be to quit the habit. Most smokers know they should stop and many convince themselves that they can whenever they want, but often their willpower is overtaken by the short-lived comfort that traditional tobacco provides.

This is now less the case thanks to the relatively recent introduction of smoking cessation products that are best represented by so-called electronic cigarettes, which give smokers destined to quit an option that not only reduces harm but offers a far safer alternative.
The Lancet
The global ubiquity of overuse and underuse of health-care resources and the gravity of resulting harms necessitate an investigation of drivers to inform potential solutions. We describe the network of influences that contribute to poor care and suggest that it is driven by factors that fall into three domains: money and finance; knowledge, bias, and uncertainty; and power and human relationships.
---
A look back at how things have moved on or otherwise….
Mawsley – Planet of the Vapes
While there is an on-going fascination in the media and anti-ecig circles with never-smokers taking up vaping, the UK data doesn't bear it out. This isn't to say that some never-smokers don't try or take up vaping; it's just that according to Robert West they are a statistical insignificance…
PHE symposium – New Nicotine Alliance
Yesterday NNA attended the National Symposium on e-cigarettes entitled "A new era for tobacco harm reduction", which was jointly organised by Public Health England and Cancer Research UK.

The symposium was very well attended with some 200 delegates including regulators, Directors of Public Health and various practitioners, researchers, consultants and representatives from numerous health interest groups and charities…
Brad Rodu – Tobacco Truth
The Centers for Disease Control and Prevention's 2015 National Health Interview Survey – the source for national smoking estimates – reveals surprising e-cigarette facts, summarized in the chart.

These figures demonstrate a 7% drop in current vapers from the 8.9 million reported in 2014 (here), due largely to a 29% decline in the number of current smokers who vape.
---
Visit Nicotine Science & Policy for more News from around the World

---