Vapers Digest July 20th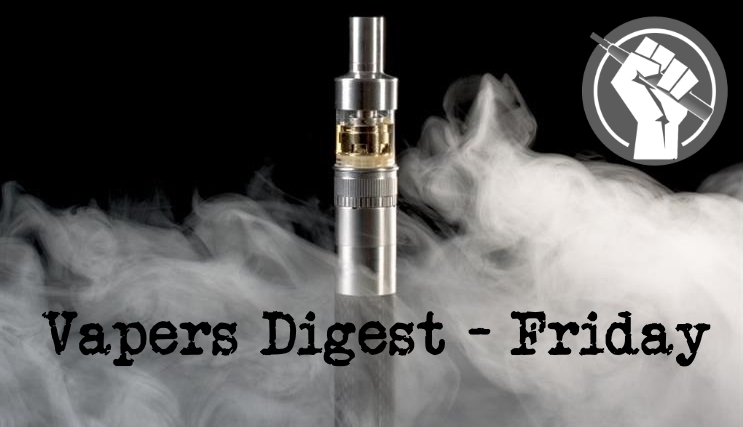 Friday's News at a glance:
Tobacco Control Plan debate – Grandad's New Resource – Fight the EU Vape Tax – Tax takes toll on vaping market – Stop advertising "healthier" tobacco products – Juul In The UK – Gaslighting, Not Evidence – Global E-cig & Vaporizer Market To Grow – Truth Initiative Endorses and Condemns Vaping – Vaping and using nicotine patches in pregnancy linked to cot death – Nicotine is NOT Cause of Death in 14-year-old – The case for defunding the WHO – 'Smoke Free Victoria' plan – Gov't Eyes $200m in Additional Revenue – Nicotine Science and Policy Daily Digest
New Nicotine Alliance
July 20th, 2018: Yesterday in a debate on the government's Tobacco Control Plan in the House of Commons, Sir Kevin Barron highlighted the gulf between the UK and Ireland, two countries with identical traditional tobacco control policies but with differing approaches to e-cigarettes. Between 2012 and 2016 smoking dropped by nearly a quarter in the UK . In Ireland, where e-cigarettes are viewed with suspicion, the smoking rate actually went up in this period.
Christopher Snowdon, Velvet Glove Iron Fist
In the previous post, I mentioned the parliamentary debate on tobacco control that had been organised by Action on Smoking and Health (ASH). It took place this afternoon and was streamed online so I watched it. As you can see from the photo above, it was sparsely attended. What you can't see is that was dominated by members of the All Party Group on Smoking and Health, a sockpuppet in-house pressure group created by ASH in the 1970s of which ASH remains the secretariat.

It began with a speech by Steve Brine who said that there are no plans for any more legislation but that the government would work hard to achieve its self-imposed target of having a smoking rate of no more than 12 per cent by 2022.
Dick Puddlecote
A few months ago I met with a city analyst who read your humble host's offerings and was keen to meet. We enjoyed a liquid lunch in Threadneedle Street but before going our separate ways, he asked if I could put him in contact with Grandad, of Head Rambles fame, as he was a regular visitor to Ireland.

It would appear that they did, indeed, get in touch and the link-up has produced something very useful. Today Grandad explains on his blog how this new project came into being. The result is a glorious website – based on an extensive investor report – which delves into the murky dealings of the tobacco control industry over decades.
---

---
Gordon Stribling
The European vaping community is rallying together to fight an EU proposal to apply a 'sin tax' to all vaping products. A public consultation period will run until September 3, giving vapers, the public and the industry the opportunity to give their opinion on the proposals.

The tax could have devastating impact on the vaping industry and could deter millions of smokers from making the switch to e-cigarettes. Now, a change.org petition has been launched, backed by a number of high-profile vaping and public health advocate groups from across the EU, including the UK's New Nicotine Alliance.
The growth in sales of electronic cigarettes in Greece has been curbed by the imposition of a tax on vapor products that comes to 0.10 euros per milliliter.

According to data compiled by leading Greek e-cigarette company Nobacco, the tax imposed on January 1, 2017 put a brake on the growth of the local market and pushed consumers toward contraband goods.
To stop advertising "healthier" tobacco products or face legal action
Yesterday the Department of Health sent a formal order to Phillip Morris, which makes Marlboro cigarettes, telling it to remove poster adverts for "healthier" tobacco products from shops around the UK.

Speaking to the Daily Telegraph, the public health minister, Steve Brine, warned that the department was prepared to take legal action against Phillip Morris in order to protect UK consumers from being targeted by the adverts.
Mawsley, Planet of the Vapes
After the long wait, the phenomenon that is Juul is arriving in the United Kingdom this week. The announcement had been expected due to a rash of vacancies being advertised, and looks set to shake the UK pod/beginner market to its core. Time will tell if the company enjoys the same success here as it has in the United States.
Juul, thanks to the unintentional advertising of those campaigning against it, has grown to be the market leader in its sector, crushing all of the tobacco company brands in the United States. Constant social media posts about Juul has raised its brand profile, and ill-advised advertising campaigns have seriously backfired by making the product appear to be cooler than Juul could have legally managed.
---
---
Sustainable Development Goals – Joseph Magero
The Sustainable Development Goals (SDGs) are a United Nations initiative, formally adopted by the United Nations General Assembly on 25 September 2015 in a resolution entitled Transforming our world: the 2030 Agenda for Sustainable Development. Reducing tobacco use plays a major role in global efforts to achieve the SDG target to reduce premature deaths from noncommunicable diseases (NCDs) by one third by 2030. Many of the 17 Goals have a direct or indirect relation to tobacco.
The Core Argument Is Based On Gaslighting, Not Evidence
Carl V. Phillips, Daily Vaper
There are a host of good arguments against proposals to ban flavors in e-liquids and other low-risk tobacco products. The bans are always predicated on the notion that the targeted flavors are "kid friendly," designed to attract underage consumers. Among the many valid responses are: adults like flavors too and it is nothing short of defamatory to suggest that the purpose of flavors is to attract children; it is already illegal for children to buy the products; and flavors that are very different from the taste of smoking make it easier for many smokers to switch and stay switched. But usually overlooked in these debates is the fundamental flaw with the core claim: there is simply no reason to believe that banning flavors will reduce underage use.
At 23.6% CAGR during the Forecast Period 2016-2024
The global e-cigarette & vaporizer market is segmented into product type such as disposable e-cigarette, rechargeable e-cigarette, e-go and tanks e-cigarette, personal vaporizers & mods and others. In this segment, rechargeable e-cigarette segment is projected to grow at remarkable pace over the forecast period. Increasing development and innovation of vapor technology is expected to drive the demand for rechargeable e-cigarette segment over the forecast period.
Jim McDonald, Vaping360
Truth Initiative, the richest and most powerful American tobacco control organization, has endorsed vaping as a cessation tool for smokers. However, the endorsement comes with such a list of caveats and demands that they probably should have just saved their breath.

In a document called "Action needed on e-cigarettes" released Thursday, Truth grudgingly accepted that "Some smokers may be unable or unwilling to quit using nicotine and would benefit by completely switching to a much lower harm nicotine delivery mechanism (including potentially a well-regulated e-cigarette)."
---

---
In pregnancy linked to cot death – NHS Choices
It took serotonin-deficient rats much longer to recover back to normal breathing and heart rates following a period of oxygen deprivation.

Exposure to nicotine or serotonin deficiency alone wasn't found to negatively affect the recovery of rats following oxygen deprivation.
Kevin Crowley, Vaping Links
According to a report from Ian Jacques at Delta Optimist, the death of 14-year-old Kyle Losse was "a result of complications due to a stroke" back in January of this year.

The "autopsy showed that no nicotine was present in his system."

Of course, that isn't what was "reported" when it happened.

While a tragic loss of life occurred – reporters took the liberty of manipulating circumstances surrounding the death and portrayed it as if it weren't about the child at all.
Bill Wirtz
The World Health Organization (WHO) is increasingly focussing on combating non-communicable diseases (NCD). In the process, it agitates governments to crack down on lifestyle freedoms. With the track record of the organisation itself, and its mind-bogglingly wasteful spending, there is a case for defunding it.

In the programme budget 2018-2019, the health-promoting body of the United Nations intends on spending a total of $350 million (£266 million) on combating diseases that were not transmitted from the outside world or between humans. Despite the fact that mental health problems are included in the category of NCDs, the focus is on self-inflicted complications, such as diabetes or preventable cancers.

Misses the key ingredient: vaping – ATHRA
Victoria's health organisations have overlooked vaping, the key component to establishing a smoke-free state in their announcement today.

Several health organisations have announced their plan called 'Target 2025' to combat stalled smoking rates by placing a 2025 deadline on Victoria to reduce daily smoking rates to below 5%.

The call today for a smoke-free Victoria by 2025 is a welcomed one, of course, but it has actually omitted the most effective, internationally-proven measure to significantly reduce smoking rates: legalising vaping and is unlikely to reach its target.
Ban & Prohibition Corner:
Adinda Normala
The Ministry of Finance estimates that the government may collect up to Rp 3 trillion ($207 million) in additional revenue next year from a new excise on tobacco extract, or vaping liquid, commonly used in electronic cigarettes.

While Indonesians have been puffing on e-cigarettes since 2013, the government only imposed an excise on vaping liquid on July 1. Under a new regulation, the liquid is subject to a 57 percent excise tax, more than four times the maximum excise on regular cigarettes.
Mawsley, Planet of the Vapes
Gucci have gone to court to block the use of their name on vape products. A travel magazine warns travellers not to take vapes to Singapore, they missed out that it might be best to avoid flying Air China. Next to no lithium batteries are being recycled in Australia. An Indonesian professor argues vaping is being misrepresented, Shanghai is set to host Vape Culture Week, and Reynolds has Juul in its sights with a new product launch.
---
A look back at how things have moved on or otherwise….
Vaping Point
I recently published a post called Why should vapers defend smokers. a lot of people have read it. But today, I want to ask why smokers should defend vapers.

There has been such bad blood between vapers and smokers with vapers resorting to all the Tobacco Control language like 'the filthy habit of smoking' 'stinkies' (for cigarettes) and repeating Tobacco Control catch phrases and dodgy science about smoking. Even 'vaping saves lives' can be seen as a judgment on smokers.
On Support for Tobacco Harm Reduction
Brad Rodu, Tobacco Truth
The United Kingdom Department of Health's new position statement (here), "Towards a Smokefree Generation," is, as Clive Bates wrote (here), "probably the first significant government policy paper anywhere that recognises and pursues the opportunities of tobacco harm reduction, rather than defining these technologies as a threat to be suppressed.  For that, the Department of Health and its allies deserve considerable credit."
---
Visit Nicotine Science & Policy for more News from around the World

---