Vaping Digest 20th July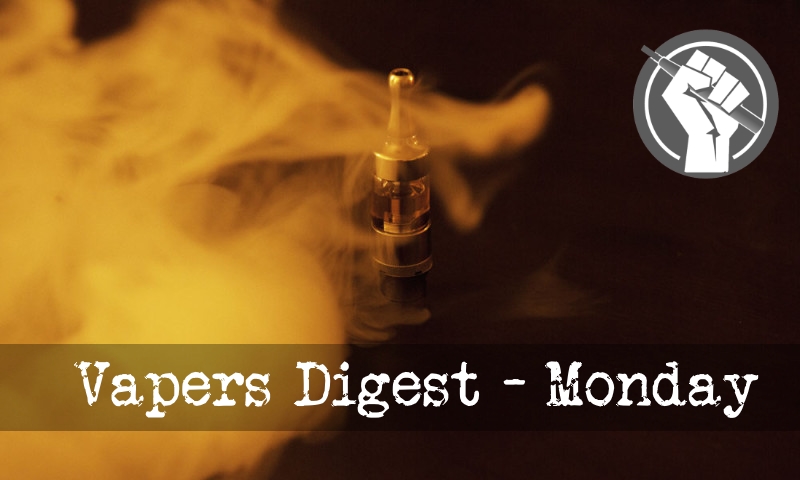 Monday's News at a glance:
European Harm Reduction Group Launches Manifesto on Behalf of Former Smokers – NZ Delay Call – Italian Study: E-Cigs Are Effective Tools to Decrease Tobacco Consumption – Zyn Boosts Swedish Match's Second Quarter – Latest Australian data confirms failure of plain packaging – MP's Smokefree Amendments Deserve Support – Draconian Australia Importation Ban – Kentucky's About-Face on Tobacco Harm Reduction Could Prove Hazardous – Nicotine Science and Policy Daily Digest
Launches Manifesto on Behalf of Former Smokers – Diane Caruana
The European Tobacco Harm Reduction Advocates (ETHRA) has launched a manifesto on behalf of million of smokers who have managed to quit smoking or reduce harm, thanks to safer alternatives such as e-cigarettes and snus, declaring their rights within Europe.

ETHRA is comprised of 21 consumer associations in 16 European countries. Launched last May on behalf of 27 million grass roots consumers across Europe who have quit smoking using safer products, the manifesto urged policymakers to recognize the benefits of tobacco harm reduction in advance of World No Tobacco Day.

Despite the evidence in favour of the use of reduced risk products such as e-cigarettes and snus for smoking cessation and harm reduction, some European countries are placing unnecessary bans and restrictions on the products.
---

---
Dave Cross, Planet of the Vapes
Consumer group Aotearoa Vapers Community Advocacy (AVCA) has called for the government to delay legislation debate until after the next general election. Despite the proposals to restrict vaping in New Zealand, vape company Vapo has announced it is expanding its chain of stores.

AVCA was formed in 2016 by vapers across New Zealand wanting their voices heard in local and central government. All members are former smokers who promote vaping to help smokers quit. AVCA does not have any affiliation or vested interest in industry – tobacco, pharmaceutical and/or the local vaping manufacturing or retail sectors.
---
Sadly this is not even surprising any more. Neither is the lack of coverage in the media for this correction, or the fact that Canada based regulation on the original garbage. https://t.co/s4oB0ZudIN

— 🦋 Sarah J 🇬🇧 (@Twigolet) July 20, 2020
---
To Decrease Tobacco Consumption – Diane Caruana
A recent study published in Addictive Behaviors, has indicated once again the efficacy and safety of e-cigarettes in helping smokers reduce tobacco consumption and improving their pulmonary health.

The study titled, "Benefits of e-cigarettes in smoking reduction and in pulmonary health among chronic smokers undergoing a lung cancer screening program at 6 months," was conducted with the aim of determining whether e-cigarettes may be considered valid and safe in supporting smoking cessation, and assess their effects on pulmonary function by noting differences in conditions such as coughs, shortness of breath and so forth, which are common in smokers.

Tobacco Reporter
Swedish Match reported a strong second quarter, driven largely by sales of its Zyn tobacco-nicotine pouches in the United States.

In local currencies, Swedish Match's sales increased by 11 percent for the second quarter. Reported sales increased by 11 percent to SEK4.13 billion ($457.18 million).

In local currencies, operating profit from product segments) increased by 19 percent for the second quarter. Reported operating profit from product segments increased by 17 percent to SEK1.7 billion.

Operating profit amounted to SEK1,67 billion for the second quarter. Profit after tax amounted to SEK1,23 billion for the second quarter.
---

---
Aotearoa Vapers Community Advocacy
"MP Nicky Wagner's amendment to reverse the Government's effective ban on oral tobacco-free nicotine pouches deserves supporting. Thank goodness at least one MP read and listened to key submissions and evidence on the bill to regulate vaping," says Nancy Loucas, co-director of Aotearoa Vapers Community Advocacy (AVCA).

Commonly known as tobacco-free snus, the pouches are placed between the upper lip and gum, providing up to 10,000 New Zealanders with a much safer alternative to smoking.

Parliament is expected to debate the final stages of the Smokefree Environments and Regulated Products (Vaping) Amendment Bill after the House resumes on Tuesday for its final three-week session before the General Election.

Latest Australian data confirms failure of plain packaging
As Malaysia and the Philippines consider plain packaging for cigarettes, following its introduction in Singapore at the start of the month, Australia releases data that confirms the controversial policy has failed to transform the country's smoking rates for the better.

The Australian Institute of Health and Welfare (AIHW) released the 2019 National Drug Strategy Household Survey (NDSHS) this week. This survey has become a vital indicator of the performance of government health policies, including tobacco control. Previous surveys were carried out in 2010 before plain packaging for tobacco products was introduced, in 2013, the year following its introduction (along with other measures, including tax increases), and again in 2016.
Dr Marewa Glover, Michael McGrady
On Tobacco Harm Reduction Could Prove Hazardous – Marc Hyden
When all eyes were focused on the emerging coronavirus outbreak, Kentucky lawmakers managed to raise taxes and abandon their long-held, forward-looking tax philosophy that placed a premium on harm reduction. Indeed, thanks to HB 351, e-cigarettes – a tobacco harm reduction product – will be taxed at a much higher rate come August 1, but this is problematic on a couple fronts. In fact, Kentucky's new tax law could undermine public health, and it also flies in the face of Kentucky's tax framework.

The Kentucky code reads, "…the General Assembly acknowledges that some in the public health community recognize that tobacco harm reduction should be a complementary public health strategy regarding tobacco products.
---
A look back at how things have moved on or otherwise…
But US clings to prohibitionism – Fergus Mason
The UK continues to lead the world in tobacco harm reduction, as two government-owned NHS hospitals open vape shops in collaboration with a major vendor. Patients at the hospitals will now be able to buy safer nicotine products and use them in on-site vaping areas. Unfortunately the USA is showing no such common sense, with a court case driven by extremists forcing the FDA to shorten the deadline for vape companies to spend millions of dollars on paperwork. Vape bans and misguided fightbacks against the mythical "teen vaping epidemic" also show no signs of easing up.
Clive Bates, The Counterfactual
Update 19 July 2019: Note that Scott Gottlieb, who features in this post, left the FDA on 5 April 2019 and joined the board of Pfizer on 27 June 2019: Ex-FDA boss joins Pfizer 83 days after leaving US drug regulator, Financial Times.

I have been following FDA Commissioner Scott Gottlieb on Twitter and was alarmed at the threat he issued to vapers and the vaping industry in response to recent trends in US adolescent vaping.

I disagree with the FDA's analysis of what is happening with adolescent vaping and also what should be done about it. So I need to put some flesh on the tweet above and examine some of FDA's claims in more depth. Please dip to these talking points… it's a long blog but I hope at least some of it will be illuminating.
---
Visit Nicotine Science & Policy for more News from around the World

---