Vaping Digest 17th July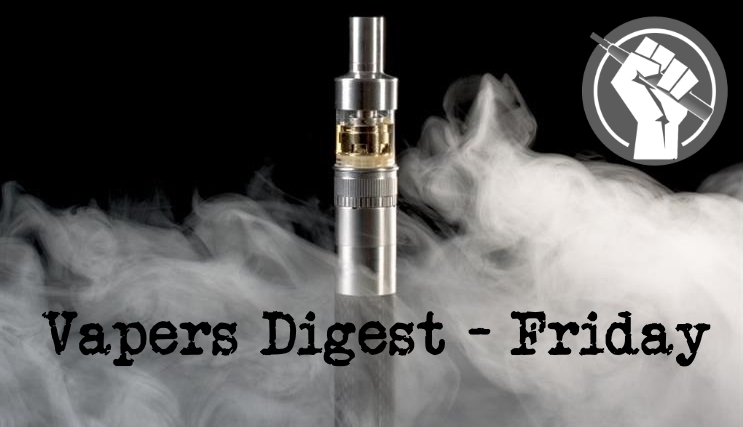 Friday's News at a glance:
Stan got it wrong…again – The Vaping Weekly Podcast with Michael McGrady – Stop the Youth Vaping 'Epidemic' by Ending Youth Anti-Vaping Campaigns – Vaping on Cardiovascular Health – Smoore Lists on HK Market – ETHRA Experts Write to Blokhuis – Inane Instagram Paper – Academics Not Listening – Puff Bar: A Preview of the Post-PMTA Vaping Industry – National survey suggests vaping is reducing smoking in Australia – National Drug Strategy Household Survey – Nicotine Science and Policy Daily Digest
Jonny Eccles, Vaped
Professor Stanton Glantz has a particularly tainted reputation within the vaping sector and his latest work has simply worsened it. Recent dubious research from Glantz once again unfairly lambasted e-cigarettes and, this time, it has been shown to be rather misguided by a Professor of Economics.

Dr. Dharma Bhatta and Professor Glantz had a study published in the American Journal of Preventive Medicine, titled 'Use of e-cigarettes is an independent risk factor for respiratory disease in addition to combustible tobacco smoking'. The research suggested that e-cigarettes were harmful on their own; independent of the risk factor of previous or current smoking.
Michael McGrady is back for Return #3, with Chelsea Boyd
The Vaping Weekly Podcast with Michael McGrady is back for Return #3, with Chelsea Boyd.

In this third episode of our second season, I speak with Chelsea Boyd of the R Street Institute. We also chat IQOS approvals and modified risk product approvals.

Also, we dive into the current state of the Australia situation and VAPORESSO's parent SMOORE International Holdings Limited is one of the first vaping manufacturers to be listed on the Hong Kong Stock Exchange.
---

---
By Ending Youth Anti-Vaping Campaigns – Michelle Minton
Anyone who has raised teenagers knows that forbidding an activity is a sure way to pique their curiosity. Yet this is the approach American policymakers and activists are using to discourage adolescent nicotine vaping. Shockingly, telling adolescents that youth vaping is an "epidemic" (i.e., all your friends are doing it) — but that it is a risky habit meant only for adults (i.e., it's cool) — hasn't worked. In fact, after years of impressive declines in the percentage of youth who reported vaping, the number suddenly spiked in 2018 and rose higher in 2019. As I argue in a new study, youth experimentation with vaping increased not in spite of anti-vaping messaging but because of it. If we want to reduce teen interest in vaping, we shouldn't give anti-vaping campaigns more money; we should end them.
---
---
Diane Caruana
A recent review looking through studies analyzing the cardiovascular effects of vaping, has found that e-cigarettes excite our sympathetic nervous system, affecting heart rate and blood pressure, in a milder manner than tobacco cigarettes.

Titled, "Cardiovascular autonomic effects of electronic cigarette use: a systematic review," the study aimed to analyze available studies that have investigated the autonomic cardiovascular effects of e-cigarette (EC) use in humans. Available studies on the subject matter were collected and synthesized and special attention was paid to findings related to the acute and chronic effects of e-cigarettes, with differentiations made between the nicotine and non-nicotine containing types.

Four from Dave Cross, Planet of the Vapes:
Smoore International Holdings Limited (Smoore) became the first vape company to list on the Hong Kong Stock Market (HKEX). The initial price offer was initial IPO price was HK$12.4, and closed the trading at over double (HK$31), valuing it at HK$178 billion (over £18 billion).

Smoore says its mission is, "to build the world's leading vaping technology platform to bolster the innovation and development of vaping technology with a wide range of applications" – something that is set to be bolstered by the billions it now has at its disposal.
European Tobacco Harm Reduction Advocates' (ETHRA) scientific advisors have attached their names to a letter addressed to the Dutch Secretary of State for Health, Paul Blokhuis. The letter addresses concerns over the proposals to clamp down on eliquid flavours in the Netherlands. The New Nicotine Alliance (NNA) has issued a call for vapers to support this by signing an online petition.

ETHRA is a group of 21 consumer associations in 16 European countries, representing approximately 27 million consumers across Europe and supported by scientific experts in the field of tobacco control or nicotine research. It does not receive financial support from the tobacco or vape business sectors.
The International Journal of Medical Informatics has published a paper by Aalto university's Vili Ketonen and Aqdas Malik. In it the pair demonstrate poor reasoning and evidencing skills to draw conclusions based on their bias rather than facts.

The bias in the flawed paper is clear from the beginning of the accompanying press release, where the pair say: "E-cigarettes are highly addictive nicotine products with unclear health impacts, particularly on young people."

"Instagram is a visual social media platform which is wildly popular, particularly with young people", they say.
Australian academics have attempted to justify the unjustifiable by claiming the clampdown on access to nicotine liquid is in the best interests of all involved. The trio trot out a mix of half-truths and absolute lies to support their position.

Becky Freeman, Senior Research Fellow at the University of Sydney, Matthew Peters, a Professor of Respiratory Medicine at Macquarie University, and Paul Grogan, Adjunct Senior Lecturer at the University of Sydney begin their joint article in The Conversation by citing a paper titled "Electronic cigarettes: the new face of nicotine delivery and addiction".
---

---
Jim McDonald, Vaping 360
An announcement yesterday on a website claiming to represent the sellers of the disposable vape Puff Bar said that sales had been suspended. Later the wording was changed to "ceased until further notice"—not that there's much of a difference.

"Puff Bar has ceased all online sales & distribution in the U.S. until further notice," the site says today.

The post followed a July 9 story on the website FairWarning that made a stab at untangling the confusing ownership of the brand, which has inherited much of the ire tobacco control groups once directed solely at JUUL.

Is reducing smoking in Australia – Colin Mendelsohn
FIGURES  from the 2019 National Drug Household Strategy Survey released today suggest that vaping is playing a major role in reducing smoking rates in Australia.

The survey by the Australian Institute of Health and Welfare is conducted every 3 years. In 2019, 22,274 Australians aged 14 and over were asked about their use of legal and illegal drugs.

The number of Australians vaping has doubled since 2016. In 2019, 2.5% of Australians were currently vaping, compared to 1.2% in 2016 and there are now approximately 450,000 Australian vapers

Younger age groups are experiencing substantial falls in smoking rates. Smoking rates fell significantly from 2016-2019 in the 18-24, 25-29 and 30-39 year age groups.
STATEMENT FROM LEGALISE VAPING AUSTRALIA
Today the Australian Institute of Health and Welfare released its National Drug Strategy Household Survey.

It is disappointing that issues such as the 98 per cent increase in cocaine usage amongst young men aged in their 20's, now arguably a public health epidemic of miserable proportions, have been overlooked at the expense of a continued obsession to demonise Australians, young and old, who just want to get off cigarettes by using vaping.

When it comes to vaping, the survey data clearly demonstrates that, what minuscule decrease there has been in smoking rates in Australia over the last three years can be overwhelming attributed to people switching from dangerous and deadly cigarettes to this less harmful alternative to smoking.
---
A look back at how things have moved on or otherwise….
Harry Shapiro, Nicotine Science and Policy
The first statement of the Hippocratic Oath to which all doctors are supposed to adhere to is 'do no harm'. But to the best of my knowledge, no such undertaking is required of scientists whose findings are often translated into public policy and legislation which in turn affects millions of lives. This is wrong; scientists should be held to account more than just by having peer-reviewed papers argued over which, as the name suggests, only peers are likely to see.
, CNN
Adult smokers who vape are more likely to quit using cigarettes, according to a study released Monday. But e-cigarettes also increase the risk of relapse in some former smokers, the researchers found.

"This study is the first to point out that even if smokers may succeed in stopping smoking with the aid of electronic cigarettes, they still need to be monitored by doctors and health professionals to prevent a relapse in the long term," said Ramchandar Gomajee, the paper's lead author and a researcher at France's Pierre Louis Institute of Epidemiology and Public Health.
---
Visit Nicotine Science & Policy for more News from around the World

---