Vapers Digest 13th August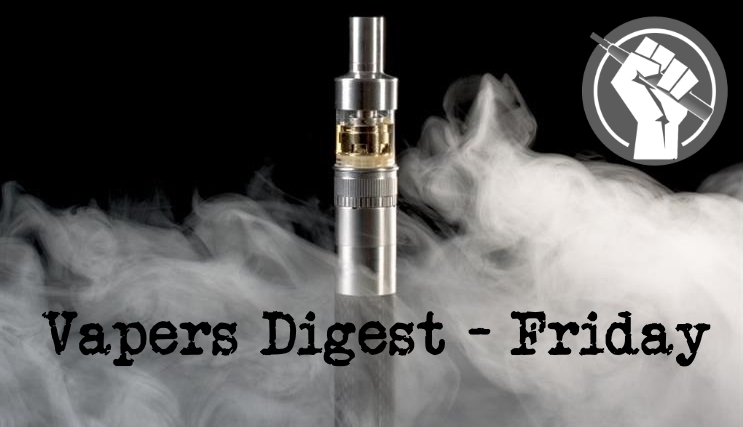 Friday's News at a glance:
2020 National Youth Tobacco Survey – Successful Vape Stories: Vast database reveals the truth! – 7 Steps to Becoming an Environmentally Friendly Vaper – Less Than 2% of California High Schoolers Vape Daily – Docs Still Don't Know Nic – China's Mask Slips – Antz Attacked – WHO's crusade against THR is misguided – Please, Health Canada – Experts: THR already successful – Innovative non-combustible nicotine delivery – Blanket bans on safer nicotine products (SNPs) – Learning from COVID to tackle the tobacco epidemic – How will Australia's new sales regime work? – Nicotine Science and Policy Daily Digest
Introduced U.S. Youth to Heat-Not-Burn Tobacco Brands – Brad Rodu
Anti-tobacco crusaders continue to promote e-cigarettes and vape products to the nation's youth.

ABC News has published a screed by University of Chicago pediatric resident physician Chidimma Acholonu in which she claims that "now a new smoke-free alternative called heated tobacco  is slowly gaining a foothold in the U.S. market…While heated tobacco products [known as heat-not-burn, HNB] only became legal in the United States in 2019, the device have [sic] already started to catch the attention of high school students."
Vast database reveals the truth! – CASAA
With the goal of creating the world's largest collection of successful vape stories, two leading consumer advocacy groups have launched the RightToVape.org site.

Already boasting nearly 14,000 testimonials, the site demonstrates growing anger from across the globe that evidence is being ignored and many people's right to choose safer alternatives is being denied.

Now live, righttovape.org is a joint venture between the US-based Consumer Advocates for Smoke-free Alternatives Association (CASAA) and the Coalition of Asia Pacific Tobacco Harm Reduction Advocates (CAPHRA).
---

---
An Environmentally Friendly Vaper – James Dunworth
Each cigarette contains over 1200 cellulose acetate fibres. It takes just one cigarette butt to kill half of the fish in a litre of water.

Yet every year 4.5 trillion cigarette butts are discarded into the environment, where they can take 10 years to break down. In the process, they leach toxins, restrict plant growth and kill wildlife. (Sources: Very Well Mind, National Geographic.)

There's little doubt that cigarettes are an environmental disaster.

But are electronic cigarettes any better?
---
My worst fears were confirmed looking through this 'research' Where the outcome is pre-decided judging by the accompanying commentary in the press release. @RobyGreenwald + colleagues I hope have been misquoted here. https://t.co/gZdfsWLfXW

— Alan Beard (@Alan_Beard1) August 13, 2021
I missed this last April. It's excellent.

It even has a transcript for people like me who don't have the patience to listen to almost an hour of audio. https://t.co/zhA2rnhH4p

— Phil (@phil_w888) August 12, 2021
---
Vape Daily – Jim McDonald, Vaping 360,
Smoking by California high school students is at such a low level that state-funded researchers consider it "negligible," according to recently released survey results from last year. The state's youth vaping rate is also low, with less than half as many students using e-cigarettes than in the country as a whole.

Just 1.2% of California's high school students smoked cigarettes in the past 30 days—a 40% decrease over the already low 2.0% from the last survey two years earlier. Among that same age group, 8.2% vaped in the past 30 days—down from 10.9%. Marijuana use, however, was unchanged at 15%.

Three from Dave Cross, Planet of the Vapes:
New research from the Rutgers School of Public Health finds that American doctors are still shockingly ignorant when it comes to nicotine. Despite the incredible gap in knowledge being exposed before, it has not been addressed and the paper details how three quarters of US physicians are still labouring under the misapprehension that nicotine causes cardiovascular disease and cancer.

The study was conducted by lead author Bover Manderski, and supported by Steinberg, Wackowski, Singh, Young, and Delnevo. It was published in the International Journal of Environmental Research and Public Health.
Chinese electronic cigarette manufacturer share prices went tumbling as experts called for a crackdown on the industry following claims that is an issue with teenagers using vape products. This happened at the same time as officials in the Hong Kong Special Administrative Region of the People's Republic of China intimated a total ban on vaping is on the way. What could be prompting such activity?

As we pointed out last year, "China runs its own tobacco company as a state monopoly, producing more than 1.7 trillion cigarettes each year for its 350 million smokers which raises well over £1.5 billion in profit. In 2003, this income accounted for almost 10% of China's total revenue."
"Anti-tobacco crusaders" have been trying to prevent people from switching from smoking to vaping for a long time. These anti-vaping activists (Antz) have recently been slammed for propagating lies about tobacco harm reduction and being so blinkered in their hatred for the tobacco industry that they are responsible for advertising vaping to children.

Reported in the Manila Bulletin (1), "misinformation and attacks from well-funded international non-government organizations are among the key obstacles to the adoption of tobacco harm reduction and mitigation of deaths from smoking in low and middle-income countries, according to health policy experts."
---

---
Chelsea Boyd
Public health is not an exact science. The research is messy, which makes the practice even messier. And this messiness also means that leading health organizations sometimes make the wrong decisions or take the wrong positions. Eventually, the guidance from these organizations usually changes, but, until then, extensive damage can occur to the public's health. One example is the World Health Organization (WHO)'s early guidance against masking during COVID-19, and their need to amend the guidance when cases soared. Conversely, the WHO stubbornly refuses to change their stance on the utility of electronic nicotine delivery systems (ENDS), despite growing evidence that these products are significantly less harmful than combustible cigarettes and can help smokers quit.
VIDA Voices
Do not make vapers return to tobacco! – Dr. John Oyston
My friend Maria is an enthusiastic vaper. If I go to her office, she usually will have three vapes on the go. Today, it is a Voopoo with strawberry flavour, a Stlth with Grape Apple Ice and a Favostx with banana flavour. If we go to a restaurant, she will excuse herself between every course and go outside to vape. She vapes from early morning to late at night, every day. She keeps a spare vape at home, just in case. Even if she is sick, she keeps on vaping. She would never even consider going on vacation to a country that did not allow her to vape.

Some people would call her a nicotine addict but she refutes the label. She says that she enjoys vaping and that it is not doing her or anyone else any harm. In fact, she says that she has had fewer respiratory illnesses since she switched from smoking, and nicotine helps her concentrate.

In reducing smoking in many countries – Linda Kumar
Leading experts in the field of science and technology as well as policy and consumer advocacy believe that harm reduction can play an important role in improving public health.

At the fourth Asia Harm Reduction Forum 2021 which was held virtually in late July, they gathered to discuss and share information on various harm-reduction approaches.

Professor David Sweanor, the Chair of the Center for Health Law, Policy and Ethics and an adjunct professor of law at the University of Ottawa, Canada said harm reduction as a way to tackle tobacco consumption is necessary as an estimated eight million people die each year from smoking-related diseases.
Delivery tech seen to reduce smoking harm
THE revolution in nicotine delivery technology encouraged millions of smokers to switch to less harmful alternatives and presents an opportunity to reduce up to four million deaths from smoking each year, according to a global health expert.

Dr. Derek Yach, president of the Foundation for a Smoke-Free World, said during the 8th Global Forum on Nicotine on June 18, 2021 that the world is experiencing a revolution in nicotine delivery technology, as there are now more than a hundred million people using harm reduction products.

"Projections suggest that if these tools were more widely available, we would be able to cut the long-term trends of deaths by maybe between three and four million, if we acted more vigorously," Yach said.
(SNPs) need to be put to bed – Morton Manjawira
Beware! There is an air of imperialism ballooned by WHO and various Bloomberg funded NGOs seeking to control public health policy in Low & Middle Income Countries (LMICs). This air reeks of pure idealism, zero need for collaborative decision making and neo-colonialism disguised as philanthropy and goodwill. In recent times, it blew across India, causing a blanket ban on Safer Nicotine Products (SNPs) and risking 1.3 million lives in annual deaths due to tobacco related illnesses.
To tackle the tobacco epidemic – Nicholas Waller
For the better part of two years, the attention of policymakers and health experts across Europe and North America has been focused on the battle against COVID. With vaccination campaigns cutting into hospitalization numbers and giving public health experts space to breathe, the World Health Organization is seeking to put another major global health effort – the fight against smoking and tobacco products – back on center stage with its newest report on the global tobacco epidemic, published on July 27.

The WHO report, while celebrating the success of "MPOWER" measures to discourage tobacco use, help smokers quit, and prevent new generations from picking up the habit, has plunged headfirst into the debate over e-cigarettes and other emerging alternatives to cigarettes and tobacco.
Barnaby Page
In less than two months, Australian consumers will be able to obtain medically licensed nicotine-containing e-cigarettes from community and online pharmacies – but there is still some mystery around how the new system will be implemented.

The Australian Tobacco Harm Reduction Association (ATHRA) confirmed that it is not known yet how many e-liquids the pharmacies will have in stock.
---
A look back at how things have moved on or otherwise….
Tobacco Truth, Brad Rodu
Long-term cigarette smoking is associated with a number of serious diseases, but not COVID-19. In fact, numerous studies demonstrate that smokers are far less likely to be diagnosed with coronavirus than are non-smokers. In June, Konstantinos Farsalinos and colleagues reviewed 18 published reports, finding "an unexpectedly low prevalence of current smoking among hospitalized patients with COVID-19." (here).
American Vaping Association, Gregory Conley
Results from an online survey of youth and young adults just published in the Journal of Adolescent Research show no association between being a current exclusive user of vaping products or combustible cigarettes and receiving a diagnosis of being positive for COVID-19.

Despite these findings and the major limitations inherent in online surveys, some journalists have jumped at the opportunity to run headlines declaring that teen vapers are up to seven times more likely to get COVID-19.
---
Visit Nicotine Science & Policy for more News from around the World

---