Vapers Digest 11th August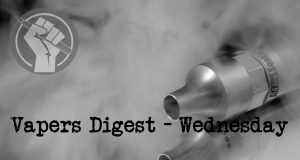 Wednesday's News at a glance:
'Smoking bans don't work – nor will cracking down on vape and cigarette sales' ~ Canada: Young Adults' Smoking Rates Are Dropping Unprecedented Rates ~ Vape Flavor Bans Will Lead More Teens to Smoke, Suggests Another Study ~ New Zealand leads the way with vaping regulations ~ PH, New Zealand set to pass laws reflecting tobacco harm reduction ~ Banning 70% of vape products will only exacerbate smoking in New Zealand ~ Professor Brad Rodu – Made the Swedish Experience of snus known worldwide. Interview by Bengt Wiberg ~ YCR Pushes Vaping Again ~ Spanish Government Sued Over Vape Lies ~ FDA Rejects 4.5 Million PMTA Applications From a Single Vape Company ~ With a Month to Go, FDA Closes Out 4.5 Million PMTAs ~ Proposed federal tobacco tax may cost more than it earns
Jason Reed, Mirror Online
The World Health Organisation's 'Tobacco Free Initiative' aims to speed up the gradual transition to a smoke-free world.

And yet, for some reason, it is also opposed to vaping, the safe alternative to smoking which is the best tool we have for helping people quit cigarettes.
Diane Caruana, Vaping Post
The Canadian Tobacco and Nicotine Survey has indicated that between 2019 and 2020, there was a 40% drop in smoking rates in this specific age group, from 13.3% to 8%. This figure is encouraging for Health Canada's no smoking target (5% by 2035). Moreover this 5% target rate has already been achieved among those aged 15-19.
Alex Norcia, Filter Magazine
As the Food and Drug Administration (FDA) nears a September deadline to decide on the legality of vaping products in the United States, abstinence-only advocates have been doubling down on their message: ban flavors. Largely led by the influential Campaign for Tobacco-Free Kids (CTFK) and the Parents Against Vaping E-cigarettes (PAVE), these organizations cry for prohibition every chance they get.
---
Colin Mendelsohn, ColinMendelsohn.com.au
Sensible vaping regulations are in force from today in New Zealand under the Smokefree Environments and Regulated Products Act. They are a stark reminder of how far Australia is falling behind best practice and the rest of the western world.While Greg Hunt insists on nicotine prescriptions and pharmacy-only sales, New Zealand adults can buy nicotine e-liquid as a consumer product from a wide range of retail outlets.
Manila Bulletin
Two countries—the Philippines and New Zealand—are beginning to reflect tobacco harm reduction in their health strategies in line with the original intent of the World Health Organization-Framework Convention on Tobacco Control (WHO-FCTC) to reduce the global smoking epidemic, according to public health policy experts.
24 Share Updates
Today–11August–marks the first day that New Zealand general retailers cannot sell a wide range of vape flavours. One industry leader says the move will sadly result in more cigarette sales–hampering Smokefree Aotearoa but boosting the government's rapidly diminishing tobacco tax take.

General retailers include service stations, supermarkets and convenance stores. As part of the vaping legislation Parliament passed last year, general retailers are now only permitted to sell three vape flavours: Menthol, mint, and tobacco.
---
Interview by Bengt Wiberg
---
Glantz recently desk rejected a paper of ours on the potential for increased black market purchasing for cigs if an FDA reduced nicotine mandate were implemented, unless we cited his papers & discussed that big tobacco used black market fear as a tactic. We submitted elsewhere.

— Matthew W. Johnson (@Drug_Researcher) August 6, 2021

---
TWO from Dave Cross, Planet Of The Vapes
Yorkshire Cancer Research (YCR) is promoting the concept of switching to vaping again to combat smoking, the leading cause of preventable cancer. The campaign follows on from the outstanding film launched on National No Smoking Day, addressing the misconceptions about vaping and tobacco harm reduction.
Spanish trade body The Union of Vaping Promoters and Entrepreneurs (UPEV) is suing the Ministry of Health and Consumption over vape misinformation contained in the public education campaign "Tobacco kills and kills you in all its forms". They accuse the department of misleading consumers by falsely equating vaping and smoking.
---

---
Alex Norcia, Filter Magazine
On August 9, the Food and Drug Administration (FDA) ordered that 4.5 million vaping products from a single company be removed from the market.

The FDA's press release, available online, states that it issued the company—JD Nova LLC, which owns Vapolocity—a Refuse to File (RTF) letter because "the company's applications for these products lacked an adequate Environmental Assessment."
Jim McDonald, Vaping 360
In one fell swoop the FDA has eliminated two-thirds of the PMTAs clogging its authorization pipeline. The agency announced today it has issued a Refuse to File (RTF) letter for 4.5 million applications submitted by one e-liquid manufacturer.
Graham Jaehnig, The Daily Mining Gazette
The U.S. Congress on April 22 introduced a proposal to to establish the first federal e-cigarette tax in history, while at the same time, raising the tobacco tax.

U.S. Senate Majority Whip Dick Durbin (D-Ill.) and Senate Finance Committee Chair Ron Wyden, (D-Ore.), along with U.S. Rep. Raja Krishnamoorthi (D-Ill.) and seven other senate Democrats, backed the Tobacco Tax Equity Act of 2021, which would make amendments to the Internal Revenue Code of 1986, CPS News (cpsdailynews.com) stated in an Apr. 23 report. The main objective of the bill, according to Durbin, is to reduce youth tobacco-use by closing loopholes in the tax code that he claims the tobacco industry exploits to avoid regulation and taxes for their products.
---
Midnight Musings:
So, VapeFest 2015 weekend has been and gone. Now that I have had the chance to digest all that happened, I've decided to put some of my thoughts to paper on my experience of the event.

So there I was, Friday lunchtime, studiously going through all the gear I was going to need for the coming weekend…..
Carl V. Phillips:
In his recent post, Brad Rodu calls attention to some of the evils committed by the American Cancer Society (ACS) in trying to discourage smokers from adopting THR. Everyone who reads this blog should read it. He points out that ACS has, for decades, been a major player in the lie-based war on smokeless tobacco, and are now doing the same in the war on e-cigarettes….
---
Visit Nicotine Science & Policy for more News from around the World

---