Vapers Digest 9th August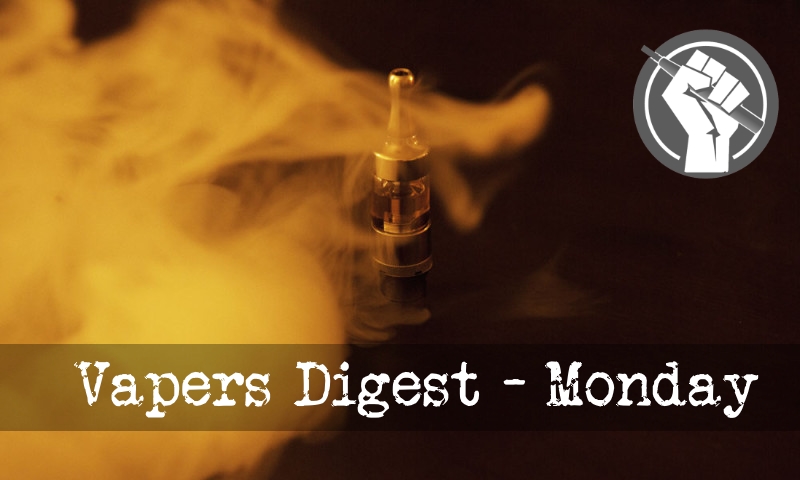 Monday's News at a glance:
Nicotine prescriptions. What you need to know – Consumer rights and bans: the history repeat itself – Italy To Lower Vape Taxes – Panel To Pull Apart WHO Report – Bloomberg Philanthropies – Taking Tobacco Tactics to the Next Level – LGBT campaigners accuse WHO of 'ignoring science' – Spain: Vape Industry Sues Government – Are cigarette companies quitting smoking? – Nicotine Science and Policy Daily Digest
What you need to know – Dr Colin Mendelsohn
FROM 1 OCTOBER 2021, Aussie vapers who import nicotine without a prescription will risk a penalty of up to $222,000 and a possible criminal record under new TGA regulations.

If you are a vaper, visit your GP and explain how vaping has helped you quit and the benefits to your health. Vaping nicotine is now recognised as a legitimate, quitting aid by the Royal Australian College of General Practitioners for smokers who are unable to quit with other treatments. It is legal and approved for GPs to support vaping and write nicotine prescriptions if appropriate.
The history repeat itself – Catania Conversation
Bans and regulations on ecigs and vaping products roar worldwide. Consumer's rights and freedom of choice are constantly limited by a paternalistic approach by governments and international regulatory bodies. But history repeats itself. In the United States, back in the last century, prohibition on alcohol didn't work. Why should bans work with e-cigarettes nowadays?

The 2nd edition of The Economic Times Consumer Freedom Conclave held online on 5th August tried to address the ongoing situation for consumers and answer some fundamental queries.
---

---
Dave Cross, Planet of the Vapes
From August 1st, a legislative amendment will reduce the tax on e-liquid to 2020 levels. The amount will range from 0.42 to 0.84 cents. The news, shared by Go Business SRL, a company specialising in new business start-up innovation, indicates a good direction of travel – but Italy could still do more to promote vaping as a reduced harm alternative to smoking.

Go Business SRL says that economic reasons were added to the health ones as justifications to adopt the amendment. The tax rise came into being as a response to the COVID pandemic, but the vape sector ended up being the only one to be hit by a tax burden. The Sostegni decree will address this unfair situation.
---
New Zealand's 'TobRobDemic' shows no sign of abating as 'dairy' convenience robberies escalate, putting owners & locals in danger. Prohibitive tobacco tax hikes have triggered an unprecedented criminal back-lash as tobacco becomes the No 1. target for black-market profiteers. https://t.co/eIrgfDwDJw

— INNCOorg (@INNCOorg) August 9, 2021
---
Dave Cross, Planet of the Vapes
"The WHO is condemning millions of smokers to certain death by denying them the right to safer alternatives. With biased evidence and bad science, its latest report evokes moral panic. The Advocates Voice will expose it for what it is," says Nancy Loucas, Executive Coordinator of the Coalition of Asia Pacific Tobacco Harm Reduction Advocates (CAPHRA).

The eight episode of The Advocates Voice (TAV 8) follows the World Health Organization (WHO) releasing its eighth annual report on the global tobacco epidemic last month. – TAV 8 (1) will premiere at 9:00am GMT on Sunday, 15 August.

Idwala Research
The WHO REPORT ON THE GLOBAL TOBACCO EPIDEMIC, 2021 – Addressing new and emerging products lays bare the significant and inappropriate influence exercised by Bloomberg Philanthropies over WHO policy. The report is undeniably biased and reminiscent of tactics and pseudo-science employed by the US tobacco industry after the formation of the Tobacco Industry Research Committee in 1954, albeit worse because of the abuse of the public trust that the WHO is endowed with.

In January 1954, US tobacco companies jointly funded an advertisement entitled "A Frank Statement to Cigarette Smokers" to counteract the public cancer scare and decline in cigarette volumes that ensued after an article in the December 1952 edition of Reader's Digest called "Cancer by the Carton". The story highlighted a growing body of research linking ever-increasing lung cancer cases to smoking.
---

---
Of 'ignoring science' – Oliver Pritchard-Jones
Smoking rates are significantly higher within LGBT people than heterosexuals – with the Office for National Statistics putting the figure at 23 percent compared with 15 percent among the straight community. This prevalence has led charity the LGBT Foundation to call on the WHO to promote vaping as a way of stopping smoking.

Despite Public Health England and Royal College of Physicians both stating it is 95 percent safer than smoking, WHO wants vaping banned.

The upcoming COP9 in November aims to tackle international tobacco use – which kills more than eight million people globally each year.

Over Anti-Vaping Campaign – Diane Caruana
Last November, Spain's Health Ministry launched an anti-vaping  campaign which ignores all the scientific evidence in favour of vaping for smoking cessation and/or tobacco harm reduction. Moreover, the campaign makes a number of false claims such as blaming vaping for the EVALI outbreak and saying that vapour is carcinogenic.

"On November 18, the Spanish Ministry of Health launched a campaign to discredit the vapor sector, on the basis of widely scientifically denied reports (it blames EVALI among other things for the responsibility of electronic cigarettes, the fact that the vapor emitted is carcinogenic and that electronic smoking is not helpful in quitting smoking, and even claims that it is just as harmful as cigarettes)," said president of the Spanish Association of Vape Professionals, Massimiliano Belli, in an email to Vaping Post.

Gianni Francis
Historically, cigarette companies have been considered some of the most amoral companies on earth. They have been described as merchants of death, profiting from addictive products that kill more than 8 million people world-wide every year. They have been accused of engaging in tax evasion, lobby elected representatives to undermine public health regulation and some have even sued sovereign nations for anti-smoking legislation. But now Philip Morris International (PMI), the biggest multi-billion-dollar cigarette conglomerate on the planet, says they're "leading a transformation in the tobacco industry to create a smoke-free future", and ultimately replacing cigarettes with "reduced risk options", new nicotine products, which they say are less carcinogenic.

But what was the catalyst for PMI to invest billions into this transition??
---
A look back at how things have moved on or otherwise…
David Downs
The Oregon Liquor Control Commission (which oversees cannabis) is moving to ban additives like artificial 'grape ape' flavor in legal THC vapes. The action comes this month after a report found that 23 state residents got sick and two died of vaping associated pulmonary injury (VAPI) between June and December of 2019.

Oregon's move comes as a reminder that one year after the first reports of VAPI, the issue of tainted vapes has not gone away. A wide variety of chemical cutting agents may contaminate vape cartridges. The overwhelming majority of them are in the illicit market, where's there's no testing. However, confirmed tainted vapes have popped up in legal states Michigan, and Oregon.
Receives Grant to Study Using Texts Against Teen Vaping – Diane Caruana
According to an article by Triangle Business Journal, the National Institute on Drug Abuse has selected Prof. Seth Noar, from the UNC Lineberger Comprehensive Cancer Center, to lead the five-year national study.

The total funding for this study is of $3.35 million, and according to Noar, the aim is identifying the most promising messaging techniques directed at adolescents, with the intention of deterring them from using e-cigarettes. Subsequently, any selected messages will be evaluated in a randomized trial, to determine whether they actually lead to a reduction in e-cigarette use or not.
---
Visit Nicotine Science & Policy for more News from around the World

---