Vapers Digest 6th August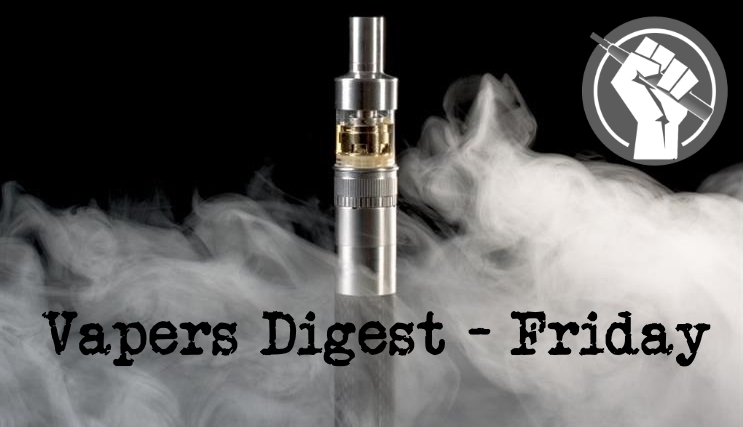 Friday's News at a glance:
ETHRA EU Nicotine Users Survey – Campaign for Tobacco-Free Kids VP – WHO Decides THR Talks Can Wait Until 2023 – Why the WHO is wrong about vaping – Asia-Pacific panel to scrutinize WHO's latest tobacco report – The tainted science of Stanton Glantz – Nicotine Toothpicks Are a Bigger Story Than We Thought – Another Glantz Debunking – Virtual Hilarity – Otago's Mixed Messages – Fewer than quarter of Scots want restrictions – Successful countering of tobacco industry efforts to overturn Thailand's ENDS ban – Ukraine Poised to Pass an Anti-Vaping Law – Misinformation, attacks from NGOs – Breath clouds, heat plumes, and nefarious NGOs – Misinformation Threatens Efforts to Reduce Tobacco Harm – Nicotine Science and Policy Daily Digest
European Tobacco Harm Reduction Advocates
European Tobacco Harm Reduction Advocates (ETHRA) today publishes the report on its huge EU Nicotine Users Survey. The results – from more than 35,000 EU respondents – confirm that there is an unstoppable movement towards harm reduction in Europe.

Launched online by ETHRA in the last quarter of 2020, the questionnaire addressed consumer use of nicotine products. Topics included smoking and the desire to quit, use of safer nicotine products and barriers to switching caused by European and national regulations. Over 37,000 people, including more than 35,000 EU residents, participated in the ETHRA survey.
Heedlessly Promotes Teen Vaping in TV Interview – Brad Rodu
Anti-tobacco crusaders are doing a great job of promoting e-cigarettes and vape products to America's youth, using cartoons, hip images, photos of kids vaping, and attractive illustrations of vape flavors.

Now we have a five-minute Austin, Texas, Fox 7 TV interview (here) with Laurie Rubiner, Executive Vice President of Campaign for Tobacco-Free Kids. The clip is titled, "Advocates offer tips to parents on spotting e-cigarettes," but "Teen Vaping Guide" would be more accurate.

Right off the bat, Rubiner displays a JUUL device (at 0:50), followed by a Puff Bar (1:02), in case any teens needed educating. She slipped up by observing that JUUL "looks like a Zip drive." That was a 3.5-inch floppy drive introduced in 1994 and largely out of use when today's high schoolers were born. She meant a USB flash drive.
---

---
Alex Norcia
Despite 8 million annual smoking-related deaths, the World Health Organization (WHO) seems to have decided that it doesn't have to deal with safer nicotine alternatives until 2023.

On August 5, the WHO's Framework Convention on Tobacco Control (FCTC) released an annotated provisional agenda for COP9—its upcoming, virtual conference of the 182 parties that make up the convention. COP is held every two years.

"The Bureau decided that the reports prepared by WHO and by the Convention Secretariat should be presented for information and that related substantive discussions should be deferred to COP10 [in 2023]," the provisional agenda reads (emphasis my own).
Maria Chaplia and Michael Landl
Last week, the World Health Organisation published yet another report which spreads fake news and false myths about vaping.  Despite the tool being recognised as 95 percent less harmful than conventional smoking, the WHO's scientifically unjustified vaping witch-hunt could cost millions of lives.

Among the worn-out and debunked theories peddled by the WHO report 'on the global tobacco epidemic 2021: New and Emerging Products' is the so-called gateway effect theory, which suggests that vaping leads to smoking. This dangerous and misleading theory has long since been disproven by numerous studies, as well as nationwide case studies, such as in England where upwards of 50,000 smokers are using vapes as a gateway out of (not into) smoking every year.
To scrutinize WHO's latest tobacco report – CAPHRA
"The WHO is condemning millions of smokers to certain death by denying them the right to safer alternatives. With biased evidence and bad science, its latest report evokes moral panic. The Advocates Voice will expose it for what it is," says Nancy Loucas, Executive Coordinator of CAPHRA.

The eight episode of The Advocates Voice (TAV 8) follows the World Health Organization (WHO) releasing its eighth annual report on the global tobacco epidemic last month.

TAV 8 will premiere at 4.00pm Hong Kong Time / 9:00am GMT on Sunday, 15 August.
---
So tobacco control activists believe adolescents when they say they vape because they like flavours. But they don't believe them when they say they would smoke instead if flavours are banned. Hmmm… https://t.co/wp4SMzDQp4

— Clive Bates (@Clive_Bates) August 6, 2021
---
Marc Gunther
Stanton Glantz, one of the world's best-known tobacco researchers, had everything going for him — a first-class brain, financial support, a tenured professorship and a passion for his work. No scientist, it seemed, was more committed to reducing the death and disease caused by smoking

Glantz led the creation of an invaluable archive of tobacco-industry documents at the University of California at San Francisco, where he was a professor of medicine. He famously called attention to the risks of second-hand smoke, which helped turn public opinion against smoking. He inspired many.
Than We Thought – Jim McDonald
Go ahead and laugh if you want, but nicotine toothpicks might be an important option for nicotine users looking for alternatives to smoking and vaping. Let's face it, for many vapers in less-populated areas, finding the products they need is getting harder, and this is one nicotine product that isn't subject to the shipping restrictions of the PACT Act.

There's also an interesting regulatory story here. Like nicotine pouches and lozenges, toothpicks are a deemed tobacco product regulated by the FDA, even though they contain no actual tobacco. But one nicotine toothpick company might qualify as the only non-tobacco nicotine manufacturer to have a product grandfathered onto the market and not subject to FDA premarket authorization.

Three from Dave Cross, Planet of the Vapes
"Cross-sectional analyses have suggested that e-cigarette use, independent of combustible cigarette use, elevates the risk of myocardial infarction" write a pair of researchers. Clayton Critcher and Michael Siegel take another look at the subject and conclude that there is no reliable evidence to support the claim.

"First evidence of long-term health damage from ecigs: Smoking e-cigarettes daily doubles risk of heart attacks," wrote Stanton Glantz in his blog.
"Virtual reality game is an effective tool for vaping prevention among teens," say researchers at Yale who have found yet another way to make ecigs look cool to kids. The United Kingdom doesn't engage in the war against vaping and flavours has almost zero non-smoking teens taking up vaping. The USA, with its cartoons, free T-shirts, sponsored competitions, and now video games, is finding solutions for problems of its own making.

Yale says: "Yale researchers have developed an immersive, virtual reality video game that helps teens learn about the dangers of e-cigarettes and practice strategies for refusing them."

This sounds more exciting than anything currently available for PlayStation or Xbox.
A new study from the University of Otago sends mixed messages about vaping being the best quit smoking tool, according to a leading tobacco harm reduction advocate. The academics claim the transition from cigarettes to vaping is not as straightforward as many think and is consequently not helpful to the many Kiwis desperate to quit smoking, says Nancy Loucas, co-director of the Aotearoa Vapers Community Advocacy (AVCA).

"The process of kicking cigarettes, via vaping, is never straightforward and it does vary from smoker to smoker. However, what the University of Otago researchers fail to acknowledge is despite this, vaping remains the most effective smoking cessation tool in the world by a long shot. What's more, ongoing personalised support is key," says Loucas.
---

---
Want restrictions on sale of e-cigarettes and vaping products
Research for the Scottish Grocers' Federation (SGF) found only 24% of people agreed that access to such products, or information about them, should be restricted.

With almost half those questioned were opposed to this – with 24% saying they "strongly disagreed" and a further 24% who said they "tended to disagree".

That includes 66% of 16 to-24-year-olds who were opposed to such restrictions.
Tobacco industry efforts to overturn Thailand's ENDS ban
Gerry V. Stimson, Charles A. Gardner, Asa Saligupta
This paper makes an excellent case study in how not to do research.

The paper purports to show links between a group of consumer advocates, ENDS Cigarette Smoke Thailand (ECST), and Philip Morris Thailand Ltd (PMTL), who it is alleged worked together to oppose the ban on e-cigarettes and heated tobacco products in Thailand. The paper also purports to show that Thai tobacco control organisations were successful in countering tobacco industry efforts to overturn the ban.

These claims are not supported by the accompanying data and analysis.

That Will Increase Harms – Maria Chaplia
Although Ukraine is often perceived as one of the least free countries in the world, it is more liberal than many when it comes to accessing alcohol, for example, or methadone. And yet, as in many other countries, our political dynamic around e-cigarettes is anything but positive.

On June 1, the Ukrainian Parliament passed in the first reading the draft law #4358: "On Amendments to Some Laws of Ukraine on Public Health Protection from Harmful Tobacco Exposure." Some key provisions include a prohibition of the use of e-cigarettes in public places, along with advertising, sponsorship and promotion of nicotine vapes. Vape flavors will also be banned if the parliament fully endorses the bill.
Obstruct tobacco harm reduction in LMICs
Representatives from countries like India, Ukraine, Kenya, and Mexico enumerated the factors that are hindering LMICs from adopting a harm reduction approach in tobacco control during the Global Forum on Nicotine held virtually from Liverpool on June 17 to 18, 2021.

Dr. Sree Sucharitha, a public health researcher and medical doctor from India, said there was a lack of political will to help 300 million smokers in India and make available tobacco harm reduction products such as electronic cigarettes, heated tobacco products (HTPs), and Swedish snus.
Dennis F. Fetalino
Time and time again, Big Tech's attempts to block misinformation have prevented the public from having access to accurate or at least plausible viewpoints and theories. … Given their past failures, it is clear that these tech companies cannot serve as the arbiters of scientific truth. When new research comes out every day, social media platforms shouldn't 'impose consequences' on users simply because they have a different point of view. — Samuel Kim, Washington Examiner
To Reduce Tobacco Harm – Michael Madden
The last two years have seen efforts in state and local governments across the country to ban all flavors in e-cigarettes and even to ban all flavored tobacco products. These bans—some implemented and many others wisely turned back—attempt to combat a youth vaping epidemic by adopting a narrative largely constructed by the Campaign for Tobacco Free Kids and Parents Against Vaping E-Cigarettes, anti-tobacco advocacy groups funded by billionaire Michael Bloomberg. These groups champion unproven tenets that vapor products are a gateway to cigarette use for children and that eliminating all flavored tobacco products will stop children from becoming cigarette smokers.
---
A look back at how things have moved on or otherwise….
Diane Caruana, Vaping Post
Following a lengthy approval process which started four years ago, Altria Group, Inc. (Altria) (NYSE: MO) has recently announced that the U.S. Food and Drug Administration (FDA) has authorized the marketing of their IQOS tobacco heating device as a modified risk tobacco product (MRTP).
EABW News
Economists and leading international Tobacco Harm Reduction experts, drawn from Africa and Europe, have stated that snus and tobacco-free nicotine pouches are "at least 90% safer than smoking."

"This figure is "most likely closer to 99 per cent when one accounts for the food-grade standard to which some of the latest products are produced," said Atakan Befrits, a Sweden-based Tobacco Harm Reduction policy advocacy and products regulation expert.
, Scoop
With the current lack of understanding and fake news circulating around the Vaping Bill and Hon Nicky Wagner's SOP to regulate tobacco-free Nicotine Pouches, NZ Smokefree Tomorrow (NZSFT), who are the subject matter experts, think it is fair to 'clear the air' to ensure the Vaping Bill goes through this term.
---
Visit Nicotine Science & Policy for more News from around the World

---