Vapers Digest 4th August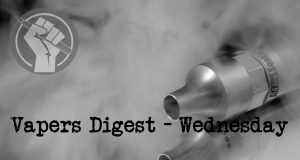 Wednesday's News at a glance:

---
Kevin Garcia, Filter Magazine
More than 75 percent of US physicians wrongly believe that nicotine directly contributes to the development of cancer and cardiovascular disease (CVD), a new study shows.

Published in the International Journal of Environmental Research and Public Health, the paper assessed the impact of question wording on physician perceptions about nicotine use.
Alex Norcia, Filter Magazine
When Taylor Cage attends the Tobacco Plus Expo (TPE) in Las Vegas every year, she keeps an eye out for the next hot product. Usually held in January, TPE tends to be a solid indicator for where the nicotine industry will go next.

In 2020, when Cage attended, "it was all about disposables," she said. And the evolution of the industry that year—as well as the news coverage around it—certainly supports that claim.
---
TWO from Dave Cross, Planet Of The Vapes
The International Network of Nicotine Consumer Organisations (INNCO) made a submission to the All-Party Parliamentary Group for Vaping (APPG) inquiry. It made a number of hard-hitting points about the World Health Organization's Study Group on Tobacco Product Regulation report and is now addressing the upcoming bad COP (Conference of Parties).
The World Vapers' Alliance has announced the launch of the 'Vape Bus', a campaign bus that will travel around Europe through August and September as part of the Back Vaping. Beat Smoking campaign.
---

---
THE vaping industry has become a flourishing business in Malaysia, with a 42% share of the total tobacco market — surpassing that of illicit cigarettes (37%) and legal cigarettes (21%), a study by the Malaysian Vape Chamber of Commerce (MVCC) in December 2020 reveals. But until today, there have not been any specific regulations governing the sale and use of vapes and electronic cigarettes (e-cigarettes).

Vape players have spent years calling for the government to regulate the industry. Yet, sales of vaporiser liquids containing nicotine and e-cigarettes remain illegal at the federal level, although they are openly sold and easily accessible.
---
Jim McDonald, Vaping 360
Ukraine has become the sixth European country to pass a ban on flavored vaping products (except tobacco flavors). The law, which took effect July 31, also prohibits public use and advertising of vaping products.

The law was passed on June 1, according to Tobacco Reporter. Legislators in Ukraine claimed that banning flavors will reduce youth vaping. Some cited the unproven World Health Organization claim that vaping is a gateway to smoking.
Brandee Eubank, Saddle Horse Blues
Welcome to another roundup of the month's top articles on vaping and tobacco harm reduction. As usual, there are a lot of interesting and informative articles to satisfy your craving for news and updates. Each article is linked so that you can read it in full. Brief excerpts are included for your browsing convenience. Enjoy!
---
(Hint: it's not making cigarettes more expensive)
Marewa Glover and David Sweanor
New Zealand already has some of the highest tobacco taxes in the world, and now some campaigners are calling for them to raised much further. But how effective would that be? Not very, say tobacco-control experts Marewa Glover and David Sweanor. What's needed are solutions that empower smokers, not punish them further.

The government's new plan to allow a range of safer alternatives to smoking tobacco, including snus and heat-not-burn products, in addition to electronic cigarettes, shows that New Zealand is once again moving towards leading the world in dealing with the horrendous carnage caused by cigarette smoking.
David MacKintosh talks to Sarah Jakes about GFN 2017
---
Visit Nicotine Science & Policy for more News from around the World

---