Vapers Digest 2nd August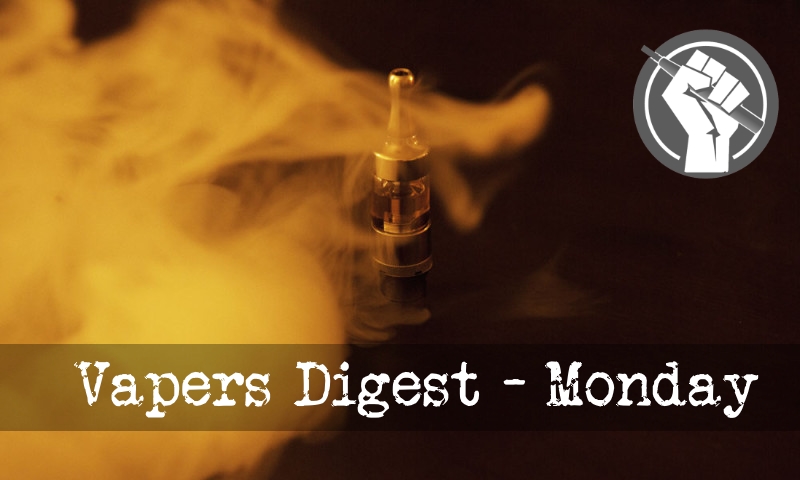 Monday's News at a glance:
ETHRA Survey Update – The WHO tells us: Don't say "safer" anymore! – Tobacco Harm Reduction Goes Live on Community Radios in Malawi – Despite Data, WHO's War on Tobacco Alternatives Continues – E-Liquids between myth and reality – An Anti-Tobacco Hero's Complicated Legacy – Glantz Won't Quit – An Unusual Complication of Electronic Cigarette Use – How can we wipe out youth vaping – Nicotine Science and Policy Daily Digest
Dave Cross, Planet of the Vapes
European Tobacco Harm Reduction Advocates (ETHRA) has released a series of graphics and a video to support its EU Nicotine Users Survey 2020 report. The results came from more than 35,000 EU respondents and confirm that there is an unstoppable movement towards harm reduction in Europe.

It says: "Launched online by ETHRA in the last quarter of 2020, the questionnaire addressed consumer use of nicotine products. Topics included smoking and the desire to quit, use of safer nicotine products and barriers to switching caused by European and national regulations. Over 37,000 people, including more than 35,000 EU residents, participated in the ETHRA survey."
INNCO
A few days ago, we focused on the differences between UNFCCC COP26 and WHO FCTC COP9. Let's dig a bit further in the strange world of tobacco control. Would we allow a United Nations (UN) report on climate change to be funded by a billionaire climate change denier? An official report on vaccines to be funded by a billionaire anti-vaxxer? A worldwide LGBTQIA+ community inclusion report to be funded by a billionaire homophobe and racist? Most probably not, but for the World Health Organisation (WHO) it's not an issue at all when it comes to nicotine users' lives.

On July 27, 2021, the WHO published a report paid for by Bloomberg Philanthropies and partially written by people outside the WHO who belong to organisations funded by Mr Bloomberg who runs a crusade against any form of Tobacco Harm Reduction (THR).
---

---
On Community Radios in Malawi – Morton Manjawira
Another incremental victory in the many leading up to the big one for THR Malawi! Under the auspices of Knowledge-Action-Change Scholarships, we have launched radio jingles that seek to disseminate the utility and substitute value of Nicotine and Safer Nicotine Products (SNP) respectively. These Jingles are strictly on Community Radios in select districts and are set to run for a year. For context, Community radios are the easiest way to reach the rural populace. According to The Malawi Population and Housing Census (2018) and The Global State of Tobacco Harm Reduction (GSTHR) respectively, this marginalized and rural population forms 80% of the country's population as well as ground for disproportionate non-communicable diseases and deaths resulting from Tobacco consumption.
---
---
Lindsey Stroud
Paid in part by Michael R. Bloomberg's billions and U.S. taxpayers, the World Health Organization (WHO) has officially denounced e-cigarettes and vapor products. In a mystifyingly misleading report published July 27, the WHO has demonized e-cigarettes, urging governments to "strictly regulate" the newfangled disruptive technologies, dismissing (if not ignoring) the very notion and science of tobacco harm reduction.

Not that anyone is surprised. Despite mounting scientific evidence in support of these products, in 2019 the Secretariat for the WHO's Framework Convention on Tobacco Control urged member parties "to remain vigilant towards" novel tobacco harm reduction products, including e-cigarettes and heated tobacco products, declaring vaping as a "treacherous … public health disaster."

Dave Cross, Planet of the Vapes
Stanton Glantz used to be vaping's bête noire, perpetually coming out with nonsense and dubious research. Then he was found guilty of sexual harassment, had a paper retracted, and managed to get his colleagues banned from accessing a major database – culminating with his assisted retirement. But he is refusing to go quietly and is now trying to influence smoking mothers-to-be not to switch to vaping.

Writing about a "study" published by the American College of Obstetricians and Gynaecologists, Glantz said: "These studies should convince the British National Health Service to reconsider its recommendation that pregnant women use e-cigarettes instead of cigarettes. They also need to reconsider their statement that nicotine is 'relatively harmless' for developing babies. More important, this is yet another risk that FDA needs to consider when deciding if authorizing e-cigs for sale is 'appropriate for the protection of public health'."
An Anti-Tobacco Hero's Complicated Legacy – Marc Gunther
Not many scientists have fought harder against smoking than Stanton Glantz. As a professor of medicine at the University of California, San Francisco and founding director of its Center for Tobacco Control Research and Education, Glantz led campaigns to ban smoking in public places, exposed secret tobacco industry documents, and wrote or co-wrote five books and nearly 400 papers, most documenting the harm done by tobacco.

The cigarette companies despised him, and the feeling was mutual.

"I'd like to just destroy the tobacco industry," Glantz once said. "It is an industry that kills 5 million people a year. It has no business existing. Make them go do something useful."
---

---
Missed Inhaled Foreign Body Causing Acute Respiratory Failure
We present a case of a young woman who was admitted to the hospital with persistent pneumonia and cough productive of purulent green sputum. She was admitted to the intensive care unit due to type 1 respiratory failure. Chest computerised tomography (CT) showed a large right-sided hydropneumothorax, for which a right-sided chest drain was inserted. Despite intubation, oxygenation continued to deteriorate and the patient was commenced on veno-venous extracorporeal membrane oxygenation (ECMO) and transferred to the regional ECMO centre. Bronchoscopy revealed a plastic coil from an electronic cigarette at the entrance to the right lower lobe.

 Catania Conversation
E-liquids are the most regulated products and should meet safety requirements for the nicotine concentration, warning labels, colour additives and shape.

Often, regulations are driven by the inaccurate belief that nicotine is toxic and its distribution and sale must be limited.

In the UK, vaping is essentially encouraged by government public health agencies. Other European countries have a regulated vaping market but without the same enthusiasm as the British. In the United States, the Food and Drug Administration (FDA) has authority over heat-not-burn products and e-cigarettes and has tried to establish a consistent framework of rules. In the rest of the world, as in Southeast Asia and Latin America, a series of approaches ranging from absolute bans to the total lack of regulation of these products are the norm.

Copy the UK's approach – Dave Morris
In 2006, Campaign for Tobacco Free Kids President Matt Myers said, "The challenge to me is not to eliminate smoking, but the death and disease of smoking. If you had a product that addicted 45 million people and killed none of them, I would take that deal. Then you'd have coffee!"

Since that infamous quote, vaping has proven itself to be the exact miracle of which he spoke, with scientific studies showing it to be at least 95% safer than smoking. Now that vaping has been shown to be over six times as effective at helping smokers quit than government-approved methods, it raises the question: Why aren't our public health organizations and politicians embracing vaping?
---
A look back at how things have moved on or otherwise…
Christopher Snowdon, Velvet Glove Iron Fist,
An interesting article in the Economist tells us a lot about e-cigarettes. In China, the world's biggest cigarette market, smokers are increasingly switching to e-cigarettes. The state-owned tobacco monopoly is not happy about it.

Investor optimism derives in large part from the prospect of rapid growth in China, where just 10m people were regular users of e-cigarettes at the end of last year. But dig a little deeper and the outlook darkens. A powerful state-owned cigarette monopoly, China Tobacco, will not cede ground to a rival product without a fight…..

It is obvious what China Tobacco's motivation is. They fear missing out on cigarette sales if people switch to vaping. The Chinese government, insofar as it can be distinguished from the tobacco monopoly, doesn't want to miss out on tax revenue. More vapers means fewer smokers, hence the online sales ban and scare stories.
Will Keep Smokers Smoking, and Dying – Brad Rodu
Under cover of the Covid-19 epidemic, Kentucky lawmakers earlier this year passed an excise tax on cigarettes' principal competitors: e-cigarettes and vapor products (here).  The tax goes into effect August 1, and amounts to $1.50 on cartridge products and 15% on other vapor products.  That's significant, as a cartridge equals about a pack of cigarettes, which is taxed by the Commonwealth at $1.10 per pack.

Tobacco prohibitionists are thrilled.  Dr. Ben Chandler, president of the Foundation for a Healthy Kentucky: "This new tax is clearly a win for health in Kentucky, especially for our adolescents and teens, because it will result in a significant price increase that will deter many of our youth from using dangerous e-cigarette products." (here )
---
Visit Nicotine Science & Policy for more News from around the World

---