Vapers Digest 30th July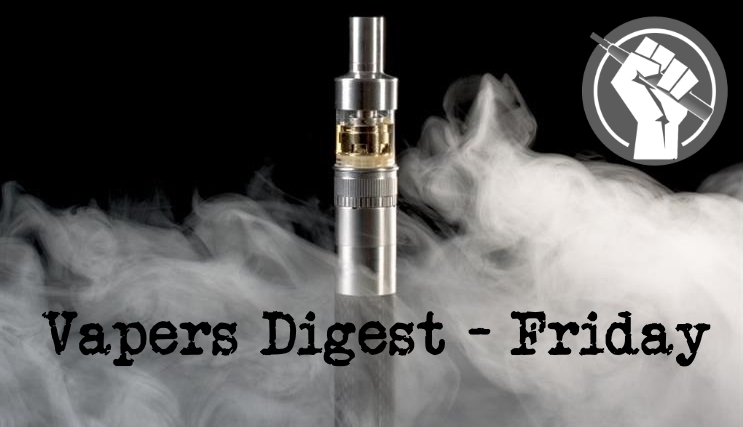 Friday's News at a glance:
ETHRA July news roundup – Vape Industry Can't Advertise to Kids – The WHO's bizarre war on e-cigarettes – WHO's Attack on Tobacco Harm Reduction – WHO's report against vaping compromised – ASH Provides Teen Vaping Update – Why Harm Reduction is the Right Path Forward for India – Vaping Laws and the Treachery of Good Intentions – 2.4 million smokers in the UK turn to vape to quit – A paper on e-cigarette taxation – Tobacco Control's Latest Self-Fulfilling Prophecy – Nicotine Science and Policy Daily Digest
European Tobacco Harm Reduction Advocates
ETHRA's monthly roundup of news: WHO's war on safer nicotine products scales up – BECA draft report presentation & ETHRA letter – Clearing up EVALI misinformation – Good news for Italian vapers – Anti-THR measures in Norway. Read on for more.
But Anti-Tobacco Crusaders Are Doing It For Them
Brad Rodu, Tobacco Truth
Anti-tobacco crusaders have for three years been blaming e-cigarette manufacturers and retailers for increased teen vaping, which the CDC, citing National Youth Tobacco Survey results, dramatically terms an epidemic.

The vape industry is accused of enticing youth with kid-friendly flavors, cartoons and images, however, it may not be industry advertising that's driving young vapers. Anti-vape organizations are running pervasive information campaigns that inundate youth with cartoons and other hip images, photos of kids vaping, and attractive illustrations of vape flavors. Anti-tobacco forces are actually encouraging kids to try e-cigarettes by underscoring how easy it is to use the products, the array of available flavors, and the enticing nicotine buzz that accompanies their use.
---

---
Christopher Snowdon
When the COP26 climate change conference hits Glasgow at the end of October, the media will be out in force to discover how world leaders are going to meet their ambitious carbon emission targets. It will be on the front pages. Edited highlights will be on television. Boris Johnson and Nicola Sturgeon will be elbowing each other out of the way to get in the limelight. Extinction Rebellion will be performing their doomsday japes outside.

But when COP9 begins in November, few will notice. Admittedly, this event is being held online this year, but it would have flown under the radar even if it had been held in the Hague, as planned. It always does. Like COP26, it is a United Nations conference, but that is where the similarities end. (Alternative link)
Puts Millions of Lives at Risk
THE World Health Organization's (WHO) latest attack on alternative nicotine products is unscientific, dogmatic and an effective death sentence for millions of smokers who are trying to quit cigarettes, the Campaign for Safer Alternatives (CASA) warns tonight.

The WHO's global tobacco report released earlier this week is a concerted attempt to spread fake news and false myths about life-saving innovations such as e-cigarettes and nicotine pouches, says CASA chair Joseph Magero.
The World Health Organization's (WHO) just-released "eighth annual report on the global tobacco epidemic" is sadly more proof that billionaire foundations are more influential on the agency's public health guidance than leading international scientific evidence, Asia Pacific's leading Tobacco Harm Reduction consumer advocacy group said.

The Coalition of Asia Pacific Tobacco Harm Reduction Advocates (Caphra) said the WHO's latest attack on safer nicotine products, reportedly funded by Bloomberg Philanthropies, deserves the global condemnation it is receiving.

"Without any substantive evidence, WHO's director general claims 'electronic nicotine delivery systems are harmful.' It's an outrageous statement when vaping and other safer nicotine products continue to save the lives of millions of ex-smokers across the globe," said Nancy Loucas, executive coordinator of Caphra.
---
"Businessmen and promoters of vaping have filed a lawsuit against the Spanish government for an institutional statement that states that "Tobacco binds and kills you in all its forms." The problem: they equate the damage of the cigarette by combustion and that of vaping." https://t.co/L8O7rgnTgl

— European Tobacco Harm Reduction Advocates (@europethra) July 30, 2021
---
Dave Cross, Planet of the Vapes
Action on Smoking and Health (ASH) produces yearly reports on a number of subjects. One, the "Use of e-cigarettes among young people in Great Britain", has consistently demonstrated that there is no gateway effect and no teen epidemic whatsoever. The update for 2021 shows no change.

Just one month ago, ASH were confirming that there is a problem with adult smoker engagement with e-cigs. Despite reaffirming that there is no credible issue with teens vaping, they pushed for further restrictions to be made to vape products.
Forward for India – Corinne Day
Though India has the second largest population of tobacco users in the world, e-cigarettes and heat-not-burn tobacco products are banned. The man responsible for this ban, Minister of Health Dr. Harsh Vardhan, recently resigned, placing India on the brink of a potential policy overhaul. Adjusting the regulatory framework to encourage healthier alternatives to combustible tobacco products will promote consumer safety and reduce the overall number of tobacco users.

In a new policy study, R Street Research Fellow Chelsea Boyd examines India's complex tobacco landscape. The markets, both formal and informal, include many combustible and non-combustible products. But inconsistent enforcement contributes to a growing unregulated trade. For example, unregistered manufacturers of bidis, a popular type of hand rolled cigarette, circumvent both taxes and labor laws.

And the Treachery of Good Intentions – Gilbert Berdine
Prior to the COVID-19, the hot topic in acute lung injury was a new phenomenon called Vaping Associated Lung Injury (VALI). As cases and deaths increased, several US states proposed bans on vaping. I presented an argument why such bans would not work, instead leading to unanticipated consequences. Bans on any product lead to a black market for that product, just ask Al Capone. The suppliers to black markets have fewer incentives for quality control than suppliers to unrestricted markets which the VALI outbreak demonstrated to perfection. Subsequent research has shown that the main cause of VALI was vitamin E acetate added to cannabis-extract THC modules as a cutting agent, much as talc is sometimes used to cut heroin.

It is likely the misuse of vitamin E acetate would not have occurred in the absence of sensible regulation which led to illicit supply chains of vaping products.
---

---
Turn to vape to quit
VAPING debate is heating up again. While the World Health Organisation has just released a statement pouring cold water on the use of vape in helping to reduce tobacco consumption, evidence in the United Kingdom (UK) continues to show that it is very effective in helping smokers to quit traditional cigarettes.

A recently published survey by a tobacco control advocate in the UK, has found nearly two-thirds (64.6%) of its vaping population comprising adults are ex-smokers who have quit smoking with vape, with the proportion growing year-on-year. This figure translates to approximately 2.4 million vapers who are ex-smokers.

That ignores the impact on demand for cigarettes misses the main point
Clive Bates – PubPeer
For a study of e-cigarette taxation to have any public health relevance, it must consider the impact of e-cigarette prices on cigarette demand. Cigarettes and e-cigarettes are economic substitutes. The demand for one responds to changes in the price of the other, an idea well understood in economics and quantified through the concept of cross-elasticity. The paper appears to pay no regard to the impact of vaping taxes on cigarette demand, Yet such effects might easily overwhelm any benefits from reduced e-cigarette use – in fact, impact on demand for other tobacco products and the development of informal markets are by far the most important impacts of a vaping tax. By way of example, a 2020 paper by Pesko et al. [1] concluded:
Michelle Minton
If you want to make something irresistible to teenagers, portray it as a forbidden fruit. That is what has happened in the U.S. with e-cigarettes. As I and others have documented, youth experimentation with nicotine vapor products was relatively rare until anti-tobacco advocates and the news media launched a publicity offensive about the youth vaping "epidemic."

Predictably, as more teens believed all their friends were vaping, more became curious about this thing their parents, teachers, and other authority figures seemed so worried about. If we don't want the same thing to happen with heated tobacco products, journalists, activists, and health authorities must use extreme caution to avoid starting yet another unwarranted and likely-to-backfire moral panic.
---
A look back at how things have moved on or otherwise….
Jonny Eccles, Totally Wicked
A 2019 study published in the British Medical Journal (BMJ) wrongly stated that youth uptake of both smoking and vaping in Canada increased significantly between 2017 and 2018. This conclusion was actually false and the study was corrected in June 2020, but the damage had already been done.
Canadian Constitution Foundation
TORONTO, ONTARIO — The Canadian Constitution Foundation is concerned that new vaping regulations which were finalized in British Columbia today are vulnerable to constitutional challenge.

The new regulations, announced on July 21st by B.C. Health Minister Adrian Dix, include:

A nicotine ceiling of 20 mg/mL imposed for products sold in all retail locations,

Plain packaging for vaping substances, meaning no images or text permitted except for brand name and regulatory text.

A requirement that all vaping substances be sold in packages bearing a skull and crossbones health hazard symbol, a health warning, concentrations and e-liquid volume sold.
Tasnim Lokman, New Straights Times
Regulation of e-cigarettes and smoke-free nicotine products became a major topic at the virtual Global Forum on Nicotine 2020 (GFN 2020), themed "Nicotine: Science, Ethics and Human Rights", as advocates seek a more promising solution for smokers to quit.

The forum, held on June 11 and 12, saw 30 experts speak with one goal: to provide a safe and transparent industry for smokers and those planning to make the switch to alternative tobacco products.
---
Visit Nicotine Science & Policy for more News from around the World

---