Vapers Digest 19th August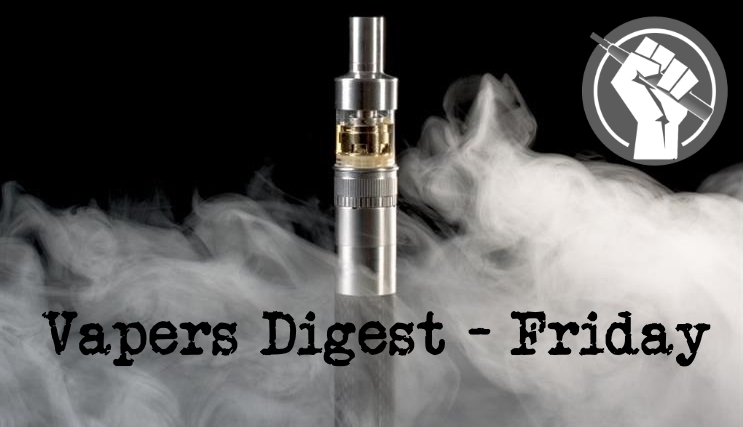 Friday's News at a glance:
Giving out vape starter kit vouchers on the NHS could help entrenched smokers quit – The FDA's problem With misinformation – High-Nicotine Vapes Don't Increase Nicotine Use – FDA Deals Death Blow to the Nicotine Gummy Market – Holiday Time Travel News – A New Low – No Causality For Respiratory Symptoms – Proposals must be enforced – The Advocates Voice – Aotearoa Edition – Sweanor Calls For "Rethink" On Vaping at Health Canada – Does vaping turn you into a pothead? – THR significantly saves lives – Nicotine Science and Policy Daily Digest
On the NHS could help entrenched smokers quit
Giving out vape starter kit vouchers on the NHS could help even hardened smokers quit, according to a new study from the University of East Anglia.

Researchers worked with GPs and the NHS stop smoking service, which is commissioned locally by Public Health at Norfolk County Council, to set up a pilot vape shop voucher scheme to help patients who had tried and failed to quit smoking in the past.

An evaluation of the scheme, funded by Norfolk County Council, showed it was a big success – with 42% of the entrenched smokers who were referred to it and redeemed their vape voucher having quit within a month.
Martin Cullip | The Taxpayers Protection Alliance
This week, the Food and Drug Administration (FDA) launched a new initiative designed to tackle "the growing spread of rumors, misinformation and disinformation about science, medicine, and the FDA." Describing this move as "rumor control," it is primarily aimed at myths and false information about COVID-19 vaccines, but in the tobacco and nicotine policy area, the FDA itself has been guilty of providing very damaging misinformation of its own.

Announcing the initiative, FDA Commissioner Dr. Robert Califf declared that the "distortions and half-truths of misinformation and disinformation pose enormous dangers to the effectiveness of science and to public health itself, through the negative impact it has on individual behavior." And he promised to make "combating misinformation one of [his] priorities."
---

---
Alex Norcia
A new study published in Nicotine and Tobacco Research suggests that vaping products with higher nicotine levels are more effective at helping people cut down on combustible cigarettes without increasing their overall nicotine use.

"Our results suggest that using e-cigarettes or a cigarette substitute to reduce cigarette consumption can result in a reduction of self-reported cigarette use and dependence," Jessica Yingst, an assistant professor of public health sciences at Penn State and a co-author of the paper, said in a press statement.
---
---
Nicotine Gummy Market – Jim McDonald
Calling them a "public health crisis waiting to happen," the FDA has warned a Florida manufacturer to remove its nicotine gummies from the market. The event is notable because few people were aware the product existed before the FDA's splashy announcement, which included a press release, Twitter thread, and attaboy social media posts from tobacco control groups like Truth Initiative.

"The FDA has taken down a product that 23 people in the U.S. use regularly," tweeted Gregory Conley of the American Vapor Manufacturers Association. "Fits into tobacco control's long and storied history of being distracted by bright and shiny new objects, all while cigarettes continue to be sold."

Four from Dave Cross, Planet of the Vapes:
With everyone taking time off to visit foreign climes, it's time for an updated look at the legality of vaping around the world. Problems can occur with sourcing product in your destination country, but also for the possession and use in some places. It's important to check before you go.

The World Health Organisation is pushing many countries to completely ban vaping. This, combined with billionaire Michael Bloomberg's organisations funding disinformation campaigns means that the push against common sense and tobacco harm reduction is constant.
Dr Sukhwinder Singh Sohal and Dr Kathryn Barnsley ply their trade at the School of Health Sciences at the University of Tasmania, Australia. Interviewed for The Examiner newspaper, the pair trot out a series of outright lies that has been described as sinking to a "new low of misinformation about vaping".

The article begins by making the claim that vape advocates are calling for a completely unregulated vape market in Australia. It doesn't quote any of them because they don't exist – no organisation or individuals have ever made such a demand.
The prestigious American Journal of Respiratory and Critical Care Medicine has published a comment by researchers from CoEHAR (Centre of Excellence for the acceleration of Harm Reduction) and the University of Messina regarding a US studies that concluded that "former and current e-cigarette use was associated with higher odds of developing wheezing-related respiratory symptoms".

According to the CoEHAR authors "the significance of the findings needs careful review".

The US studies concluded that "former and current e-cigarette use was associated with higher odds of developing wheezing-related respiratory symptoms".
New Zealand's smokefree proposals must be enforced, say vapers' campaign group the Aotearoa Vapers Community Advocacy (AVCA). AVCA is encouraging Kiwis to make a submission on the Smokefree Environments and Regulated Products (Smoked Tobacco) Amendment Bill by 24 August. They say getting tough on tobacco is well overdue.

Now with Parliament's health select committee, the bill limits the number of retailers able to sell smoked tobacco products, prohibits the sale of tobacco products to anyone born in 2009 or after, and aims to make tobacco products less appealing and addictive.
---

---
On Vaping at Health Canada | RegWatch
What's driving Health Canada's war on vaping? Does the regulator favour drug harm reduction over tobacco harm reduction? And is it too late to make a policy change?
Find out, only on RegWatch by RegulatorWatch.com.

*Guest: David Sweanor, Adj. Professor, Faculty of Law, University of Ottawa & Tobacco-control Policy Expert

Shot on location in Warsaw, Poland, at the Global Forum on Nicotine 2022.

Ivo Vegter
Science about public health issues is often agenda-driven. The latest nonsense to emerge from the halls of academia is that youth vaping leads to cannabis use.

'Study: Kids who vape tobacco are more likely to go on to use cannabis,' runs the headline on Yahoo! News, selected as a representative example of what the average member of the public might hear.

Well, there we have it. E-cigarettes are a 'gateway drug' to marijuana, which in turn is a 'gateway drug' to acid, ecstasy, cocaine, and heroin, and my precious child will be dead of a fentanyl overdose by 21, if popcorn lung doesn't get them first.
Third Eye
Kenya has a problem with cigarette smoking. Too many people are dying from tobacco-related diseases as smokers repeatedly try—but fail—to give up the habit.

Although international evidence suggests that Tobacco Harm Reduction (THR) can significantly cut smoking rates and minimise the risks posed by cigarettes, too often this innovative policy is met with suspicion and opposition. How to overcome the obstacles and start saving millions of lives was the focus of delegates at the Global Forum on Nicotine (GFN) in Warsaw, Poland, recently.
---
A look back at how things have moved on or otherwise….
Manila Bulletin
The largest study of its kind to date conducted by Mayo Clinic, a reputable U.S.-based academic medical organization which looked at the health records of nearly 70,000 patients, has found no link between vaping and Covid-19 diagnosis.

The retrospective study, titled "Electronic Cigarette Use Is Not Associated with Covid-19 Diagnosis", looked at 69,264 patients who were over the age of 12 years, smoked cigarettes or vaped and were given medical care at Mayo Clinic facilities between September 15, 2019 and November 30, 2020.
David T. Sweanor, The Economic Times
With many global challenges, the solutions are a troubling combination of uncertain, disruptive, expensive, and lengthy. But sometimes we have the good fortune to be able to rapidly deal with problems, such as those that can be addressed through measures such as sanitation and vaccination. Add tobacco's toll to that list.
Cigarette smoking vies with air pollution as the globe's leading cause of preventable death. The health catastrophe could be solved without significant government expenditure and while reinforcing consumer freedoms. We need only focus on science and facilitate the use of existing technology.
---
Visit Nicotine Science & Policy for more News from around the World

---