Vapers Digest 17th August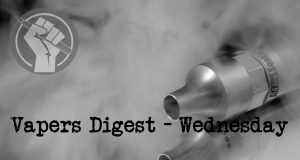 Wednesday's News at a glance:
Pritika C. Kumar, R Street
Columbus, Ohio, lawmakers are considering a flavor ban on tobacco products. While this proposed ban is aimed at preventing youth tobacco use, it may harm adult smokers who struggle to quit tobacco.

Smoking remains the number one cause of preventable death in the United States, contributing to nearly half a million deaths each year. In Ohio, the smoking rate among adults is 21 percent—far higher than the national rate of around 13 percent—resulting in over 20,000 smoking-related deaths each year and an estimated annual cost of nearly $6 billion in smoking-related health care expenses. This is despite the state spending more than $14 million in 2022 alone on tobacco prevention.
---
CASH OFFER: Over 25 adult ex-smokers who vape #SaferNicotine hereby collectively pledge $3,700 to the charity of your choice…

…for proof of ONE verified human death, over the past 20 years of use by (now) 82 million adults worldwide, from inhaling legal nicotine vapor. https://t.co/mmbK8Hme1y pic.twitter.com/dmCsOG4Zbz

— Charles A. Gardner, PhD (@ChaunceyGardner) August 17, 2022
---
Jim McDonald, Vaping 360
The disposable vape market in the United States has grown from a retail footnote to a $2 billion juggernaut in just three years. Disposable vaping products, mostly made by little-known manufacturers, have quickly come to dominate the convenience store/gas station segment of the vaping products market.
---
TWO from Dave Cross, Planet of the Vapes
The Coalition of Asia Pacific Tobacco Harm Advocates (CAPHRA) has welcomed a new vaping series that exposes anti-ecig Aussie propaganda. "Thankfully, the inconvenient truth about vaping has now landed on the laptops of Australians smashing all the alarmist anti-vaping propaganda health agencies and officials are peddling," said Nancy Loucas, CAPHRA's Executive Co-ordinator.
Dr Colin Mendelsohn has produced a series of videos aimed at sharing the truth about vaping and combatting absurd and dishonest claims made by Queensland Health. Celebrating the launch of his evidenced-based video campaign on nicotine vaping, Dr Mendelsohn took a swipe at the lies coming from Australia's public health bodies.
---

---
Innco
Hi Dear Friends,

It's always a pleasure to greet you. We kindly remind you about the survey forwarded by our Executive Director Charles Gardner, in case you haven't got the chance to fill it out and submitted yet. We appreciate your huge cooperation and help.

If you haven't got the chance yet, we encourage you to read our latest article on Medium, "Letter to Gabriel" which is a letter sent by Charles Gardner, PhD. to someone who questioned his methods related to smoking cessation. If it sounds interesting to you, please check it out.

We shared on YouTube the Webinar extract of Nancy Loucas from CAPHRA, from the Webinar: Are you feeling Burnout? along with Ethan Nedelmann's, Nick "Grimm" Green, and Eli Rubashkyn's. If you want to check this excellent webinar again, you can do it on our YouTube Channel.
---

---
Its Position on Snus – Diane Caruana
While snus remains widely banned in the UK and across the EU, in response to a question about the product by a representative of the Department of Health, the UK government said that they may "..consider in due course reviewing the position on snus."

A recent study funded by the National Cancer Institute (NCI) has found that Camel Snus is relatively as effective as nicotine gum in helping smokers quit smoking. Titled, "Randomised clinical trial of snus versus medicinal nicotine among smokers interested in product switching," the study was conducted by Dr. Dorothy Hatsukami and colleagues at the University of Minnesota and the Oregon Research Institute.
To Seek Prohibition – Helen Redmond
California's tobacco research mob, obsessed with youth vaping and hell-bent on enacting total vaping bans, has a devious, three-step strategy. Hunt for a link between vaping and a disease, publish studies based on junk science to "prove" the association, then create a panic that ends in more restrictions or outright prohibition.

This is precisely what happened with 2019's misnamed "E-cigarette or Vaping Product-Use Associated Lung Injury" (EVALI) outbreak, as Filter reported. No link was ever found between vaping nicotine and lung injuries, but the panic unleashed by the Centers for Disease Control and the Bloomberg-funded groups Campaign for Tobacco-Free Kids and Parents Against Vaping and E-cigarettes convinced millions of the opposite.
---
Visit Nicotine Science & Policy for more News from around the World

---