Vapers Digest 21st January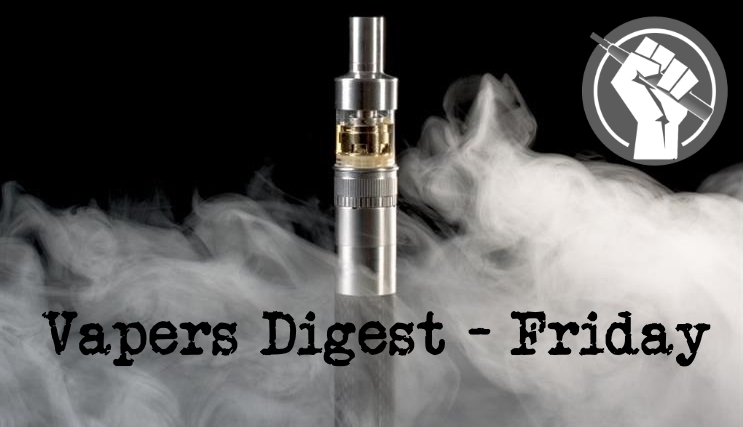 Friday's News at a glance:
Study: snus use has no impact on cardiovascular disease risk – Signs of Anxiety in the Anti-Vaping Camp – Australian research finds daily vapers are 100% more likely to quit – The CDC's EVALI screwup – Dr Cox Talks About Her Trial – Vaping and Vision – Astroturf? – Opposition To Prescribed Vapes – Twitter Research Smears Advocates – Fertility And Vaping – The Case for Flavours – 4 Easy Ways to Make Your Vaping Setup More Satisfying – Vape usage is growing in Bournemouth – Alternatives may help smokers quit? – Vape bill can help save lives of Filipino smokers – Institute Warns Against Overregulation – THR: The imperative for alternatives – The TGA's Vaping Ban and Aboriginal Health – Vape can reduce smoking prevalence – Nicotine Science and Policy Daily Digest
On cardiovascular disease risk – Snusforumet
A new study from the United States reveals that the risk of cardiovascular disease among snus users is no higher compared to people who have never used tobacco.

Habitual smokers run an increased risk of developing cardiovascular disease compared to non-smokers.

But using smokeless tobacco products like snus doesn't result in any increased risk, according to a new study led by researchers at UCLA.
Alex Norcia
On January 14, a collection of public health nonprofits and tobacco control groups—including the Campaign for Tobacco-Free Kids (CTFK), the American Heart Association and Truth Initiative—sent a letter to Mitch Zeller, the director of the Food and Drug Administration's Center for Tobacco Products (CTP). The groups—many of which are funded by billionaire Michael Bloomberg and all of which want to clamp down on vaping—urged the agency to "expedite" its decisions on products that remain on the market without authorization. It had been more than four months, they noted with palpable agitation, since CTP had blown past court-ordered deadline to review vapor companies' premarket tobacco product applications (PMTAs)—submissions, the FDA has stressed, that would be considered on a case-by-case basis.
---

---
Legalise Vaping Australia
A major Australian study published today provides conclusive evidence that nicotine vaping products – currently illegal to buy over the counter in Australia – are a powerful weapon for reducing rates of smoking in the community.

The study, published in the prestigious journal Addictive Behaviours and led by researchers at the University of Queensland, finds that smokers who use a vape on a daily basis are more than 100% more likely to quit cigarettes for good.

Legalise Vaping Australia campaign director Brian Marlow welcomed publication of the study and said it showed that Australia's policies that restrict access to vaping products are working against better health outcomes.
---
---
Marc Gunther
The world-renowned Centers for Disease Control and Prevention describes itself as "the nation's leading science-based, data-driven, service organization that protects the public's health." It pledges to "base all public health decisions on the highest quality scientific data."

So why has the CDC refused to admit it was wrong about the deadly disease that it misnamed EVALI?

EVALI stands for "E-cigarette or Vaping use-Associated Lung Injury." The CDC says that 2,807 people were hospitalized and 68 died from the 2019 EVALI outbreak. But there is no evidence–none at all— that anyone got sick with EVALI from using e-cigarettes.

Seven from Dave Cross, Planet of the Vapes:
Dr Sharon Cox has spoken to the Society for the Study of Addictions on a podcast about her trial looking at helping people experiencing homelessness to switch to vaping. Dr Cox works in the Department of Behavioural Science at University College London and spoke with Rob Calder in the Addiction journal newsroom.

The monthly podcast summarises the latest news from across the addictions sector. A lot of Sharon's recent work has been to deliver smoking cessation solutions to people experiencing homelessness.
A new study has been released by researchers working at the University of California. Published in the American Journal of Ophthalmology, the paper conflates vaping with smoking, focusses on spreadsheets not people, and draws the conclusion that electronic cigarettes can cause problems for vision.

The aim of the data trawl was to find a link between vaping and visual impairment, and this is what the team surprisingly found having drawn data from the Centre for Disease Control and Prevention's 2016-2018 Behavioural Risk Factor Surveillance System – an annual telephone survey. The data set encompassed 1,173,646 individuals.
The World Vapers' Alliance (WVA) has been on the receiving end of a number of knocks recently due to its alleged funding. The WVA says it is a pro-vaping group fighting for consumers, but voices within advocacy circles have become increasingly critical due to alleged funding and involvement from British American Tobacco.

Previously, the World Vapers' Alliance has been covered in Planet of the Vapes pieces for its Back Vaping Beat Smoking campaign, the Vape Bus tour of European cities, and its involvement in World Vape Day. Planet of the Vapes received negative comments about promoting World Vapers' Alliance activities from another international consumer organisation but no reference was made to the alleged funding.
The British Medical Journal has asked "Should e-cigarettes be licensed as medicines?" Balancing the replies, it allows one person to speak out in favour of tobacco harm reduction, but gets Professors Jørgen Vestbo, Andrew Bush, and Jonathan Grigg to attack the forward thinking measure.

"There is already enough nicotine addiction," state Vestbo, Bush, and Grigg as if vaping is increasing the number of nicotine users – running against the evidence accumulated over the last ten years.
Researchers at the University of South Carolina have been looking at Twitter again and decided harm reduction advocates are Big Tobacco shills or automated bots. It is another example of limp logic and poor use of research funds targeted at dismissing future current and future contributions from the likes of Dr Konstantinos Farsalinos.

The U.S. Food and Drug Administration (FDA) gave permission to the IQOS heated tobacco product to be marketed in the United States, stating that it could make claims to be a modified risk/reduced harm tobacco product (MRTP).
The British Fertility Society is being reported as making claims that vaping negatively impacts on male fertility – but it appears to be based on a study that was never published. Following closely on false news that vaping causes impotence, the truth is something that newspapers don't seem keen on sharing.

"E-cigarettes can damage men's fertility," screamed the Daily Mail. "E-cigarettes are listed as a factor affecting men's testicular health," worried Nokia Mobile Phone News.
Dr Konstantinos Farsalinos has been exceptionally active in making the case for flavours in tobacco harm reduction to save lives including releasing a comprehensive document. Farsalinos is the most prolific researcher in the field of vaping and is the first to have identified many of the flaws in anti-vape research.

Dr Konstantinos Farsalinos' report on vaping flavours, titled "The case for flavours in tobacco harm reduction to save lives", examines the science, consumer insights, risks and regulatory considerations relating to vaping flavours. The review concludes that restrictions on vaping flavours would risk seriously reducing the life-saving potential of these innovative products.
---

---
More Satisfying
The discovery of vaping has been a truly life-changing event for millions of former smokers across the UK. Vaping is dramatically cheaper than smoking, and British health experts almost universally agree that it's significantly safer as well. People who switch to vaping spend less and feel better – it's a win for everyone.

The one thing that vaping sometimes isn't, though, is friendly for newbies. Unless you know someone who vapes and can walk you through the process and explain what you need to do to have the best possible experience, it can be hard to know what you need to change. That's where this article is going to help.
And so is the environmental impact
The popularity of disposable vapes are growing which is causing serious environmental damage due to the single-use nature of the product.
Across Bournemouth, over 90 per cent of young vape users have admitted to taking up the habit over the last two years.

Andrej Kuttruf, CEO of vape company Evapo, now have over 40 shops across the UK, including Bournemouth, because of an increased demand.
Smokers are more likely than smokers to develop heart disease, stroke, and lung cancer, according to the US-based Centers for Disease Control and Prevention (CDC).

Citing some studies, CDC says smoking increases the risk for coronary heart disease and stroke by 2 to 4 times. It also increases the risk of developing cancer by 25 times for men and 24.7 times for women.
Tobacco Reporter
A new study by the American Consumer Institute highlights the dangers of overregulating e-cigarettes and vaping products. Co-authored by Steve Pociask and Liam Sigaud, the report investigates the empirical evidence surrounding the consumer risks and benefits of using e-cigarettes and vaping products compared to using combustible tobacco products.

The reports assets that vapor products are significantly safer than smoking and more effective than other nicotine-based smoking cessation treatments in getting smokers to quit cigarettes.

Can help save lives of Filipino smokers
With the official campaign period for the 2022 elections just around the corner, Congress is expected to wrap up work on a few more key bills that will be sent to President Rodrigo Duterte for his signature before his term ends this year.

Among the key measures is the vaporized nicotine product (VNP) bill, which is touted to significantly reduce the smoking rate and save lives of Filipino smokers. The measure aims to regulate the manufacture, sale, and use of e-cigarettes and heated tobacco products (HTPs).
There are concerns the world over, about the health effects of tobacco, which is mostly consumed by smoking cigarettes, cigars or pipes.

In January 2021, the company Johnson & Johnson Consumer Health, donated nicotine patches worth $800,000 to Jordan to help the country in its efforts to lower smoking rates. The donation was received by the country's ministry of health.

And Aboriginal Health – Darren Nelson & Anthony Dillon
In April 2020, Quadrant contributor Dr Anthony Dillon wrote in Our Coming Bleak Winter and Beyond: "Until political leaders find the courage to reclaim responsibility for the state of the nation, the [COVID] virus and far more damaging policies imposed to combat it cannot, and will not, be separated." He then encouraged these politicians and their sundry and assorted 'experts' to do "more thinking and less talking."

One thing that certainly deserves "more thinking" is the recently introduced ban on nicotine-infused 'vape juice' for use in electronic cigarettes. That ban affects all Australians keen to shed their addictions to traditional cigarettes via the vaping substitute, and it hits Aborigine smokers, among the nation's heaviest cigarette smokers, hardest of all.
Kuala Lumpur
Vaping can reduce the smoking population in Malaysia to 4.0 million by 2025 through regulations and promoting smokers to switch to this less harmful alternative, according to a report by Datametrics Research & Information Centre (DARE).

Further, the report estimated that vaping will help the country reduce its healthcare spending on treating smoking-related diseases by RM1.3 billion in 2025 alone.

DARE managing director Pankaj Kumar said the agency derived this data using calculation models and studies by credible international agencies, such as Public Health England and Cochrane Review.
---
A look back at how things have moved on or otherwise….
Consumers' Association of Canada
Vapers who have quit smoking and tobacco harm reduction experts are concerned with the harmful consequences of proposed ban on flavoured vaping products, most immediately in Quebec but increasingly in other provinces as well. Consistent with its belief in defending the rights of all adult consumers to access their preferred products, the Consumers' Association of Canada gives vapers a chance to speak in a new video report that sheds light on the benefits of vaping for ex-smokers who want to quit smoking for good.
Mikołaj Kamiński, Agnieszka Muth
Paweł Bogdański,
The reports suggesting a beneficial effect of nicotine on coronavirus disease 2019 (COVID-19) severity may encourage smoking. We aimed to analyze tweets on COVID-19 and smoking coming from casual Twitter users and Twitter accounts representing the tobacco industry. We collected tweets on COVID-19 and smoking from January 1 to May 1, 2020, using Twitter application programming interface. We analyzed sentiment, likes, or retweet to followers ratios, and the posts coming from the casual users to find pieces of news that could affect the discourse. Tweets coming from industry were analyzed manually. We analyzed n = 33,890 tweets on COVID-19 and smoking. The sentiment of tweets was negative, hitting a nadir in mid-March, but became less negative in April when preprints suggesting benefits from smoking on COVID-19 were released.
---
Visit Nicotine Science & Policy for more News from around the World

---