Vapers Digest 17th January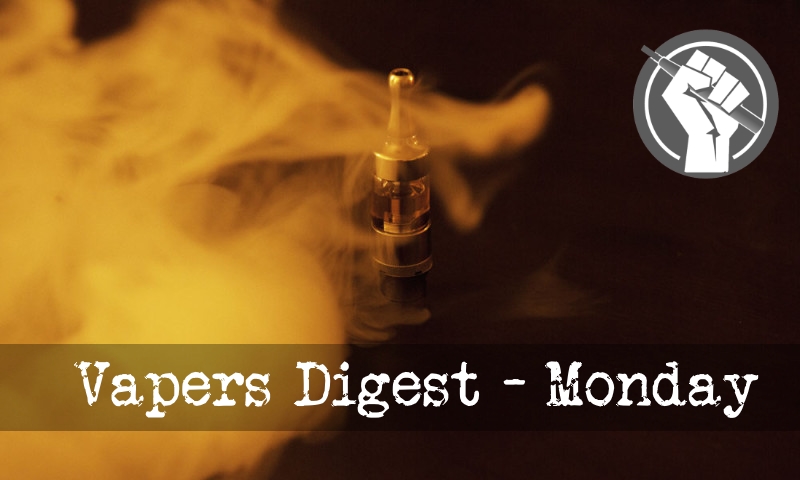 Monday's News at a glance:
Dishonest arguments against vaping – Great Yarmouth smokers: Would you switch to vaping to kick the habit? – A disruptive technology could finally put an end to tobacco smoking – Vapers take Centrestage – The Anti-Vaping Crusade Backfires – Secondhand Risk Claim Crushed – GFN '22 – We know that vaping is making a difference – New ACI Report Highlights the Dangers of Overregulating Products – Rethink Nicotine and Respect Consumers – Vape Law is Duterte legacy – Nicotine Science and Policy Daily Digest
Christopher Snowdon, Velvet Glove Iron Fist
It's 2022 and certain people are still arguing about e-cigarettes as if it's 2012. Even in 2012, we knew more about them than the European Respiratory Society (ERS) does today. In a head-to-head debate in the British Medical Journal, three members of the ERS take on Nicky Hopkinson, the chairman of Action on Smoking and Health, to discuss whether e-cigarettes should be available on prescription.

It's a controversial question and there are reasonable arguments on both sides, but the medics from the ERS don't bother with reasonable arguments. Instead, they bluster and lie and act as if no research has been carried out since their organisation took an ideological position against vaping back in the day. Here's how they start off…
Would you switch to vaping to kick the habit?
For smokers, kicking the habit used to mean patches, gum or just going cold turkey. But Great Yarmouth's smokers have been offered an increasingly popular way to quit – e-cigarettes and vaping.

In the past year, Norfolk County Council – working with Smokefree Norfolk and a vape company – have given out 742 vouchers for e-cigarettes and equipment worth £20 to people looking to quit smoking, as part of a county-wide strategy.

The voucher enables adult smokers to obtain a vape starter kit which includes a vape device and juice.
---

---
Put an end to tobacco smoking – Dr John's Blog
I spent 40 years working as an anesthesiologist. Too much of that time was spent caring for smokers while they underwent horrible, disfiguring and disabling operations, such as removing part of a lung or an amputation. These operations were only necessary because my patients began to smoke as teenagers, and were unable to quit in middle age when tobacco smoking started to cause irreversible damage to their bodies. In a compassionate society, we should not allow people to suffer so much for mistakes they made in their youth. We know that if we can get people to stop smoking in their 40s, they have a very good chance of avoiding disease, disability and death from tobacco smoking.

Rights 4 Vapers
The vapers of Canada are claiming their spot in National Non-Smoking Week. Under the theme of #SmokeFreeWithVaping, vapers are speaking out to demand that governments acknowledge that vaping is less harmful than smoking and can help smokers quit.

"We have traditionally been left out of the debate even though we are the ones most impacted by regulations," said Maria Papaioannoy, spokesperson of Rights4Vapers, the country's largest consumer vapers' rights organization. "Thousands of Canadians have stopped smoking thanks to vaping. We hear their stories every day. Don't we deserve a place at the table?"
---
Mr. Clark makes some excellent points in this piece that may be uncomfortable for some people. They're the ones who need to consider them most imo. https://t.co/LXkgFK7gZC

— Phil (@phil_w888) January 16, 2022
To people who used to smoke…
How old were you when you quit smoking?

— Skip Murray (@imaracingmom) January 16, 2022
---
Garrett Smith
From seed oils to the food pyramid, health officials have a reputation for missing the mark when it comes to informing public wellbeing. One thing they have prided themselves on however is the success in curbing smoking rates, with cigarette sales steadily declining for more than thirty years. Until now.

Smoking, especially among minors and young adults, seems to be making a comeback in the general public for the first time in decades. The causes of this rise have puzzled researchers, some saying perhaps the pandemic is to blame.

Two from Dave Cross, Planet of the Vapes:
A new study from the University of Southern California claims to find secondhand vape and the researchers go on to state that this poses a risk to friends and family. It's just one more in a line of shoddy anti-vaping studies that Jessica Barrington-Trimis has been linked to and has been attacked by experts and the American Council on Science and Health.

The research looked at just over two thousand students who self-reported their recollection of secondhand vape exposure from 2014 (from when they were 8yrs old at most). It also asked them to recall any wheezing or self-diagnosed "bronchitic symptoms".
The Global Forum on Nicotine team have announced plans to hold #GFN22 live in Warsaw, from 16 – 18 June 2022. Due to the changeable nature of international travel, arrangements are in place to mirror the conference online. Successful new initiatives from GFN21 look likely to be continued at this year's event.

Organisers say The Global Forum on Nicotine "is the only international conference to focus on the role of safer nicotine products that help people switch from smoking. Safer nicotine products include e-cigarettes (vapes), nicotine pouches, oral tobaccos such as Swedish snus, and heated tobacco products. This is a rapidly evolving area, with many new non-combustible products emerging over the past ten to fifteen years.
---

---
Talking about a recent legislation that will bar people aged 14 and under to legally buy tobacco, the New Zealand Prime Minister Jacinda Ardern acknowledged that vaping can be an effective tool to help smokers quit.

The New Zealand prime minister said that continuing to raise tobacco prices will not continue to help people stop smoking and that is why there is a need for alternative ways. She said that the best way to reduce smoking rate would be if people don't take up smoking in the first place.
Of Overregulating E-Cigarette and Vaping Products
Today, the American Consumer Institute (ACI) released a report, co-authored by Steve Pociask and Liam Sigaud entitled "How Regulations Endanger the Public Health: A Review of the Evidence on E-Cigarette Risks and Benefits, and Policy Missteps."

With some lawmakers looking to impose restrictions, bans, and excessive taxes on these products, this report investigates the empirical evidence surrounding the consumer risks and benefits of e-cigarettes and vaping products relative to smoking tobacco. The following are the report's findings:

David T. Sweanor
Living is risky behaviour. Nothing we do (or don't do) is free of any risk, so the goal is to manage our risks; to avoid being subjected to unwanted, unknown, and unnecessary risks.

When government regulations and empowered individuals work in tandem great things are accomplished. As witnessed by the huge decrease in the everyday risks people face today compared to the situation a century ago.

It should go without saying that consumers have a huge role to play in efforts to lower risks. After all, it is the decisions made by individuals that will do so much to determine overall societal risks. We seek to control our risks, and regulations and information efforts can effectively empower us all to make better decisions.
As a staunch anti-smoking advocate, President Duterte will leave a lasting legacy when he signs the vape bill into law as millions of Filipino smokers will now have a less harmful option to move away from cigarettes if they find it hard to quit, four prominent Filipino doctors said.

Dr. Rafael Castillo, former president of the Philippine Heart Association-Philippine College of Cardiology and the Philippine Society of Hypertension, said the Vaporized Nicotine Products (VNP) bill, when signed into law, "will be a historic legislation that will become part of the legacy of the Duterte administration." Former National Kidney and Transplant Institute Chief Executive Officer Dr. Dante Dator, one of the country's leading urologists and, said the approval of the VNP bill by Congress is a historic win for public health as this will substantially diminish the impact of smoking on society.
---
A look back at how things have moved on or otherwise…
Endangers Public Health – Independent European Vape Alliance
Around 65 percent of adult vapers in Europe use fruit or sweet liquids. [1] The variety of flavours is one of the most important reasons for smokers to switch to e-cigarettes and for vapers not to go back to smoking.

Without paying attention to this fact, the Dutch State Secretary Paul Blokhuis has announced to ban all e-cigarette flavours except tobacco flavours in the Netherlands, as they are supposedly particularly attractive to young people.

This measure risks very negative consequences for Public Health and tobacco harm reduction: With only tobacco flavours left vaper's threshold to relapse on tobacco smoking dangerously lowers. A public consultation on the plan will run until January 19, 2021.
Tobacco Reporter
A recently proposed ban on vaping flavors in the Netherlands will endanger public health, according to the Independent European Vape Alliance (IEVA).

Around 65 percent of adult vapers in Europe use fruit or sweet liquids. According to the IEVA, the variety of flavors is one of the most important reasons for smokers to switch to e-cigarettes and for vapers not to go back to smoking.

Ignoring this fact, the Dutch State Secretary Paul Blokhuis announced a ban on all e-cigarette flavours except tobacco flavors in the Netherlands, to discourage youth smoking.
---
Visit Nicotine Science & Policy for more News from around the World

---