Vapers Digest 14th January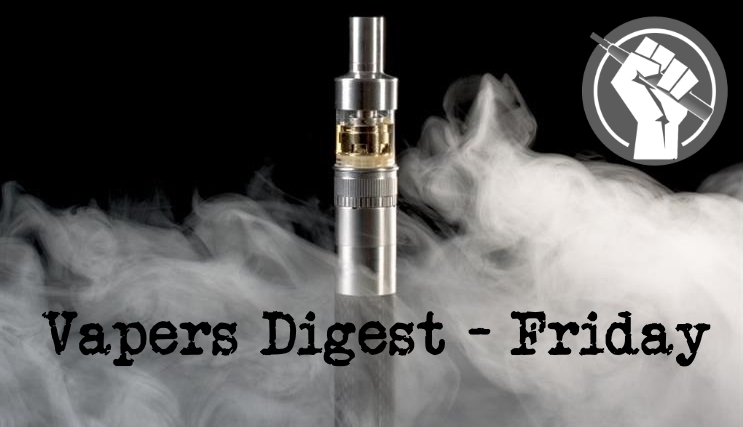 Friday's News at a glance:
FDA Sets a "Very Low" Bar for Favored Tobacco Products – 'Secondhand Vaping' Risks Don't Justify Public E-cigarette Restrictions – Tobacco Harm Reduction Is for the Birds – Big Pharma is no better than Big Tobacco – 26% To Try Smoke-free Alternatives – Ireland To Copy New Zealand? – Wales Holding Smoke-free Consultation – HTPs Reduce Risk Too – More Trading Standards Raids – Taiwan Cabinet Proposes Vape Prohibition – FDA Nominee Califf Heads to Full Senate Vote – New Jersey: Vape Shops to Carry Nicotine Gum – An old nicotine delusion – Lack of high-quality research into HnB – Minister reaffirms support for vaping – Smoking is up for the first time in a generation – Senate lauded for passing vape bill – THR: The Imperative for Alternatives – Physicians urged to champion the fight against smoking – Nicotine Science and Policy Daily Digest
For Favored Tobacco Products – Brad Rodu
The U.S. Food and Drug Administration on December 23 announced it had "authorized the marketing of 22nd Century Group Inc.'s 'VLN [Very Low Nicotine] King' and 'VLN Menthol King' combusted, filtered cigarettes as modified risk tobacco products (MRTPs), which help reduce exposure to, and consumption of, nicotine for smokers who use them.  These are the first combusted cigarettes to be authorized as MRTPs…"

I do not understand how these VLN cigarettes will meet the agency's tough MRTP standard, which requires that products "significantly reduce harm and the risk of tobacco-related disease to individual tobacco users and benefit the health of the population as a whole taking into account both users of tobacco products and persons who do not currently use tobacco products."
Don't Justify Public E-cigarette Restrictions – Cameron English
A new study suggests that e-cigarette users (vapers) may harm the respiratory health of their friends and family via "secondhand vaping." Before we draw any conclusions, the paper has some important limitations that restrict its relevance to the real world.

Evidence confirming the relative safety of vaping continues to build. Multiple studies have now clearly shown that e-cigarette use is far safer than traditional smoking and effective in helping many people give up combustible cigarettes. But what about the secondhand impacts of vaping? A study just published in BMJ Thorax claims that "Secondhand nicotine vape exposure" may be associated with increased risk of bronchitic symptoms and shortness of breath in young adults. The authors concluded that their
---

---
Annie Kleykamp
I didn't know much about birdwatching until a very recent trip to Costa Rica when I signed on for a guided tour.

The birding began on a gringo-packed trail that snaked its way into the dense forest of the Monteverde region known for its cloud-forest tree canopies. Our guide, a veteran birder, knew all the "hot spots" where local avian celebrities hung out.

The three-hour trek (sloth-paced, barely walking on mostly flat land) was a poor match for my amped self. I was irritable and anxious and secretly looking for pumas and monkeys rather than birds. I tried my best to feign interest and dutifully scanned the treetops with my binoculars, awaiting the fateful bird moment.
---
---
Malcolm Roberts
As I stated in my speech On Freedom in August 2021: 'On many occasions in the last year I have addressed the Senate in regard to freedom as a counterbalance to medical tyranny.'

The speech was given in relation to the Covid lockdowns unleashed on Australia from March 2020 onward in the name of 'public health'. During this time another significant, but largely unknown, medical tyranny was inflicted on Australians.

For 'public health' reasons, nicotine vaping products (NVPs) came under strict regulation after instruction from the state and federal governments. Vaping products – which now require a prescription – are commonly used as a replacement for harmful alternatives such as cigarettes and cigars.

Five from Dave Cross, Planet of the Vapes:
Twenty-six percent of adult smokers said they were likely to try smoke-free alternatives such as e-cigs, pouches or heated tobacco during 2022 according to a study conducted by Lake Research. The survey was commissioned by Philip Morris Limited.

Lake Research's survey discovered over a quarter of UK smokers plan on exploring alternative nicotine products this year as part of a smoking cessation attempt.

The results come from responses received from 1800 people and 58 percent said that they hadn't quit before as they'd not found a rewarding replacement for tobacco smoking. Anything they tried previously wasn't "satisfying".
Questions are being asked whether Ireland is set to copy New Zealand and ban all tobacco products. The news comes as vape stores are encouraging their customers to write to politicians about the importance of keeping flavoured e-liquids.

Ireland has struggled with tobacco harm reduction to date and the latest focus could be prohibition over encouragement to switch.

Conversations are being held about banning the sale of tobacco products or drastically reducing the number of places where tobacco can be sold.
Wales has opened up a consultation exercise to allow interested parties to comment on plans 'A smoke-free Wales' and 'Towards a smoke-free Wales delivery plan 2022 to 2024'. The consultation period runs through to 31 March 2022, offering time for individuals and organisations to create their submissions. UKVIA has already made its response and encourages others to follow suit.

"We want your views on our draft long-term strategy: 'A smoke-free Wales' and 'Towards a smoke-free Wales delivery plan 2022 to 2024'," says the Welsh administration.
Cochrane has released a new review looking at heated tobacco products (HTPs). The independent research team found that HTPs reduce the exposure to toxicants and carcinogens when compared to cigarette smoking. It reaffirms their role as a reduced harm product but didn't address the supporting role that might play in smoking cessation.

The team consisted of many names familiar to POTV News readers: Harry Tattan-Birch, Jamie Hartmann-Boyce, Loren Kock, Erikas Simonavicius, Leonie Brose, Sarah Jackson, Lion Shahab, and Jamie Brown.
Trading Standards officers have continued with their pre-Christmas crackdown on illegal vape products and have raided stores across the country. Following their intelligence-led strikes in Walsall, Stockton and Newcastle, officers have made seizures in Liverpool, Middlesbrough and Newcastle.

Vaping products containing e-liquid must conform to regulations set by the Government. Only products approved by the Medicines and Healthcare Regulatory Agency are allowed to be sold in stores and online, and cannot contain nicotine levels in excess of 20mg/ml (sometimes referred to as 2% on the packaging).
---

---
Three from Jim McDonald:
Taiwan's executive branch has proposed a broad ban on vaping, including sales, manufacture, import, and even the use of e-cigarettes. The cabinet (or Executive Yuan) will send its amendment to the country's Tobacco Hazards Prevention Act to the legislature for debate.

Descriptions of the law in news reports are confusing, suggesting that some products may be eligible for approval after being submitted to the government for assessment. But it would be nearly impossible to ban personal use only of products not approved for sale. (The provision allowing some legal products may only apply to heated tobacco products (HTPs) and not e-liquid-based vapes.)
A bill passed this week in New Jersey will require vape shops and most tobacco retailers to keep nicotine gum or other nicotine replacement therapy (NRT) products in stock and available for sale. The bill exempts cigar shops from the requirement.

The bill, A6020/S4114, was passed Monday by the state Senate on a 25-12 vote. It was approved by the state Assembly on a 50-18 vote in December. The bill will now go to Governor Phil Murphy to be signed into law or vetoed.
The nomination of Dr. Robert Califf to lead the FDA will move to a vote in the full Senate after being advanced by a Senate committee today. But while Califf sailed through confirmation in his previous stint as FDA commissioner, he may be in for a fight this time.

The Senate Health, Education, Labor and Pensions Committee voted 13-8 to recommend President Biden's nominee to the full Senate. The vote margin, however, was closer than expected, which could signal trouble in the final Senate vote.

Aidan Semmens
Is nicotine really the big baddie when it comes to tobacco products and their alternatives? Some people in positions of authority – people you might think ought to know better – still seem to think so.

Trading standards officers in Liverpool told the local paper they had found 74 retail outlets across the city selling illegal e-cigarette products.

A casual reader might have got the impression from the headline – "Investigation reveals scale of illegal vaping problem" – that vaping itself is illegal in the UK, which of course is not the case. Far from it.
The lack of high-quality research into HnB – Barnaby Page
The heated tobacco sector has, compared with its cousin vapour, always suffered from a lack of scientific research and from the perception that most of what does exist is industry-funded.

That's still very much the case; as a crude measure, on the PubMed database of research papers there are 7,584 results for "e-cigarette" and 3,722 for "vaping", against just 297 for "heated tobacco" and an even paltrier number for "heat-not-burn".
Aekarach Sattaburuth
Digital Economy and Society Minister Chaiwut Thanakamanusorn said on Friday he would continue efforts to legalise e-cigarettes, which were safer than tobacco and would bring in added tax revenue.

He confirmed his position when he met a group of people campaigning for legalisation at his ministry on Friday.

Mr Chaiwut said legalisation of e-cigarettes would enable the country to tax sales and would provide people who found themselves unable to quit smoking with a safer option.
In a generation – Yaël Ossowski
It often takes a long time for health policy influencers, advocates, and proponents to admit fault.

When it is about topics such as diet fads, saturated fats, food pyramids, and sugar consumption, long-held consensus beliefs and government actions later proved erroneous have had a lasting negative impact.

But nothing has been more egregious and harmful in our current age than the public health lobby's persistent denialism of the harm reduction value of nicotine vaping products and other alternatives to cigarettes.
Bernadette E. Tamayo
THE approval of the vape bill will "accelerate the decline" in cigarette smoking in the Philippines, according to two international public health experts.

The House of Representatives approved House Bill (HB) 9007 on third and final reading on May 25, 2021 while the Senate approved its version, Senate Bill (SB) 2239, on Dec. 16, 2021.

SB 2239 and HB 9007 aim to regulate the manufacture, sale and use of e-cigarettes and heated tobacco products (HTPs) which, according to some scientific studies, are less harmful than combustible cigarettes.
Olufisayo Adeoti
There are concerns the world over, about the health effects of tobacco, which is mostly consumed by smoking cigarettes, cigars or pipes.

In January 2021, the company Johnson & Johnson Consumer Health, donated nicotine patches worth $800,000 to Jordan to help the country in its efforts to lower smoking rates. The donation was received by the country's ministry of health.

This was after the public health groups sounded the alarm on the prevalence of smoking among Jordanian citizens as Jordan became the country with the highest smoking rate in the world.
With a staggering death toll of nearly 8 million people each year, around twice as many as COVID-19 has claimed since its discovery, cigarette smoking is considered the leading cause of preventable deaths in the world today.

The overall socio-economic impact is equally concerning.  Annually around 6% of global health budgets are allocated to the treatment of smoking-related diseases, like lung cancer, chronic obstructive pulmonary disease (COPD), heart disease, and tuberculosis.

For various complex reasons LMICs have disproportionately high smoking prevalence rates. South Africa, with a prevalence of 31.4% (47% among men), is home to nearly 12 million of the world's 1.14 billion tobacco users.
---
A look back at how things have moved on or otherwise….
Derek Yach, Chitra Subramaniam, Business World
New Year resolutions always include commitments to quit smoking. Most people fail not for want of trying but for want of options that can help them. Our interventions to date are not good enough. Will the World Health Organization's (WHO) campaign to help 100 million people quit tobacco (WHO News Release Dec 8, 2020) make a difference? Is the WHO willing to embrace new methods and emerging scientific data to course correct and in the process save millions of lives
Anne Kothawala, Mike Hammoud, The Chronicle Herald

As we enter a new year, the Atlantic Convenience Stores Association (ACSA) and the Convenience Industry Council of Canada (CICC) urge the Nova Scotia government to reconsider policies related to tobacco taxation and vaping legislation, which will help smokers with their new year's resolutions.
It appears that the current policies are, in fact, having the unintended consequence of increased cigarette sales and consumption
Jim McDonald, Vaping 360
A federal agency has warned vapers and other consumers to not buy or use individual 18650 lithium ion batteries, which they say pose unique safety hazards. While well-intentioned, the warning is overly broad, and draws some incorrect conclusions, at least for vapers.
---
Visit Nicotine Science & Policy for more News from around the World

---