Vapers Digest 24th January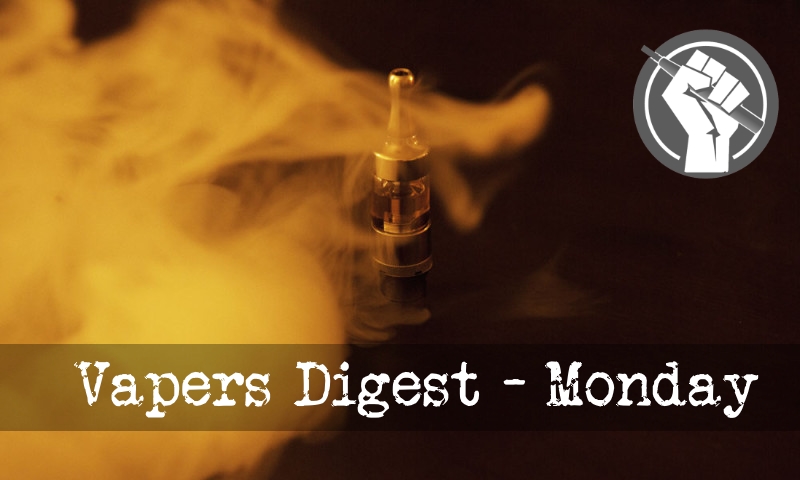 Monday's News at a glance:
Facts About Safer Smoke-Free Products Are "Somewhere," But Not at the FDA – What Anti-Vaping Activists Get Wrong In Their FDA Letter – Lithuanian parliament bans flavoured e-cigarettes – The politics of free trade and public health in the EU – ANPVU Awards Honorary Membership – Vaping News from Parliament – Could China's E-Cig Regs Upend Global Open System Supply? – DES Ministry's eyes legalising e-cigarettes – Vaping regulations are all about protecting tobacco tax revenues – Nicotine Science and Policy Daily Digest
Are "Somewhere," But Not at the FDA – Brad Rodu
I recently came upon the FDA website "Nicotine is Why Tobacco Products Are Addictive."  The section "What Makes Tobacco Use Harmful" starts with partially truthful information: "Nicotine is what keeps people using tobacco products. However, it's the thousands of chemicals contained in tobacco and tobacco smoke that make tobacco use so deadly." [emphasis in original].

That's not too bad, although agency officials know that the thousands of deadly chemicals are present only in smoke, not tobacco.  Then they get more specific.

"Combustible products, or products that burn tobacco, are the most harmful. An example of a combustible product is cigarettes, which deliver more than 7,000 chemicals along with nicotine that makes it hard to quit.
In Their FDA Letter – AVM
It's hard to imagine a more malicious inversion of reality. The truth—available to anyone with a functioning search engine—is that youth vaping is down, youth smoking is up, and the evidence continues to grow that vapor products have helped millions of adults quit smoking tobacco. Don't take our word for it, see the evidence for yourself.

Notice the authors never make an attempt to seriously argue that vaping flavors have a special or targeted appeal to youth, they simply ask FDA to take it as an article of faith.
---

---
Sniegė Balčiūnaitė
The Lithuanian parliament, Seimas, has outlawed the sale of e-cigarettes and e-liquid cartridges as of July if they contain any flavours.

The only exception is tobacco-flavoured products. The move is aimed at reducing sales of e-cigarettes that are growing increasingly popular in Lithuania, the authors of the bill argue.

On Tuesday, Lithuanian MPs adopted amendments to the Law on Control of Tobacco, Tobacco Products and Related Products with 92 votes in favour, nine against and nine abstentions.
---
---
Stephen A. Chmelewski
"Snus", "Chew", "Snuff", "Dip", whatever form you choose to refer to it, smokeless tobacco has been banned from the EU market in favour of its more popular, more profitable, and far more dangerous, brand of addictive product: cigarettes.

Behind the reasonable arguments against the use of tobacco products regarding public and personal health, there's been more of a political drama of sorts played out within the EU that has gathered little, if any, attention by the majority of its citizens.

Two from Dave Cross, Planet of the Vapes:
Italian consumer group ANPVU (Associazione Nazionale per i Vapers Uniti) has made the decision to award Dr Konstantinos Farsalinos with the appointment of Honorary Member of the ANPVU. The appointment follows news that the board has also taken the decision to join the World Vapers' Alliance.

Carmine Canino, President of ANPVU, told Planet of the Vapes: "The Board of Directors of the Association ANPVU (the only Italian Association of Consumers of e-cigs), at its last meeting, has unanimously decided to confer the appointment of Honorary Member of the ANPVU to Professor Konstantinos Farsalinos in recognition of his constant, assiduous commitment, and daily support in relation to research on the reduction of harm from tobacco smoke through the use of personal vaporisers (e-cigs)."
While everyone was talking about parties, the political parties have found time to discuss vaping and other tobacco harm reduction issues. Alexander Stafford asked the Secretary of State for Health and Social Care about flavours, the government's tobacco control plan has been delayed again, and Mark Pawsey expressed his opinion that, when it does finally make its way to the House, the tobacco control plan should embrace vaping.

Rother Valley's MP Alexander Stafford asked is the Secretary of State was going to investigate breaches of the prohibition of characterising flavours in tobacco products, if the products would be removed and what penalties companies found to be in breach of regulations will face.
---

---
Upend Global Open System Supply? | RegWatch
Late last year, China amended its laws, so that vaping product manufacturers are now subject to strict regulation by the Chinese government, under the same regulatory authority as combustible cigarettes.

The move outlaws the production and sale of refillable vapes for the domestic market, causing genuine concern over the future global supply of open systems hardware.

In this episode of RegWatch, we are joined by esteemed regulatory lawyers Azim Chowdhury in Washington, D.C., and David Ettinger in Shanghai, China, both from the firm Keller & Heckman.

In bid to cut down on cigarette smokers
Asa Salikupt, from the End Cigarette Smoke Thailand (ECST) network, said the network supports DES Minister Chaiwut Thanakamanusorn's plan to legalise e-cigarettes and hopes the working group will be transparent, listen to public opinions and allow e-cigarette users to provide information.

"We believe the legalisation of e-cigarettes will help Thailand achieve the goal of reducing cigarette smokers and protecting non-smokers from the danger of second-hand smoke," he said.

He also pointed out that the Excise Department can introduce an e-cigarette tax once it's legalised.
Are all about protecting tobacco tax revenues
It's National Non-Smoking Week in Canada, which falls on the third week of January and is dedicated to raising awareness of the dangers of smoking cigarettes. January 2022 is also the month that Health Canada had hoped it would be able to implement a ban on flavoured vaping products — a proposal that will discourage smokers from switching to less-harmful products. But perhaps that's exactly the point.

Nobody should be surprised that money and taxes has played a huge role in shaping the public health crusade to end smoking in Canada. The anti-smoking crusade was once about lowering cancer rates, making restaurants smell nicer and emptying the emphysema wards. Nicotine wasn't the villain, carcinogens were.
---
A look back at how things have moved on or otherwise…
James Dunworth, Ashtray Blog
During 12 years in this industry, I have seen numerous attempts to derail and destroy vaping. These attempts have often had some success.

Today, in many countries, vapers face restrictions, flavour bans and even criminal prosecution. Some vapers have been fined or sent to prison for daring to use e-cigarettes to try and stop smoking and save their lives. Even in the UK, nicotine levels and tank sizes are limited and the 10ml limit on e-liquid bottles creates both pointless expense and needless plastic waste.

The battle goes on, and the next major attack on vaping is likely to happen at the WHO Conference of the Parties (COP) on tobacco later this year.
For Small Vape Industry – Jim McDonald
Nearly five years after the FDA Center for Tobacco Products published the Deeming Rule in May 2016, the FDA has issued the final Premarket Tobacco Application (PMTA) rule. A PMTA—intended to prove to the FDA that a product is "appropriate for the protection of public health"—must be submitted to receive marketing approval from the agency for vaping products (and other tobacco products).

Nothing in the final rule will provide any relief to the small e-liquid manufacturers that have been the pioneers and standard-bearers of the American vaping industry. The difficult and expensive PMTA process has not changed in the final rule, and the cost and complexity of the requirements will drive many independent manufacturers out of business.
---
Visit Nicotine Science & Policy for more News from around the World

---