Vapers Digest 26th January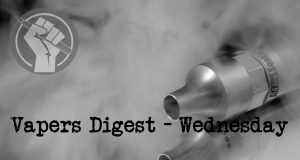 Wednesday's News at a glance:
Shantanu Guha Ray, The Times Of India
The 10th annual vape predictions is out in the market, and experts have told us what it means for the market this year.

Let's get to the first things first.

Experts say last year's high were mainly regulatory directions many Asian countries took on lower-risk alternatives, including China. A top WHO award went to India's former health minister for banning vaping, even as he was in the midst of being ousted for grossly mishandling the Covid situation.
---

---
Two from Dave Cross, Planet of the Vapes
Legalise Vaping Australia say a major study published in the prestigious Addictive Behaviours journal finds daily vapers are 100% more likely to quit smoking successfully. This is a problem for Australian smokers and current vapers because the federal government has banned over-the-counter sales and made accessing nicotine containing eliquid very difficult to do.
Use of disposable vape products is causing a stir on the south coast and comes as DEFRA launches a consultation on plastic pollution of the environment. Andrej Kuttruf, CEO of vape company Evapo, has spoken to a Bournemouth journalist on the topic but the resulting article still relied heavily on an old, hysterical piece in The Sun.
---
---

---
Jim McDonald, Vaping 360
The Lithuanian Seimas (parliament) has finalized a law prohibiting the sale of vaping products in non-tobacco flavors. The flavor prohibition applies to all products, including those not containing nicotine.

The legislation—which amends the country's existing Law on Control of Tobacco, Tobacco Products and Related Products—passed by a 92-9 vote (with nine members abstaining), according to LRT. The ban will take effect July 1.
Alex Norcia, Filter Mag
survey published by Action on Smoking and Health (ASH) and Cancer Research UK on January 24 revealed how local governments in England managed to improve their smoking cessation services in 2021, despite significant funding issues.
---
Just What The FDA Ordered
Carl V. Phillips, Daily Vaper
The much anticipated National Academies report on vaping and vapor products has just been released. The report, a massive review of the existing journal articles (only) that address various aspects of the subject, reaches most of the obvious conclusions. However, it is cleverly skewed to support the FDA agenda, and thus is about as anti-vaping as is possible without making blatantly absurd claims.
As reduced-risk product – Fergus Mason
An FDA panel voted yesterday to reject more than a million pages of evidence and dismiss Philip Morris International's claim that their iQOS heated tobacco product is a safer alternative to tobacco. While that doesn't write off hopes of the device being certified as a Modified Risk Tobacco Product, it's certainly a blow to the company's hopes.
---
Visit Nicotine Science & Policy for more News from around the World

---