Vapers Digest 28th January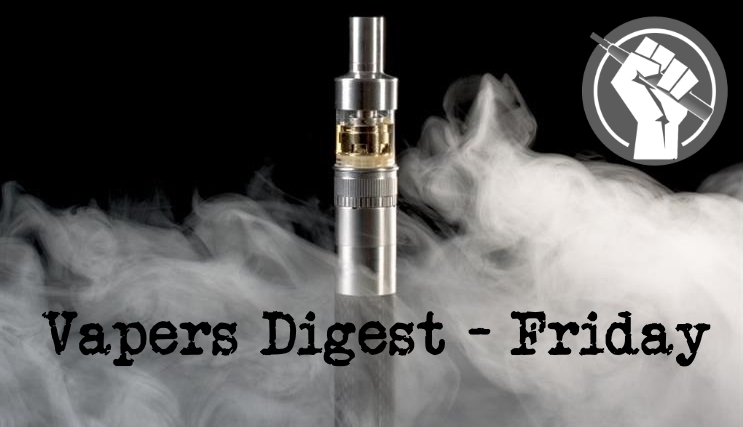 Friday's News at a glance:
Groundbreaking Study Shows Vaping Far Less Toxic Than Smoking – The CDC is mimicking anti-vaxxer rhetoric – Are We Seeing Early Signs of Common Ground in US Tobacco Control? – A Vape Revolution – Ecigs Helping Norfolk's Smokers – BabyBreathe Trial – UKVIA Offers Counterfeit Advice – Letter from leading tobacco science and policy experts – The Northwest Territories' commitment – House ratifies bicam report – FDA on Track to Take Actions – Generation Smoking Ban Also Covers Vape – Nicotine Science and Policy Daily Digest
Vaping Far Less Toxic Than Smoking
James Dunworth, Ashtray Blog
A replication study has demonstrated that vaping is far less toxic than tobacco cigarettes.

The study was carried out by Center of Excellence for the acceleration of Harm Reduction of the University of Catania. (CoEHAR). The study is part of the Replica Project, which aims to replicate high quality studies that compare cigarettes with electronic alternatives.

The studies chosen were originally conducted by the tobacco industry, and therefore carry a high risk of bias. To eliminate this risk, studies were replicated by 5 different universities across the world. To minimise the risk of error, each university used three different protocols to measure the toxicity of vapour on human cells.
In its messaging on nicotine – Martin Cullip
Imagine waking up one morning and reading the following statement from the U.S. Centers for Disease Control and Prevention (CDC): "Hundreds of people have been hospitalized due to side effects of Covid19 vaccinations. Being vaccinated risks known adverse consequences of blood clotting and cardiovascular problems." Also imagine that the CDC failed to mention the hugely greater advantages of taking the vaccines for hundreds of millions of people. You would, quite rightly, think they had taken leave of their senses.

Yet, this is precisely what the CDC is doing when talking about reduced risk products which are helping millions of smokers quit tobacco.
---

---
Of Common Ground in US Tobacco Control? – Alex Norcia
On January 27, a group of tobacco control experts published a letter in the American Journal of Public Health (AJPH), urging the public health community to move away from categorizing scientists as either "opponents" or "supporters" of e-cigarettes.

The co-authors—including Micah Berman, an associate professor of public health and law at Ohio State; Pamela Ling, a professor of Medicine at the University of California San Francisco; and Joanna Cohen, the Bloomberg professor of disease prevention at Johns Hopkins University—write that the terminology "highlights division rather than the many areas in which there is agreement." Meaning, they go on, that most scientists would agree both that e-cigarettes have a place for adult smokers looking to switch and that youth should not experiment with nicotine.
---
---
And policy experts to Michael Bloomberg
American Vapor Manufacturers
We write as independent experts in tobacco science and policy, including several cited in a recent article in the Chronicle of Philanthropy. The article, Bloomberg's Millions Funded an Effective Campaign Against Vaping. Could It Do More Harm Than Good? by Marc Gunther raises several concerns about the overall impact of Bloomberg Philanthropies' investments in tobacco control, in particular the opposition to tobacco harm reduction as a public health strategy.1 We are aware of the response to the article, but we do not think this adequately addressed the concerns raised.

Four from Dave Cross, Planet of the Vapes:
Health Secretary Sajid Javid has done the tour of newsrooms promising a vape "revolution" to increase the life expectancy of the poorest in England. Short on detail in his announcement, Javid has promised more information later this year when he releases his white paper.

With a target date of "Spring", Sajid Javid says the white paper will promise to tackle the health inequalities in society, something that he claims causes "moral outrage" in the country as the wealthiest live an average of ten years more than the poorer.
Electronic cigarettes are being used to help long-term smokers in Norfolk finally quit their smoking habits. The support being given signifies the ongoing strength vaping is playing in combatting tobacco-related disease in England and marks the country out as a leading light globally.

Quitting smoking always involved the majority of smokers attempting to go "cold turkey" in January, with virtually all attempts ending in failure. Slowly, more quit services across England are adopting vaping as a method of supporting cessation attempts.
A new research trial has been set up to address an identified problem: 22% of women report smoking in the year before pregnancy, and although about half quit smoking during pregnancy, up to 76% return to smoking within 6 months. The "BabyBreathe" trial aims to see what interventions work to keep the mothers smoke-free, including offering electronic cigarette kits.

Caitlin Notley said: "At the moment there is no routine support available to encourage new mums to stay smoke-free after childbirth. It's a big problem as around 75pc of women who quit smoking for pregnancy relapse before their baby turns one. This can severely affect the health of the mother and baby.
Celebrating a successful raid by Kent County Council officers, the UK Vaping Industry Association (UKVIA) congratulated the action by Trading Standards and issued its own guidance to vendors on identifying counterfeit electronic cigarette products. The raids mirror those being conducted cross the country during the start of 2020.

Kent County Council Trading Standards swooped as part of Operation CeCe, a team up between National Trading Standards and HM Revenue and Customs.
---

---
To harm reduction is lost with the proposed vape flavour ban
The Government of the Northwest Territories had an open consultation regarding the proposed flavour restrictions, that if pursued will be implemented through amendments to the Tobacco and Vaping Products Control Act. In the Canadian Vaping Association's (CVA) submission filed during the consultation period, the CVA details its opposition to restricting flavoured vaping products and provides evidence of the negative outcomes of flavour bans.

The Northwest Territories have among the highest smoking rates in Canada. As of 2018, 33% of the population age 15 and older were daily or occasional smokers. Given Public Health England has stated that vaping is between 59.7% and 74% effective for quitting smoking when paired with local stop smoking support…
On measure regulating vape – Billy Begas
The House of Representatives has ratified the bicameral conference committee report regulating the use and sale of vaporized nicotine and non-nicotine products.

During Wednesday's plenary session, no one objected to the ratification of the report reconciling the disagreeing provisions of House Bill 9007 and Senate Bill 2239.

The Senate ratified the same report on Tuesday.

The copy of the measure will be sent to Malacañang for the President's signature.

To Address Tobacco-Related Health Disparities – Mitch Zeller
In April 2021, the U. S. Food and Drug Administration announced its intent to take significant action toward dramatically reducing tobacco-related disease and death in the U.S. The agency remains on track to advance two proposed tobacco product standards – one prohibiting menthol as a characterizing flavor in cigarettes and another prohibiting all characterizing flavors (including menthol) in cigars – by spring.

Given that each year nearly half a million people in the U.S. die prematurely from tobacco-related diseases, reducing the appeal of cigarettes and cigars will have an extraordinary public health impact.
Boo Su-Lyn
The Ministry of Health (MOH) today clarified that its proposed smoking ban for everyone born after 2005 does not only cover cigarettes and tobacco products, but also vape, e-cigarettes, and heated tobacco products.

An MOH official said the prohibition covered all tobacco products, including cigarettes, cigars, tobacco leaves, and smokeless tobacco, as well as electronic devices like vape or e-cigarettes and heated tobacco products.

"Tobacco products, smoking substances, substitute tobacco products, and smoking devices," the MOH official told CodeBlue.
---
A look back at how things have moved on or otherwise….
Thomas J. Glynn, MA, MS, PhD; J. Taylor Hays, MD; and Katherine Kemper, MBA, Mayo Clinic
The 34th Surgeon General's Report on Smoking and Health, published early in 2020, prominently noted that prevalence of cigarette smoking among US adults has declined from nearly 43% in 1964, to a low of 14% in 2018. This represents the smallest percentage of adult smokers in the United States since just afterWorld War I, a century ago, and has resulted in saving millions of lives and debilitating illnesses.
, Nicotine & Tobacco Research
Much evidence suggests e-cigarettes are substantially less harmful than combustible cigarettes. Assuming this is true, we analyze the ethical case for a policy of e-cigarette availability (ECA) as a tobacco harm reduction strategy. ECA involves making e-cigarettes available to allow smokers to switch to them, and informing smokers of the lower risks of e-cigarettes vis-à-vis smoking. After suggesting that utilitarian/consequentialist considerations do not provide an adequate ethical analysis, we analyze ECA using two other ethical frameworks.
---
Visit Nicotine Science & Policy for more News from around the World

---