Vapers Digest 31st January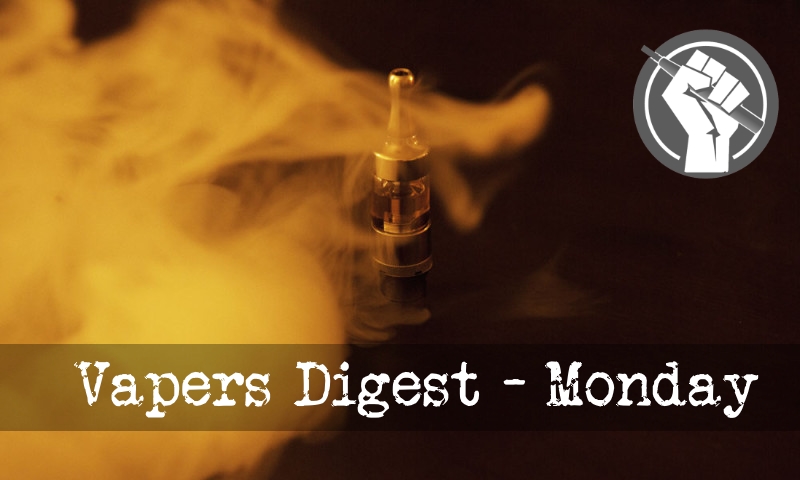 Monday's News at a glance:
ETHRA January news roundup – Tobacco control strategy for Wales and delivery plan – Vapers welcome recognition of vaping in new stop smoking guidelines – Three quarters of Dutch e-cigarette users would still smoke without the e-cigarette – WVA Responds To Funding Questions – Youth vaping. The other side of the story – Bloomberg Refuses Proposed Discussion – Biden's FDA Nominee – Halo Granted Exemption – House leaders see vape bill ending widespread use of cigarettes in PH – THR: That Africa is not left behind – South Africa Should Embrace, Not Tax, Vaping – Israel: Nightmare Vape Tax Finalized by Knesset – Nicotine Science and Policy Daily Digest
European Tobacco Harm Reduction Advocates
ETHRA's monthly roundup of news: BECA report published – Multiple threats to flavours – Scramble to regulate / ban nicotine pouches – Anesvap testimonials – Slash on snus – Bloomberg rebuffs experts. Read on for more.
Welsh Government
We want your views on our draft long term strategy: 'A smoke-free Wales' and 'Towards a smoke-free Wales delivery plan 2022 to 2024'. We are consulting on:

-How our strategy will help us to become smoke-free in Wales by 2030
-The actions from our first delivery plan supporting that including:making smoke-free the norm in Wales
-Supporting groups and communities that have higher levels of smoking
-Tackling the sale of illegal tobacco

'Smoke-free' means that less than 5% of adults in Wales are smokers.
---

---
In new stop smoking guidelines
Vapers welcome recognition of vaping in new stop smoking guidelines. The majority of Ireland's 200,000 vapers have quit smoking. Without vaping, national smoking figures could be as high as 25% of adults

Vapers in Ireland welcomed the Government's new National Clinical Guidelines to stop smoking, which for the first time recognise that vaping is helping people quit cigarettes and commits to helping smokers who want to quit through vaping.

Joe Dunne, founder of Respect Vapers, said that government agencies are finally starting to listen to the experiences of the thousands of people who tried everything to quit cigarettes and finally stopped by vaping.
---
---
Would still smoke without the e-cigarette
Three quarters of e-cigarette users would still be smoking if they had not encountered the e-cigarette. That is the outcome of a large survey among 2,981 Dutch e-cigarette users by consumer organization Acvoda and trade association Esigbond. On average, vapers attempted 5.1 cessation attempts before switching from regular cigarettes to the e-cigarette. Furthermore, almost nine out of ten vapers experience health improvements such as a better condition and less coughing after switching. The Netherlands has about 400 thousand e-cigarette users who are on average 45 years old.

Dave Cross
The World Vapers' Alliance (WVA) has hit back at allegations that it is an AstroTurf group, acting as a front for British American Tobacco (BAT). Articles in The Daily Beast and on Vaping 360 made strong claims but Michael Landl, WVA's director, strongly refutes the suggestions and says it "is annoying when … journalists spin public information into a conspiracy".

Last week, we reported that The Daily Beast wrote that it had seen documents and received information from sources that confirms, "British American Tobacco has played a central and hands-on role in orchestrating, directing, and funding the World Vapers' Alliance.
Dr Colin Mendelsohn
An article in the Daily Telegraph today breathlessly reported on the 'teen vaping crisis' and the danger to our children. However, the article exaggerated the risks, included misinformation and only told one side of the story.

There was no comment sought from a pro-vaping expert, so I will provide my response here for balance.

How widespread is teen vaping? We don't really know. There are anecdotal reports of increasing teen vaping from schools and parents due to the availability of illegal disposables.
---

---
Of Vaping Evidence – Jim McDonald
Over the past year, pro-harm reduction tobacco control and public health experts have sought to meet privately with philanthropist Michael Bloomberg and his foundation Bloomberg Philanthropies' anti-vaping leadership. They have been rebuffed, according to an article by reporter Marc Gunther.

The article provides an interesting look at how Bloomberg responds to criticism from outside experts: he doesn't. In response, his minions offered little more than a recital of Bloomberg Philanthropies' greatest hits—the tobacco control talking points that serve as gospel for tens of thousands of anti-tobacco and anti-vaping activists around the world who are funded by the billionaire.
In this episode Assistant Professor Jamie Hartmann-Boyce and Dr Nicola Lindson discuss the emerging evidence in e-cigarette research and interview Dr Sharon Cox. This podcast is a companion to the Electronic Cigarettes Cochrane Living Systematic Review.>

The podcasts shares the evidence from the Cochrane monthly searches.

In the January episode Jamie Hartmann-Boyce talks with Dr Sharon Cox, Senior Research Fellow at the Department for Behavioural science and Health from University College London's Tobacco and Alcohol Research Group. Study trial registry number: ISRCTN18566874
Jim McDonald
The finance committee of Israel's Knesset (parliament) has approved a slightly modified version of the draconian tax on vaping devices and e-liquid that was imposed last November by the government's Ministry of Finance. The new tax rates will take effect immediately.

Although the committee reduced the tax rates somewhat from the levels announced previously, Israel will still have the highest vape tax in the world. According to Israeli anti-smoking activist Zvi Herzig, the committee eliminated a separate tax on disposable products, and will apply the same tax rate to all vaping products: 270 percent of the wholesale cost, plus 15.6 Israeli New Shekels (NIS) per milliliter of e-liquid.
Faces Confirmation Trouble – Jim McDonald
Robert Califf's nomination to lead the FDA could be in serious trouble. Sources in Congress have told Politico that the former FDA commissioner doesn't currently have the votes to be confirmed by the Senate a second time.

Califf, who previously served as FDA commissioner during President Barack Obama's last year in office, entered the current nomination process with significant existing Democratic opposition. Five Democratic senators—Bernie Sanders, Maggie Hassan, Joe Manchin, Richard Blumenthal, and Edward Markey—have indicated they will vote against the nominee, based mostly on disputes over the FDA's handling of the opioid crisis and Califf's connections to the drug industry.

For Mailing Vape Products – Tobacco Reporter
The U.S. Postal Service (USPS) has granted Pure Labs permission to ship its Halo brand of vaping products to compliant businesses through the brand's Master Distributors, Syndicate Global Distribution and Halo Wholesale Direct.

The approval constitutes a regulatory exception to the mailing restrictions described in the Prevent All Cigarette Trafficking (PACT) Act. The original PACT Act was amended by Congress on Dec. 27, 2020, to incorporate e-cigarettes and vaping products.
Widespread use of cigarettes in PH
House leaders over the weekend described the vape bill recently passed by both chambers of Congress as their parting "gift" to the Filipino people as they hailed the measure as the beginning of the end for cigarettes in the Philippines.

They said the vape bill, which drew widespread support from vapers and smokers, is the gift of Congress to the Filipino people to finally have an effective tool to bring down smoking rates and save lives.
There is unanimity across the world on the need to reduce smoking rates among people. Whether it is the ubiquitous cigarettes, or cigars or water pipes known locally as shisha in Nigeria, every concerned stakeholder wants a drop, indeed a continuous drop in smoking rates. While cigarettes have always received the most attention, people are beginning to also realise the danger that shisha portends especially to young people among whom it is increasingly popular.

However, the manner of achieving the desired drop in smoking rates has continued to breed contention among different parties.
 Maria Chaplia
In December 2021, the National Treasury published a proposal to tax electronic nicotine and non-nicotine delivery systems in South Africa. The Treasury points to the increased consumption of these products among youth worldwide and their potential to undermine tobacco control efforts. Based on the Treasury's calculations, the total excise duty would range from R 33.30 to R 346.00, dependent on volume and nicotine strength.

The proposal mirrors anti-vaping efforts spearheaded by the World Health Organisation and lacks understanding of harm reduction. The vaping tax would deprive South African smokers of the opportunity to quit, and drive current vapers back to combustible tobacco consumption.
---
A look back at how things have moved on or otherwise…
What could possibly go wrong? – Clive Bates
The government of the Netherlands,  led by Paul Blokhuis, State Secretary for Health, Welfare and Sport, is in imminent danger of fooling itself into becoming an unwitting ally of the cigarette trade.  By taking measures to make vaping less attractive (notably by proposing a ban on all non-tobacco flavours for e-cigarettes), it threatens to degrade the appeal of a low-risk rival to cigarettes, provide regulatory protection to the cigarette trade, prolong smoking, obstruct quitting, and add to the burden of disease and death. All this in the name of protecting youth, while managing to harm both adults and adolescents. Quite a feat for any politician.
Christopher Snowdon, Velvet Glove Iron Fist
The All Party Parliamentary Group on Vaping is holding an inquiry into the Conference of the Parties (COP) meetings held by the WHO's Framework Convention on Tobacco Control. If you hurry, you can send a submission (it closes on 1 February).

The meetings are notoriously secretive and undemocratic. The photo above shows me as close as I've ever got to one. I have written before about the shenanigans at COP6 (in Moscow), COP7 (in Delhi) and COP8 (in Geneva).

This is what I sent to the inquiry…
With Clive Bates
Nicotine without smoke? This discussion will take a brief tour through the science and policy controversies surrounding the concept of tobacco harm reduction: the idea of delivering the mild recreational drug without products of combustion of tobacco leaf.

The WHO reports that 8 million deaths are caused annually by tobacco, the overwhelming majority arise from cancers, cardiovascular disease and respiratory conditions caused by inhalation of tobacco smoke.

Could smoke-free products like e-cigarettes, heated tobacco products, smokeless tobacco and new oral nicotine pouches ultimately render the cigarette obsolete and avoid millions of premature deaths in the next few decades?
---
Visit Nicotine Science & Policy for more News from around the World

---