Vapers Digest 2nd February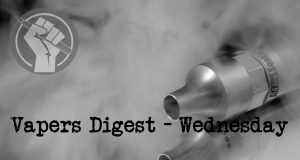 Wednesday's News at a glance:
Opposition to Vape Bill may exacerbate smoking, top Filipino doctors say ~ Britain is missing out on one of the biggest benefits of Brexit ~ Africa: Tobacco Harm Reduction in Africa: Has The Revolution Started? ~ Flavored e-cigarette company challenges FDA marketing denial~ The FDA is getting rid of the little companies that created the vaping industry while using the big companies to take the industry to new heights of scientific overkill. ~ FDA Blunders Again, Endorsing Reduced Nicotine Cigarettes Today…and 27 Years Ago ~ Where do we go from here? How new rules will affect world vape markets ~ Asking For Balance ~ Striking Dutch Survey ~ England's Vape Trends ~ Guitar hero Slash: Snus 'the best discovery in the world' ~ The Spanish Consumer Book and the e-cigarette campaign ~ Where do we go from here? How new rules will affect world vape markets ~ The Evil Twins ~ Have Recreational Marijuana Laws Undermined Public Health Progress on Adult Tobacco Use? ~ Is Vaping Immoral?
---
Nate Raymond, Reuters
A federal appeals court on Monday weighed whether the U.S. Food and Drug Administration wrongly barred a flavored e-cigarette manufacturer from marketing its products, in a case that could curtail the regulator's efforts to combat youth vaping.
that created the vaping industry while using the big companies to take the industry to new heights of scientific overkill.
George Gay, Tobacco Reporter
Amanda Wheeler is angry.

I know this because I listened to her presentation on day two of the Global Tobacco and Nicotine Forum (GTNF), which was held in London in September 2021.

I know, also, that she has every right to be angry—very angry. But despite the provocation she has suffered, her anger was not immoderate or discourteous.
---
This is insane. It's like recommending consumers don't buy electric cars from mainstream internal combustion manufacturers; or don't buy renewable energy from any fossil fuel company. It has nothing to do with science and everything to do with #dogma.

— Mark D (@JMarkD50) January 31, 2022
---
Dr. Brad Rodu, Tobacco Truth
The Well News on January 25 published my commentary on the FDA's recent regulatory blunder of approving a cigarette that provides all of the smoke but almost none of the nicotine of a traditional cigarette.

Upon its publication, I received a number of critical emails suggesting that I had failed to properly research the issue.  In fact, those critics failed to do their due diligence on me.
---

---
THREE from Dave Cross, Planet of the Vapes
In September, fifteen past presidents of the Society for Research on Nicotine and Tobacco (SRNT) wrote a letter calling for more balance and understanding of the benefits and risks of vaping. In a late response, thirteen researchers have asked for academics to move away from characterising scientists as "opponents" or "supporters" of e-cigarettes.
A survey conducted on behalf of Dutch trade association Esigbond and consumer organisation Acvoda finds that three quarters of Dutch e-cigarette users would still be smoking without having been able to switch to an e-cigarette. It reveals that nine in ten vapers say they see health improvements after switching from tobacco to vaping.
The Smoking in England research team at University College London have released the latest findings about vape trends in England. Loren Kock, Robert West, Emma Beard, Dimitra Kale, and Jamie Brown publish comprehensive details from their ongoing monitoring and draw conclusions from the analysis.
---
---

---
INNCO
Weekly Issue | January 31st, 2021

"Mike Bloomberg and his expert team should welcome open, transparent discussion, especially with nationally and globally recognized experts. It is hard to understand why they would decline even to meet and exchange information or be afraid to do so. All we wish to do is provide information and insight and explore key questions, the answers to which will affect the lives and well-being of millions of people. What's the downside to that?." ~ Cliff Douglas (former vice president of the American Cancer Society).
Freddie Dawson, Ecig Intelligence
Consumers will continue to increasingly spread usage out over different alternative nicotine products, partly driven by further, stricter vaping regulation coming in across the globe throughout 2022, ECigIntelligence predicts.

Usage will continue be determined by situation – for example, with pouches preferred in situations where exhaled substances would not be convenient – as a more holistic approach to nicotine is taken.
---
Clive Bates, Tobacco Reporter
The remote Himalayan Kingdom of Bhutan was the poster child of tobacco control for many years. It appeared that Bhutan had drawn the obvious conclusion from decades of scientific research and had finally done the right thing. In 2004, the kingdom banned the sale of all tobacco products. Tobacco control activists were delighted.
"Working paper", National Bureau of Economic Research
Public health experts caution that legalization of recreational marijuana may normalize smoking and undermine the decades-long achievements of tobacco control policy. However, very little is known about the impact of recreational marijuana laws (RMLs) on adult tobacco use. Using information from four national datasets (National Survey of Drug Use and Health, Behavioral Risk Factor Surveillance System, Current Population Survey-Tobacco Use Supplements, and Population Assessment of Tobacco and Health) and dynamic difference-in-differences and discrete-time hazard approaches, we find little support for the hypothesis that RML enactment leads to increases in adult tobacco use.
Brent Stafford, Regwatch
The science on flavour bans appears to be hardening. Studies show if flavour bans are implemented, many vapers would likely return to smoking.

And according to Dr. John Oyston, if Health Canada pushes a flavour ban into force, it could be "a public health disaster."

Joining us today on RegWatch is anesthesiologist and tobacco harm reduction advocate Dr. John Oyston. Hear how he explains the motivations behind Health Canada's proposed flavour ban and what could happen if it goes into effect.
---
Visit Nicotine Science & Policy for more News from around the World

---