Vapers Digest 4th February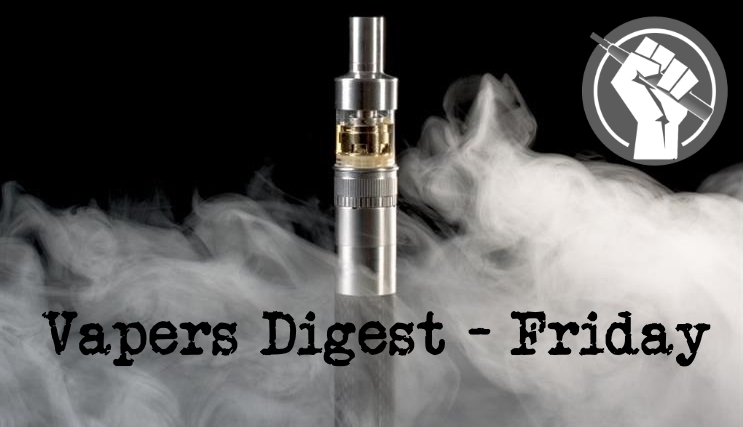 Friday's News at a glance:
NNA recommendations – E-cigarette risk perceptions – an American crime scene – Court Challenges to FDA Are Heating Up – Vaping products – tightening rules on advertising and promotion – Thai Progress – Malaysia Sends Global Message – Vape Flavour Queen Under Investigation – Success in Glasgow – Court Lets Four FDA-Denied Vape Companies Resume Sales – Tobacco & Vaping 101: 50 State Analysis – Conveying risks accurately is key – Approach THR strategies with an open mind – If we tax vaping, we'll just keep smokers smoking – Tie me up, tie me down! Why a bit of red tape can be good – How the success or failure of VLNCs – Nicotine Science and Policy Daily Digest
Would make new government policy announcements more achievable
Although other priorities have occupied politicians for many months, government minds are beginning to focus on other policy areas which have been side-lined during the pandemic. On 31st January, it was announced that there would be a refocus on advantages to be gained from the UK leaving the European Union with the release of a report entitled The benefits of Brexit – how the UK is taking advantage of leaving the EU. Page 83 of this report spoke of the government's tobacco policy and potential post-Brexit reforms:

Tobacco harm reduction can play a significant role in advancing both these government agendas and the NNA has already formulated a set of proposals which will do exactly that if they are adopted.
An American crime scene – Clive Bates
Most Americans now incorrectly believe that e-cigarettes are just as harmful or more harmful than cigarettes. US health organisations have unethically cultivated this misunderstanding and compare unfavourably with UK equivalents. Their duplicitous behaviour resembles that of Big Tobacco 50 years ago.

I have drawn the chart above from the US National Cancer Institute HINTS survey, picking up results from 2014, 2017 and the most recent data from 2020. The current situation is shocking and the trend is a disgrace. But how has this happened?

In this blog, I compare the vaping risk communications of four major American health organisations with four similar UK organisations. The comparison is damning.
---

---
On advertising and promotion: consultation 2022
Public consultation into additional controls to limit advertising and promotion of vaping products in Scotland.

While current evidence indicates that vaping products are less harmful than smoking tobacco, we cannot say with total certainty that they do not have any long-term harms to health. Clinical studies that demonstrate any long-term impacts from using vapes will take decades.
---
Talked to someone who helped homeless people during 1st lockdown. Her team gave out vapes to those being moved into hotels. Some people reported using far less crack and heroin once they were #vaping, as it kept them comfortable #unexpectedbenefits

— Louise (@grannylouisa) February 4, 2022
The French Respiratory Health Association (@respirsante) has taken a position on the vaping debate. They state that e-cigarettes can help with smoking cessation. https://t.co/4vN8mqUJmG

— European Tobacco Harm Reduction Advocates (@europethra) February 3, 2022
---
Jim McDonald
A federal court has stayed enforcement of FDA Marketing Denial Orders (MDOs) issued to four vaping manufacturers, allowing them to continue doing business while the court conducts a full review of the FDA denials.

The 11th Circuit Court of Appeals—which handles petitions for review from vaping businesses based in Florida, Georgia and Alabama—granted the stays Tuesday to Bidi Vapor, Diamond Vapor, Johnny Copper, and Vapor Unlimited. All four companies are based in Florida.

A three-judge panel heard motions from the businesses and granted the stays by a 2-1 vote. Judge Jill Pryor dissented from the decision.

Four from Dave Cross, Planet of the Vapes:
Progressive moves in Thailand to legalise the sale and use of vape products is meeting with coordinated opposition from Bloomberg-funded activists. As Minister Chaiwut Thanakamanusorn announces his plans for sensible, evidence-based legislation, The International Union Against Tuberculosis and Lung Disease listed out nine reasons to oppose lifting the ban. But could the tide be turning?

Ecigs and Thailand have been though some confusing and troubled times together. A vape ban was introduced in 2014 – but you wouldn't have known it as nobody paid any attention and carried on as before.
Malaysia's vaping regulation sends a global message, says the Coalition of Asia Pacific Tobacco Harm Reduction Advocates (CAPHRA). It says the Ministry of Health is making good progress with its imminent legislation to regulate vaping – making it of global importance.

The Coalition is a regional alliance of consumer tobacco harm reduction advocacy organisations. Its mission is to educate, advocate and represent the right of adult alternative nicotine consumers to access and use of products that reduce harm from tobacco use.
It has been announced that Chinese vape flavour billionaire Chu Lam Yiu is being investigated as part of a government corruption crackdown order by President Xi Jinping. The news wiped billions from Lam Yiu's personal wealth and sent the share price of Huabao International Holdings into freefall.

Prior to the announcement, Chu Lam Yiu was acknowledged to be one of the most successful women in China, worth an estimated £5.6 billion. She holds a majority stake (70%) in Huabao International Holdings, a company that (among other things) produces tobacco and vape product flavourings. Shares in Huabao International Holdings crashed by 65% following the news, taking Chu Lam Yiu's net worth to a mere £1.87 billion.
Glasgow's stop smoking provision has been lauded as being the most successful across Scotland, building on reasonable advice being given out about electronic cigarettes. Despite the good news, NHS Scotland's reliance on information from ASH Scotland is troubling given previous statements about vaping and its current reserved position.

Public Health Scotland recently released data to show that the quit smoking campaign run by NHS Greater Glasgow and Clyde led to region to almost nine thousand successful quits.
---

---
Resume Sales, for Now – Alex Norcia
On February 1, the Eleventh Circuit Court of Appeals granted four nicotine vape manufacturers—Bidi Vapor, Diamond Vapor, Johnny Cooper and Vapor Unlimited—judicial stays on their marketing denial orders (MDOs) issued by the Food and Drug Administration (FDA). The decision means that these producers can continue selling their harm reduction products while the lawsuits remain active.

They followed dozens of other vape companies in taking legal action against the FDA, after the agency denied thousands of products through its new premarket tobacco product application (PMTA) pathway.
Lindsey Stroud
As lawmakers across the country seek to reduce youth tobacco and vapor product use, many have introduced and passed legislation that regulates, taxes, and in some cases, prohibits the sales of such products.

This analysis includes state specific information on tobacco and vapor product use among adults in youth in all 50 states, as well as Washington D.C. Each paper examines smoking rates among adults in the respective state, youth use of tobacco and vapor products, and the effectiveness of tobacco settlement payments, taxes, and vapor products on reducing combustible cigarette use.
Is key to effective tobacco control – Samrat Chowdhery
Hardly anyone would have missed the headline of past few weeks that vaping causes erectile dysfunction. Based on survey responses, the concerned US study at best established association and certainly not causation. It is near impossible to decouple the effects of vaping from past smoking in such cross-sectional studies, and majority of vapers are ex-smokers. The respondents could also well have switched to vaping 'after' being diagnosed with the condition.

Instead of relaying this uncertainty and the weak association, the headlines streamed dissuasion to millions of smokers resolving to quit around the new year, most of whom are headed for failure as 95% of smokers who try to quit on their own will relapse, success rates improving marginally with NRT support and counselling.

With an open mind — Nur Khaisiyah Othman
Health issues related to smoking are not new in Malaysia. In fact, statistics from the Ministry of Health Malaysia show that smoking is a major risk factor for serious illnesses and causes 10–12 per cent deaths in Malaysia.

Various measures have been taken by the government to curb smoking over the years. Among them are the introduction of smoking cessation services as well as strict regulations over the sale of tobacco.

However, the results from these measures have not been as expected.
Kurt Yeo
The intended vaping tax would represent a major blow to South African vaping consumers and smokers seeking less harmful alternatives to smoking.  Such a tax would make smokers less likely to make the essential switch to less harmful alternatives due to price.

On 15 December 2021, the treasury published a discussion paper titled Taxation of Electronic Nicotine and Non-Nicotine Delivery Systems (ENDS), after the minister of finance said in his 2020 February budget speech that the treasury would start the process to introduce an excise duty on electronic vapour products.
Why a bit of red tape can be good – Aidan Semmens
Lying, at its closest, just seven miles off the coast of Venezuela, Trinidad and Tobago is in many ways a world apart from that troubled country. The West Indian island nation's 1.3m people are the third richest per head in the Americas, after only the US and Canada. You might infer a lot just from the title of its national anthem, "Forged from the Love of Liberty".

But if "liberty" means "freedom", there are different ways to interpret what that means. Freedom from regulation isn't necessarily a desirable thing.
Could affect regulation of alternatives – Barnaby Page
22nd Century Group didn't need chemical stimulants to turn its dream of mass-market very-low-nicotine cigarettes (VLNCs) into a reality; the first cartons emerged from the production line little more than a month after the US Food and Drug Administration (FDA) had granted a modified-risk order for them.

It is easy to be sceptical about VLNCs, for the simple reason that they appear to have very few benefits to the consumer. They still involve tobacco combustion (using a form of the plant with dramatically lowered nicotine levels), so they involve most of the risks of inhaling smoke as well as the perhaps more minor, but genuine, issues of odour and dirt.
---
A look back at how things have moved on or otherwise….
Thomas Brown, Medium
After decades of declining smoking rates among all ages, smoking is going up again. A combination of life in lockdown and a media inexplicably hostile to safer alternatives has been pushing Americans back to cigarettes. To save lives anti-smoking advocates need to step back and look at harm reduction instead of prohibition to save lives. Hyperbolic rhetoric attacking electronic cigarettes is not defending public health — it's causing public harm.
I am a 24-year-old, and I love flavored vapes—grape, chocolate caramel ice cream, and watermelon, to be precise. Too bad five states and numerous cities across the United States have banned flavored vapes, assuming these flavors are 'meant for kids.' And worse, now the FDA is expanding that ban.
---
Visit Nicotine Science & Policy for more News from around the World

---