Vapers Digest 7th February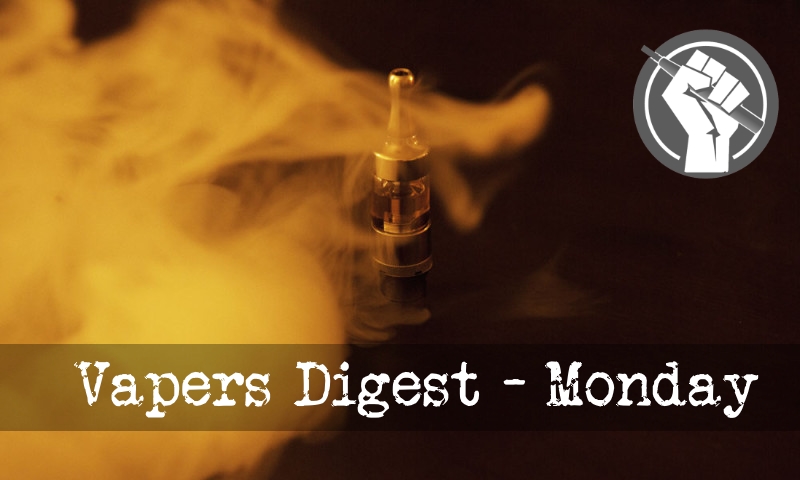 Monday's News at a glance:
Scottish Government plans to ban vaping ads could lead to more smokers dying – How ride-share drivers are brazenly cashing in – NNA Offers Levelling Up Advice – Canadian Government Ignores Evidence – Nova Scotia has yet to produce any data – E-cigarette prescriptions on rise – Give 'second, reduce harm' a chance – Successful e-cigarette measures in UK, NZ – Vape bill gives 16 million Filipinos a chance – Nicotine Science and Policy Daily Digest
Hannah Rodger
Mark Oates, fellow at the Adam Smith Institute, said the strategy currently being considered is ill thought through and could lead to more smokers dying.

A consultation was launched on Thursday to determine public views on the banning of vape advertising, with the aim of ruling out promotions in places such as bus shelters and billboards.

Ministers say that reducing "exposure to advertising and promotion of vape products is the best way to protect" people who do not smoke, as well as "young people and children from being enticed to experiment" with vaping."
Are brazenly cashing in on huge e-cigarette black market
Australia's ban on nicotine-based vapes has been exposed as a 'laughing stock' as Uber drivers cash in by selling e-cigarettes in blinged-up cars.

Daily Mail Australia can reveal how ride share drivers have been exploiting services like Uber to make a quick buck out of passengers – in some cases making $50 per stick.

Images taken from inside vehicles in Sydney and Brisbane show ads for e-cigarettes openly displayed in the back of vehicles next to Covid QR codes, with drivers opening glove boxes to show dozens of vapes of all different strengths, flavours and puff counts.
---

---
Dave Cross
The New Nicotine Alliance (NNA) offers up recommendations for new government policy announcements to help it achieve its levelling up ambitions. This comes as the cabinet attempts to refocus on policy areas that have been side-lined due to the Covid-19 pandemic and its recent slew of setbacks.

The government previously published a report on how the country could take advantage of leaving the European Union. In the document, the government said: "The UK is already recognised as a world leader in tobacco control and has made good progress reducing smoking rates. However, with around six million smokers in England and stark health disparities associated with smoking, more still needs to be done to help people to quit smoking…."
---
"It also acknowledges evidence from the British Medical Association and NHS Scotland, who both state vaping should be highly encouraged as a quitting tool, then ignores it and quotes the World Health Organisation's warped and unscientific view vaping is as bad as smoking tobacco" https://t.co/95mXo1QfS6

— Phil (@phil_w888) February 6, 2022
"The public is already better informed about the risks of smoking than about almost any other topic … but the campaigners against smoking have been almost as determined to kill vaping as an alternative". Correct, @danielmgmoylan https://t.co/mvobKtBtlO

— Dick Puddlecote (@Dick_Puddlecote) February 5, 2022
---
Dave Cross
The Canadian government has published a document titled "Towards a Canadian evidence base to inform action to prevent and control vaping in Canada". The authors express their worries about teenage vaping, but in doing so they ignore the findings of a recent Montreal-based longitudinal study.

Published on the government's website, Cynthia Callard, Thierry Gagné, and Jennifer O'Loughlin talk about an "upsurge" in vaping, "rapidly changing technologies, shifting usage patterns and contradictory evidence".

What is shocking is that the trio admit a wholesale lack of "homegrown evidence", instead relying on "the experience of and evidence in other countries".

Any data showing a decline in youth vaping since its flavour ban
Canadian Vaping Association
Vape product flavour restrictions have been positioned by youth advocacy groups and some health organizations as the best way to prevent youth vaping. As a result, several provinces have implemented various versions of a flavour ban, with the Northwest Territories and the federal government now considering following suit.

The Canadian Vaping Association (CVA) has repeatedly cautioned governments that flavour bans have proven unintended consequences, such as increased smoking, strengthened black-markets and small business closures.
---

---
Rachel Clun
A growing number of GPs are prescribing nicotine vaping products to people who want to quit smoking after restrictions around the importation of e-cigarettes were tightened and large fines introduced for illegally selling or importing the products.

On October 1 last year – after a delay amid fierce backlash from within the Coalition – the federal government increased restrictions and introduced tough sanctions against people or businesses importing nicotine-based vaping products without a prescription.
In post-pandemic era
THE ancient Greek physician Hippocrates, in his book Of the Epidemics, famously says "primum non nocere", or "first, do no harm". This call has become one of the key mantras of modern medicine.

However, views have been expressed that this idea is impractical and not even possible. So perhaps, in the context of contemporary public health, what may be a more pragmatic complementary idea to Hippocrates' original call is a "second, reduce harm" idea. This has led to the development of the concept of "harm reduction"; I will use some examples to illustrate the argument for this idea.

Serve as models for PH – Manila Standard
The recent Senate ratification of the reconciled version of House Bill No. 9007 and Senate Bill No. 2237 that seeks to regulate the use and sale of vaporized nicotine products or e-cigarettes has put the Philippines one step closer to helping the country's smokers properly switch away from harmful tobacco smoking.

Senate President Pro Tempore Ralph Recto who had championed the passage of the bill said that the bill "is expected to encourage a shift from smoking the unhealthier cigarettes to these alternatives less harmful products."
A chance to evade harm from smoking – Jan V. Escosio
Sixteen million Filipino smokers will have an opportunity to switch to significantly less harmful products compared to combusted cigarettes, once President Rodrigo Duterte signs into law the vape bill which was recently ratified by Congress.

Consumer advocacy groups said the figure, representing nearly a quarter of the adult population in the country, pertains to the number of Filipinos who regularly use cigarettes and who now have a better chance to evade serious diseases if they quit or switch to less harmful products such as e-cigarettes and heated tobacco products (HTPs) which the vape bill aims to regulate.
---
A look back at how things have moved on or otherwise…
ETHRA
We have just written to the MEPs on the Special Committee on Beating Cancer (BECA) to express our dismay at some of the tobacco control measures proposed in the European Commission's Beating Cancer plan.

We hope that our elected representatives can take our views into account at tomorrow's BECA meeting and exchange of views with Health Commissioner Stella Kyriakides.

Consumers and experts submitted in their thousands to the two public consultations last year, yet those views are ignored in the Plan.

The Plan spectacularly fails to make a distinction between harmful smoking products and smoke free alternatives and signals that the Commission intends to turn its back on innovation and science by cracking down on vaping, the popular and far less risky alternative to smoking.

Read our letter here.
Christopher Snowdon
In 2016, Jean-Claude Juncker, then president of the European Commission, admitted that the EU had sometimes been overzealous in its regulation. 'We were wrong to overregulate and interfere too much', he said. A year later, he launched the Task Force on Subsidiarity, Proportionality and 'Doing Less More Efficiently'. Ironically, though predictably, the Task Force concluded that the EU should not, in fact, be doing less.

A report published this week by the European Commission is another milestone in the EU's journey towards regulating every detail of its citizens' lives. Focusing on alcohol, tobacco, e-cigarettes and 'unhealthy food', the first draft of its 'Beating Cancer Plan' proposes a range of nanny-state interventions that fall well outside of the EU's remit.
---
Visit Nicotine Science & Policy for more News from around the World

---