Vapers Digest 9th February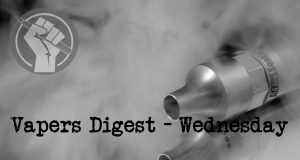 Wednesday's News at a glance:
Expert reaction to ecigs for quitting ~ Philippines: CoEHAR researchers express full support for the VPN Bill ~ Scottish Government plans to ban vaping ads could lead to more smokers dying, campaigner warns ~ Real Clear Health: Taxes and Regulations on Vape Products Hurt Consumer Choice, Cost Lives ~ Over 11,000 Canadians Call On Parliament to Protect the Health and Rights of Adult Vapers ~ Vendor Guide from the ACS ~ Continental News ~ The third way, the scientific option to quit smoking ~ E-smoke & mirrors?
---
Hannah Rodger, Westminster Editor, The Herald
THE SCOTTISH Government's plan to ban all advertising for vaping has been branded "nonsensical" and "dangerous" by a campaigner.

Mark Oates, fellow at the Adam Smith Institute, said the strategy currently being considered is ill thought through and could lead to more smokers dying.

Editor note, unblocked version: Scottish Government plans to ban vaping ads
---
Steve Pociask, Nate Scherer, The American Consumer
Why would policymakers ignore the overwhelming empirical evidence? Why would policymakers impose taxes that would deter cigarette smokers from switching to safer alternatives? Why would they seem policies that could jeopardize the lives of millions of Americans? Putting American lives at risk is exactly the outcome to expect when onerous government regulations, restrictions, bans and taxes target e-cigarette products.
---
Rights4Vapers, Canada's leading vapers' rights organization, is delighted to report that over 11,000 Canadians have signed a House of Commons petition that calls on the government to keep flavoured vapour products available. 

"Health Canada and the Government of Canada have a duty to protect the health of ALL Canadians, smokers, vapers and non-smokers," said Maria Papaioannoy, spokesperson for Rights4Vapers. "The regulations announced last year would limit flavoured vapour products to tobacco, mint and menthol will only drive vapers back to smoking and will not encourage smokers to try vaping, a proven, effective tobacco harm reduction tool." 
---

---
Two from Dave Cross, Planet of the Vapes
The Association of Convenience Stores (ACS) has released a help guide to aid vendors selling vape products. It sets out an understandable guide to the laws and regulations governing the sale and supply of e-cigs and e-liquid and promotes the use of Challenge 25 to ensure age restriction compliance.
Swedish advocates are gearing up to face a fight for flavours, something the Lithuanian parliament has now banned. Pro-harm reduction voices are still crying out in Germany as a vascular specialist calls for ecigs to be welcomed but they face greater challenges in France due to the Haut Conseil de la Santé now advising smokers against swapping to vaping.
---
---

---
Lalit Bhasin, Law Asia, India Business Law Journal
The recent approval by the US Food and Drug Administration (FDA), in mid-October 2021, for marketing of e-cigarette products in that country revitalises the debate around the ban on e-cigarettes in India. The Indian government banned them via the enactment of the Prohibition of Electronic Cigarettes (Production, Manufacture, Import, Export, Transport, Sale Distribution, Storage and Advertisement) Act, 2019. However, this is in contrast to the prevailing law for regular cigarettes and tobacco products.
---
Gillian Golden – IBVTA
UNLIKE traditional cessation methods, vaping is empowering. It represents a market-based, user driven, public health insurgency. That is why it is so successful. No taxpayers' money has been spent, yet smokers are stopping, switching, and cutting down through the use of vape products. Every day Independent British Vape Trade Association (IBVTA) members are helping people switch from smoking to vaping. As Professor Riccardo Polosa, Director of the Institute for Internal and Emergency Medicine of the University of Catania in Italy, has said: "A very good vape shop employee can be better than a trained smoking cessation counsellor."
Brad Rodu, Tobacco Truth
Clive Bates recently commented on Americans' perception of the relative harm of e-cigarettes versus cigarettes, as measured by the National Cancer Institute's Health Information National Trends Survey (HINTS).  After looking at numbers from 2013 and 2017 (available here), he asked:

"So what difference did four years of better products, academic studies, journal articles and commentaries, conferences and publicly funded risk communication make? Yes, it caused a deterioration in these already very bad numbers…those incorrectly believing e-cigs were just as harmful or worse than cigarettes had risen from 39.8% to 55.4%."
---
Visit Nicotine Science & Policy for more News from around the World

---