Vapers Digest 11th February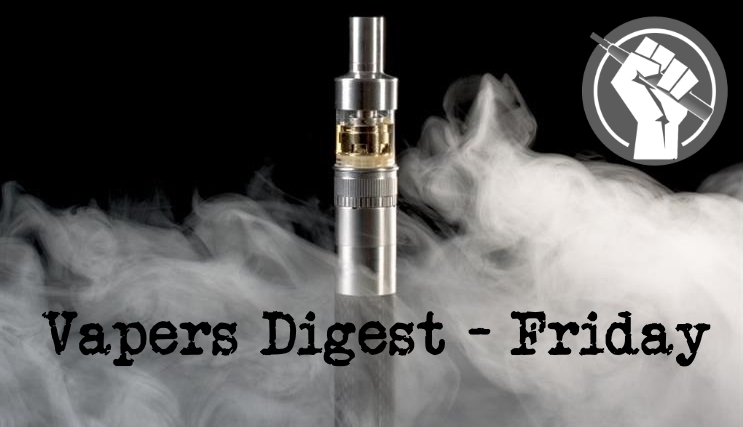 Friday's News at a glance:
China's war on vaping – Memo for European Commission Seminar – Can Vaping Help You Find Love? – A suggestion for Jacob Rees-Mogg – UC San Diego Claims No Evidence for Quit-Smoking – Now Malaysia Bans Vaping – GFN Keynote Speaker Announced – Birthday Greetings for Bloomberg – Vape vending machines coming to UK – UK Launches Independent Review – New Hemp Cigarettes Contain Synthetic Nicotine – New National Tobacco Policy misguided – Changes to Norwegian rules – Portland, Maine, Votes to Ban the Sale of Flavored Products – Vaping Doesn't Help Smokers Quit? – Why taxing vaping in SA will not help – Vape bill awaits final approval – Nicotine Science and Policy Daily Digest
Christopher Snowdon, Velvet Glove Iron Fist
The Chinese government has arrested Chu Lam Yiu, the owner of Huabao, China's biggest e-cigarette company.

Eighteen months ago I asked why the Chinese government, which owns the world's biggest tobacco company, was clamping down on vaping. It was a rhetorical question. Vaping is an existential threat to tobacco. I said…

But it seems that I was wrong. China Tobacco does have the 'public health' lobby cheering it on.
European Tobacco Harm Reduction Advocates
European Tobacco Harm Reduction Advocates (ETHRA) welcomes the opportunity to participate in a European Commission seminar on Emerging tobacco and nicotine products in tobacco control policies. We represent the interests of those most directly affected by such policies either as current consumers of these products or as smokers who may in future switch from high-risk to low-risk products and benefit from potentially life-saving reductions in health risks.

ETHRA is a partnership of 25 consumer associations in 17 European countries, representing approximately 27 million consumers across Europe and supported by scientific experts in the field of tobacco control or nicotine research.
---

---
For Quit-Smoking Via E-Cigarettes, Medicines or Cold Turkey
Brad Rodu, Tobacco Truth
The anti-tobacco journal Tobacco Control just published another e-cigarette study by Dr. John Pierce and co-workers from the University of California San Diego (here). I've dissected Pierce's previous work here, here and here.

This time, Pierce's group used the FDA's Population Assessment of Tobacco and Health Survey to determine what aids current and former smokers used to quit and how successful they were. As in his earlier work, Pierce counted anyone who took even one puff on a cigarette as a failed quitter.

First, let's look at the main results, from Tables 3 and 4 of the study
---
---
James Dunworth, Ashtray Blog
Many years ago, when I was working in Indonesia, I met a girl. Despite some initial language barriers the conversation was going well until I reached for a cigarette. "I don't like men who smoke," she told me.

Fortunately she made an exception for me and, with her encouragement, I eventually quit smoking. We're still together 22 years later. (We're also a lot better at each others' language!)

I was lucky. A number of polls over the years suggest my wife is not the only person who dislikes people who smoke and that many non-smokers are reluctant to date smokers.
Christopher Snowdon, Velvet Glove Iron Fist
The 'cardiovascular risks' of snus are equivalent to those from nicotine patches and insofar as snus users have 'increased all-cause mortality' it has nothing to do with the snus since snus does not cause cancer or any other serious disease.

The ban on snus was a shameful episode in the EU's history. It should have been reversed in the last Tobacco Products Directive, but epic corruption got in the way. The man at the centre of it – John Dalli – is in court this week on charges of bribery.

Three from Dave Cross, Planet of the Vapes:
Last week, Planet of the Vapes reported how Malaysia was adopting a progressive approach by regulating vaping for harm reduction. The move was welcomed by the Coalition of Asia Pacific Tobacco Harm Reduction Advocates (CAPHRA). Last Friday, the Ministry of Health added a clarification that means access to harm reduction products will be banned to anyone born after 2005.

The announcement to regulate e-liquid and lift the sales ban was roundly greeted as meaning that Malaysia's smoking rate would fall "considerably".
The Global Forum on Nicotine team have announced Marc Gunther as the first keynote speaker at #GFN22 live conference in Warsaw, taking place from 16 – 18 June 2022. The team says it is hard at work developing the full programme and is looking forward to sharing further details soon.

The GFN conference is the only international conference to focus on the role of safer nicotine products (including e-cigarettes, nicotine pouches, snus, and heated tobacco products) that help people switch from smoking.
Dr John Oyston is an anaesthesiologist who has worked in a number of countries including in New Zealand and the UK, now an Assistant Professor at the University of Toronto. He is urging vapers to join him in wishing the billionaire Michael Bloomberg a very happy birthday and encourage him to imagine a world where used his wealth and power to support less harmful nicotine products like vape and snus for tobacco harm reduction.

John founded the Stop Smoking for Safer Surgery campaign and publishes a blog series about stopping smoking. He is interested in the use of vaping as a way to get smokers to quit and has set up a Quit by Vaping program.

He explains that the purposes of the Bloomberg Birthday Initiative are:
---

---
George Nott
Age verification tech business 1account has launched a vape vending machine, which will appear in grocery stores this spring.

The first of the machines has been installed in the Leicester branch of specialist vape retailer Ecigwizard as part of a 12-month trial, which will also see them appear at "a household name grocery retailer" the company said.

To buy products from the machine, vapers download the 1account app, upload a form of ID to prove their age and who they are, and take a selfie. Their information is cross-referenced and verified with multiple data points including mobile phone records.
To Look at Tobacco Health Disparities – Alex Norcia
On February 4, the United Kingdom launched an independent review to study smoking-related health disparities.

It's the government's latest move in positioning tobacco harm reduction (THR) explicitly in its public health agenda. The UK has embraced vaping products as safer nicotine alternatives, and has become something of a model for THR advocates around the world. Its health agencies (formerly led by Public Health England, which was last year amalgamated into bodies like the new UK Health Security Agency and the Office for Health Improvement and Disparities) have maintained for years that vaping is 95 percent less harmful than smoking. Activists often point to the different approaches in the United States as opposed to the UK, where there are even some vape shops attached to hospitals.
New Hemp Cigarettes Contain Synthetic Nicotine
Jim McDonald, Vaping 360
In a move almost guaranteed to prompt government response, a California company has launched a line of tobacco-free cigarettes fortified with synthetic nicotine. They're available in non-tobacco flavors too—a virtual red flag for legislators and federal regulators already eager to ban menthol cigarettes and flavored vapes.

The product, called Ronin, is made from hemp flower, and each cigarette is supplemented with seven milligrams of synthetic nicotine—slightly less nicotine than contained in an average tobacco cigarette—and 50 mg of CBD. Ronin is available in Arctic Chill, Cherry Blossom, Juicy Grape, and Lemon Drop flavors. In tobacco cigarettes, flavors other than menthol were banned by the FDA in 2009.
The Sale of Flavored Vaping Products – Alex Norcia
On February 7, City Council members in Portland, the largest city in Maine, voted unanimously to ban the sale of flavored "tobacco products." The amendment bars the sale of all flavored nicotine products, including vapes. It does not exempt menthol. And it explicitly prohibits flavored products that use synthetic nicotine, like Puff Bar.

It will take effect on June 1, the same day as a similar ordinance in Bangor, another city in Maine. Maine's state-level legislators, meanwhile, are pushing for a statewide flavor ban, which could come to a vote in early spring.

Misguided and uninformed on vaping
Dr Colin Mendelsohn
The Australian Department of Health today released the draft National Tobacco Strategy, outlining the proposed tobacco policy for  2022-30. The Strategy takes a hostile view of vaping and tobacco harm reduction and aims to further restrict access for adult smokers.

The NTS perversely frames vaping as a threat to population health and tobacco control and proposes to 'implement additional measures to further restrict the marketing, availability, and use of all e-cigarette components in Australia.'
Unlikely to have much impact on the market – Freddie Dawson
Recent changes to Norwegian regulations are unlikely to have a significant impact on the country's tobacco alternatives market.

Last year authorities changed the rules to allow companies to apply to the Health Directorate for permission to sell new tobacco and nicotine products. This altered a ban on the wholesale import and sale of new tobacco products that had been broadly applied since the 1970s to any products which are smoked, sniffed, sucked or chewed and made at least partly of tobacco.
Tossed Biden's FDA Nominee Overboard
There are reasons aplenty to think the current nominee to head the US Food and Drug Administration (FDA), Dr. Robert Califf, is the wrong man for the job. His coziness with Big Pharma which has lavished him with consulting fees, his official approvals on chemical abortion, and his apparent willingness to indulge any enthusiasm from the public health intelligentsia are sparking broad antipathy.

Outside the Beltway, there's another major complaint – Califf's obstinate, boneheaded opposition to nicotine vaping.
Another Strange Cigarette 'Relapse' Study – Cameron English
Another study has found that vaping doesn't prevent smokers from relapsing to cigarettes. The results seem to undermine the efficacy of e-cigarettes as smoking-cessation tools—until you take a closer look at the definition of "relapse."

"People using e-cigarettes to quit smoking found them to be less helpful than more traditional smoking cessations aids," CNN said of a paper published in BMJ Tobacco Control on February 7. "In fact, nearly 60% of recent former smokers who were daily e-cigarette users had resumed smoking by 2019, the new study found."
The approach the government in South Africa has taken regarding levying an excise tax on e-cigarettes will threaten the very things its budget ought to achieve, writes economist Sifiso Skenjana for News24. He has been joined by Kurt Yeo for the Mail & Guardian and Joan van Dyk for Bhekisisa in analysing the health and other impacts of the recent National Treasury vaping discussion document.

'Just transitions' – which have been a hot topic, predominantly in the climate change space – are applicable in all industries that need to transform into more sustainable versions of themselves, wrote Sifiso Skenjana, chief economist at IQbusiness, in News24 on 20 January 2022.
SunStar Manila
THE Vaporized Nicotine Products Regulation bill or Vape bill is now awaiting approval from President Rodrigo Duterte after being passed in both the House and the Senate recently.

The vape bill, which was ratified by Congress last month, aims to regulate vaporized nicotine products and will give 16 million adult smokers in the country the less harmful options like e-cigarettes.
---
A look back at how things have moved on or otherwise….
Manila Bulletin
Governments of low and middle-income countries (LMICs) were warned by the Coalition of Asia Pacific Tobacco Harm Reduction Advocates (CAPHRA) against foreign vested interest group's interference in local policies and regulations.

In a press statement, CAPHRA, a regional group of tobacco harm reduction (THR) advocates cautioned governments of LMICs "not to succumb to the ploy of vested interest groups dangling money in exchange for policies that restricts and even ban alternative nicotine products which has been found to be much better options for smokers than cigarettes."
---
Aneta Zachová, Euractiv
The European Commission's plan for a tobacco-free Europe by 2040, which envisages a stricter regulation of e-cigarettes and other alternatives, has been criticised by Czech anti-drug policy expert and founder of the Institute for Rational Addiction Policies, Jindřich Vobořil.

"The Cancer Beating Plan is a missed opportunity to effectively help people addicted to smoking, alcohol, and other addictive substances," Vobořil told EURACTIV.cz. "Addictions cannot be defeated by bans and regulations," he added.
Tobacco Reporter
The outlook for many small vapor companies and online retailers looks bleak following the enactment of new rules that prohibit the U.S. Postal Service (USPS) from shipping e-cigarettes, according to Keller and Heckman's Azim Chowdhury and Galen Rende.

Writing on The Continuum of Risk law blog, the attorneys discuss the fallout of a recent amendment to the 2009 All Cigarette Trafficking (PACT) Act.
---
Visit Nicotine Science & Policy for more News from around the World

---