Vapers Digest 14th February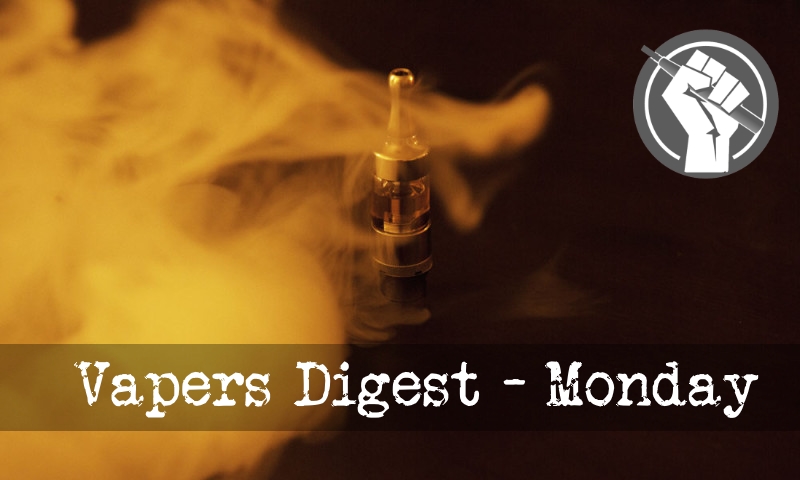 Monday's News at a glance:
We're in danger of missing the target for a smoke-free Britain – PMI Will Launch U.S. IQOS Production – UKECRF Research Round-Up – Parliament and Politics – Losing Logic Behind Flavour Bans – '1st real antismoking measure in 20 years' – Ending an epidemic – Smokers Believe Nicotine Pouches and E-Cigarettes Give Them The Best Chance – Nicotine Science and Policy Daily Digest
For a smoke-free Britain – Andrew Lewer MP
I will outline here, as I have done in Parliament, that one easy win in the battle to keep the UK healthier, is a re-doubling of Government efforts to reduce the number of smokers. Cigarettes remain the largest cause of preventable deaths in the UK. Whilst it may have fallen down the list of government priorities, we have set ourselves an ambitious target of being a smoke-free nation by 2030. Sajid Javid, as Secretary of State for Health and Social Care, seems to be focused on finding out what will work to help smokers to switch, and ideally quit.
To Bypass Import Ban – Jim McDonald
Tobacco giant Philip Morris International (PMI) will begin U.S. production of heated tobacco product IQOS in the United States, putting the product back on convenience store shelves by next year. IQOS is sold in the U.S. under license by PMI's American partner Altria.

Last September, the federal International Trade Commission (ITC) upheld an earlier ruling and ordered imported IQOS products off the U.S. market. Domestic sales of IQOS ended Nov. 29, 2021. According to Bloomberg, domestically made IQOS products will begin selling some time in the first half of 2023.
---

---
Two from Dave Cross, Planet of the Vapes:
The UK E-Cigarette Research Forum (UKECRF) is an initiative developed by Cancer Research UK in partnership with Public Health England (PHE) and the UK Centre for Tobacco and Alcohol Studies (UKCTAS). Among other things, it brings together genuine experts to look at research related to vaping and tobacco harm reduction. It has released its latest research round-up.

UKECRF says: "The briefings are intended for researchers, policy makers, health professionals and others who may not have time to keep up to date with new findings and would like to access a summary that goes beyond the study abstract.
Latest news about vaping and tobacco harm reduction from the House of Lords and the House of Commons sees Lord Howard asking about the harm caused by electronic cigarettes. Ashfield's MP Lee Anderson wondered what's happened to the Tobacco and Related Products Regulations. Buckingham's Greg Smith pondered on non-compliant products and Burnley's Antony Higginbotham pushed for a tax on vape products.

Conservative peer Lord Howard of Rising asked Her Majesty's Government what assessment has been made of the relative harms caused by smoking, and vaping.
---
---
Brent Stafford
Health Canada's case for a ban on flavours in nicotine vaping products appears to be crumbling as evidence mounts regarding its potentially disastrous impact on public health.

According to a new report, "The Case for Flavours," by prominent tobacco harm reduction researcher Dr. Konstantinos Farsalinos, flavour bans effectively equate to a form of prohibition, which would fuel the growth of a massive black market and spur a deadly rise in cigarette smoking.

 Rafael Castillo – MD     Philippine Daily Inquirer
Some readers, including colleagues in the medical community, have been asking us to explain why we support the vape bill, which was recently approved by the congressional bicameral committee, and will soon be transmitted to the President for his final approval.

Our short answer is, "Because we would like to put our smokers back into the health equation."

We confess that in our clinic, we used to have a condemning, somewhat discriminatory attitude toward our recalcitrant smokers. We gave them six months to quit smoking completely, either cold turkey or through other known interventions. But if they failed, they're politely told to go to other clinics. They're no longer given appointments for followup.
---

---
Dennis F. Fetalino
Who here decided that everyone likes tofu in the first place, and what is tofu anyway? And why can't I have bacon? I line up every morning, and I'm not allowed any bacon for my breakfast…I just — I wanna know answers and I — and I wish that there was more. – The Island

IT'S the silver bullet that could take down and shake the virtual vampire off the backs of 16 million Filipinos.

The question is: Would President Duterte, like the President in Abraham Lincoln: Vampire Hunter, take the shot and alter history?

And E-Cigarettes Give Them The Best Chance of Quitting
THE majority of smokers in Kenya want to use harm reduction products, such as nicotine pouches or vapes/e-cigarettes to help them quit, according to a new consumer survey launched by Campaign for Safer Alternatives (CASA) at a conference this afternoon in Nairobi.

The conference which was titled "Oral Nicotine Pouches: A Gateway to a smoke-free Africa?" was hosted by CASA in conjunction with the African Harm Reduction Alliance (AHRA). The panel discussions included experts from the global medical community, who debated the effectiveness and risk profile of tobacco-free nicotine alternatives and their role in reducing Kenyan smoking rates.
---
A look back at how things have moved on or otherwise…
Liverpool & Online: 17 – 18 June 2021
We are pleased to announce that the eighth edition of the Global Forum on Nicotine #GFN21 will take place in Liverpool, on Thursday 17th and Friday 18th June, at the Crowne Plaza Hotel, which is situated in the heart of the redevelopment of the city, on the banks of the River Mersey.

The theme for #GFN21 is 'the Future for Nicotine' and will address some of the concerns prompted by recent reviews and reports that will have an impact in different parts of the world, as well implications for discussions at the postponed FCTC COP 9 meeting, later this year.
IBVTA
The lead author of a study on vaping and Covid-19, Dr Roberto Sussman, Associate Professor at the University of Mexico City, has called one article in a British newspaper about the study 'sloppy journalism', and claims another misquoted the study and falsely attributed quotes to him.

The paper looked at the plausibility, scope and risks of aerial transmission of pathogens (including the SARS-CoV-2 virus) through respiratory droplets carried by exhaled e–cigarette aerosol, and found that, "low intensity vaping only produces a minuscule (∼1 %) extra contagion risk with respect to the control case scenario of continuous breathing."
---
Visit Nicotine Science & Policy for more News from around the World

---