Vapers Digest 16th February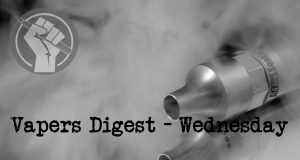 Wednesday's News at a glance:
---
But Still Withholds Raw Data from Independent Researchers
Brad Rodu, Tobacco Truth
For years, I have objected that federal agencies selectively release information from their national surveys months or years before making the data available to all external researchers (here, here, here, here and here).  This practice guarantees that government officials control the narrative about behaviors that they deplore.
Christopher Snowdon, Velvet Glove Iron Fist
Three messages from Mike Bloomberg's prohibitionist outfit Vital Strategies. One of these things is not like the other ones…
Martin Cullip, Inside Sources
Philanthropy is the practice of giving money and time to help make life better for other people. Usually, it is the richest in society giving something back to make a difference and create positive change, under the auspice that this free giving comes with nothing expected in return. But what happens when philanthropists go bad?
---
INNCO
"Many ex-smokers who quit with safer nicotine have been "tireless" advocates for safer nicotine alternatives for over a decade. But the bad news keeps coming. Drug harm reduction advocates faced exactly the same problem: Advocacy Burnout. Advocates on the side of "good and light" get tired. I feel it. You feel it. Let's talk about it." ~
---
finds vape flavour restrictions reduce demand
The Canadian Vaping Association, Globe News Wire
A difference-in-difference analysis examining the change in vape product sales in Massachusetts, New York, Rhode Island, and Washington before and after flavour bans, has found that statewide restrictions on non–tobacco-flavored sales were associated with reductions of 25.01% to 31.26% in total unit sales compared with total sales in states without restrictions. The hasty conclusion of this analysis is that the reduction in total sales has also reduced youth vaping prevalence.
---
Any obligation to comply with a deadline tied to the effective date is similarly postponed. For example, FDA strongly encourages entities to submit cigarette plans as soon as possible, but no later than June 10, 2022.

— FDA Tobacco (@FDATobacco) February 16, 2022
---
Alex Norcia, Filter Magazine
On February 15, the Senate narrowly confirmed Dr. Robert Califf as the next commissioner of the Food and Drug Administration (FDA). In a bipartisan nail-biter, six Republicans supported him and four Democrats opposed him. Bernie Sanders, an independent, also voted against him, and another senator withheld his vote.
Jim McDonald, Vaping 360
The Senate confirmed Dr. Robert Califf as FDA commissioner Tuesday afternoon by a 50-46 vote. Califf's nomination, first considered a sure thing, was in doubt almost to the end because of the nominee's industry ties, questions over his handling of the opioid crisis, and opposition from anti-abortion conservatives.
---

---
Four from Dave Cross, Planet of the Vapes
Thailand legalising vaping set to be global turning point, according to consumer group ENDS Cigarette Smoke Thailand (ECST). The move to stop criminalising smokers looking to reduce their harm exposure has been welcomed by advocates and described as an exciting step.
For the first time in the UK people can use a digital ID on their smartphones to buy vape products from a vending machine as part of a 12-month trial approved by Bucks & Surrey Trading Standards – a decade since the sale of tobacco products from machines was banned in the UK to prevent them getting into under-aged hands. The vending machine can be seen in the Leicester branch of The Vape Shop.
ENDS 2022, Europe's leading science-based conference dedicated to e-cigarettes and other electronic nicotine delivery systems, is set to return on 24-25 May 2022 in an online format. The annual event is aimed at key stakeholders from the electronic nicotine delivery systems industry. For the second year, Planet of the Vapes News as has been invited to be an official media partner.
The Global Forum on Nicotine team recently announced plans to hold the #GFN22 conference live in Warsaw, from 16 – 18 June 2022. Last year saw the initiation of the GFN Fives and the GFN Team wants to see Planet of the Vapes readers' news and views submitted in 2022.
---
---

---
FLAVOURED NICOTINE PRODUCTS should not be restricted in new legislation, members of the Irish Vape Vendors Association (IVVA) will argue tomorrow.

The Joint Committee on Health will meet tomorrow, Tuesday 15 February with representatives from the IVVA for pre-legislative scrutiny of the general scheme of the Public Health (Tobacco and Nicotine Inhaling Products) Bill.
---
Paul Barnes, Facts Do Matter
Two surprising pieces of news appeared in my timeline this week. First, the Czech Republic are planning to reverse parts, if not all of the smoking ban. Secondly, Austria are planning to do the exact same thing.

Naturally, this has prompted a lot of screaming from the usual suspects, labelling the proposed reversals as "a public health disaster".
Andy Morrison – New Nicotine Alliance
On 28th January, I was delighted to welcome friends up to Scotland to attend the Glasgow School of Vape in my home city. It was a lively event which attracted many keen vapers along with fellow NNA trustees, associates and supporters, plus a delegation from Cancer Research UK recruiting e-cigarette users for a study. However, the weekend was soured on hearing from those who flew in that Glasgow Airport has installed poor and misleading signage outside the arrivals terminal.
---
Visit Nicotine Science & Policy for more News from around the World

---