Vapers Digest 18th February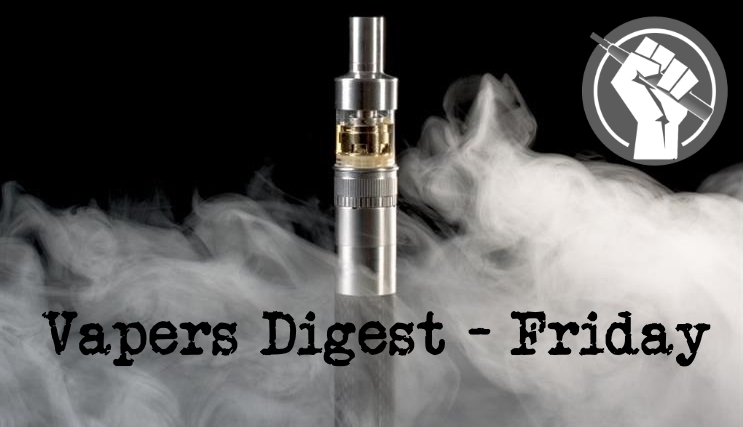 Friday's News at a glance:
EU cancer plan passage 'important step' for tobacco harm reduction – Scottish Government's ban on vape adverts 'is not the answer' – Have you stopped beating your wife? – Altria Can Keep Its Stake in Juul – ETHRA Attends European Meeting – Lords Debate Tobacco Harm Reduction – Scotland's Preposterous Plan – Lamentable Lung Coverage – Upset Parents Want Answers – Change the Conversation – Bans on Life-Saving Harm Reduction Products – Urgency for a new approach to tobacco control in Kenya – Vape is vital to achieve tobacco 'endgame' – Doctor weighs in on e-cigarette and vaping-associated lung injury – Industry Legal Challenge to FDA Denial Orders – Nicotine Science and Policy Daily Digest
For tobacco harm reduction – Snusforumet
The European Parliament has adopted a "historic" EU cancer plan to guide the region's fight against cancer. Swedish MEP Sara Skyttedal called the vote an "important step" in acknowledging tobacco harm reduction.

The recommendations were included in a report submitted by the parliament's Special Committee on Beating Cancer (BECA). The measures passed with 652 votes in favour, 15 against, and 27 abstentions.

Among other things, the report identifies smoking as one of the main causes of cancer and calls for the funding of smoking cessation programmes.
'Is not the answer' – Guy Stewart
A PUBLIC health expert has criticised the Scottish Government's plans to ban the advertising of vapes and e-cigarettes.

A consultation was launched last Thursday February 3 as part of the SNP's plans to reach a tobacco-free generation by 2034 – they have asked for public opinion on the banning of e-cigarette adverts.

Dr Michael Green, professor of public health at Glasgow University, said the ban could disadvantage smokers looking to quit tobacco.
---

---
thatgotmethinkingblog
So, how to write this without excessive swearing? I'll have a go but be warned some profanity may follow.

At the moment the Public Health Committee is hearing presentations from relevant parties on the proposed legislation to further regulate E-Cigarettes. This proposed legislation, the General Scheme of the Public Health (Tobacco and Nicotine Inhaling Products) Bill 2019 is something everyone supports without much reservation. It's proposed to add an over 18 mandate to purchase or sell vaping products, ban sales of tobacco products including e-cigs from vending machines and temporary facilities, and a licensing system for the sale of e-cigs.
---
CALL OUT: I want to hear your views and what we can do to support current smokers to quit, and to stop people taking up smoking. Use the hashtag #TobaccoIndependentReview. Email: TobaccoIndependentReview@dhsc.gov.uk Thread 1/6

— Javed Khan OBE (@JavedKhanCEO) February 18, 2022
A clip from the new Swift Half with Snowdon in which I talk to Lionel Shriver about vaping. Full episode out later today. https://t.co/1MetzcEZcU

— Christopher Snowdon (@cjsnowdon) February 17, 2022
---
Alex Norcia
On February 15, an administrative law judge dismissed a complaint issued from the Federal Trade Commission (FTC) against Juul and Altria, which alleged the companies had violated antitrust laws. As a result, Altria, the maker of Marlboro cigarettes, can keep its 35 percent stake in the e-cigarette company. The decision is preliminary, however, and the FTC can appeal through a vote by its commissioners.

The news, perhaps overshadowed by the Senate's confirmation of Dr. Robert Califf as the next head of the Food and Drug Administration (FDA) on the same day, has major implications for vaping in the United States, even if experts are divided over what those are.

Four from Dave Cross, Planet of the Vapes:
The European Commission's DG SANTE hosted a virtual meeting looking at new tobacco and nicotine products in tobacco control policies. Consumer organisations were given a chance to convey their opinions on safer nicotine products (like vaping) and the European Tobacco Harm Reduction Advocates (ETHRA) attended.

As well as ETHRA contributing, representatives from INNCO and ETHRA partners Aiduce, ANPVU, Sovape, and NNA Sweden took part. Eleven organisations has five minutes to deliver their opinions and evidence for vaping and tobacco harm reduction.
Peers debated vaping, tobacco harm reduction and measures to prevent youth uptake in the House of Lords. The debate covered many areas including packaging, flavours and the availability of free samples. Some of the comments confirmed that harm reduction advocates still have work to do to convey the truth about nicotine and alternative nicotine products.

In debating an amendment to an Act of Parliament, the members of the House of Lords discussed adjusting the age of sale of tobacco products, raising them from 18 to 21, based on the recommendations in the 2021 report of the All-Party Parliamentary Group on Smoking and Health.
Scotland is conducting a consultation on tightening the rules on advertising and promotion of vape products but is relying on a series of ridiculous statements. It stands accused of putting forward nonsensical and dangerous proposals and that it is ignoring evidence supplied by the NHS.

The Scottish Cabinet Secretary for Health and Social Care has released a consultation document that contains a number of severe inaccuracies. It states: "Studies have shown a potential link between use of e-cigarettes containing nicotine and the development of lung diseases such as chronic obstructive pulmonary disease (COPD)."
British newspapers are reproducing baseless American claims that vaping has caused severe lung damage. Despite the facts being known about the true cause of EVALI, it appears to still be a popular way of attacking electronic cigarettes. It follows the slightly less well covered story that a teen who has a double lung transplant has now admitted it was due to drug use.

"Teenager addicted to vaping on life support 'toxic' e-cigarette chemical damages lungs," lied the Independent. "18-year-old was warned by doctors that vaping again could kill her".
---

---
About Students Searched for Vapes – Jim McDonald
Parents of high school students in a small Wisconsin town are demanding action from their school board against the administrators who conducted intrusive searches of several students suspected of vaping. At least one family has hired an attorney.

The searches occurred January 17 and 18, after some students were caught vaping at Suring High School. School administrators, along with police, ordered several students to remove their clothes and submit to searches for vaping devices. Boys and girls were searched separately by adults of the same sex. Parents were not notified by the school until after the searches were done.
Skip Murray
Vaping as a form of Tobacco Harm Reduction (THR) has been embraced by some and doubted by others. When vapor products were first introduced to the market around 2004, they weren't produced by the tobacco industry. The tobacco industry entering the market added fuel to the fire of the doubters. An intense battle between opposing sides has grown.

While the focus has shifted from smoking to nicotine it feels like we've forgotten the words of former Surgeon General C. Everett Koop when he reminded us "Don't Forget the Smokers". In 2015 the worldwide death toll from smoking was 1 person every 6 seconds. By 2019 that rate accelerated to 1 person every 4 seconds. How do we get back on track and focus on the 8000000 deaths caused each year by smoking?
Products Leads to More Problems – Lindsey Stroud
Right before the world was transformed by the COVID-19 pandemic, the United States was seemingly dealing with another so-called "epidemic" of vaping-related lung injuries. As quickly as this vaping "epidemic" came into attention, it dissipated, with the Centers for Disease Control and Prevention (CDC) reporting in February 2020 that cases were declining "after sharply increasing in August 2019 and peaking September."

Unfortunately for adult users of tobacco harm reduction products, policymakers – armed with misinformation from anti-tobacco and vaping organizations – blamed all vapes and moved to restrict the sales of flavored vapor products.

To tobacco control in Kenya – Joseph Magero
Tobacco use is the topmost preventable cause of death in Kenya according to the Ministry of Health. You would think that the government would be doing everything they can to reduce this impact of smoking on Kenya's population. However, as it stands, the government continues to take a quit or die approach to tobacco control. Kenya urgently needs to shift its focus away from this and embrace a harm reduction mindset. However, we remain very far from this and it threatens hundreds if not thousands of lives.
Industry Legal Challenge to FDA Denial Orders | RegWatch
The fight to save vaping in the United States appeared almost over when FDA issued Marketing Denial Orders to over 300 vaping product manufacturers, thus requiring more than 5-million vaping products to be taken off the market.

But dozens of vape companies fought back, launching legal action against FDA.
VAPE can play a crucial role in helping Malaysia achieve its Tobacco Endgame 2040 goal and this is why it is crucial to get vaping regulations right, said an expert in smoking cessation.

According to Dr Colin Mendelsohn, the author of evidence-based self-help guide Stop Smoking Start Vaping, vaping is a far safer alternative to smoking and is the most popular and effective quitting aid available and must be an important part of the strategy to achieve the Tobacco Endgame 2040.
Vaping-associated lung injury
As a disease, EVALI is usually hard to diagnose because its symptoms can be similar to other respiratory diseases, including shortness of breath, fever and chills, cough, vomiting, diarrhea, headache, dizziness, rapid heart rate and chest pain.

Typically, doctors will evaluate the patient's history of e-cigarette use or vaping, and take a scan to see if there are hazy spots on the lungs, which indicate tissue damage.

However, long-time medical practitioner Dr Kumar Subaramaniam finds the increased usage of the term EVALI worrisome, as it is often discussed in the wrong context.
---
A look back at how things have moved on or otherwise….
Aotearoa Vapers Community Advocacy, Scoop
Auckland's many smokefree supporters and vapers should use this latest lockdown, and wet weather, to submit on the Ministry of Health's draft vaping regulations and support Kiwi businesses, says a leading tobacco harm reduction advocate.

"Never waste a lockdown, and that includes Auckland's snap lockdown. Sadly, as a country we're miles off achieving Smokefree 2025 but if we don't get these vaping regulations right, we never will," says Nancy Loucas, co-director of Aotearoa Vapers Community Advocacy (AVCA).
Michael McGrady, Vaping Post
Juul violated patents owned by an inventor, alleges a federal lawsuit in the United States.

Swissx Labs, a Switzerland based hemp and CBD company, recently sued e-cigarette giant Juul Labs for patent infringement.

The company is now on the warpath, sending cease and desist letters to retailers who sell Juul products, warning that these companies could be caught up in ongoing litigation.
, CT Post
As COVID-19 continues to ravage America's health and economy, Connecticut's politicians have finally set their sights on what really matters right now: flavored tobacco products. State lawmakers recently joined officials in Bridgeport in calling for a ban on flavored tobacco products, mirroring similar proposals in Maryland and California and existing bans in states such as Massachusetts.
---
Visit Nicotine Science & Policy for more News from around the World

---