Vapers Digest 21st February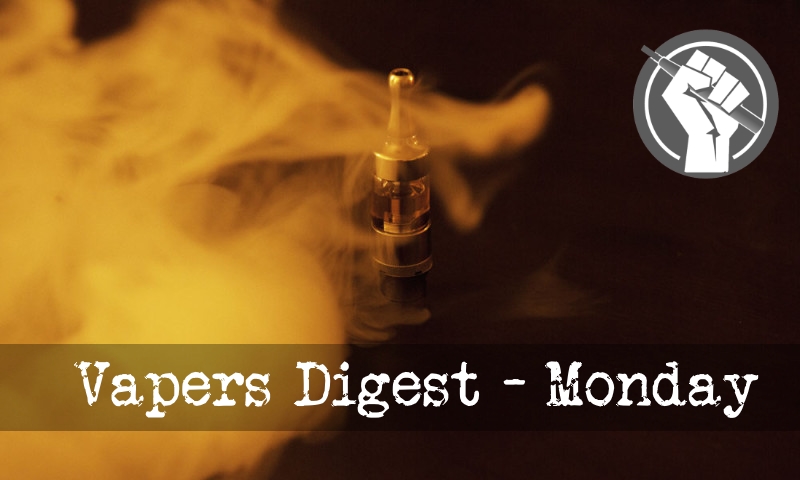 Monday's News at a glance:
News From Parliament – Students Strip Searched for Vaping Devices – Man's death from heavy smoking, not EVALI – The Health Crisis Michael Bloomberg is Making Worse; No, Not That One – Vaping has helped many to quit smoking – The Advocates Voice 2022 – 'Quit or die' approach for cigarettes doesn't work – Smoking bounces back in the US – Living with Children: Don't worry about teen's vaping – Advocacy Burnout Webinar
Dave Cross, Planet of the Vapes
Vape and tobacco harm reduction discussions are taking place thick and fast in the Houses of Parliament. David Jones MP asked about age verification, Navendu Mishra MP was thinking about children, and Mary Glindon MP wondered where the Tobacco and Related Products Regulations were. Andrew Lewer MP wanted to know what happened at the WHO conference while Adam Afriyie MP and Martyn Day MP spoke about snus.

Clwyd West's David Jones wanted to know what steps the Department of Health and Social Care are taking to ensure small convenience stores operate strict age verification standards for the sale of e-cigarettes. He also wondered if an assessment has been made of the effectiveness of the enforcement measures as a deterrent.
Elizabeth Nolan Brown
Six teenage girls say they were forced to strip so school administrators could check them for vaping devices. Families of the teenagers—students at Suring High School in Wisconsin—have now retained a civil rights lawyer, after the local district attorney declined to bring criminal charges against Suring High officials.

In Wisconsin, it's illegal for any official, employee, or agent of a school district to conduct a strip search of a student. School policy also specifies that this should not be done.
---

---
Not EVALI – Colin Mendelsohn
The ABC reported tonight the death of a Queensland man which was attributed to EVALI caused by vaping. Having carefully studied the case and the post mortem report, I disagree. It is much more likely that the man died from advanced lung damage caused by 40 years of heavy smoking.

The 71-year old man had smoked a pack-a-day for four decades and had wisely switched to vaping 10 years ago. In October 2021 he developed increasing shortness of breath. He was treated with antibiotics but he continued to deteriorate and died several weeks later.
---
---
Making Worse; No, Not That One – Steve Pociask
Hundreds of thousands of Americans are killed every year. Millions more left coping with lingering ailments. No segment of society is exempt from the crushing toll.

No, I'm not referring to the COVID-19 pandemic. I'm talking about smoking. One in five deaths in the U.S. are attributable to tobacco — and for every person who dies from smoking, the CDC estimates that at least 30 other people live with a serious smoking-related illness.

Dave Cross, Planet of the Vapes
Consumer group International Network of Nicotine Consumer Organisations (INNCO) is hosting a webinar on Advocacy Burnout on March 3rd, at 19:00 GMT. The webinar will discuss strategies to address burnout in the fields of tobacco harm reduction, drug harm reduction, and human rights advocacy.

INNCO's webinar "Are you feeling Burnout?" will feature 5 expert speakers:
Has helped many in his community to quit smoking – Brianna Melville
After the Mail published a lifestyle feature about a study that found vaping didn't help smokers quit, a local business owner reached out with a counter case.

The feature referred to a paper in BMJ Tobacco Control, which found that e-cigarettes were linked to lower success rates for those who tried to quit smoking.

Busso Vape owner Trinite Williams said that he and many of his customers had been able to quit smoking by using vapes, which he now sells in his store.
---

---
CAPHRA Asia Pacific

Doesn't work – Dr. Nur Khaisiyah Othman
SINCE the early 2000s, anti-smoking campaigns have been carried out in order to encourage Malaysians to quit smoking.

From displaying graphic images on cigarette packets to the Ministry of Health's 'Tak Nak' campaign, these efforts were meant to show the hazards of smoking.

According to medical practitioner Dr Nur Khaisiyah Othman, these anti-smoking methods emphasise one common message, 'Quit or die'.
As public health groups block less harmful alternatives
The CCC said there are reports from top publications highlighting the "comeback" of cigarettes among the bourgeois hipster crowd in Brooklyn, New York amid misconception that switching back to cigarettes would be healthier than vaping.

The CCC also recalled the results of a study published in JAMA Pediatrics which found that more teens took up smoking after San Francisco banned flavored vaping and tobacco products. The study noted that, "San Francisco's ban on flavored tobacco product sales was associated with increased smoking among minor high school students relative to other school districts." The persistent public health campaigns, echoed by headline-grabbing media outlets, to demonize and restrict access to vaping has led to a predictable rise in smoking rates, both among adults and teens, according to the CCC.
John Rosemond – Tribune News Service
Q: Our son, a senior in high school, is vaping. He claims he does it to control his anxiety. I worry about him getting into harder drugs when he goes to college this coming fall. What's your take on this?

A: Your son hasn't done his homework. Nicotine is more likely to produce anxiety and related symptoms — tachycardia, for example — than have a calming effect. The exception is that once a person has developed nicotine dependence, mental unease (i.e., anxiety) does tend to rise between "smokes" (using the term generically) as craving increases, in which case puffing on a vape is probably going to produce temporary calming.
---
A look back at how things have moved on or otherwise…
Vaping category report 2021 – George Nott
Big Tobacco is winning big. And no, that's not just because the giants are selling more cigarettes and rolling tobacco. They're also making serious gains in the vaping market.

A quick look at the winning brands says it all. Vype (BAT), Logic (JTI) and Altria-backed Juul have all enjoyed substantial growth. Juul was a particular winner, adding an extra £16.9m in sales [Nielsen 52 w/e 9 January 2021]. Meanwhile, Vype is up 59% or £16.5m and remains the market leader, while Logic has grown 34% or £9.2m.

So why has Big Tobacco cashed in? What does it say about the vaping market? And how are smaller rivals fighting back against the dominance of the major brands?
To ban flavors in electronic vaping products – Chrysa K. Kazakou
Property Rights Alliance submitted public comments on "Regulation of E-Cigarette Flavors" concerning the proposal of Dutch Government to ban flavoring additives in components of electronic vaping products.

The Dutch Ministry of Health failed to consider the public health benefits of vaping products by introducing the following measures: The first measure taken was the smoking ban that was extended on 1 July 2020 on vaping and e-cigarette products with and without nicotine.

The second measure was the introduction of plain packaging for electronic vaping products from 2022, which will create an inhospitable environment for intellectual property rights. The Property Rights Alliance had also submitted comments to express its significant concerns about this  Dutch Executive Order.
---
Visit Nicotine Science & Policy for more News from around the World

---