Vapers Digest 25th February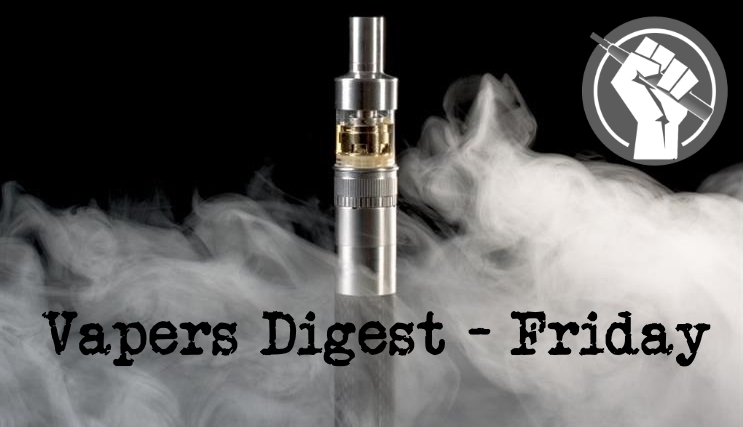 Friday's News at a glance:
Outcry After High School Students Strip-Searched for Vapes – Lousy Vaping Studies: A Master List of Junk Science – South Africa Proposes New Tax on Vaping Products – Is Sigelei's FDA Warning Letter a Sign of Things to Come? – Ecig Strip Search – Shocking Scale of Australia's Stupidity – Doc Boards The THR Bus – Responsible Advocacy in Ireland – US Army Hits Wrong Target Again – Tobacco Flavor Bans: More Harm than Good – Marion Burts writes to MPP Gelinas – Message Javed Khan About The Tobacco Control Review – Mike Bloomberg thinks he knows what's good for you – Appropriate for the Protection of Health? – Overregulation on vaping counterproductive – Mounting evidence that vaping helps smokers – Nicotine Science and Policy Daily Digest
Strip-Searched for Vapes – Alex Norcia
In mid-January, staff at a Wisconsin high school conducted invasive searches of six female students, ordering them to strip down to their underwear. The searches were done because the administration suspected the students of concealing nicotine vaping devices.

The Green Bay Press Gazette, which has been extensively covering the story, reported that two women—Superintendent Kelly Casper and the nurse at Suring Public High School, in a rural town in Oconto County—instructed the girls to undress.

One of the students stated that she "was asked to pull her bra band away from her body, but her breasts were not exposed to Ms. Casper or the nurse," according to District Attorney Edward D. Burke Jr.
A Master List of Junk Science – Cameron English
The media reports the results of sloppy vaping research, then quickly forgets them. We do not. What follows is a list of many of the low-quality studies that have investigated the alleged health risks of e-cigarette use. We'll regularly update this catalog of bad studies as necessary.

The past year has seen the publication of many studies alleging that e-cigarette use (vaping) carries very serious health consequences, everything from depression to erectile dysfunction and higher stroke risk. Each paper generated widespread media coverage, usually one news outlet duplicating the uncritical coverage of the last, giving consumers the false impression that vaping poses a greater health threat than it actually does.
---

---
Jim McDonald, Vaping 360
The South African government announced yesterday it will propose a new tax on vaping products that will take effect next year. The government stated its intention to tax e-liquid last year, issuing a discussion paper in December, and accepting public comment for several weeks.

The new tax proposal was outlined yesterday by South African finance minister Enoch Godongwana as part of a package of new and increased excise taxes on tobacco, alcohol and high-sugar products. The vaping tax will be included in the 2022 Taxation Laws Amendment Bill, and could be changed by Parliament before being finalized. The finance minister says it will be in place by Jan. 1, 2023.
---
---
A Sign of Things to Come? – Jim McDonald
The FDA Center for Tobacco Products issued a warning letter Feb. 14 to Sigelei Vape for products sold without authorization. The letter appears to be the first warning issued to a Chinese manufacturer since Sept. 9, 2021, when the CTP ended a one-year period of non-enforcement against manufacturers selling vape products without FDA authorization.

The products specifically cited in the warning letter are the Sigelei Humvee 80 (an 80-watt mod) and the Sigelei 213 Fog Coil. The FDA also notes that the rules violated by the sales of those two products may also apply to other products sold by the company.

Five from Dave Cross, Planet of the Vapes
Incredibly, a school in the United States has conducted a strip search on female students as a teacher hunted for electronic cigarettes. The action was greeted with outrage by parents of children at Suring High School, and a civil rights lawyer has been contracted following the Suring School Board's decision not to take any action.

40 parents attended a Suring School Board Meeting following reports of a "student strip search" as teacher hunting for evidence of vaping. The member of staff was looking for e-cigs after she received reports of vaping on the school grounds. The amazing over-reaction provoked outrage from the parents of the six students and others who were also concerned about this ridiculous abuse of authority.
Australia's regressive and ignorant approach to tackling tobacco related disease and death has placed barriers in the way of smokers looking to quit and turned everyday vapers into criminals. Classifying vapes as a Schedule 4 prescription drug has led to an explosion in illicit products being smuggled into the country and recent seizures highlight the scale of Australia's failure.

Australian smokers and vapers can only obtain alternative nicotine-containing products like e-liquid through a medical prescription. We have previously detailed how this is a drawn out and ridiculously complex process, placing obstacles in the way of people who wish to continue to use nicotine products but reduce their harm exposure.
Writing in his capacity as the health columnist for the Philippine Daily Inquirer, Professor Rafael Castillo MD hailed the new vape legislation in the Philippines as the "1st real antismoking measure in 20 years". In a comprehensive statement, he details why he and his peers support the recently approved vape bill.

Rafael Castillo is a Professor in Cardiovascular Medicine at the College of Medicine in the Adventist University of the Philippines. He also works as a Senior Consultant in Adult Cardiology at the Manila Doctors' Hospital, and is the Dean Emeritus and Head of Cardio-Metabolic Research Unit.
Ireland's Joint Committee on Health met last week and heard from vaping advocates about its proposals to change the laws applied to the vape industry and vaping products. The Committee heard from the Irish Vape Vendors Association by way of balance to the puritanical, non-evidenced-based claims from public health bodies.

Research produced by the Health Research Board (HRB) made the claim that vaping is a gateway to smoking in teens – something that simply isn't seen on this side of the Irish Sea. The HRB stated that vaping makes youths up to five times more likely to progress to smoking cigarettes.
The US Army has launched an attack on vaping but thanks to poor intel it is hitting the wrong target and adding to casualty figures. In repeating the debunked myth that vaping causes serious lung injury, the military has chosen to ignore that even the Centres for Disease Control now accepts the incidents were caused by Vitamin E Acetate in illegal THC products.

In an article carried on its website, the US Army says, "public health officials are warning service members of the risks of using e-cigarette or vaping products".

It does say that the danger is posed by unregulated products but, given that the FDA has only issued authorisation to one product, it conflates illicit THC liquids with safer vape e-liquids.
---

---
About The Tobacco Control Review & More Vape News!
As mentioned in my news article from 11th February a new review has been tabled by the UK Government in its "Levelling Up" campaign to review the current Tobacco Control situation.

Head of the Tobacco Control review is Javed Khan OBE who is the former head of the charity Barnardos.

I am so far really happy to report he is taking this review seriously and is even reaching out to people on Social Media to collect their opinions…
More Harm than Good – Beverly McKittrick
Banning flavored tobacco and nicotine products is the latest salvo in the decades-long war on smoking. Under the guise of "protecting children," a number of states and localities, as well as the Food and Drug Administration, have implemented or are considering such bans.

The harm from smoking cigarettes is well-documented, and governments around the world have taken aggressive action to prevent people from smoking and pressure smokers to quit. High excise taxes, regulating the ingredients and the amount of nicotine in cigarettes, and bans on menthol and/or other flavors are justified on the grounds of protecting public health.
Rights 4 Vapers
I was quite surprised to read that you have reintroduced a rather dangerous anti-vaping bill in the House. When I met you at the Committee hearings for a similar bill in 2015, you congratulated me on being able to quit smoking by switching to vaping, and I had the impression that you listened to my experiences and my reasons for opposing many of that bill's provisions.

Almost seven years later, I am still smoke-free due to vaping. I still enjoy a wide variety of fruit, candy and dessert flavours. I frequent the dedicated vape stores that refuse to sell to minors, keep their windows covered, advise and assist adult smokers in making the switch to a much safer alternative, and pay their taxes. They did all of these things even before the federal and provincial governments imposed laws making them mandatory.

He knows what's good for you. Does he? – Sarah Wheaton
Michael Bloomberg is spending more than anyone on the planet to save people from themselves. The question is whether he's getting his money's worth.

The American media mogul's philanthropy is the top giver to preventing the ailments that are often fueled by lifestyle choices, such as cancer, heart disease and obesity. The fact that these noncommunicable diseases are responsible for 70 percent of deaths worldwide has made them an appealing target for Bloomberg, who is looking to spend down his fortune — now estimated at $70 billion. Compared with infectious diseases — the darlings of the philanthropic world even before COVID — NCDs are an underfunded area in global health, receiving only 1 percent of international health assistance.
Cheryl K. Olson
I was gobsmacked last December when the U.S. Food and Drug Administration issued modified-risk tobacco product (MRTP) authorizations for two reduced-nicotine combustible cigarettes, 22nd Century Group's VLN King and VLN Menthol King. Both contain non-GMO tobacco that's very low in nicotine (VLN). If 22nd Century Group can reduce the disastrous health effects of smoking by offering low-nicotine combustible cigarettes, that's great. What took me aback was the implicit message from the FDA on its priorities.

VLN products such as these were supposed to be part of a smoking harm reduction landscape—one that includes approaches proven to reduce the risks of illness and death among cigarette smokers, such as vaping, heat-not-burn and smokeless tobacco.
Counterproductive to saving lives – Linda Kumar
KUALA LUMPUR, Feb 25 — Contrary to popular belief, excessive regulations on e-cigarettes like vaping do not actually prevent or discourage smoking, a recent research paper showed.

Instead, such draconian measures actually discourage smokers from switching to a safer alternative.

Written by Steve Pociask and Liam Sigaud for American Consumer Institute, Center for Citizen Research, the research paper also found that statistical evidence in the US showed that raising e-cigarette taxes only pushed its users back to smoking.
Helps smokers kick the habit – Cheah Chor Sooi
A NEWLY updated Cochrane review – widely considered as the benchmark for evidence-based healthcare – has added to growing evidence that using e-cigarettes with nicotine – like vape – can help smokers kick the habit.

The 2021 Cochrane review on electronic cigarettes for smoking cessation which includes 61 studies involving 16,759 adults in 14 countries across five continents found that e-cigarettes with nicotine e-liquid are more effective in helping people quit smoking than other alternatives.
---
A look back at how things have moved on or otherwise….
Christopher Snowdon, Velvet Glove Iron Fist
Flashing an ice-white smile for her 50,000 followers on TikTok, a fresh-faced young woman pops a flavoured nicotine pouch into her mouth, as one of Pakistan's most popular love songs plays in the background.
More than 3,000 miles away, in Sweden, another social media starlet lip-syncs for the camera, to a different pop tune. The same little pouches, made by British American Tobacco, appear in shot.
Public Health England
In the government's Tobacco Control Plan for England, Public Health England (PHE) was asked to update its 2015 review of e-cigarettes and other novel nicotine delivery systems every year until the end of 2022. This is the seventh report in the series.

This update looks at the prevalence of vaping among young people and adults. It also reviews research literature on the effect of vaping on smoking cessation and reduction.
---
Visit Nicotine Science & Policy for more News from around the World

---