Vapers Digest 28th February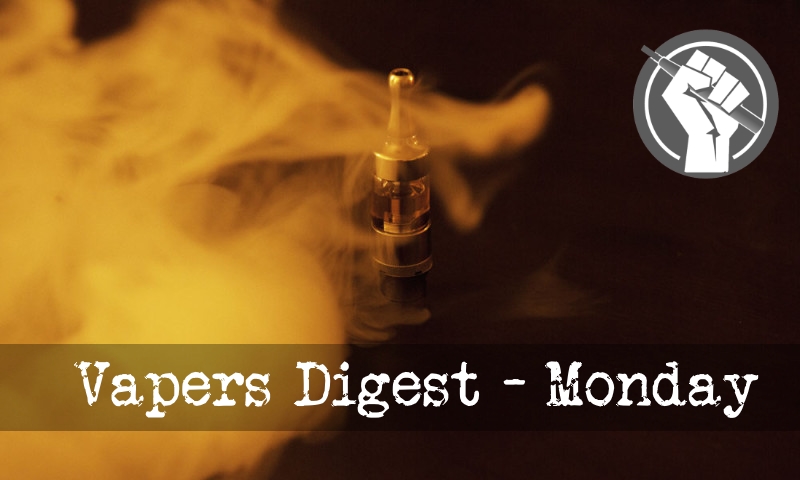 Monday's News at a glance:
Respond to the Scottish government's public consultation on treating vaping the same as smoking – Vital Strategies, another Bloomberg puppet – Watch: Adults Love Flavors – Second-Best Dentist Slates Vaping – Is vaping safer than smoking? – Sweden's Heavy-Handed Mistake – Signing of vape bill to leave an enduring legacy – Tobacco's Surprising Partners – Teen smoking rates fall to all time low – A case for Tobacco Harm Reduction strategy – How to take harm reduction measures without misguided bans? – Canadian Vape Industry Facing New Excise Tax – Nicotine Science and Policy Daily Digest
On treating vaping the same as smoking – New Nicotine Alliance
The Scottish government has launched a public consultation exercise for a new policy paper entitled "Tightening rules on advertising and promoting vaping products". As the title suggests, the proposals seek to place unnecessary obstacles in front of raising awareness about vaping products in Scotland. The EU Tobacco Products Directive, which the UK ratified prior to Brexit, already stipulates bans on vaping adverts on TV, in newspapers and in magazines, but this new initiative from the Scottish government aims to treat vaping products the same as cigarettes by prohibiting in-store promotional displays as well as ads on billboards, bus stops and anywhere else currently permitted. The plans would also prohibit vape companies from sponsoring any event or activity and ban free or cut-price samples.
Christopher Snowdon, Velvet Glove Iron Fist
It's hard to keep up with Mike Bloomberg's web of front groups. The mothership is Bloomberg Philanthropies which funnels money down to the likes of STOP (which funds Anna Gilmore's crew at Bath University) from which cash drips down to groups like the Investigative Desk.

Then there is the Campaign for Tobacco-Free Kids and the Truth Initiative which were originally funded by the USA's Master Settlement Agreement but now get millions from Mini-Mike. And there is his funding of the WHO's MPOWER programme and the WHO in general, with Bloomberg Philanthropies explicitly funding a WHO report on vaping. All these organisations now take a hard anti-vaping line.
---

---
Says World-Renowned Vaping Researcher – Helen Redmond
Fruit- and other sweet-flavored e-liquids and cartridges are at the heart of a vaping policy schism. Lined up on one side are the anti-vaping zealots, like the Campaign for Tobacco-Free Kids, who argue that flavors are designed to appeal to young people to "hook" them on nicotine, and that they have fueled the so-called "youth e-cigarette epidemic." On the other side, harm reduction proponents note that non-tobacco flavors, which most adults prefer, are critical to helping smokers switch.

How did the humble apple, banana and mango get caught in the crosshairs of the very sour vaping wars?
---
Highly relevant paper for understanding the efforts to stigmatise ppl who vape & tobacco harm reduction advocates: Friedman et al How sociopolitical domination, scapegoating & stigma shape public health https://t.co/aTJ2A2iAyl

— Dr Marewa Glover (@MarewaGlover) February 26, 2022
---
Dave Cross – Planet of the Vapes
Opposite Clifford's Barber Shop in Southend can be found the workplace of the man who lifted the coveted award of England's second-best dentist in 2010. Dr Nilesh Parmar is proud of his "hi-tech facilities" that enables his practice "to teach like-minded dental professionals on various aspects of dentistry to help them achieve clinical excellence." He is vociferously anti-vaping, apparently.

In 2009, the practice picked up Dentistry Awards' Best Website. It is unknown whether he awarded himself this accolade, but he does proudly state he was a member of the judging panel. The award-winning website that currently promises, "A diverse programme of courses, training and study clubs will soon be announced for 2016" – in 2022.

Dave Cross – Planet of the Vapes
150,000 former smokers in Sweden could be forced to switch back to smoking if the government goes ahead with its proposed ban on vaping flavours. The Ministry of Social Affairs announced its plan to ban all flavours except tobacco. The World Vapers' Alliance has condemned the regressive measure.

The government wants to regulate alternative nicotine products including vaping and nicotine pouches tougher. The new regulations and modifications are scheduled to take effect on August 1, 2022, but sections of the proposals will take effect on January 1, 2023 and January 1, 2024, respectively, to provide stakeholders time to adjust to the new requirements.
Dr Colin Mendelsohn
In spite of what you may read in the media, vaping is now established to be a far safer alternative to smoking. This webinar I gave recently at the National Drug and Alcohol and Research Centre at the University  of New South Wales  summarises the scientific evidence on nicotine and vaping and addresses the popular misconceptions.

Nicotine is addictive but relatively benign. It does not cause cancer or lung disease and only has a minor role in heart disease. Here is what leading health organisations say about nicotine:
---

---
To leave an enduring presidential legacy to Filipino consumers
The enactment of the vape bill will leave an enduring presidential legacy to millions of Filipino consumers, according to an Asia-Pacific advocacy group.

Members of the Coalition of Asia Pacific Tobacco Harm Reduction Advocates (CAPHRA) wrote to President Rodrigo Duterte, requesting him to urgently sign the Vaporized Nicotine Products Regulation Act into law which was earlier ratified by the Senate and the House of Representatives.
In Stubbing Out Vaping – Daniel J. Smith
Under increasing pressure, big tobacco companies are doing everything possible to keep electronic cigarettes, which offer a safer nicotine alternative, from intruding upon their shelf space. You might be surprised by their allies in these efforts: regulators and politicians. But the decision to vape or not should be left to adults, not policymakers controlled by Big Tobacco.

Electronic cigarettes, like many other products we consume, such as whiskey and ribeye steaks, have potential health risks. But evidence shows they're a much safer alternative to traditional cigarettes.

Vaping increases
Smoking rates among 13 and 14-year-olds have fallen to a record low while vaping has risen, according to the 2021 ASH (Action for Smokefree 2025) Year 10 Survey.

The study found the number of year 10 students who smoke cigarettes daily has dropped from around two per cent in 2019, to 1.3 per cent in 2021.

In December last year, a survey carried out by the Ministry of Health showed the proportion of all New Zealanders smoking dropped from 11.9 per cent in the 2019-2020 survey to 9.4 per cent in 2021.
Lanre Odusile
In many countries, cigarette packs now come with both graphic and text health warnings to smokers on the health risks associated with their consumption. However, have these warnings deterred smoking?

For people who smoke, quitting remains the best option to avoid the health risks associated with tobacco consumption and non-smokers are advised to never pick up the habit.

The health risks that smokers face come from the many toxic substances contained in cigarette smoke when the cigarettes are burned and not the nicotine that they crave from the cigarette. This is why the scientist Michael Russell famously quoted that "people smoke for nicotine but die from the tar".
Canadian Vape Industry Facing New Excise Tax | RegWatch
The Canadian government announced last year it would introduce a new excise tax on nicotine vaping products in 2022.

The tax is based on e-liquid volume and not a measure of nicotine content, which is a relief for many. However, the tax could still prove punitive for many smokers seeking to quit.

How to take harm reduction measures without misguided bans?
While the world is embracing science, innovation, and safety at the heart of policy making, India still lags far behind. India has a strange affinity to ban products and services cursorily, mostly on political or moral considerations rather than delving into available empirical evidence recognized globally. Resultantly, Indian consumers are denied the freedom to choose products and services which are available to consumers elsewhere in the world. Consumers mostly do not find representation in the decision-making process, which leads to framing and adoption of ineffective policies which may be doing more harm than good.
---
A look back at how things have moved on or otherwise…
But we can do more – New Nicotine Alliance
Yesterday, Public Health England (PHE) released its seventh independent report on vaping in England, carried out by researchers at King's College London (KCL), and it brings some encouraging news but also scope for improvement.

In an article on the UK government's website, PHE announced that not only is vaping now the most popular aid used by smokers trying to quit in England, it is also the most effective, with up to 74% quit success rates in 2019 and 2020. The article declares, boldly, that vaping is now "better than nicotine replacement therapy for stopping smoking".
And Urges Smokers To Switch! – Neil Humber
The UK Government is urging smokers to make the switch to safer and healthier e-cigarettes as it says vaping saves lives and the science proves it!

The latest Public Health England independent study into all things vape, concludes e-cigarettes are the very best and safest way to quit smoking, and shows that around 75% of smokers making the switch, succeeded thanks to vaping!

The UK Government is now on a drive to convince even more smokers to switch to vaping, and wants to see an end to the endless fake news scare stories centered around all things vape that could be costing smokers lives.
---
Visit Nicotine Science & Policy for more News from around the World

---