Vapers Digest 18th November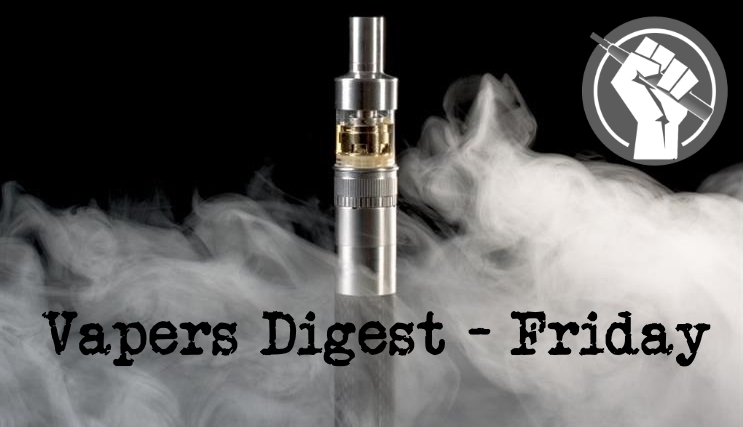 Friday's News at a glance:
Vaping proven to be the best way to quit smoking, media look the other way – Vaping: On the Right Side Of History? – expert reaction to Cochrane review on electronic cigarettes – Strongest evidence yet that vaping is more effective than NRT – Most smokers don't know that vaping is less harmful for their health – Vapes Better Than Patches – The 2022 Tobacco Transformation Index – 7 Recommendations for the Portuguese – Experts Identify Flaws – CAPHRA On WHO Claims – Guernsey stop smoking service to offer free vape kits – THR Approach Sees NZ's Smoking Plummet – THR among marginalized communities in Kenya – FDA Issues (More) Meaningless Warning Letters – 'Tis the Season to Talk About Smoking! – Can the US Tobacco Control Debate – Kenya Scores Low In Global Anti-Smoking Index – Nicotine Science and Policy Daily Digest
Media look the other way – Christopher Snowdon
The media love stories about vaping so it is odd that only the Daily Mail covered the latest Cochrane Review when it was published yesterday. Cochrane Reviews are at the very top of the evidence pyramid and only include randomised controlled trials (RCTs).

There is an argument that RCTs are not best way to measure the benefits of vaping for smoking cessation because smokers tend to switch to vaping organically, sometimes gradually, and often without intending to quit. Nevertheless, RCTs have still shown vaping to be more effective than nicotine patches and placebos. The last Cochrane Review in 2020 concluded that there was 'moderate-certainty' evidence that e-cigarettes are effective in helping smokers quit.
 Kayleigh Jenkins – Ashtray Blog
Where did vaping come from? And where is it going? At the Global State of Tobacco Harm Reduction's 2022 'Right Side of History' launch event, Harry Shapiro and Professor Gerry Stimpson chart the course of vaping and tobacco harm reduction from its early history to its likely future.

Here's a summary of what they had to say:

In the 1950's/60's concern about the dangers of smoking became more widespread. In response, the tobacco industry ingeniously managed to convince people they could create a 'safer cigarette' by simply adding a filter….
---

---
On electronic cigarettes for smoking cessation
A review published in the Cochrane Database of Systematic Reviews looks at the use of e-cigarettes for smoking cessation.

Prof John Britton, Emeritus Professor of Epidemiology, University of Nottingham, said:

"This comprehensive evidence review confirms, once again, that nicotine e-cigarettes help smokers to quit smoking; and that these products are more effective than medically licensed nicotine replacement therapies. All smokers should therefore try vaping as a means to end their dependency on smoking tobacco."

https://www.cochranelibrary.com/cdsr/doi/10.1002/14651858.CD010216.pub7/full
Is less harmful for their health – David Firth, Mirror
Vaping doesn't always get a good report. But research has found that using vaping ­products rather than smoking ­substantially reduces exposure to toxic chemicals that promote cancer, lung disease and heart problems.

The study from King's College London is the most comprehensive review of the risks of vaping to date. It concludes that, while vaping is not risk free (particularly for people who've never smoked), it poses only a small fraction of the health risks of smoking in the short to medium term.
---
---
Is more effective than NRT – Cochrane update – Colin Mendelsohn
RESEARCH FROM THE UNIVERSITY OF OXFORD has found the strongest evidence yet that nicotine vapes help people to quit smoking more than traditional nicotine replacement therapies (NRT), such as patches and chewing gums.

The latest Cochrane Review published today concluded for the first-time that there is "high certainty" evidence that smokers are more likely to quit using nicotine e-cigarettes, than using nicotine replacement therapies, such as patches and gums. The updated review includes 78 studies in over 22,000 participants.
To offer free vape kits – BBC
Quitline, the island's stop smoking service, said the kits would be offered to smokers aged 18 and over in conjunction with advice and support.

The kits will be as an alternative, or in addition to nicotine replacement therapy, which is also available.

Guernsey Quitline said ongoing research showed vapes to be a far less harmful alternative to smoking.

Five from Dave Cross, Planet of the Vapes:
E-cigarettes may be more effective than nicotine patches for pregnant women trying to quit smoking, research by the National Institute for Health and Care Research (NIHR) found, published in this month's Nature journal. In addition, the study did not raise any new safety concerns with vaping.

The NIHR says pregnant women are advised to quit smoking because of the damage it can cause to developing babies but many find this difficult. The current guidelines state that nicotine products (such as patches, gum and mouth spray) can help but this research suggests that pregnant women should also consider switching to vaping.
The Foundation for a Smoke-Free World (FSFW) has released its 2022 Tobacco Transformation Index, detailing the activities of the tobacco industry that influence achieving a smoke-free world. The Foundation for a Smoke-Free World is an independent, U.S. nonprofit funded by annual gifts from Philip Morris International.

FSFW says: "The second edition of the Tobacco Transformation Index® ("Index") has been published after two years of research into the efforts of the world's 15 largest tobacco companies to reduce the harm of their products. The results in the 2022 Index demonstrate that the majority are delivering limited progress, with high-risk products (HRPs, cigarettes and combustible tobacco) still accounting for around 95% of retail sales volume.
A global advocacy group for vapers' rights, World Vapers' Alliance (WVA), presented a 7-step plan for the Portuguese government to fight tobacco consumption. As the forthcoming update of the EU Tobacco Products Directive and the implementation of the Portuguese Plan to reduce cancer (ENLCC) are set to determine the strategy to combat tobacco consumption in Portugal, WVA, together with their Portuguese partners Associação Portuguesa de Vaporizadores (APORVAP) and Ohms do Vapor presented a set of recommendations to political decision-makers on advancing harm reduction as a part of Portugal's strategy to reduce cancer.
Tobacco harm reduction experts have identified serious flaws in the New Zealand government's plans to achieve its Smokefree 2025 goal. The government has focussed on modelling the denicotinisation of tobacco due to claims by its Ministry of Health funded academics from Australia and New Zealand that this will have the greatest impact.

To achieve its 2025 target, the New Zealand government is set to allow ministers to:
Several leading international Tobacco Harm Reduction (THR) experts have compiled and published extensive research which slams the World Health Organisation's (WHO) official health claims about vaping. Titled 'The Subversion of Public Health: Consumer Perspectives', the paper hits back at the WHO's claim that 'never-smoker minors who use ENDS (Electronic Nicotine Delivery Systems) can double their chance of starting to smoke tobacco cigarettes later in life.'

"The use of ENDS does not cause cigarette smoking. Far more likely, is that those same influences that incline young people to smoke also incline them to use ENDS. These factors might include genetics, family circumstances, mental health, school environment, delinquency, risk-taking etc. This is known as 'common liability'," says the paper.
---

---
Kim Murray – Taxpayers Protection Alliance
The cold crisp days of Fall have finally arrived. And while the colors of the season give pause, October and November are full of awareness days and occasions to honor special members of society. Many of these days are pertinent to people who smoke and are trying to quit.

October was Attention Deficit Hyperactivity Disorder (ADHD) Awareness Month. ADHD is a neurological disorder that impacts the parts of the brain that help people plan, focus on, and execute tasks. ADHD symptoms can interfere with many aspects of the life of a person living with ADHD, including home, academic, social, and work. In recent years, there has been an increase in ADHD diagnoses in both children and adults.
RIGHT SIDE OF HISTORY | GLOBAL STATE OF TOBACCO HARM REDUCTION
The Global Forum on Nicotine (GFN), which has taken place every year since 2014, is the only international conference to focus on how vapes, nicotine pouches, Swedish snus and heated tobacco can help people switch away from smoking. Building on the success of an event that attracts hundreds of in-person participants and thousands of online delegates, GFN•TV, a broadcast arm of the GFN stable, is now offering year round coverage of the issues that matter in tobacco harm reduction.
CAPHRA
New Zealand's Tobacco Harm Reduction (THR) strategy is working exceptionally well with the country increasingly on target to achieve Smokefree Aotearoa 2025," says Nancy Loucas, co-founder of Aotearoa Vapers Community Advocacy (AVCA).

Her comments follow the Government releasing statistics which show New Zealand's smoking rate has fallen to an historic low of 8% of adults smoking daily, down from 9.4% a year ago.

Jim McDonald
The FDA has issued warning letters to five manufacturers for selling vape products that supposedly "target youth." Four of the cited companies are located in China, and apparently have no U.S. addresses. One has been warned before for selling the very same product—with no consequences.

"The FDA is committed to keeping tobacco products out of the hands of our nation's youth," said FDA Center for Tobacco Products Director Brian King. "The agency will continue to hold companies accountable for illegally selling e-cigarettes, particularly those that shamelessly target youth."
Ever Find Common Ground? – Marc Gunther
University of Michigan faculty members Ken Warner and Cliff Douglas have worked for decades to combat smoking. Warner, 75, an economist and former dean of Michigan's public health school, wrote dozens of papers on tobacco control and edited a landmark Surgeon General's report on smoking and health. Douglas, 64, a lawyer, led the campaign to ban smoking on commercial airline flights and connected tobacco-industry whistleblowers to Congress and the media.

The cause to which they have devoted themselves has saved millions of lives. As recently as 1980, more than one in three Americans smoked. Today, about one in eight currently smoke. That's a monumental victory for public health.
Dorothy Sanda
Every year, more than 8100 people in Kenya are killed by smoking-related diseases,even though fewer people use smokeless tobacco on average in Kenya than on average in medium-HDI countries. Tobacco harm reduction has not been widely accepted or implemented, with heavy taxes on reduced risk nicotine-containing products including e-cigarettes, snus, and 'heat not burn' products in Kenya.

My project sought to improve the implementation and understanding of tobacco harm reduction among smokers, tobacco users, policymakers, and health care providers of marginalized communities in Kenya.
Policy Watch Africa
Kenya is lagging woefully behind nations who are leading the world in using innovation to reduce deaths from smoking, a damning new report reveals.

A comprehensive global study of regulations governing alternative nicotine products finds Kenya's lawmakers should enable easier access to vapes and nicotine pouches to cut the toll from smoking cigarettes.

Joseph Magero, chairman of the Campaign Safer Alternatives (CASA), says of the report: "This in-depth and wide-ranging investigation shows that Kenya's policymakers are failing in their duty to give our smokers the best tools to quit their deadly habit.
---
A look back at how things have moved on or otherwise….
---
Visit Nicotine Science & Policy for more News from around the World

---