Vapers Digest 16th November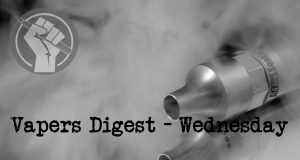 Wednesday's News at a glance:
Public Health is in Dangerous Denial on Vaping ~ The Right Side of History ~ Lung Damage From Vaping Doesn't Stack Up ~ Recycling vapes ~ The Beginning of a New Smoke-Free Era ~ TGA admits that Australia's vaping regulations are not working ~ Vaping's illegal in Qatar World Cup – but Brit company offering to pay fines ~ Tobacco and nicotine products in Qatar. A short guide for travellers to the FIFA World Cup Qatar 2022 ~ INNCO Weekly Issue | Nov 14th, 2022 ~ FDA Stakeholders Break their Silence ~ India Needs To Review E-Cigarette Ban Via Multi-Stakeholder Consult ~ Who's winning the war against vaping? ~ Charting the History and Future of Tobacco Harm Reduction ~ California's Vaping Flavor Ban Could Be Lethal
Martin Cullip, Real Clear Policy
Most people, especially in lower socioeconomic areas where smoking has historically been most prevalent, will know someone who has replaced their previous smoking habit by exclusively vaping. Yet, it is still the Food and Drug Administration's (FDA) misguided view that vaping is not helping people quit smoking traditional cigarettes. The agency's published guide to e-cigarettes still claims that "there is not yet enough evidence to support claims that e-cigarettes and other [electronic nicotine delivery devices] are effective tools for quitting smoking."
Global State of Tobacco Harm Reduction (GSTHR)
This Briefing Paper, drawn from The Global State of Tobacco Harm Reduction 2022: The Right Side of History, considers when, how and why the approach now known as tobacco harm reduction really began. When was it established that smoking-related diseases were not caused by nicotine, but by the thousands of chemicals released when tobacco burns? Who began looking for safer ways to use nicotine – and why were there so many false starts? How did nicotine consumers themselves influence the development both of safer products, and of tobacco harm reduction itself? What has been the response of public health and tobacco control organisations to these changes in nicotine use?
AVCA (Aotearoa Vapers Community Advocacy), Scoop
"New Zealand's Asthma and Respiratory Foundation (ARFNZ) is once again making health claims without providing any evidence. If they want their warnings to be taking seriously, they need to provide some proof," says Nancy Loucas, co-founder of AVCA (Aotearoa Vapers Community Advocacy).
Her comments follow ARFNZ urging Kiwis to stay vape-free to protect their lung health and avoid Chronic Obstructive Pulmonary Disease (COPD). World COPD Day is on 16 November.
---
---
Philip Morris International
---
Dr. Colin Mendelsohn, colinmendelsohn.com.au
THE HEAD OF THE THERAPEUTIC GOODS ADMINISTRATION (TGA) has finally admitted the disastrous and predictable failure of Australia's vaping regulations. It was embarrassing to watch Associate Professor John Skerrit being questioned at Senate Estimates last week in Canberra. He acknowledged

There has been a dramatic increase in youth vaping
Huge numbers of low-quality products are entering the country and are being sold on the black market and we can't stop them
Only 1,353 doctors have applied to be authorised prescribers out of 130,000 registered doctors (1%)
Less than 10% of adult vapers have a prescription for nicotine
---
Andy Gilpin, Daily Star
Errant vapers at the World Cup have been dealt a lifeline after a UK-based company offered to pay their fines and stop them going back on the fags.

E-cigarettes have illegal Qatar state since 2014 and fans could face draw-dropping fines of up to 10,000 Riyals – around £2,200 – or a maximum of three months in prison if they're caught.
---

---
Innco
Hi Dear Friends,

It's always a pleasure to greet you. INNCO has released a Press Release concerning Philip Morris International's acquisition of Swedish Match. If you would like to read it, you can do it here.

Two weeks ago, we uploaded a video from Dr. Wasim from Norway on our YouTube Channel. If you want to check the video out, you can do it here.
---

---
Allison Boughner, World Vapers' Alliance (WVA)
The Reagan-Udall assessment of the FDA has made some truth come to light about the broken PMTA process.

In July the FDA commissioned an independent review of the food and tobacco programs after widespread criticism of the FDA's handling of the baby food shortage and PMTA process. FDA Commissioner Robert Califf chose the Reagan-Udall Foundation to perform this task. This non-profit group was established in September of 2007 by Congress to support the FDA and their work.
ET Edge, The Economic Times
As India debates a nationwide ban on popular harm-reduction products such as e-cigarettes since 2019 versus continued protection for tobacco-cigarette makers, Upendra N Sharma, Partner, JSA Advocates & Solicitors, holds that the government must embrace a progressive approach, including Pre-Legislative Consultation Policy introduced in 2014, which has been utilized for legislations like information technology and data protection laws.
Jacob Sullum, Reason
The campaign for Proposition 31, a ballot initiative that Californians approved by a wide margin last week, urged voters to "protect kids from candy-flavored tobacco." That slogan packed an impressive amount of dishonesty into five words.

The initiative's main target was nicotine vaping products, which do not contain tobacco and were already legally restricted to adults.
Harry Shapiro
As we have seen with the Trump playbook, seeding the media with conspiracy theories is the last gasp of the desperate and deluded. This is a favoured tactic of all anti-tobacco harm reduction organisations: anybody supporting THR must, by definition, be in the pocket of Big Tobacco and/or be a part of a 'front organisation'.
Courtesy of Children's National Hospital – Brad Rodu
Pediatrics, the flagship journal of the American Academy of Pediatrics, published an article two and a half years ago asserting that e-cigarettes are a "gateway" to smoking.  After extensively analyzing the data from the FDA's Population Assessment of Tobacco and Health, or PATH, on which the claim was based, I concluded that the study was so flawed that it deserved retraction.  I discussed this in several blog posts (here, here, here and here).
---
Visit Nicotine Science & Policy for more News from around the World

---