Vapers Digest 14th November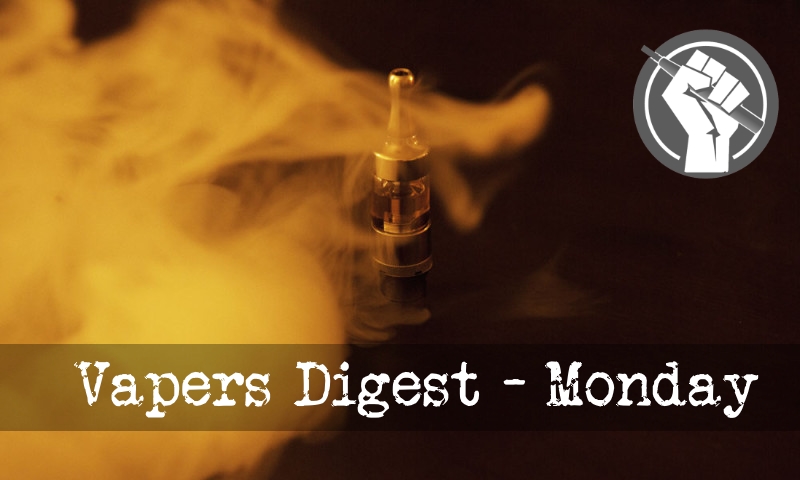 Monday's News at a glance:
INNCO is outraged! – PMI Gains Control of Swedish Match – Exclusive: Call for Evidence Database – Fundamental Flaws of Tobacco Control Act – Staggering number of Australians vaping illegally – Contact your MP about vaping – California Flavor Ban Challenged in Court – The Real Consequences the Proposed Vaping Flavor Ban in Columbus – Is vaping being accepted more – Does Africa's Cessation Support? – The CDC and FDA are misleading the public about youth vaping – No Mystery | Canada's Excise Tax on Vaping Means More Smoking
Dave Cross, Planet of the Vapes
Consumer body INNCO (International Network of Nicotine Consumer Organisations) has expressed its "horror" at the recent purchase, by Philip Morris International (PMI), of Swedish Match, the only tobacco company that has ever voluntarily quit making combustible cigarettes. INNCO, a non-profit alliance of 37 non-industry independent volunteer-led member organisations around the world, supports the rights of adult People Who Use Safer Nicotine (PWUSN) to avoid toxic forms of tobacco. INNCO members and leaders are informed ex-smokers.

The organisation says: "To salvage something from this dumpster fire, INNCO calls upon PMI's leadership to direct their vast marketing and distribution capacities to ensure that Swedish Match's snus and nicotine pouch products – which do not cause cancer, heart or lung disease – are available, affordable and acceptable to all smokers in low- and middle-income countries (LMICs).
Jim McDonald
Philip Morris International has succeeded in its bid to gain control of Swedish Match, the world's leading manufacturer of snus and nicotine pouches. The move will increase the tobacco giant's non-combustible tobacco and nicotine product footprint.

Philip Morris International (PMI) offered to buy Swedish Match in May, and later raised its offering price from 106 Swedish krona (about $10.22 US) per share to 116 krona. Reuters reported on Nov. 7 that 83 percent of investors had accepted the offer, which will cost PMI about $16 billion. Some large investors fought the deal for months, but wound up selling in the end.
---

---
Reveals smokers' preference for pouches – Snusforumet
Snusforumet is the first media outlet to gain access to a unique database of roughly 24,000 submissions to the European Commission's call for evidence process ahead of revisions to EU tobacco laws. It's the first time so many EU citizens have been so clear about their wishes for nicotine pouches.

On May 20th, the European Commission opened a "call for evidence" process as part of its ongoing evaluation of the current EU legislative framework for tobacco control.

Public authorities, businesses, civil society organisations, as well as individual citizens were invited to share their views on proposed changes in EU policies governing tobacco and nicotine products.
---
"The main challenge currently being faced is how to produce adequate & accurate data to provide valid information to consumers, doctors, regulators, & politicians about alternative tobacco products & their risk profiles," @Rathmacan (ETHRA & @IrelandNna )https://t.co/Q50viMXRJw

— European Tobacco Harm Reduction Advocates (@europethra) November 14, 2022
---
 Azim Chowdhury
When Congress passed the the Tobacco Control Act in 2009, it amended the federal Food, Drug, and Cosmetic Act to give the Food and Drug Administration (FDA) the authority to regulate the manufacture, distribution and marketing of tobacco products for the first time. This was seen as an important step to protect public health from the serious detrimental consequences of smoking combustible tobacco products.

But unfortunately, there are several fundamental flaws in both the statute and the FDA's subsequent implementation of it. These have directly contributed to today's chaotic marketplace and have had a detrimental impact on public health—particularly on the lives of adults who are unable or unwilling to quit smoking.

Vaping illegally
It's claimed an overwhelming majority of people in Australia who vape are doing it against the law.

"Less than 10 per cent actually have a prescription, so they're doing it illegally," Dr Colin Mendelsohn, founding chairman of the Australian Tobacco Harm Reduction Association, told Ross and Russel.
Like Martin Sheppard – Colin Mendelsohn
THE MOST IMPORTANT thing a vaper can do to get the nicotine regulations changed to a retail consumer model is to write a brief, polite email to your local state and federal MPs. Many thanks to Martin Sheppard who has done just that. He and his wife have both switched from smoking to vaping.

Greg Hunt's flawed prescription model has been a spectacular failure. Low concentrations of nicotine liquid for adult vaping should be available from licensed retail outlets with strict age verification. The TGA admitted yesterday that they got it wrong and have dumped the 12-month review.
---

---
About youth vaping – Martin Cullip
In September, the U.S. Food and Drug Administration (FDA) launched a new initiative designed to tackle the "growing spread of rumors, misinformation and disinformation about science, medicine, and the FDA." Announcing the initiative, Commissioner of the FDA Dr. Robert Califf promised to make "combating misinformation one of [his] priorities." Describing this move as "Rumor Control," it was primarily aimed at myths and false information about COVID-19 vaccines. But, if Califf is serious about responsibly informing the public, the FDA should begin with sanctioning itself and the Centers for Disease Control and Prevention (CDC) for helping to spread wild falsehoods about youth vaping.

Each year, the CDC and FDA announce results of the National Youth Tobacco Survey (NYTS) and, once again, have done so by releasing the latest data in a way to confuse media and the public (deliberately or otherwise) as to the extent of youth use of vaping products.

EU Readers Click Here
Jim McDonald
Several R.J. Reynolds-affiliated tobacco and vapor companies have teamed up with San Diego-area retailers and a vape shop to challenge California Proposition 31 in federal court. The lawsuit was filed Wednesday—a day after California voters overwhelmingly approved Prop 31, which bans in-store sales of most flavored vaping and tobacco products.

The plaintiffs are asking the court to invalidate the law that voters approved Tuesday, which they say violates the Constitution's supremacy and commerce clauses, and to permanently enjoin the state from enforcing the flavor ban. They're also seeking a temporary injunction preventing the state from enacting the flavor ban until the action is settled.

Of the Proposed Vaping Flavor Ban in Columbus
Columbus is considering putting an end to the sales of menthol cigarettes and flavored vapes. Although official legislation hasn't been formally introduced, tobacco-control advocates who are drafting the proposal are claiming a ban would help decrease smoking rates amongst Black people, other groups of color, women, and LGBTQ populations.

Sadly, over 20,000 Ohioans lose their lives to cigarette smoking-related illnesses every year. Considering that studies have shown vaping to be 95% less harmful than smoking and that adults who used flavored vaping products were 2.3 times more likely to quit smoking cigarettes, ensuring that adult consumers in Columbus have access to the vaping products they prefer will ultimately lead to fewer cigarette smoking-related deaths in Ohio.
Canada's Excise Tax on Vaping Means More Smoking | RegWatch
According to tobacco control policy expert Clive Bates, Canada's new excise tax on nicotine vaping products will lead to more smoking, illness, and death.

What's driving Canada's inexplicable about-turn on vaping?
On the basis of scientific evidence?
Are e-cigarettes and other vaping products dangerous? — often comes to our mind. The World Health Organisation (WHO) answers that e-cigarette emissions typically contain nicotine and other toxic substances that are harmful to both users, and non-users who are exposed to the aerosols second-hand. The counter groups claim that hundreds of millions of cigarette smokers could benefit from switching to vaping, which is 95% less harmful.

The UK Health Security Agency (formerly Public Health England), which provided the 95% figure in a landmark review, concluded that "vaping poses only a small fraction of the risks of smoking and switching completely from smoking to vaping conveys substantial health benefits over continued smoking."
On Cairns Conversations, Cairns FM 89.1. 12 November 2022
Hinge on Oral Nicotine Products?
Helping smokers in Africa quit is an uphill battle as smokers on the continent lack cessation services. Millions of Africans who are desperate to quit smoking are instead being unnecessarily condemned to an early grave. Due to misguided government policies, these reluctant smokers are being denied access to alternative nicotine products that could help them live happier, healthier, and longer lives.

Are oral nicotine products Africa's solution to the looming smoking epidemic? It's vital to understand that the main addictive component in tobacco products is nicotine and stopping nicotine can result in cravings and withdrawal symptoms. However, nicotine is not classified as a carcinogen by the WHO's International Agency for Research on Cancer.
---
A look back at how things have moved on or otherwise…
COPWatch
A very special event happened today, COP9 livestreamed its final session! The public was afforded a rare glimpse into the secret meeting that we are not allowed to attend. All decisions had already been made by then, of course.

The main announcement was that the next COP meeting will take place in Panama in 2023. The Panamanian Minister for Health delivered a speech while a video played showing some of the sights of the country.
Second consideration of amendments – ETHRA
On Monday 8 November the European Parliament's Special Committee on Beating Cancer met to debate amendments to the Rapporteur's draft report. This was the second and final consideration of amendments before a vote in Committee, which is scheduled for 6 December. A recurring theme throughout the meeting was the need for compromise in addressing amendments, particularly in the area of prevention. Worryingly for vapers, the topic of e-cigarettes and flavours featured prominently.

In his opening statement BECA Chair, Bartosz Arłukowicz, announced that he believed there was general agreement for preventative measures such as food labelling and moderate alcohol consumption.
---
Visit Nicotine Science & Policy for more News from around the World

---