Vapers Digest 21st November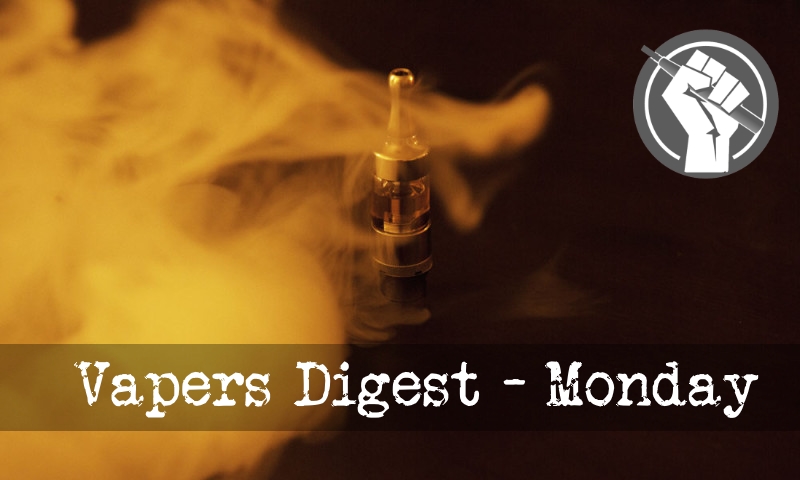 Monday's News at a glance:
FIFA Foul On Vaping – World Cup Fans Visiting Qatar Should Leave Vapes Behind – Parliament and Politics – Public Health's Manufactured Crisis Over Vaping – How the CDC is Cooking the Books for Clickbait Headlines – People in Wider Harm Reduction Discuss Integrating Tobacco – Health Survey Shows NZ On Track – India faces heat on vaping laws – Regulate vapes separately from cigarettes
Dave Cross, Planet of the Vapes
FIFA and Qatar have launched a vicious two-footed challenge on vaping and tobacco harm reduction at this year's World Cup by banning the use of e-cigs inside stadia. The ban is effectively meaningless as the importation and use of e-cigs has been banned in the nation since 2014 anyway.

Qatar's Ministry of Public Health, the Supreme Committee for Delivery & Legacy, FIFA (football's world governing body) and the World Health Organisation, coming together under the umbrella of The Sport for Health partnership, decreed that vaping would be banned alongside smoking within football stadiums and fan parks as part of the Qatar World Cup 2022.
Should Leave Vapes Behind – Jim McDonald
Soccer fans from around the world will be traveling to Qatar for the World Cup. But football enthusiasts who expect to vape will be in for a rude awakening when they reach the small Arab country. Like many other "vices" popular elsewhere in the world, vaping is not allowed in Qatar.

The World Cup takes place every four years, and includes national teams from around the world. This year, 32 teams have qualified through preliminary regional tournaments to compete in the first World Cup held in an Arab country. The tournament begins with group playoffs this Sunday, Nov. 20, and runs through Dec. 18, when the championship match will be held.
---

---
Dave Cross, Planet of the Vapes
Final changes have been made to the Department for Health & Social Care, unless everything changes again due to turmoil in government. Plus, a new minister but an old face has been elected to chair the Commons health and social care committee. Finally, a question has been answered regarding the Waste Electrical and Electronic Equipment register.

Neil O'Brien, the Conservative MP for Harborough since 2017, has been appointed as the new minister for Primary Care and Public Health in the Department for Health & Social Care. O'Brien previously worked as a Special Advisor to George Osborne between 2012 to 2016 when Osborne was the Chancellor of the Exchequer. He also worked as a Special Advisor for Prime Minister Theresa May.
---
---
Public Health's Manufactured Crisis Over Vaping | RegWatch
Public health's insufferable war on vaping continues its path of destruction for U.S. consumers of nicotine vaping products.
Fueled by the moral panic over teen vaping, voters in California passed a statewide flavor ban that's certain to force some vapers back to smoking while denying current smokers easy access to safer nicotine products which could save lives.

Charles Gardner, executive director of INNCO, joins us to discuss the impact of the California flavor ban, the CDC's deliberate exaggeration of youth vaping rates, and the shocking revelations from the Reagan-Udall Foundation's review of the FDA's PMTA decision-making process.
How the CDC is Cooking the Books for Clickbait Headlines
The first standout impact of the NYTS was in 2018 when the commissioner of the Food and Drug Administration Scott Gottlieb, responded to it. He stated then that there was an epidemic of youth vaping which sent the entire industry into a frenzy. The pronouncement resorted in youth vaping being at the tip of many people's lips. Tabloids and headlines jumped on it and many quickly saw youth vaping as a reenactment of the war on drugs and panic spread. As it is with such things, restrictions and bans came along and the public was being swayed.

It was sad to see that when this frenzy was going around about the purported bad influence of youth vaping, many avoided the other side of the story. Nicotine vapes had been the saving grace that made many addicts quit smoking.

Discuss Integrating Tobacco – Kevin Garcia
The 13th National Harm Reduction Conference took place in San Juan, Puerto Rico in mid-October. It involved around 2,800 harm reductionists from across the United States and beyond, and its myriad important themes included overdose prevention, drug checking, racial justice, sex work and much more.

There was also one panel about tobacco harm reduction (THR), in which I participated. Its inclusion was significant, given the divisions sometimes seen between THR and the rest of harm reduction, and conversations about how to align the two.
---

---
To Achieve Smokefree 2025
Results from the annual New Zealand Health Survey show smoking is at an all-time low and Aotearoa is on target for Smokefree 2025, says ASH.

ASH director Ben Youdan says the figures show that the huge drop in smoking seen last year was not a one off. From 2021 to 2022, daily smoking has fallen from 9.4% to 8%. Aotearoa now has one of the lowest smoking rates in the world.

"The influence of safer alternatives to smoking such as vaping, efforts by grassroots smoking cessation programmes and the investment going into communities to stop people smoking are all working."

Shantanu Guha Ray
The Ministry of Health is facing heat following its ban on vaping, even as many countries are reversing such bans and arguing forcefully for the product. Hong Kong, not far from India, is soon going to reverse its ban on the re-export of e-cigarettes and other heated tobacco products by land and sea transport by the end of this year as part of efforts to ignite growth.

"Senior officials are mulling over the relaxation of the trans-shipment ban on re-exporting the alternative smoking products from Hong Kong, given the significant values of the re-export," a senior government official was quoted. The original intention of the amendment was to prevent the re-exported products from slipping back to Hong Kong through other means.
From combustible cigarettes – Nokukhanya Mntambo
Advocacy group, Vaping Saved my Life has added its voice to growing criticism of some of the amendments to tobacco laws.

Earlier this year, cabinet tabled the Tobacco Control Bill to parliament. If promulgated, it will repeal the current Tobacco Products Act.

Proposed changes include smoke-free indoor and a limited number of outdoor areas, a ban on the sale of tobacco products at vending machines, as well as regulations banning the use of flavours in e-cigarettes and vaping.
---
A look back at how things have moved on or otherwise…
Harry's blog 112.
In a previous blog, I described a particularly absurd situation regarding tobacco control paranoia about the industry. An anti-smoking NGO operating in Southeast Asia announced an anti-smoking poster competition for young people. Buried in the terms and conditions of entry was the stipulation that entrants could not have any connection with the industry to the 'fourth level of consanguinity'. In other words, teenagers were barred if their great-great grandfathers had any industry connections.

What were the organisers thinking – that somehow a teenager would sneak a poster lauding the benefits of cigarettes past the judges?? A couple of days ago, it struck me that the basis of this rule was more sinister, while also confirming what I (and many others) have always thought about the basis of anti-tobacco harm reduction propaganda.
 James Dunworth – Ashtray Blog
Imagine you have been a smoker for decades…. You've tried to quit smoking many times. You tried with nicotine patches for weeks, despite that annoying rash on your arm. You put up with Champix, despite the weird dreams it gave you. You tried nicotine gum, despite the unpleasant, burning sensation in your mouth. But in a moment of weakness – and it only takes one in the midst of many moments of strength – your old friend, the cigarette, lures you back in.

But then one day you try vaping. The hand to mouth action, the sensation of breathing in vapour, the sudden hit on the back of your throat, the vapour dancing and swirling across the room – it may not be smoking, but it's so damn close it works for you.
To young people than smoking and could help teen smokers quit
Flavoured vapes are much less harmful to young people than smoking, and could help teen smokers quit tobacco – according to new research from the University of East Anglia.

A new study published today looks at young peoples' use of vape flavours, reporting the views and experiences of more than 500,000 under 18s.

It finds that flavours are an important aspect of vaping that young people enjoy, suggesting that flavoured products may help them switch away from harmful tobacco smoking.
---
Visit Nicotine Science & Policy for more News from around the World

---