Vapers Digest 23rd November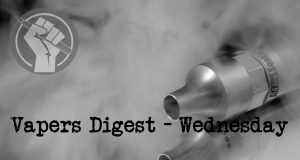 Wednesday's News at a glance:
Marewa Glover: Anti-tobacco zealot turned harm reduction advocate ~ "High Certainty" Evidence That Vapes Are Better Quitting Aids Than NRT ~ Vapes Are Better Than NRT ~ Please let the FDA follow the science instead of blowing in the political winds ~ The overlooked potential of smokefree products for effective tobacco control ~ The FDA Is Getting It Right on Youth Vaping. Time To Do More for Adult Smokers ~ INNCO Weekly Issue ~ Vapes Are Better Than NRT ~ GFN News #29 | Alex Norcia and Martin Cullip on the California Flavour Ban ~ California's Prop 31 Passes Leaving Vapers out in the Cold ~ HIGH CERTAINTY | Nicotine Vapes More Effective to Help Smokers Quit
---
Cheryl K. Olson, MPH, Sc.D., Progressive Policy Institute
Hasn't everyone who smoked cigarettes quit by now? Since you're reading this, you probably don't have a pack in your pocket or purse. It's likely you count few, if any, smokers among your colleagues. Back in 1965, when 42% of U.S. adults inhaled tobacco, college grads were about as likely to indulge as the less-educated. That's far from the case today.

In fact, over thirty million of our fellow Americans are still smoking, says the Centers for Disease Control and Prevention. Twenty-five of every 200 adults. Why don't you know them?
---
Watch now! @jhb19 summarises findings of newly published @CochraneLibrary living review of #ecig to #QuitSMOKING, 78 studies, 22052 participants. Now high certainty evidence nicotine #vapes help more people to quit at 6 mths+ than NRT. @CRUK_Policy funded. https://t.co/GHzUhE1VEj

— CochraneTAG (@CochraneTAG) November 23, 2022
---
On @snusforum, @MarewaGlover says:

"The banning of #nicotine pouches was just insane. According to the data, they represent even less risk than vapes. Why would you ban them if your goal is #harmreduction? Unless your goal is purely to ban #nicotine."https://t.co/gTT3X55sFs

— The Global State of Tobacco Harm Reduction (@GlobalStateTHR) November 23, 2022
---
Dr. Matthew Holman, D.C. Journal
The most recent data from the National Youth Tobacco Survey (NYTS) tell a story that you probably haven't heard.

Recently, the U.S. Food and Drug Administration (FDA) and Centers for Disease Control and Prevention released the 2022 NYTS results, which showed underage e-cigarette use had dropped below the level that led the FDA to declare an "epidemic" in 2018. The data show the epidemic continues to be reversed.
---

---
Innco
Hi Dear Friends,

It's always a pleasure to greet you. INNCO has published a Press Release about the "Popcorn Lung" myth and how it popped up on a TV Show named: "This Morning" in the UK. if you want to check it out, you can do it here.

INNCO is presenting this week at the Lisbon Addictions Conference the preliminary results of the survey about the Harassment and Intimidation harm reduction advocates close to our organization could be experimenting. We will provide more information soon.
---

---
GFN•TV, a broadcast arm of the GFN stable, is now offering year round coverage of the issues that matter in tobacco harm reduction.
Linda Kumar
A 2020 report by an American advocacy group, the Consumer Choice Center, debunks the common belief that "vaping is the gateway to smoking for adults and adolescents."

Titled "Vaping and the Gateway Myth", the report highlighted findings that vaping is 95 per cent less harmful than smoking.
Dave Cross, Planet of the Vapes
Questions have been asked and answers given about vaping, tobacco harm reduction, and EVALI in the House of Lords and the House of Commons. Importantly, the position of vape shops being forced to close during the second COVID-19 lockdown has been questioned in both Houses although the responses were far from satisfactory.
---
Visit Nicotine Science & Policy for more News from around the World

---