In the News April 15th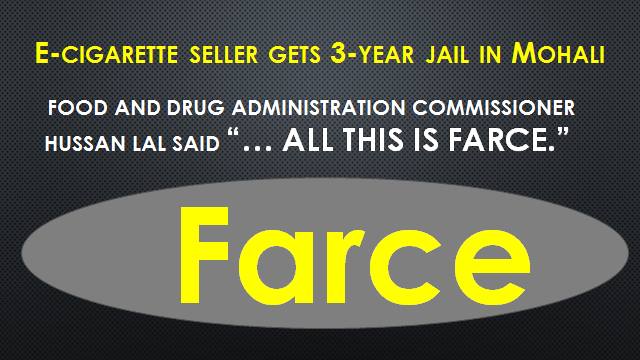 Fridays News at a glance:
Public health starts using 'industry arguments' – Gateway Theory – Q&A – Stop's Louise Ross Answers YOUR Questions – 33 Great Vaping Quotes – Children are not vaping in significant numbers – CDC Continues to Lie and Deceive the Public about Youth Tobacco Use – E-cigarette seller gets 3-year jail in Mohali – Won't trade ethics for sales in our Vape shop – As cigarette sales shrink, so do tobacco settlement payouts to states – Wall Street Document Cites E-Cig Regulations as Good News for Tobacco Stocks – About 16% of High School Students Are Now Using E-Cigarettes – The Vape Debate: The Kilmarnock Standard presents differing arguments – Smokers say yes to Smokefree bylaws, but no to e-cig bans
Christopher Snowdon – Velvet Glove Iron Fist
Another piss-poor study was published in Tobacco Control this week, this time claiming that point-of-sale (POS) e-cigarette displays make kiddies take up vaping. A bunch of researchers from Stirling University surveyed some 11-18 year olds and found that those who recalled seeing e-cigarette POS displays were more likely to be interested in using e-cigarettes than those who didn't. Or as they put it…
Dr Colin Mendelsohn – NNA(AU)
The "gateway effect" is an argument often propounded by Public Health experts as justification for stringent regulations on the sale and use of electronic cigarettes. They fear the widespread availability of the devices could encourage adolescents to take up smoking. Dr Colin Mendelsohn, tobacco treatment specialist at The Sydney Clinic, explains that electronic cigarettes are more likely to divert teenagers away from smoking….
Answers YOUR Questions
Leicester's Stop Smoking Service Manager, Louise Ross, sat down to answer YOUR questions about smoking, the help available and what you can expect when you contact the team for assistance stopping smoking.

Questions were submitted via the Stop Smoking Leicester website and social media, with Louise providing an incredible insight into a host of subjects.
Ashtray Blog
Here, in one place, you'll find 25, 28, 30, 32 great quotes on vaping that will shock, inform and entertain you. But I'd really like your help finding more ecig quotes! If you know of a great quote, please leave the quotes and its source in the comments section!
---

---
Hearld Scotland
Prof. Sally Haw's concerns about the potential of vape product marketing leading to children being initiated into vaping ("E-cigarette displays blamed for rise in youngsters vaping", The Herald, April 14), seem a little misplaced and could risk making it harder for Scotland's smokers to switch to vaping if such marketing were banned….
The Public about Youth Tobacco Use – The Rest of the Story
The CDC's lack of honesty, transparency, and integrity when it comes to the issue of youth tobacco use was further demonstrated yesterday by its public claim that youth tobacco use has remained unchanged since 2011, despite the fact that its own report – also released yesterday – revealed that smoking among high school youth declined from 15.8% to 9.3% during the period 2011-2015…
---
---
In the April 7 ruling, the judge noted, "E-cigarette contains nicotine in chemical form, which is highly addictive and potentially lethal. The youth take to such kind of addictive and potentially lethal products, and the offenders involved in promoting and selling such products should be dealt with sternly by law for the welfare of the society."
There's one dilemma I'm faced with constantly and that's labels. From the beginning we've refused to carry e-liquid that steals other people's intellectual property or have kid friendly labels like bears and unicorns. If they had the talent to create truly good e-liquid why not take the time to create a label that is uniquely yours? We have over 150 different flavors in stock and proud to say that none of them feature these offensive labels….
---

---
So do tobacco settlement payouts to states
April 15 isn't the date most people will be paying their taxes to the government this year. It is, however, the day that the tobacco industry makes its annual payments to state governments as part of a settlement reached back in 1998. That money was meant to fund anti-smoking campaigns and public health programs, but the settlement agreements didn't stipulate where the payments would go, leaving states to use the windfall however they want….
As Good News for Tobacco Stocks – James Di Fiore
One of the world's largest financial services companies is advising its investors to expect growth in tobacco company stocks due to government restrictions on e-cigarettes and vaporizers. Kathleen Wynne's Ontario government, along with several other state and provincial governments in North America, has already passed legislation that equates vaporizers with combustible tobacco products

Are Now Using E-Cigarettes – Jonathan Chew
Such is the popularity of e-cigarettes, that it has become the most used tobacco product among teenagers, with around 3 million reportedly using then. Overall, around 4.7 million middle and high school students are using any form of tobacco product, and when dissected, roughly one in four high school students and one in 13 middle school students use some kind of tobacco product…
The Kilmarnock Standard presents differing arguments for and against the controversial e-cigarettes
Kilmarnock businessman Rehan Tahir has defended e-cigarettes – and claims the devices have helped get 700 Ayrshire folk off the real things.

Rehan, who runs Vaporized in Kilmarnock's Titchfield Street, believes that if people had more information then the stigma towards e-cigs would diminish. He says that the counterfeit e-cigs are tarnishing the reputation of the industry..
But no to e-cig bans – 
It takes a brave City Council to take Smokefree outdoor areas to where no other New Zealand council has been before.

Zoe Hawke Manager of Te Ara Hā Ora the National Māori Tobacco control service states that "Smokefree outdoor policies are an international trend and a powerful tool to denormalise smoking, help smokers quit and to remain quit. If you listen to communities they are often supportive of the move too".