In the News April 18th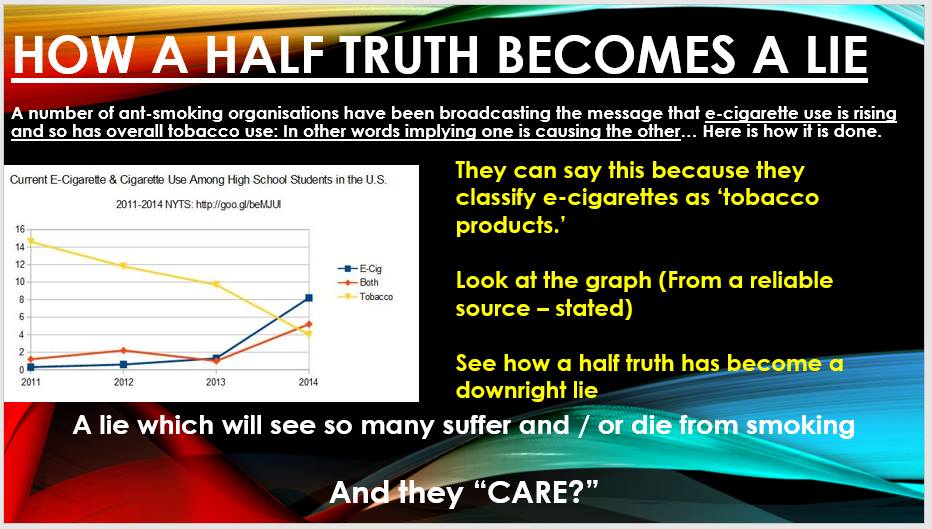 Mondays News at a glance:
The CDC and Cohorts bend the truth. Again – Minimum Effort, Maximum Impact – Labour MP Slams Anti-Ecig Whingers – Fat Budgets And Fake Friends – Scottish council wants to ban smoking (and vaping) – American Thoracic Society Lies to Public – Congressional action on electronic cigarette regulations may save vapers – Punjab retailer sentenced for selling vaping products – Electronic cigarettes: the medicine of tomorrow? – Child vapers: A study of parental and carer views – Vaping on the Rise in China – Will regulation ruin a free market? – Can we wait for e-cigarette trials? – What is the Turnbull Government's e-cig policy review hiding? – Carbonyls – friend or foe? – Take action to change the predicate date – Nicotine Science and Policy Daily Digest – Monday, 18 April 2016
Bend the truth. Again – Paul Barnes – Facts Do Matter
It isn't particularly uncommon for government agencies to bend the truth. What is thoroughly disingenuous is how they decide to bend the truth. If you've been paying attention, you'll have noticed a bit of a trend. Wherever the use of e-cigarettes is prevalent, the overall combustible use declines. It is kind of hard to see how one equals the other, but that is exactly what the CDC have done….
The Anti-Vaping Junk Science of Rebecca Williams – Lindsay Fox
If you want a constant stream of junk science on a topic, one thing you'll need is some researchers willing to crank out a shoddy paper in support of your cause, ideally without putting too much work into it. For e-cigarettes, the junk science never seems to let up, and there are plenty of researchers wary enough of vaping to allow some apparent bias to creep into how they conduct and report the results of their studies.
Mawsley – Planet of the Vapes
Gloria Del Piero has moved from a career in television, presenting GMTV at one point, to that of being a politician. She is currently the Labour MP for Ashfield in Nottinghamshire. During her time in office she has worked as shadow culture minister, crime prevention minister, women and equalities minister and now as the shadow minister for young people and voter registration…
Dick Puddlecote
Next time you hear some local authority rubber band-flicker whining about how government 'cuts' are slashing their resources to the bare bones, remind yourself of this.

Via Taking Liberties, it seems that despite 'savage' austerity measures, Aberdeenshire Council still has a budget fat enough to come up with sinister, absurd and utterly pointless new policies like this.
(and vaping) on local authority land – Simon Clark – Taking Liberties
On Friday Forest was invited to comment on this story:

A Scottish council is looking to ban people from smoking in their own vehicles [my emphasis] if they are on local authority land.

Aberdeenshire Council has drafted a revised smoking policy that aims to ensure non-puffers are prevented from inhaling toxic tobacco fumes [my emphasis] in car parks….
---

---
Claiming that Smoking is No More Hazardous than Vaping – The Rest of the Story
One of the following is blatantly lying to the American public by telling us that smoking is no more hazardous than vaping, which involves no use of tobacco and no combustion process and has been found to dramatically improve the health of smokers who switch to these products. Guess which one….
On electronic cigarette regulations may save vapers – Gregory Conley
The Food and Drug Administration (FDA) is in the final stages of announcing a new set of regulations for all electronic cigarettes (e-cigarettes) and vapor products. Free-market innovation has resulted in significant developments in the number and quality of these tobacco-free products that are helping Americans kick the unhealthiest habit known to man – smoking….
---
---
For selling vaping products – Jérôme Harlay -PGVG
In Mohali, Punjab, an e-cigarette retailer has been sentenced to a 3-year in jail for selling e-cigarettes under the Drugs and Cosmetics Act, 1940. The young Parvesh Kumar, 25-year old, was convicted and fined 1 lakh (about €1,300) on April 7 after an e-cigarette with eight cartridges were found during an inspection by a Drugs Inspector on July 3, 2014. He has 1 month to appeal….
This article was first published in Journal of the Law Society of Scotland, April 2016
Since 2013, the Medicines & Healthcare Regulatory Products Agency ("MHRA") has stated its policy objective to regulate electronic cigarettes and other nicotine-containing products as medicines. In December 2015, the MHRA issued a marketing authorisation to Nicovations Ltd (part of British American Tobacco's Next Generation Products division) for its e-cigarette product, e-voke…
---

---
A study of parental and carer views on the use of electronic vaporising devices by their 11-18 year old children – Dr. John Turner & Dr. Lynne Dawkins
The purpose of this survey is to gain information from parents/carers of secondary school age children about the use of such devices by children and parents.

You do not need to be someone who uses vaporising devices to take part in this study, but you must be a parent/carer of a child aged 11-18 who is currently in full-time education at school. The survey will only take around 10-20 minutes to complete.
Mirosław Dworniczak – Nicotine Science & Policy
Quite frequently the media try to "enlighten" people using information extracted from various scientific publications about chemicals found in the vapour from e-cigarettes. Some of these chemicals belong to the class of volatile organic compounds which are contained in the carbonyl group. Let me shed some light on this subject.
Yen Wang – Beijing Today
2015 was a busy year for 25-year-old Pan Weiren's chain of vaping supply shop. Earlier this year, his e-cigarette shop and bar Mr. Vape opened a fifth location in Wangjing, a busy neighborhood in Chaoyang district.

Pan got into vaping while he was studying abroad in California. But it wasn't to wean himself off cigarettes. Pan remains a dedicated smoker who sees vaping as a lifestyle choice and hobby.

Institute of Economic Affairs
In recent years e-cigarettes have flourished in Britain under a free market. Light touch regulation, low barriers to entry and strong competition have resulted in choice, value and innovation. That could all change from May 20th when new EU regulations are introduced. Under Article 20 of the Tobacco Products Directive, most forms of advertising will be banned and limits on product size, strength and capacity will come into effect
Thomas Hartung – Chemistry World
Around 30% of current cancer deaths in the US are caused by tobacco. According to the World Health Organization, tobacco is 'the only legally available product that kills up to one half of its regular users when consumed as recommended'.
---
The concluding part of the coiling tutorial, the Kanger Dripbox, news and more!
---
Terry Barnes – Catallaxy Files
Last year the federal health department, on behalf of the Intergovernmental Committee on Drugs – senior bureaucrats advising federal, state and territory ministers on drug issues – commissioned a policy review on the regulation, sale and marketing of e-cigarettes with or without nicotine, and the practice of "vaping".
For vapor products – CASAA
Without a change in the February 2007 predicate date, more than 99% of vapor products currently on the market will be gone within two years. This is not hyperbole. The cost of obtaining premarket approvals with the FDA's Center for Tobacco Products is intentionally prohibitive, and all indications are that there will be no significant exemptions made for vapor products.