Vapers Digest June 18th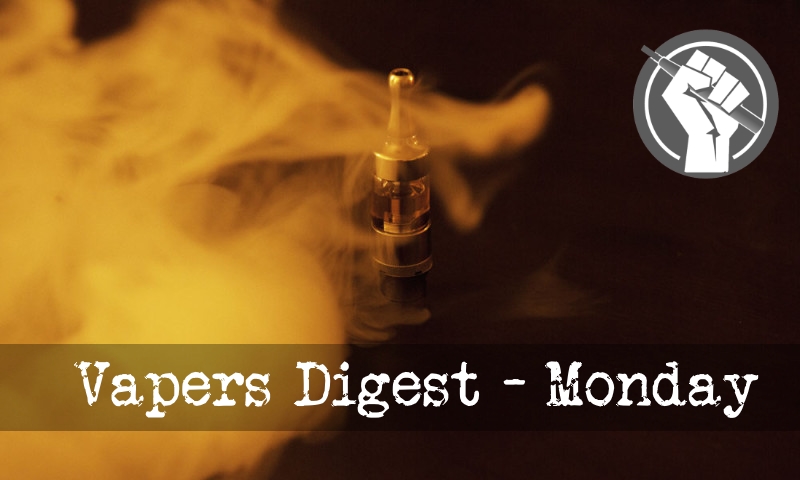 Monday's News at a glance:
Another successful GFN and ACS makes some movement, but bad news in Asia – Turkey Vape Vendor Wants Xmas – Views on and experiences of electronic cigarettes: – FDA Doesn't Understand Black Markets – Why Smokers need to be heard – The ACS Excludes Smokeless Tobacco – Aussies want vapes, e-cigs legalised – Shaming the forelock-tuggers over e-cigarettes – Health Canada to enlist social media influencers – Experts back e-cigarettes – We did not bow to e-cigarette makers – Vaping In The News – Nicotine Science and Policy Daily Digest
ACS makes some movement, but bad news in Asia
Fergus Mason, Vaping Post
The fifth Globul Forum on Nicotine took place in Warsaw this weekend, attracting an array of consumer advocates, harm reduction experts and public health activists from around the world. The American Cancer Society picked last week to make some small moves towards accepting tobacco harm reduction, but failed to put forward any actual policies to remedy the damage caused by its previous stance. Meanwhile Asian vapers face a double whammy, as Hong Kong looks at tough new restrictions on e-cig sales while Indonesia gets ready to implement a hefty tax on liquids.
Mawsley, Planet of the Vapes
San Francisco may have banned flavoured juices but it hasn't stopped them talking about vaping. Unfortunately, the owner of a local vape store has joined in with the ecig bashing with some badly chosen comments. Vapers and harm reduction activists are, understandably, confused and disappointed.
Brian Richardson runs the Vapour Den, a store located within waving distance of Stanton Glantz' workplace. During the fight over Prop E (the proposal to ban flavours in liquids) Vapour Den carried the logo opposing its implementation on its very basic website – albeit needing to scroll down to find it. But it appears the shop's support for vaping was, at best, luke warm.
---

---
A qualitative study of women who are pregnant or have recently given birth
BMC Pregnancy and Childbirth
Electronic cigarettes (ECs) are increasingly used for reducing or stopping smoking, with some studies showing positive outcomes. However, little is known about views on ECs during pregnancy or postpartum and previous studies have nearly all been conducted in the US and have methodological limitations, such as not distinguishing between smokers and ex/non-smokers. A greater understanding of this topic will help to inform both clinicians and EC interventions. We elicited views and experiences of ECs among UK pregnant or recently pregnant women.
---
---
Carl V. Phillips, Daily Vaper
The FDA wants to ban vapor product flavors (and potentially the whole category) and proper cigarettes (by taking out the nicotine), in addition to the many tobacco products that are already restricted. In theory, the Tobacco Control Act has always required that the FDA consider "illicit trade" (which basically means black markets, including the supply chain for banned products, not just the trade itself). However, FDA has ostentatiously ignored this requirement, usually failing to even admit that a policy would create illicit trade when it obviously would.
Joseph Magero
This article is not about the rights of smokers to self-destruct versus the rights of non-smokers to a smoke- free environment,relax .Smoking kills! We've known that for at least 50 years — and yet millions still smoke, and thousands more pick up the habit every year. Why? Their stories involve strong addictions, passionate defiance — and billions spent to make people act against their own best interest.
---

---
From Cancer Risk Factors List – Diane Caruana
On the 11th of June the ACS released a public health statement pointing out that the organization's primary goal is to combat the use of combustible tobacco, and that therefore it will be sharing accurate information pertaining to the relative health risks associated with safer alternatives.
SBS News
Most Australians want electronic cigarettes legalised, according to a survey by the nation's peak retail body, but government and anti-smoking advocates maintain the devices might pose health risks.

The Australian Retail Association poll, conducted by the Crosby Textor Group, shows 61 per cent of 1200 adults backed a move towards legalising e-cigarettes or vaporisers, commonly known as vapes.
Ian Warden
Your globe-scampering columnist is just home from a month in craggy, stimulating Scotland. There, every High Street of every town and city boasts (sometimes next door to one another) a kilt-hire shop, a betting shop, a Turkish barber shop and an e-cigarettes emporium.

Vapers (this is the name given to people who use e-cigs, for they produce not smoke but vapour) are seen at large everywhere in Scotland. Scotland's public vapers made quite an impression on me, for reasons I will explain in a moment. And so my ears have pricked up since finding, upon my return, that Australian public conversation is alive with the discussion of e-cigarettes.

For vaping awareness campaign!
OTTAWA — Wanted: social media celebrities to warn teens of the risks of vaping.

Health Canada is looking for a contractor to develop, implement and report on a national vaping awareness program, including finding social media influencers that teens might be willing to listen to.

"Canadians look for information from a variety of sources, and youth in particular are more likely to engage with other influencers beyond government, or health professionals," said a spokesperson from Health Canada.
Roderick T. dela Cruz
Around 500 healthcare experts, researchers, academicians, consumers, vaping advocates, parliamentarians and even tobacco executives from 60 countries gathered together under one roof in Warsaw, Poland to push for the regulation of electronic cigarettes, heat-not-burn devices, Swedish snus and other low-risk non-combustible smokeless tobacco products that they say could save millions of smokers from premature death globally.
In rejecting full ban, Hong Kong health chief Sophia Chan says
Hong Kong's health minister defended her decision not to ban electronic cigarettes on Saturday, saying the government was being pragmatic in its planned regulations.

Having turned down the total ban suggested by her own bureau in 2015, Sophia Chan Siu-chee said officials did not rule out more stringent controls in future.

She denied she had backed down to e-cigarette producers and said a complete ban was only "one way of regulating cigarettes".
Kevin Crowley, Vaping Links
The Big Lie (Vaping, children, flavors) ~ Think before you ban ~ The American Cancer Society public health statement ~ American Cancer Society Sees Zero Cancer Risk for Smokeless Tobacco ~ The elusive 'epidemic' of teen vaping ~ Research Shows Vaping Helps The Elderly Kick Smoking Habit ~ A Bad Deal With The Devil ~ CDC Survey Shows Teen Vaping, Use of e-Cigarettes Continuing to Fall ~ David Goerlitz ~ Privacy In The Home Legal Fund ~ Have you done this yet? ~ Battery Safety
---
A look back at how things have moved on or otherwise….
Dick Puddlecote
In September 2015 – in the wake of Public Health England throwing their weight behind e-cigs – merchants of doubt, Martin McKee and Simon Capewell, described their stance as being a house built on sand.

So where does this leave Martin and his commie sidekick following yesterday's news about new smoking prevalence data from the ONS.
Christopher Snowdon, Velvet Glove Iron Fist
New smoking prevalence data were published today and it was egg on face time again for the anti-vaping alarmists.

Britain's smoking rate fell by 1.7 percentage points between 2015 and 2016 and has fallen by 4.3 percentage points since vaping went mainstream in 2012. All that talk about the 'gateway effect' is looking decidedly stupid now. Taxi for Capewell and McKee please!
Brad Rodu, Tobacco Truth
A new report from the Swedish Snus Commission underscores the accelerating human toll of the European Union's unconscionable ban on smokeless tobacco: "…among men over the age of 30, 355,000 lives per year could have been saved if the other EU countries had matched Sweden's tobacco-related mortality rate." Sweden is the only EU nation in which sales of snus are legal.
---
Visit Nicotine Science & Policy for more News from around the World

---