Vapers Digest June 15th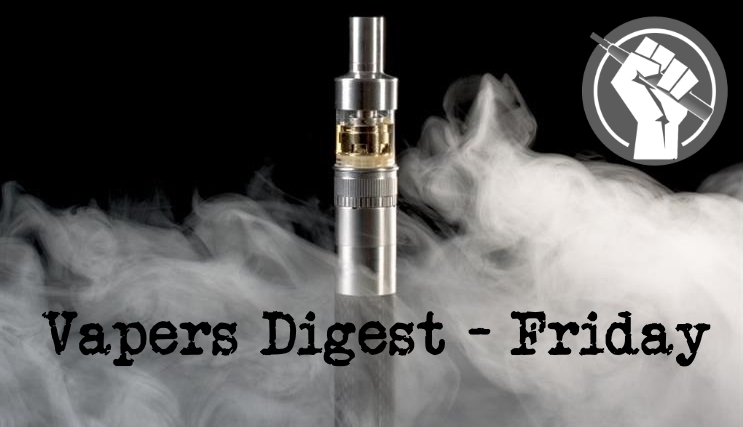 Friday's News at a glance:
#GFN18 Sarah Jakes' plenary presentation – Reflection of a vaper: Trusting the Research – American Cancer Society Sees Zero Cancer Risk – New Zealand Researcher Receives International Award – Watered-down proposals to regulate e-cigarettes – A Bad Deal With The Devil – Research Shows Vaping Helps The Elderly Kick Smoking Habit – Bans on E-Cig Flavors Can't Be Justified – Congressmen reject claims against safety – US smokers don't believe vaping is less harmful than smoking – Glantz Thinks About Children – Teen Vaping Continuing to Fall – Trump Administration Is Offering Some Hope 
"Rethinking why people like nicotine": – New Nicotine Alliance
In his talk there, Joe mentioned the scream test. I have a test of my own, I call it the 'glaze test'. It's not always easy, especially when talking to a large group of people, to tell whether they're really with me.

They tell me they're passionate about helping people stop smoking and I don't doubt them. They say they support e-cigarettes and I don't doubt that either, but do they really understand?

So my test is to throw in a slide about Pleasure. Normally it will include a photo of Vapefest – happy people at an open air festival, celebrating nothing more than the one thing they have in common – their love of vaping….
Steve Dohmen, AVCA
As a consumer vaper starting out many years back, I never really realised that interpreting science, vaping terminology and addiction management would be so mind-bogglingly complex with all it's myriad of questions and scarcity of answers! but it does help in having some form of basic understanding around the fundamentals or how else could we disseminate information and differentiate between a good scientific review, and pseudo-science fiction from the propagandist astroturfing crusader types like Glantz, Meyers & Chapman
---

---
Sees Zero Cancer Risk for Smokeless Tobacco
Brad Rodu, Tobacco Truth
A June 11th American Cancer Society policy paper (here) states that the Society will "focus on the primary goal of ending deadly combustible tobacco use… Given this imperative, ACS will provide smokers and the public with clear and accurate information available on the absolute and relative health impact of combustible tobacco products, nicotine-based medications, [electronic nicotine delivery systems] and other novel tobacco products…ACS will increase its efforts to guide smokers toward evidence-based cessation options that enable them to quit as quickly as possible and eliminate their exposure to combustible tobacco smoke."
Receives International Award 
Renowned tobacco control researcher Dr. Marewa Glover today was the recipient of the INNCO Professional Advocate of the Year Award for her support of tobacco harm reduction at the Global Forum on Nicotine in Warsaw, Poland.

"Dr. Glover stood out for the award because of her dedication to tobacco harm reduction specifically for Maori and Pasifika in New Zealand and her efforts to have the voice of vapers enter into the discussion, where they had been previously disregarded," said Nancy Sutthoff, President of The International Network of Nicotine Consumers.
---
---
Mawsley, Planet of the Vapes
The American Tobacco Master Settlement Agreement was made in November 1998 by 46 states. Big Tobacco got a 'get out of jail free' card, protecting them from tobacco harm court cases, and the states got $206 billion (with four other states negotiating their own kickback). With five years left and money drying up, states are looking for their next revenue stream.
Kick Smoking Habit – Katie Bercham
As vaping grows as a smoking cessation tool, older smokers have been turning to it as well to help end their addictions. The Center for Disease Control and Prevention released a study that that reveals the majority of smokers looking to quit are using vaping and e-cigarettes as part of their cessation tools. Vaping, at this point, is actually a more popular cessation tool than patches, gums, or prescription drugs. Many smokers who have used vaping as a cessation tool use word of mouth to spread the news about how well e-cigarettes worked for them.
By the 'Wildfire Spread' of Adolescent Vaping, Which Seems to Be Declining
Jacob Sullum, Reason
Last week voters in San Francisco overwhelmingly approved a ban on the sale of "flavored tobacco products," including e-cigarettes. Several other local governments in California have recently imposed similar bans, and New York legislators are considering a bill that would prohibit the sale of "flavored e-liquid." Supporters of these measures, who say they want to protect teenagers from the temptations of vaping, give no weight to the interests of adult smokers who use e-cigarettes to quit, a process in which flavor variety plays an important role.
---

---
Ben Rosario
Congressmen have rejected claims against the safety of electronic cigarettes or E-cigarettes as they adopted House Resolution No. 1885 calling on the Department of Health to endorse its use as part of the national tobacco control strategy.

Filed by Reps. Anthony Bravo (Coop-Nattco) and Jose Tejada (PDP-Laban, North Cotabato), HR 1885 strongly urges the DOH to promote harm reduction measures under the tobacco control plan by including the use of E-cigarettes as an alternative for smokers.
Emily Tsang, Hong Kong
Watered-down government proposals to regulate electronic cigarettes and other new smoking alternatives have failed to impress either the tobacco industry or health experts, with both sides saying they will lobby lawmakers for changes ahead of a Legislative Council debate next week.

Erin Mundahl
The days of Joe Cool advertising cigarettes are long gone. Instead, today's students are routinely warned about the dangers of smoking. Regulators have been less sure what kids these days think of e-cigarettes, fearing that the flavored options might be temping for youth who would otherwise not try tobacco. E-cigarettes, a relatively new form of tobacco use, overtook cigarettes in popularity among youth in 2015.
Is less harmful than smoking – EurekAlert
Warsaw, June 15th – A growing proportion of U.S. adults do not believe that e-cigarettes are less harmful than smoking, according to an analysis of the U.S. Population Assessment of Tobacco and Health (PATH) study data from 2013 to 2015 presented today at the fifth Global Forum on Nicotine conference.
Paul Porter
Cigarette smoking is, far and away, the most dangerous consumer product ever invented. Everyone knows that, but people still smoke. The "20% Prevalence" theory, which has ruled the tobacco world for decades, holds that no matter what antismoking campaigns you try or how much you educate, smoking cessation stalls at around 20% of the population.
---

---
Mawsley, Planet of the Vapes
Stanton Glantz appears to be losing all of his faculties, or has given up any pretence at appearing objective. In two outpourings this week, he has insulted the memory of the widely respected father of harm reduction and trotted out more nonsense regarding a gateway effect for English children.
Mawsley, Planet of the Vapes
Nathalie Dunand, President of Sovape, has spoken to Blogs of Bainbridge about the struggles facing harm reduction in France. A paper looking at second-hand vape highlights how negligible any risk is. The University of Regina fails to appreciate that vape isn't smoke. The Smoke Free Alternatives Trade Association managed to get an 80% tax proposal scrapped. Well Pharmacies get behind vaping.
---
A look back at how things have moved on or otherwise….
Paul Barnes, Facts Do Matter
Today saw the release of the latest set of data for smoking prevalence within the UK from the Office of National Statistics Annual Population Survey and the Opinions and Lifestyle Survey.

As you would expect from the UK, with its generally liberal stance on e-cigarettes, and despite the shitstorm of piss poor media reporting on various studies, stupid legislation proposals, daft bans, and general bullshit; e-cigarettes remain the most common aid for people to move away from tobacco.
New Nicotine Alliance
Today saw the latest release of adult smoking rate data from the Office of National Statistics based on the Annual Population Survey and the Opinions and Lifestyle Survey. The data shows that over the last 12 months, the overall smoking rate has fallen at a historical rate of 1.5%, to a new historical low of 17.2%.

Worth celebrating are the specific age group declines – 18-24 fell from 20.7% to 19.3%, 25-34 fell from 23.0% to 20.8%, 35-44 fell from 19.5% to 18.1%. Among the respondents included in this survey, 5.6% stated they were current e-cigarette users, equating to approximately 2.9 million users.
---
Visit Nicotine Science & Policy for more News from around the World

---