Vapers Digest June 13th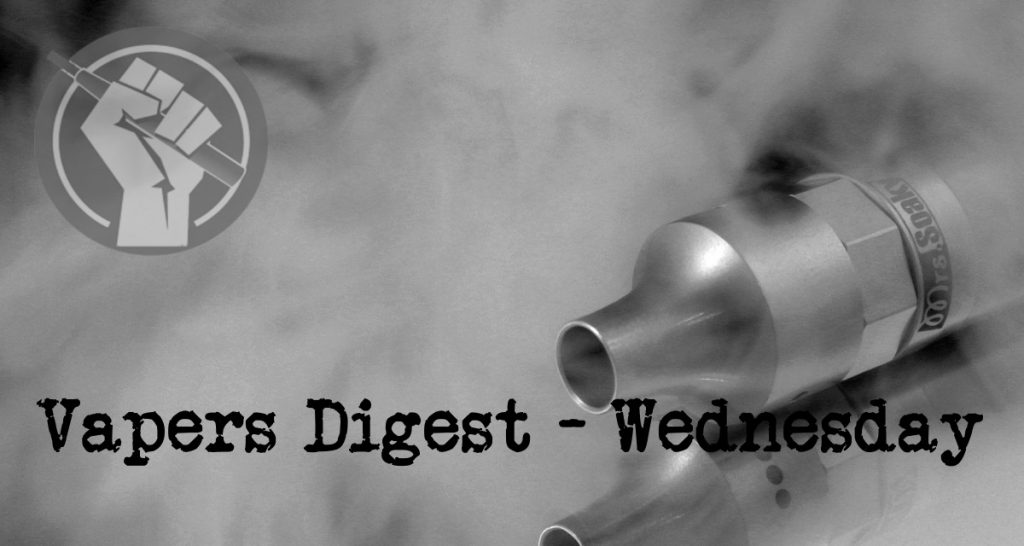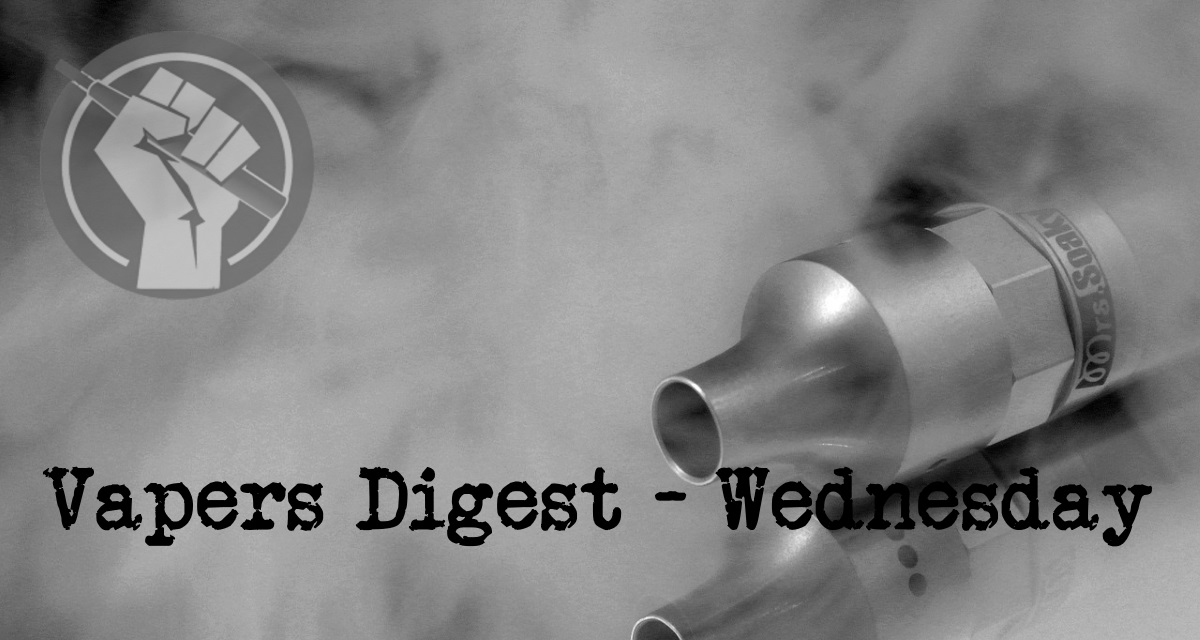 Wednesday's News at a glance:
Oz Doc's Nic To The People ~ R Street Argues for Flavours ~ More Doolally Nonsense from Hopkins Bloomberg ~ There's a new HnB study ~ Regulate, not ban tobacco harm reduction products ~ Toxicant levels up to 99 percent less in myblu™ aerosols compared to cigarette smoke ~ Tobacco ~ Hong Kong set to regulate e-cigarettes ~ Indonesia Will Tax Vapes to Protect Cigarettes ~ Cancer Society: Smokeless Tobacco & Vaping Safer Than Smoking ~ The elusive 'epidemic' of teen vaping ~ Glantz makes new claims about teen vaping ~ Liberal Senator moves to support vaping, says it was a 'no-brainer' ~ Banff, Lloydminster vote to ban smoking and vaping weed in public ~ E-cigarette company on the hunt for 50 new locations
 Mawsley, Planet Of The Vapes
The sale of nicotine-containing electronic cigarettes, or juices with nic, remains illegal in Australia, thanks to lies regurgitated by Simon Chapman and Dave Bareham to a parliamentary committee. Doctor Karen Counter is one of a handful of GPs intent on living up to her Hippocratic Oath.

Dr Counter is one of a handful of doctors in the whole of Australia who is willing to prescribe vape products for people who want to quit smoking. While the sale of vape kit including nicotine remains illegal (despite cigarettes being freely available), doctors are allowed to issue prescriptions for it – although this disregards guidelines from her medical body.
 Mawsley, Planet Of The Vapes
Clive Bates is well known for his harm reduction advocacy. The former ASH UK man, who campaigned against smoking, has embraced vaping as a tobacco-harm reduction tool. He has teamed up with Carrie Wade from The R Street Institute to produce a compelling and powerful document arguing for flavoured eliquids.

The R Street Institute is an American conservative and libertarian think tank. It's stated mission is to "engage in policy research and outreach to promote free markets and limited, effective government." Carrie Wade is its Director of Harm Reduction Policy.
 Mawsley, Planet Of The Vapes
Carrie Arnold markets herself as an independent science correspondent. If her latest article, "E-cigarettes, Juuls and Heat-Not-Burn Devices: The Science and Regulation of Vaping", in this summer's Hopkins Bloomberg Public Health magazine, is anything to go by then the "science" bit needs to be dropped.

"Nowhere," Arnold harks back to the 2014 boom in vaping, "was [ecig] popularity more swift—and alarming—than with young people."

There is the entire article in one quote. The trestle table has been erected, the products placed out on display and she waits for customers to trot up. Unlike the reasoned and evidenced arguments put forward by Clive Bates regarding regulation in the other of today's articles, Arnold focuses on woeful anti-harm reduction waffle.
---

---
Fergus Mason, Heat Not Burn
I've been involved in e-cig advocacy for years, so I've seen some truly awful studies. It takes a lot to surprise me these days because I've seen it all: Badly conducted experiments, tortured statistics, misrepresented data and straight-out bad science. It isn't often I find myself shaking my head at just how crap something is, but step forward anyway South Korea's Ministry of Food and Drug Safety, because you've achieved it.

After Japan, South Korea is one of the biggest markets in the world for Heat not Burn products. For South Koreans, conventional vaping is just a niche hobby; if you want to quit smoking you go with HnB. The country is also one of the most varied markets.
Joseph Magero, Environews Nigeria
Tobacco harm reduction products are facing opposition from many quarters in Africa, despite sufficient and mounting evidence that they are far safer alternative to smoking combustible cigarettes. Being a developing continent with a struggling public healthcare system and massive tobacco health burden of over half a million tobacco-related deaths every year, Africa could do well to adopt preventive measures in the form of tobacco harm reduction.

However, a deadly combination of misinformation and vested interests is pulling countries in Africa towards prohibition. Several African countries have banned electronic cigarettes under state laws, while the more African governments have publicly declared their intention to follow suit with national bans.
Fontem Ventures, Eureka Alert
A new aerosol chemistry study presented on Saturday at the 1st Scientific Summit – Tobacco Harm Reduction: Novel products, Research & Policy, has revealed toxicant levels in myblu pod-system e-cigarette aerosols are up to 99% lower than in cigarette smoke.

Speaking at the conference, Dr Grant O'Connell, Corporate Affairs Manager at Fontem Ventures, the owner of the e-cigarette brand blu, said "Consistent with emerging clinical data, this study demonstrates that high quality vaping devices and e-liquids offer the potential to substantially reduce exposure to carcinogens and toxicants in smokers who use them as an alternative to cigarettes."
Department of Health and Social Care, They Work For You
To ask the Secretary of State for Health and Social Care, what assessment he has made of the level of vendor compliance with the tobacco and related products regulations in respect of vaping; and if he will make a statement.
---
---
in same manner as traditional smoking products under new proposals
Jim McDonald, Vaping 360
A huge tax on e-liquid in Indonesia will go into effect July 1. The 57 percent tax will probably affect the adoption of vaping in a country with a 67 percent smoking rate among male residents over age 15 — the highest smoking rate in the world.

The new tax will apply only to e-liquids that contain "traces of tobacco plants," according to Reuters. The meaning of that is unclear, since all e-liquid that contains nicotine would fit that description. The Indonesian customs office estimates that there are about 300 e-liquid manufacturers in the Southeast Asian country, and more than 4,000 vape shops.
The American Cancer Society Updates Policy On Smokeless Tobacco and Vaping, But Comes up Short on Legislative Recommendations.

In a new tobacco policy framework released June 11, 2018, The American Cancer Society recognizes that the myriad of death and disease from tobacco comes primarily from combustible tobacco.  And, the ACS recognizes that the public fails to recognize that smoke less products are safer than continuing to smoke.
---

---
Guy Bentley, Washington Examiner
Few health stories garner so much hyperbolic or uncritical coverage as the claim that e-cigarettes are a "gateway" to smoking.

Any study or assertion supporting this claim is catnip to journalists. Credulous stories of e-cigarette flavors such as "cool cucumber" and "creme brulee" targeting children and ushering in an "epidemic" of teen vaping are rarely out of the headlines.

E-cigarettes, we're told, are little more than a tobacco industry ploy to recruit the next generation of smokers. But even the most powerful of moral panics must, in the end, yield to data and evidence.

Fergus Mason, Vaping Post
For this new research, a questionnaire was distributed to 499 secondary school children in an English county. The children were aged from eleven to 16, with the average age being 14. The questionnaire was designed to measure both what the students believed about e-cigarettes, and their current use of them. The study itself was mostly sound, but the conclusions drawn from it – both by Glantz and, to some extent, the original researchers – are misguided.
---

---
Ben Fordham, 2BG.com
Another government MP has come out in support of legalising e-cigarettes, despite Federal Health Minister Greg Hunt's opposing position.

Liberal Senator Eric Abetz says it's time to lift restrictions.

"I had a staff member who was on e-cigarettes and during that time he got his taste back."

He tells Ben the decision to move his support in line with vaping was a "no-brainer".

"It is personal, individual good and also a public, social good."
, CBC News
More municipalities around Alberta are crafting bylaws to deal with the issue of smoking and vaping marijuana in public places once recreational cannabis becomes legal later this year.

On Monday, the Town of Banff banned vaping and smoking pot in all public places once cannabis becomes legal, and the City of Lloydminster went one step further, banning the smoking or vaping of all substances in public.

"We applaud the City of Lloydminster for making public health a top priority by banning all forms of smoking and vaping in indoor and outdoor public areas," said Les Hagen, executive director of Action on Smoking and Health.
Josh Morris

, Insider Media Limited
An e-cigarette company is looking to more than double its footprint by expanding into 50 new locations in the southern half of the UK.

Bristol-based chartered surveyors' firm Williams Gunter Hardwick is leading the search in the South West, South Wales and the West Midlands.

The company, ecigwizard, is looking for sites of between 300 and 600 sq ft at rents of between £20,000 and £35,000 per year.
---
A look back at how things have moved on or otherwise….
Tony Ottomanelli II, Vaping Post
Due to these groundbreaking findings, it is noteworthy to highlight Dr, Kozlowski in a majority of the comments since the significance of the study is not only popular, but even more so how much this study is essentially the first of it's kind and will be a central focal point for advocates to use in their arsenal of factual evidence.

Kozlowski's data could very well be repeated and recited by pro-vapor Political officials,which is extremely influential to the advocacy movement. After all, advocating for vapor was birthed out of the desire for communicating amongst each other with honesty, rationality and truth.
The Advertiser-Tribune
Hypocrisy has reached new heights, even by Washington, D.C., standards. The same left-wing senators who support needle exchange and methadone programs to reduce harm to drug addicts and demand condoms for high-schoolers to have safe sex are waging war against the most effective harm reducer of all — e-cigarettes.

Sens. Al Franken, D-Minnesota, Elizabeth Warren, D-Massachuestts, Patty Murray, D-Washington, and other Democrats are demanding new FDA commissioner Scott Gottlieb crack down on e-cigarettes without delay. Across the aisle, Sen. Ron Johnson, R-Wisconsin, is urging Gottlieb to examine the compelling evidence that vaping saves lives by helping smokers quit the deadly habit.

Some 480,000 people in our country die each year from smoking. But quitting is hard. E-cigarettes are far more effective than any patch, coach or gum at weaning addicts off their cancer sticks. And they're diverting teens from even starting smoking.

But facts be damned. Senate Democrats are politicizing the issue, claiming that "special interests" lie behind the FDA's decision to delay pending regulations drafted by the Obama administration.
---
Visit Nicotine Science & Policy for more News from around the World

---