Vapers Digest June 11th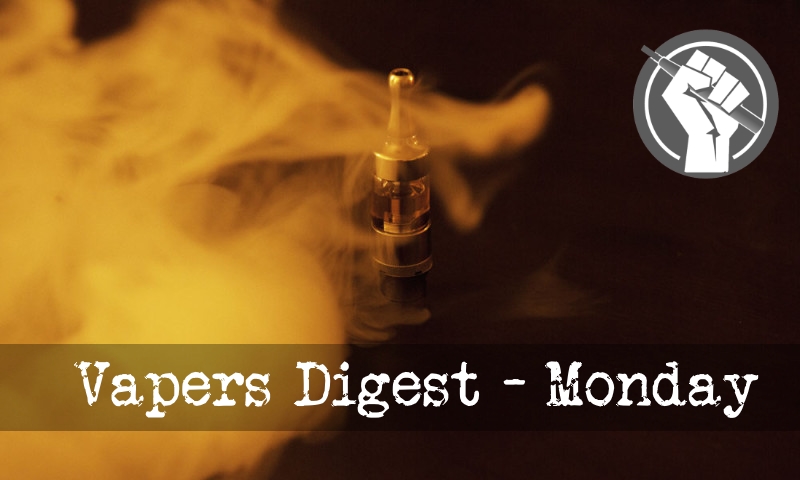 Monday's News at a glance:
The Big Lie (Vaping, children, flavors) – The Ecig Fight Continues – Johns Hopkins Public Health Researchers – The American Cancer Society – Vaping Set To Wipe Out Tobacco Bonds – Dr Farsalinos responds to Ken article – Retrospective Survey on Switching Patterns – Heat-Not-Burn Sales Are Not Slowing – Rethink in combating tobacco use – Think before you ban: – My last vaping video – Squonkers, drippers and cloud chasers – BAT to invest €800mn in Romanian plant – Vapers Say: Peace Out – Brentwood bans e-cigarettes – Vaping In The News June 9th – Nicotine Science and Policy Daily Digest
Veritas Vincit Pro Libertate
E-cigarette makers are pouring tens of millions of dollars into advertising their wares — and teenagers are getting the message loud and clear, federal health officials reported Tuesday.

As advertising skyrockets, so do the number of teens seeing it. They're vaping by the millions now, the Centers for Disease Control and Prevention reports. The CDC says that trend threatens to derail decades of progress in helping prevent kids from taking up smoking.
Mawsley, Planet of the Vapes
Doctor Farsalinos highlights how 'evidence' is being distorted to prove vaping is dangerous, he believes it needs to be more balanced for the sake of would-be ex-smokers. News from Iceland is that, despite huge successes from smokers switching to vaping, a political party is pushing to "treat vaping like cigarette smoking". Finally, a report by the Forum of International Respiratory Societies pushes for more regulation of the European markets.
---

---
Claim that Smoking May Be No More Hazardous than Vaping
Michael Siegel, The Rest Of The Story
In an article published in the Summer 2018 issue of the Hopkins Bloomberg Public Health Magazine, two researchers at the Johns Hopkins Bloomberg School of Public Health are denying that smoking is known to be any more hazardous than vaping.

According to the article, Dr. Ana Maria Rule, an assistant professor in the the Department of Environmental Health and Engineering, argued that: "Even if vaping proves safer than smoking, that's still a long way from a gold stamp for their safety."
Public health statement on eliminating combustible tobacco use in the United States
Eliminating cancer caused by tobacco use is the highest public health priority of the American Cancer Society (ACS). Cigarette smoking is the leading cause of cancer mortality in the United States,1 accounting for as much as 98% of all tobacco‐related deaths.2 The 50th anniversary Surgeon General's Report calls for the rapid elimination of the use of all combusted tobacco products and states:
---
---
Ali Anderson
THE rapid rise in e-cigarette sales is threatening to wipe out tobacco bonds sooner than expected, it has been revealed.

Tobacco bonds were forecast by many analysts to begin defaulting within the next decade but as more Americans swap cigarettes for vaping – far quicker than anticipated – some are predicted to default in less than five years.

In 1998, big tobacco companies agreed to make annual payments to most U.S. states to cover medical costs for sick smokers.
AVI
On June 6, an online magazine The Ken which writes on tech innovations published an article calling for a 'blanket' ban on a tech innovation that can save millions of lives. The argument: we cannot control it, so let's ban. Unless The Ken also demands bans on AI, genetics, robotics and other technological advances which we don't yet have mechanisms to control, we have to assume the article is motivated.
Of Experienced Vapers – German Vapers Organization (IG-ED)
In 2017 the German Vapers Organization (IG-ED) conducted a survey with over 2.000 participants. Like all Internet surveys it has a selection bias, but here it aids in evaluating empirical data from the most successful vapers.

The main focus of the survey was the transition phase from smoking to vaping. Initial purpose was to provide current smokers with useful information on how the most successful vapers made the switch.
---

---
Carl V. Phillips, Daily Vaper
Recent headlines have suggested that the sales of heat-not-burn products (also known as "heated tobacco products") have slowed in Japan, the leading market for the products. The stock price of Philip Morris International, maker of the leading iQos (Marlboro HeatSticks) brand suffered their biggest ever drop, and pessimistic predictions were made about the promise of the category. The reality is, however, that Japanese sale of HnB continues to grow, at the expense of standard cigarettes.
Joseph Magero
Harm reduction can help play a critical role in changing behavior and should form part of any strategy to reduce tobacco dependence. Simply put, tobacco harm reduction is defined as anything that decreases the risks from using combustible tobacco, for example through vaping. Smokers have limited quitting options. Currently, smokers can use Nicotine Replacement Therapy (NRT) and related products, or go "cold turkey."
The awkward case of e-cigarette flavors (PDF)
Carrie Wade, R Street
On March 20, 2018, the Food and Drug Administration (FDA) announced a consultation on proposed rule-making about the use of flavors in tobacco products.1 The FDA's initiative is driven by a perceived problem: namely, that flavors make tobacco products attractive to young people and thus increase initiation and consumption, which causes harm. But the FDA also recognizes that non-combustible products can provide benefits by reducing smoking. For example, with respect to flavors in non-combustible products, Commissioner Scott Gottlieb, has acknowledged:

The rise of vape culture –  Simon Usborne
Charlie Rabone is explaining the conditions required for the Os, or vapour rings, he blows. "You have to think about the wind, the climate – all sorts," says the 20-year-old from Stockport. He wears a sweatshirt and a trucker cap from Humble Juice Co, a US manufacturer whose Hop Scotch vape liquid tastes of coffee, vanilla and butterscotch. "The air has to be super-dead," he adds. "Even the heat from radiators can ruin it."
Liz – Vaping Point
I started a video channel in 2011. I called it 'Vaping for the over sixties'. Now I am in my seventies. Maybe I've just got old and crabby, but I am not going to make any more videos or write about vaping anymore. Firstly, there are wonderful videos on the internet about vaping and vaping products – or at the moment there are. The disappointment in me is that videos by vapers promoting vaping might be shut down as the cage of hate about vaping constricts us and freedom of speech is closed down by those who control us.
May not be the best policy – Tikki Pang and Gayle Amul
In Singapore, more than 2,200 people die from tobacco-related diseases every year, making tobacco use one of the top risk factors for death and disability.

Singapore is known for tough tobacco-control measures, including comprehensive bans on advertising, promotion and sponsorship; high taxation; designation of smoke-free areas; measures to reduce illicit trade; and support for smoking cessation.
---

---
British American Tobacco (BAT) will invest €800mn in its plant in Ploiesti, southern Romania, over the next five years, the tobacco giant said on June 11. When the investment is completed, BAT's Romanian production plant will be the sole supplier of glo Neostiks — BAT's tobacco heating product — across Europe.
Mawsley, Planet of the Vapes
Doctor Michelle Peace is an assistant professor at the Virginia Commonwealth University (VCU) in Richmond, USA. On face value, she is a highly qualified and experienced chemist – but when it comes to vaping all of her education fails her.
Don't vape in Brentwood Borough public spaces and workplaces.

Brentwood Council unanimously adopted an ordinance that prohibits most e-cigarettes from being smoked in public spaces and in work spaces in the municipality.
Kevin Crowley, Vaping Links
Tobacco Control Contradicts Itself With Attacks On Vaping ~ Reducing Nicotine ~ VAEP ~ FDA Aims at Wrong Target in Effort to Protect Teens ~ Youth tobacco use drops during 2011-2017 ~ CDC Survey: Where Are All the Teen Juulers? ~ Real‐world' compensatory behaviour with low nicotine concentration e‐liquid ~ VAPE SHOPS: BATTERY Safety ~ Lemonade Stands ~ The Ponzi Scheme
---
A look back at how things have moved on or otherwise….
Mawsley, Planet of the Vapes
The American Lung Association and the Campaign for Tobacco-free Kids (CTFK) have a drum and they like to beat it. Those less kindly disposed to the organisations would suggest that pharmaceutical industry money might play a strong role in their actions; others might claim they are blinded by a hatred of the tobacco industry. Unfortunately, materials and quotes from the bodies are frequently used to justify action that stifles harm reduction.
Suffers well-deserved setback – Guy Bentley
Consumers, small businesses, and public health won a small but important victory in the city of San Leandro, Calif., Monday night. The city council refused to enact a ban on local retailers selling flavored tobacco products, throwing it back to a rules committee for reconsideration in September.

Proposals for tobacco flavor bans have spread rapidly across the Bay Area and are under active consideration in Oakland and San Francisco. While occasionally well-meaning, these prohibitions are always misconceived.
---
Visit Nicotine Science & Policy for more News from around the World

---